Yesterday I made a huge feast for my family. I literally spent hours in the kitchen, cooking and baking and decorating the table. I wanted to make a special memory for the people I love best.
I thought I would be super organized and make some of the food a day ahead. I attempted to make my homemade rolls and Pioneer Woman's make-ahead mashed potatoes. The rolls burned a bit on the bottom, and when I was draining the potatoes, some of the boiling-hot water splashed onto my foot and made a blister!
Despite those mishaps, the dinner turned out to be a delicious success (after we cut the bottom of the rolls off to remove the burned part!). 🙂 We had turkey, mashed potatoes, gravy, rolls, cranberry sauce, green beans, dressing, sparkling apple juice, and pumpkin bars for dessert.
Tomorrow we will celebrate Thanksgiving again, times two (lunch with my family, and dinner with my husband's parents)! I can't wait to see everyone, but it will be a little sad as this will be our first Thanksgiving without my dad (who passed away earlier this year). I'm thankful my mom was able to sell her house and get moved into a new house in a new town—it will make it easier.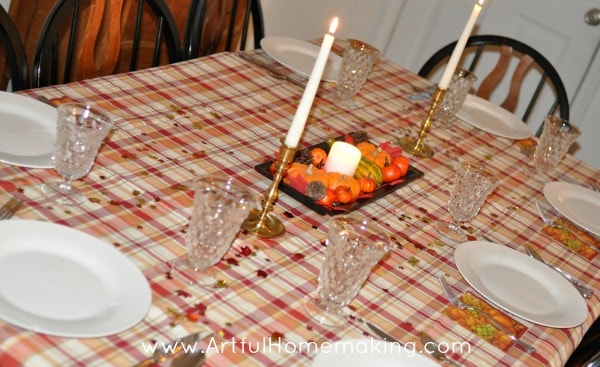 I hope you have a wonderful Thanksgiving Day (for those in America)!
It seems everyone is sharing Black Friday deals earlier than usual this year, and I'm so thankful for that! I like to be able to plan for sales in advance. We usually do most of our Christmas shopping online, so I always look forward to Black Friday! 🙂
*The links in this post are affiliate links.
Here are my favorite deals for this year:
Lilla Rose Black Friday Sale
Save 20-60% off everything on the entire Lilla Rose website, plus get free shipping on orders of $75 or more! And, Lilla Rose is coming out with 25 new styles!
Lilla Rose items always make great gifts for any of the girls or women on your list.
Free Gift!
For orders over $100, you will also get this set of 3 bobby pins and zipper pouch!
The Tummy Team
Yes, that's right! The Tummy Team is having a sale (you can read my Tummy Team review here)! Heal your diastasis recti in 2017! No promo code necessary this time, everything is individually marked with the sale price. Here's what's on sale:
Tummy Team programs—30% off
Primed Childbirth Prep—30% off
Abdominal Splints—$10 off
Tummy Creme/Belly Balm—$5 off
Skype Sessions—25% off
2017 Intentional Goal Setting PowerSheets
I am very much into goal-setting. And one of the best resources for intentional living is Lara Casey's book, Make it Happen, and her PowerSheets goal planner. And right now they're on sale!
Last year I just missed getting one of these goal planners (they went out of stock before I could order mine), but I've got one this year! I read Lara's book, and it really impacted me in a positive way. Love her resources! Check them all out here.
The Living Well Planner
I really love this planner, and it happens to be the main planner I'll be using for 2017. (I've been hoping to post a review, but just haven't had time lately.) I'm actually going to be using several planners for different things this year! If I could have a perfect planner, it would combine elements of Erin Condren's LifePlanner and The Living Well Planner. Love them both!
Dayspring
Dayspring always has great gift options, including home decor items.
Happy Thanksgiving!
I hope you have a lovely day today!
This post contains affiliate links. Read my full disclosure here.