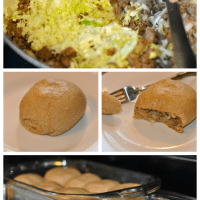 Print Recipe
Bierocks Recipe
This is a favorite family recipe of ours!
Your favorite bread recipe

try my whole wheat dough, or Rhodes frozen bread dough

2

pounds

ground beef

1

large onion

chopped fine

1

large head of cabbage

about 2 lbs, shredded or chopped fine

2

tsp

salt

1

tsp

pepper
Prepare bread dough according to your recipe or the package instructions. Set dough aside.

While dough is rising, prepare the filling. In a large skillet, brown beef. Add shredded cabbage, onions, salt, and pepper.

Simmer slowly until cabbage is soft. If mixture seems too dry, you can add water until moist.

Roll dough thin and cut into 5" squares (or, do as I do and just pinch off the amount you want!). Place one square of dough in open palm of left hand, stretching slightly as needed.

Place a large kitchen spoonful of meat and cabbage in center of dough.

Fold ends over or pinch edges together. Seal by pinching.

Place on lightly greased cookie sheet or shallow pan, folded sides down. I always let the rolls rise for about 20 minutes before baking, but it depends on the bread recipe you're using.

Bake in a 350 degree oven for about 25-30 minutes or until brown. I like to brush the tops with melted butter.

They're so delicious straight out of the oven! I always make extras to freeze for later. They make a great quick dinner or easy snack.