How You Can Start a Blog
I regularly receive questions in my inbox about how to start a blog. While I wish I had the time to respond in detail to each of these questions, I'm just not able to do that.
So instead, I put together this page as a helpful guide for starting a blog.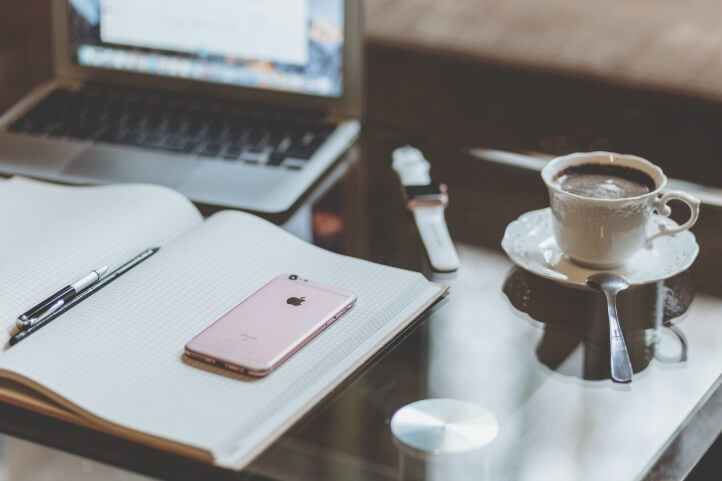 On this page I'm going to show you how to start your own blog, and I'll also include links to some of my favorite blogging resources.
This page contains affiliate links, which means I may make a small commission at no extra cost to you. Read my disclosure here.
How I Got Started Blogging
When I first started blogging over 10 years ago, I viewed my blog as a creative outlet for writing and photography, as well as a ministry to encourage other women in the art of homemaking.
There weren't really a lot of other homemaking blogs at that time, and I enjoyed sharing personal tips and experiences with my readers.
Little did I know in those early days that my blog would eventually come to see close to a million page views every year!
How I Started Making Money Blogging
Although I always knew that some bloggers were making money, the thought of making money from blogging didn't even occur to me in my first few years.
When I started hearing about other bloggers earning an income from their blog, I was hesitant.
In talking with my husband, we saw that I had poured a lot of time and effort into my blog without any return other than the satisfaction of creating helpful and encouraging content (which is still a primary goal with my blog!).
We were also struggling financially and knew that any extra income would be very helpful with our monthly budget goals.
So, several years ago I slowly started taking steps to monetize my blog.  I soon saw little trickles of income from an affiliate payment here and ad revenue there.
Fast forward to the present when I now make a full-time income each month from blogging. And, I only work part-time hours!
I love the fact that I can stay at home with my kids and still make a full-time income with my blog. It's really been a blessing for our family.
Should You Start a Blog?
If you're thinking about starting a blog, I don't want to give the impression that blogging is an easy way to earn income, or that everyone who starts a blog can start raking in money quickly.
Blogging isn't for everyone, and it does take quite a bit of work, particularly in the beginning as you get your blog up and running.
If you're not very tech savvy, there can also be a learning curve with how to use the blogging platform.
I would encourage anyone who is thinking about starting a blog to consider carefully how much time you have to invest.
Unless you are highly disciplined with time management, blogging can easily consume a lot of your time. But in many cases, the time invested will be well worth it in the long run!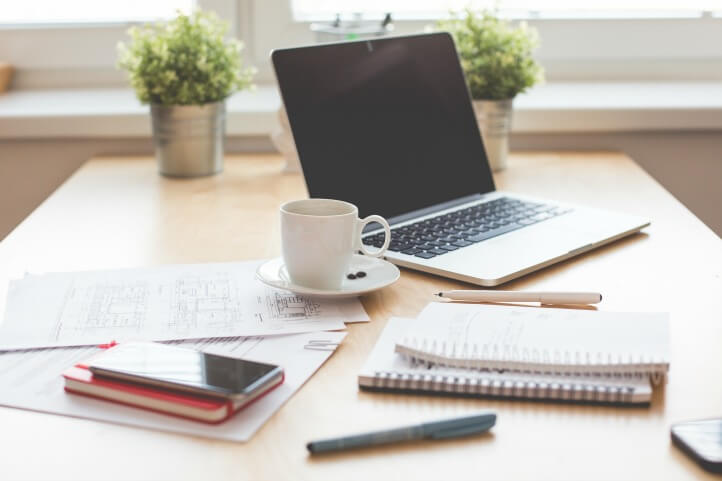 What is Web Hosting and Which Host Should I Use?
The first thing you'll need to start blogging is web hosting.  Basically this means the company that provides the "internet space" where all the files related to your blog are stored and can be accessed by your blog readers.
There are some free blogging platforms (such as Google Blogger or Wix), however, I don't recommend those if you plan to make money with your blog.
To have the best earning potential and control over your content, you need to use a paid web host blogging platform.
There are a lot of choice when it comes to web hosting companies, but my top recommendation is Bluehost.  Bluehost has been in business for over 15 years and has a solid presence in the online world.
Although I've never used Bluehost with this blog, my husband has used Bluehost for several years (with several different blogs) and has had a good experience with them.
With any type of online platform (including Bluehost), sooner or later you will run into a problem or issue where you need help. When that happens, my husband has been able to quickly reach the Bluehost help desk, and he says their support assistance overall has been very good.
One of the best things about blogging through Bluehost is its affordability.  You can get started with Bluehost for only $3.95 per month (paid in advance for 36 months).
This amount includes a free domain (for the first year), one-click WordPress installation, website security certificate, and 24/7 customer support.
The dedicated support team alone is worth a lot as technical support can be quite pricey otherwise.
Step-by-Step Guide for Signing up with Bluehost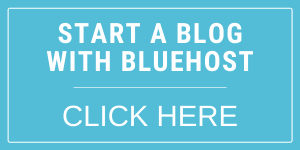 When you sign up for Bluehost, you'll see some more expensive options than the cheapest $3.95/month plan. However, you don't really need the pricier plans unless you want to start more than one blog.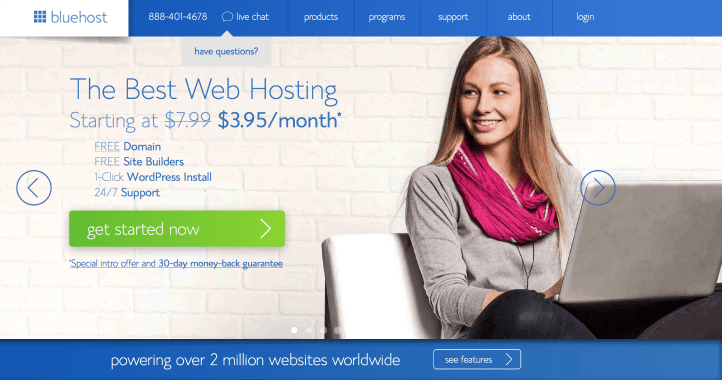 Some bloggers start more than one blog, but if you're just getting going with blogging, I'd strongly suggest you start with just one.
However, if your spouse or children might also want to start their own blog, going with a Bluehost plan other than the basic one is a good idea. You could then start up to 10 (or more) blogs depending on your plan.
Getting Started with Bluehost
Getting started with Bluehost is pretty easy. The first step is selecting your domain name. A domain name (also known as "URL") is the identifying name found in the box at the top of your web browser on a website, or that you see in search results.
An example of a well-known domain name is "amazon.com." My domain name is "artfulhomemaking.com."
You don't need to agonize over the domain name, but on the other hand you want to choose something that is memorable and fits well with your blog name.
Some people use their first and last name ("janesmith.com") as their domain name, while others prefer something that describes or closely relates to what their blog content is about.
The most popular domains have the ".com" extension at the end, but ".net" is also a good choice. I don't recommend one of the lesser known extensions like ".info" or ".us."

After choosing your domain name, you'll enter in your contact information.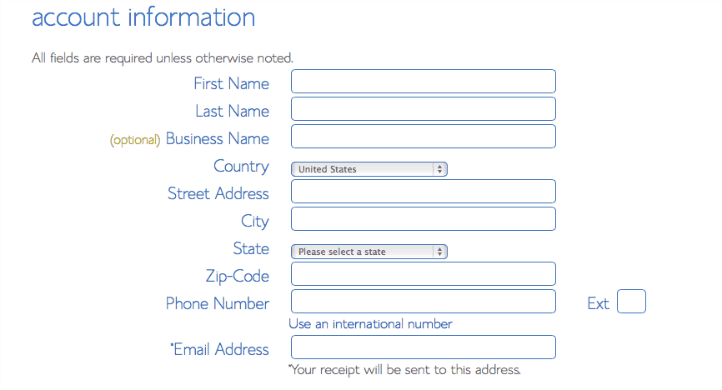 The next step is to choose the hosting package. If you can afford it, the best option is the 36-month plan paid in advance for $3.95 month.  You can also purchase 24 or 12-month plans for $1.00 to $2.00 more per month.
You'll also see some options for "package extras."  You can get these if you want, but the only one I highly recommend is "Domain Privacy Protection."
If you don't select this privacy protection, your personal contact information (including name and email address) will be exposed online for anyone to see. This exposure means you will likely be flooded with spam emails. For $10.00 or so a year, this protection is well worth it!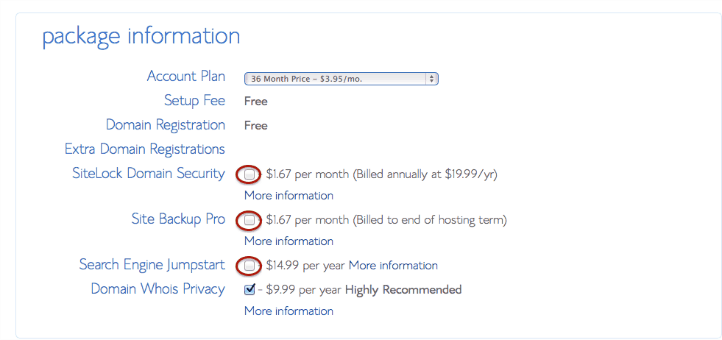 Next you enter your billing information.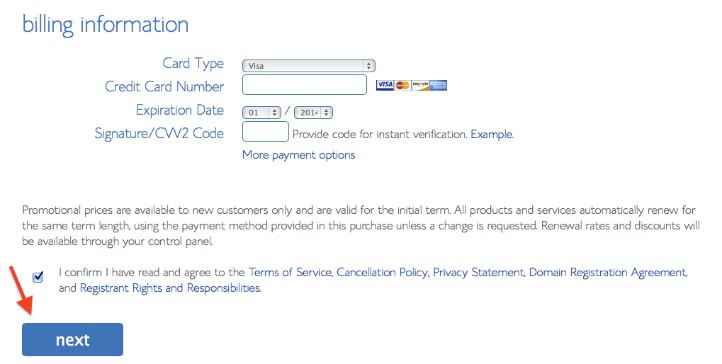 Once you've submitted your payment, you can then log in to your Bluehost dashboard.
Your Bluehost Dashboard
You can see an example page below of what the Bluehost dashboard looks like.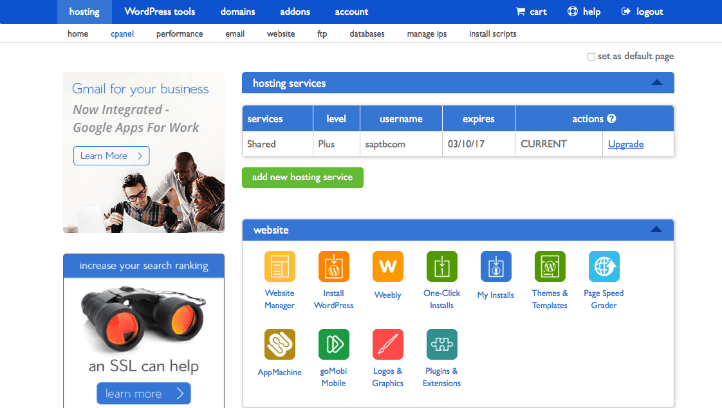 Don't worry if you feel a little intimated or overwhelmed by the different options in the Bluehost dashboard. While it may seem confusing at first, it will make more sense over time.
Bluehost also has many helpful step-by-step written and video tutorials to guide you through the process of setting up WordPress.  WordPress is your blogging platform and is free to use.
Bluehost tutorials cover things like installing a theme, setting up an email address, and much more!
If you ever get stuck, just contact Bluehost support and they can get you up and running in no time.
How to Pick a Blog Theme
One of the first choices you'll face as a new blogger is deciding on a WordPress theme for your blog.
The theme is like a template for your blog that affects how your blog looks and works.  There are literally thousands of themes from which to choose, some free and others paid.
I personally use the Genesis Framework as it is very well made and has important features not found in some other themes.
The Genesis Framework theme requires a "parent" theme (Genesis) and a "child" theme.  You'll need to purchase both the parent and child theme, but the nice thing is that this is a one-time purchase with lifetime updates and support.
There are many good child themes available for Genesis, including those from Studio Press, the creator of the Genesis Framework.
Restored316 and Pretty Darn Cute Designs are some of my favorite sources for Genesis child themes.
Other Blogging Resources
Sometimes it's hard to believe that I've been blogging since 2008!
There are many helpful resources I've used over the years to help grow my blog. Most of these resources are not free, but if you view your blog as a business with money-making potential, investing in your business can help it grow and prosper more quickly.
Elite Blog Academy
In my opinion, Elite Blog Academy is the very best education for learning how to be a professional blogger. I went through this course a couple of years ago and learned so much from it!
Elite Blog Academy takes you step by step through the process of building an online blogging business. Over 11,000 people have gone through Elite Blog Academy and learned what it takes to run a successful blog.
If you're just getting started or wanting to take your blog to the next level, this is the best place to start. The thing is, it's only open for enrollment once a year, so you have to act fast if you want to get in. It's best to get on the waiting list so you don't miss it.
Get on the Elite Blog Academy waiting list here and get a free New Blogger Focus Guide.
Easy On-Page SEO
Even if you're new to blogging, you've probably heard of "SEO."
Search engine optimization (SEO) has to do with preparing your site content in such a way as to make it "optimized" for search engines such as Google. While there are several different ways to get visitors to your site, ranking on search engines such as Google is one of the (if not the) most important.
Easy On-Page SEO by Debbie Gartner is one of the very best beginner's guides to understanding and improving SEO. I have personally used and benefited from Debbie's teaching. She regularly makes $20,000+ per month with her blog, so she knows what she's talking about!
Easy Backlinks for SEO
This guide is almost like "part 2" of Debbie's Easy On-Page SEO guide.
Easy Backlinks for SEO discusses how to get backlinks, which are links to your site from other sites, and how these can improve your SEO.
I would read the Easy On-Page SEO guide first, and then move on to this one.
Erin Condren LifePlanner/Blog Planner
I love Erin Condren planners, and I'm currently using one for a blog planner. I just get the regular life planner and then modify it to work for blogging.
If you're new to Erin Condren, you can get a $10 off coupon when you sign up here.
Making Sense of Affiliate Marketing
Once you get started in blogging, you're sure to hear quite a bit about "affiliate marketing."
Affiliate marketing may seem complicated but basically all it means is that you make money by promoting other people's (or companies') products.
You can be an affiliate literally for thousands of companies (Amazon is just one popular example).
To become an affiliate, you have to first apply for and be approved to join a company's affiliate program. Once you are approved, you have access to affiliate links that you put on your blog.
When one of your readers clicks through your affiliate link and orders something, you get a commission!
Being an affiliate is an awesome way to make passive income on your blog. I have made really good income over the years through affiliate commissions.
If you're just starting out with affiliate marketing and want an excellent teacher to help guide you, I highly recommend Making Sense of Affiliate Marketing.
This course is taught by Michelle Schroeder-Gardner, who regularly makes over $50,000 a month in blogging income!
Her course is perfect for beginners but also has very helpful information for those who have tried affiliate marketing and haven't seen the results they had hoped for.
Click here to learn more about Making Sense of Affiliate Marketing.
ShareASale
One of the more popular affiliate marketing networks is ShareASale.
There are hundreds of companies on the ShareASale platform covering all types of products and niches. You have to apply and be approved for each individual affiliate program, but many programs will approve even new blogs.
Click here to apply to ShareASale.
PicMonkey
One of the things I enjoy most about blogging is taking photos to share with blog readers and social media followers.
Before putting a photo on my blog or social media, I always edit it a bit. Usually I'm brightening up the photo and resizing it to fit my blog.
One of the very best photo editing services out there is PicMonkey.
I've been using PicMonkey for years and find it simple to use and really indispensable.
PicMonkey has some features and tools not found in other photo editing services, and they regularly add new features.
Click here to start a 7-day free trial of PicMonkey.
ConvertKit
Once you start blogging, at some point you'll want to start sending emails to your blog readers. These emails let your readers know about new blog posts as well as other things like special promotions.
In order to send out emails, you need to have a way to collect email addresses, and a service you use to compose and send out emails to your subscribers.
ConvertKit is the email service provider I have used for several years, and I love it.
I've used other companies in the past, but I've found that ConvertKit is so much easier to use. I'm not at all techie, so if I can use it anyone can!
iMark Interactive
Once you get your blog up and running, you will eventually (usually sooner rather than later!) come across some technical issue that you don't know how to fix.
If your web hosting is through Bluehost, basic technical support is included for issues like installing WordPress, basic security, or issues with site hosting.
However, if you need more advanced help with things like tweaking your theme, advanced website security, or site speed, an experienced technical support team is invaluable.
This is why I recommend iMark Interactive.
I signed up with iMark Interactive a couple of years ago. It was definitely one of the best investments I ever made!
Since I signed up for a monthly support plan, I can contact iMark Interactive at any time for help resolving technical problems with my blog.
They have several different monthly support plan options, but if you're a new blogger, I would go with one of their middle plans. These plans include 1 to 5 small jobs per month. It is easy to need help with 5 technical issues per month particularly when you're starting off!
Click here to learn more about WordPress technical support through iMark Interative.
Final Thoughts on How to Start a Blog
If you're thinking about starting a blog, I hope you've found this information helpful. I've learned a lot over my 10+ years of blogging, and I'm happy to share what I've learned with you.
Starting a blog can be a great way to make an income working from home while sharing content with readers from around the world.
It takes some time and financial investment to start blogging, but with the right training, tools, and effort, you could soon be on your way to making money through blogging.
This page contains affiliate links, which means I may make a small commission at no extra cost to you. Read my disclosure here.