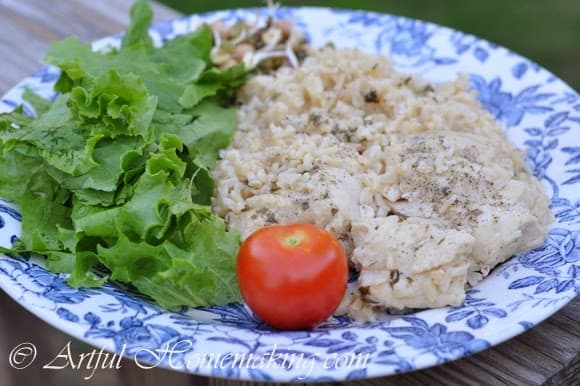 I've been making this simple dish for over 11 years. My midwife gave me the recipe when I was expecting my second child. It's been a favorite for a long time. And it all cooks in one pot, so there are fewer dishes to wash!

Ingredients:
2 C. uncooked brown rice
4 1/2 C water or chicken broth (it tastes best with chicken broth–I use
homemade
)
1 tsp sea salt
3 T butter or coconut oil*
3 T chopped fresh parsley or 1 T parsley flakes
1 whole chicken (cut in pieces), or chicken breasts, or whatever you have on hand
1 t. salt
dash of pepper
Optional add-ins:
1 C chopped onion
1 C. chopped celery
1/4 C chopped bell pepper
1/2 – 1 C raisins or golden raisins
1/2 – 1 C chopped walnuts, pecans or almonds
1/2 lb mushrooms, sliced
1 C unsweetened, crushed pineapple
Combine rice, water, 1 tsp salt, butter, and parsley in a Dutch oven or stock pot (I modified the original recipe to make enough for our larger family, and I cook it in a large stock pot). Mix well. Bring to a boil.
Rinse chicken inside and out and pat dry. Sprinkle with 1 tsp salt and pepper. Place over rice; reduce heat. Simmer, tightly covered, for 45-60 minutes or until water is absorbed and chicken is tender.
After chicken is cooked, saute any or all of the above optional ingredients and add to rice before serving. I always add onion. Mushrooms are also a favorite if we have them. Usually I just use whatever we have on hand, and it always turns out delicious.
**The lettuce and tomato are both from our garden, and we were so happy to finally have a very successful year with lettuce! The plate also contains some homegrown sprouts!

*This is my referral link for Tropical Traditions. If you order through this link and you've never ordered from TT before, you will receive a free book on Virgin Coconut Oil, and I will receive a discount coupon for referring you.