We've been using essential oils in our home for many years. I've always tried to follow commonsense precautions when it comes to using essential oils with my children. Even though essential oils are natural and very safe when used properly*, some oils aren't suitable for younger children, and all oils require proper dilution with a carrier oil.
Guidelines for Using Essential Oils With Children
1. Make sure the oil you're considering is safe for use with children. Some oils (like lavender) are mild enough to use with babies, and others aren't as safe or aren't recommended until the child is older.
Here's a handy chart that will show you which oils are safe to use with children and at which age they can be used.
2. Properly dilute all essential oils. Always dilute with a carrier oil when applying essential oils to the skin
3. Apply oils to the feet. It's safest to apply the essential oils to your child's feet after diluting with a carrier oil unless the oil or blend specifies a different way of applying it.
4. Stick to diffusing oils or applying topically. Especially for very young children, it's safest to apply the oils topically and use them in a diffuser.
Most Popular Essential Oils for Use with Kids
Take the Guesswork Out of Diluting
Have you ever felt frustrated while using essential oils with your children? I have. They're not feeling well and I'm trying to help them, so I get out the essential oils. I'm fumbling with the carrier oil and trying to remember how much to dilute each one, etc. It's just frustrating.
That's why I was so excited when Rocky Mountain Oils came out with their new Kids Line last month!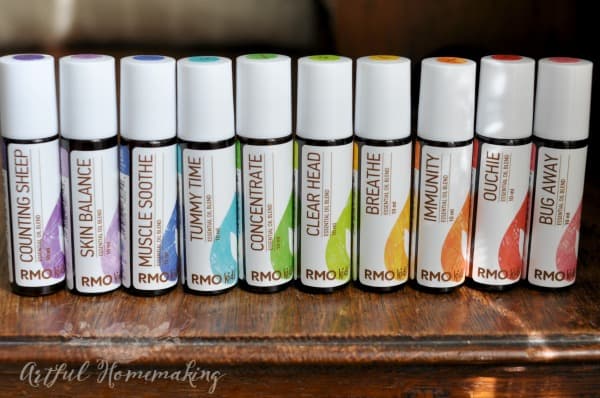 Our Experience With the RMO Kids Line
These oil blends are designed just for kids and come perfectly prediluted. And they're not just for kids, either. I've been using them myself!
I used the Bug Away blend recently while I was working outside, and I watched as a mosquito landed on my ankle, where I had applied the blend. It landed, didn't like that spot, landed again, and then flew away without biting! I guess it didn't like the smell. 🙂
My youngest loves the Counting Sheep blend when he can't sleep. One night he came into my room complaining that he just couldn't sleep. I told him I had something special that might help. He relaxed on my bed, while I gently applied the oil to his feet, massaging it in. He told me later that he felt like it really helped him to sleep (of course I'm sure the foot massage helped, too!). 🙂
The Rocky Mountain Oils Kids Line of essential oil blends come in a roller bottle, and the blends are already diluted for you.
Here are the blends available in the RMO Kids Line:
Breathe
Bug Away
Clear Head
Concentrate
Counting Sheep
Immunity
Muscle Soothe
Ouchie
Skin Balance
Tummy Time
Now is a great time to stock up on essential oils in preparation for the cold and flu season!
*Disclaimer: I'm not a doctor or healthcare professional, and I'm not giving health advice. Please consult your doctor or other medical professional if you have questions or concerns about your child's health.
I received a set of these oils for review purposes. I only recommend products we would use and love. (And we love these!) This post contains my affiliate links. Read my full disclosure here.