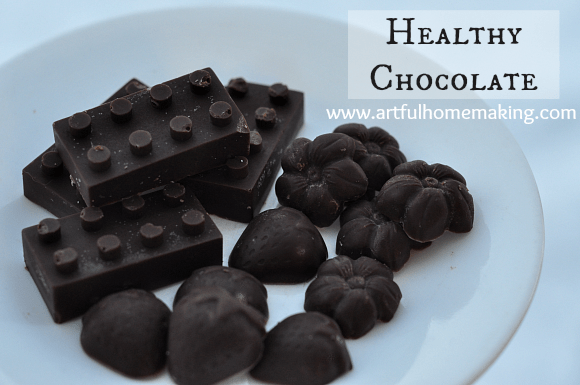 In addition to the fact that these chocolates are delicious, they're also a great way to get in your daily quota of coconut oil. I'm currently aiming to include 3-4 tablespoons of virgin coconut oil in my diet daily. Mostly I dissolve it in my hot tea and drink it, but sometimes I indulge in some of these for a treat, and I'm glad to know that I'm just getting more coconut oil with my dessert!
Ingredients:
Directions:
In a saucepan, melt the coconut oil and honey together on low heat. Add the vanilla extract and stir (I use my stick blender to get them really well-mixed).
Add the cocoa powder and salt, blending well (you can use a whisk, fork, or a hand immersion (stick) blender).
Pour liquid chocolate into a candy mold or onto a plate lined with parchment paper. Silicone ice cube trays work really well. I found the flower and strawberry ice cube trays at the dollar store for 99 cents. We also have a heart-shaped one found at the dollar store around Valentine's a couple years ago. But pretty much any container will work, including paper or silicone muffin cups.
Put your chocolates in the freezer for about 30-60 minutes or until they're firm.
Store in the fridge or freezer.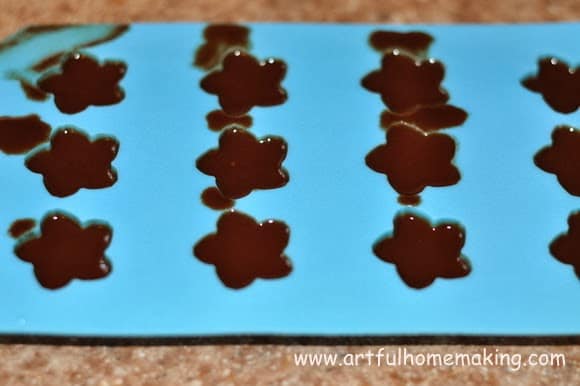 Notes:
You can use a different sweetener in place of the honey, such as stevia or maple syrup. You may need to adjust the recipe to get it just right.
We also like to occasionally add nuts or dried coconut. You could also add peanut butter or mint extract. The possibilities are endless!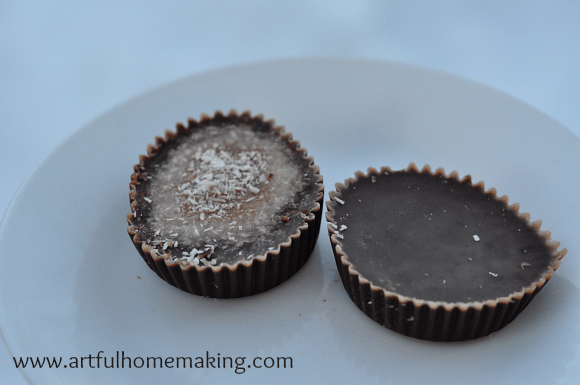 My favorite variation (on the left) with dried coconut sprinkled on top.
I have found that these chocolates turn out best when an immersion blender is used for all the mixing. I use a larger pot to melt the coconut oil and honey, and then I use the stick blender to blend the oil and honey together. Then I add the vanilla, salt, and cocoa powder, and blend well again with the stick blender. This keeps the oil and honey from separating and makes the chocolates smoother and better.
This chocolate will also become firm when drizzled over ice cream (just use it when it's in the liquid state, rather than freezing it in molds).
If you want to make these even more of a superfood, you can add maca powder:
Here is the chocolate I made with maca powder: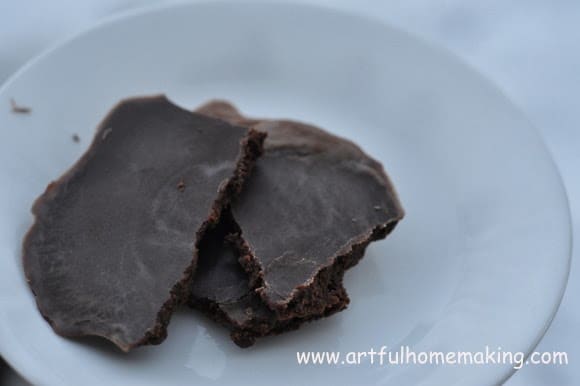 I have been taking 1 teaspoon of maca powder every day, but I didn't care for it in the chocolate. 🙂 I prefer to sprinkle it on my greek yogurt (which I sweeten with liquid stevia drops and then add frozen blueberries–that kind of masks the taste of the maca powder).
Have you tried making your own chocolate?