Homemade vanilla extract is so easy to make, and it tastes amazing! This simple DIY tutorial will show you how you can make your own with a few easy steps.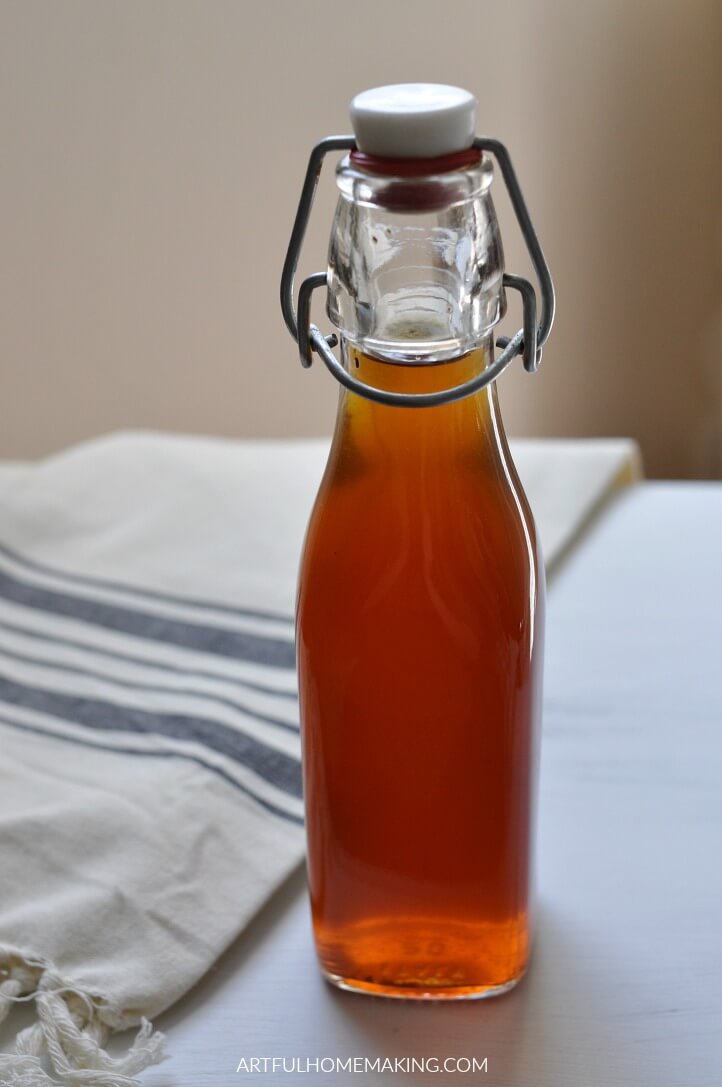 Homemade Vanilla Extract
I've been making homemade vanilla extract for over 10 years now.
A friend asked me how I make my vanilla extract, so today I'm going to show you how. It couldn't be easier!
In the years since I started making vanilla, the price of vanilla beans has gone up considerably. However, I still consider homemade vanilla to be superior to what you can find at the store.
Affiliate links included below. Read my disclosure here. 
Homemade Vanilla Extract Supplies
In order to make vanilla extract, you'll need a few simple ingredients and supplies.
alcohol (vodka yields a more "traditional" vanilla flavor)
kitchen shears or knife
Mason jar or other glass container (I used these jars)
flip-top jar to store completed vanilla extract (this is optional, but it's easier to pour)
In the past, I always used vodka to make my vanilla extract, but then a friend suggested that I try rum.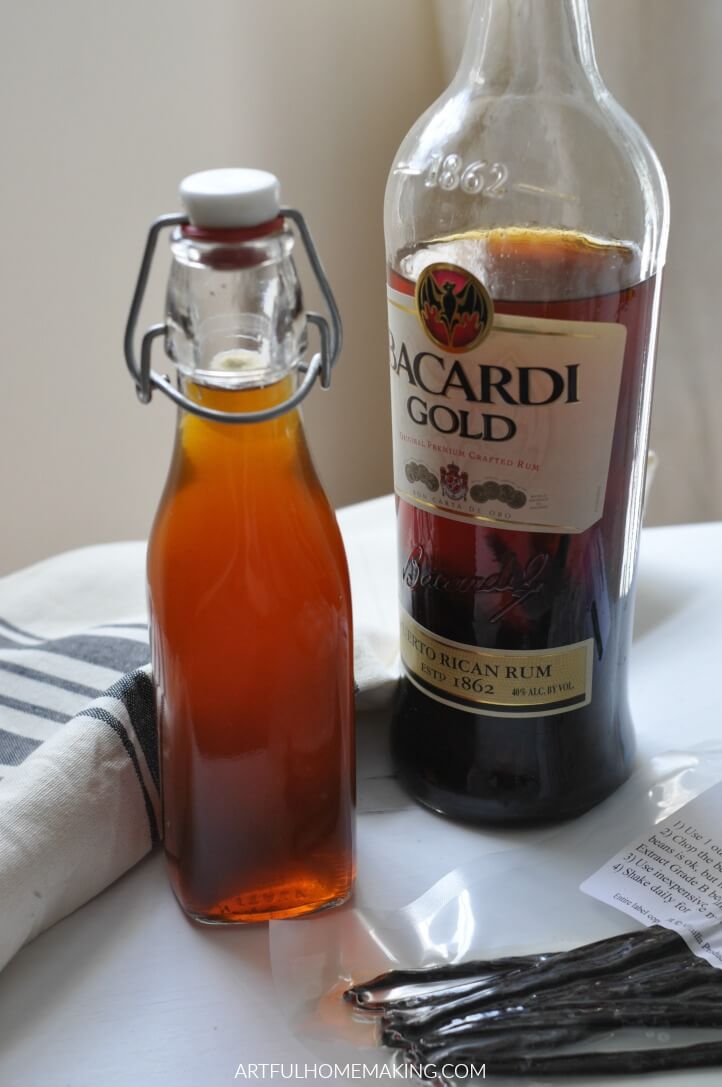 I decided to put the vanilla beans right in the bottle of rum.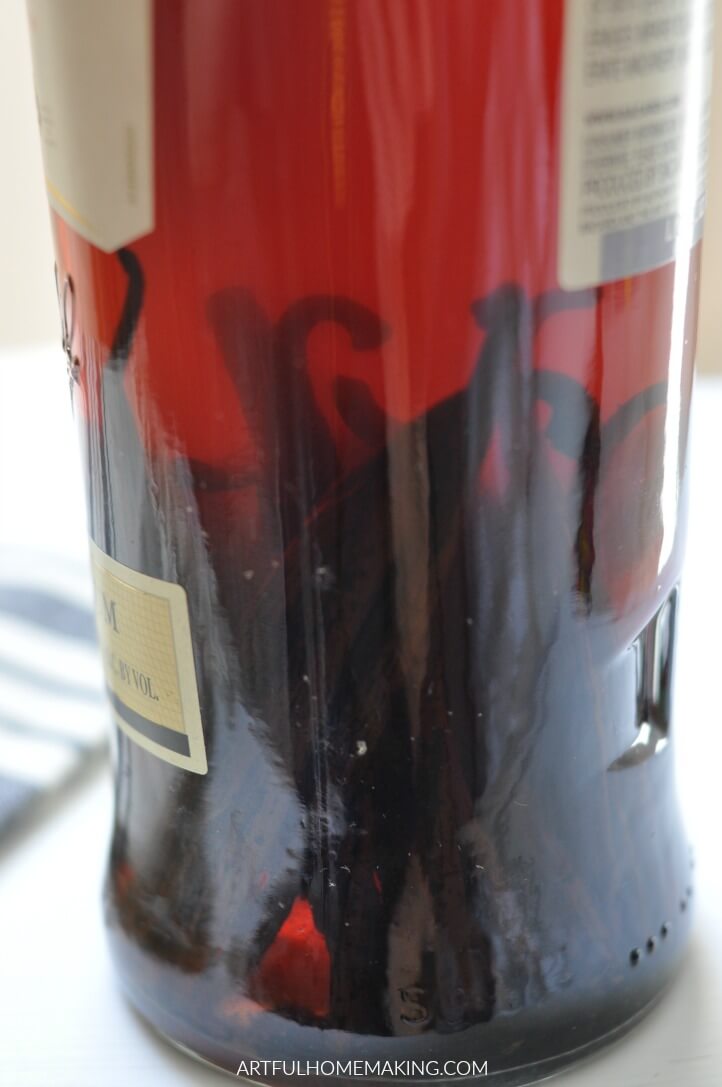 This worked out well, and it was very easy, but we all decided we prefer vanilla made with vodka. The rum gives it a different flavor. Not bad, just not our favorite.
How to Make Vanilla Extract
You can also just put the vanilla beans straight into the container of alcohol, like I did in the photo of the rum, above.
I use my kitchen scissors to cut lengthwise down each vanilla bean, stopping about an inch from the end. You can also just use a sharp knife, but the scissors are easier, I think.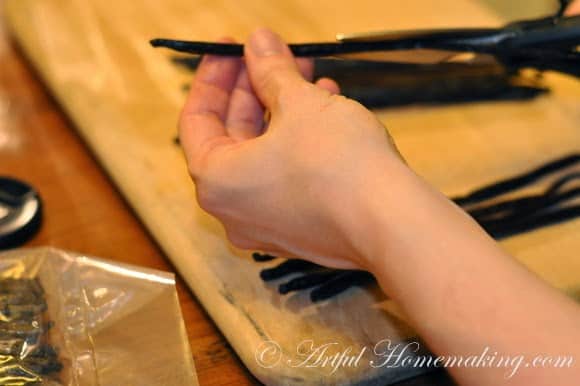 The two halves of the bean will still be connected, like this: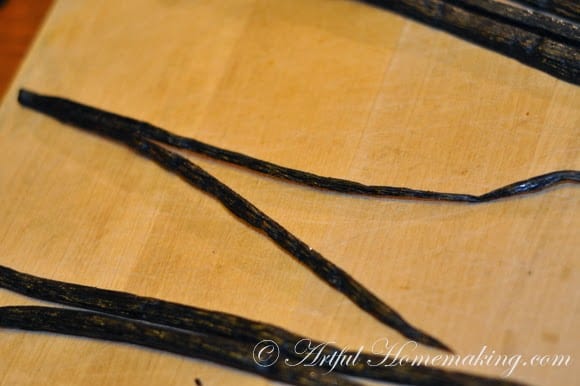 You can also cut the beans smaller than this. Just make sure they stay covered in the alcohol the entire time, with none of the vanilla beans sticking out.
So, if you're using a smaller/shorter container, I would recommend cutting the beans in 1″ pieces.
After slicing the beans down the center, put them in a glass jar.  I use approximately 1 ounce of beans for every cup (8 ounces) of alcohol.
Sometimes I've used fewer beans, but this is a general rule of thumb.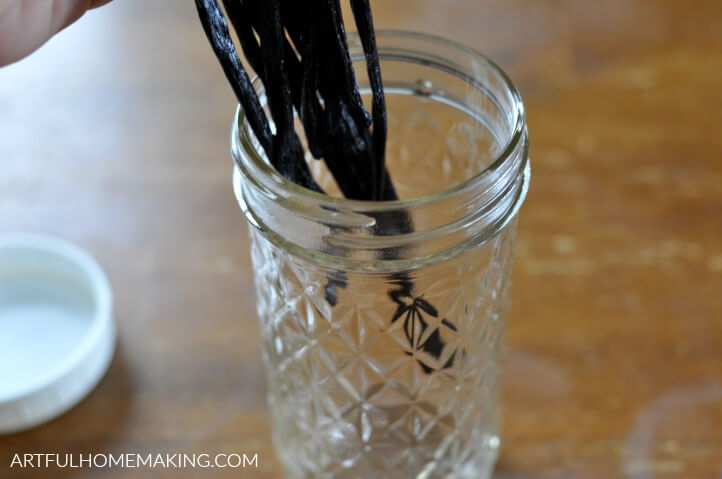 Add vodka to your jars, leaving enough head space for shaking.
Add the lid and shake the jar/bottle to mix everything up.
Store the jars tightly closed in a cool, dark place for 4 months or longer.  Occasionally give them a good shake.
On the left (below), you can see the vanilla I just started, and on the right is some completed vanilla that has been transferred to a flip-top bottle.
After a day or two, your vanilla extract should be looking darker, like this:
That's all there is to it!
Homemade vanilla extract will last for a very long time in your pantry.
Homemade Vanilla for Gift-Giving
After the vanilla is ready to use, you can also transfer it to more decorative bottles, as I did in the photo below (from several years ago).
When I made the vanilla below, I simply cut the vanilla beans smaller (into 1″ pieces) and made the vanilla right in the
glass bottles with corks
.
These make great gifts!
Supplies Used in This Post
In order to make vanilla extract, you'll need a few simple ingredients and supplies.
alcohol (vodka yields a more "traditional" vanilla flavor)
kitchen shears or knife
Mason jar or other glass container (I used these jars)
flip-top jar to store completed vanilla extract (this is optional, but it's easier to pour)
Pin it for Later: