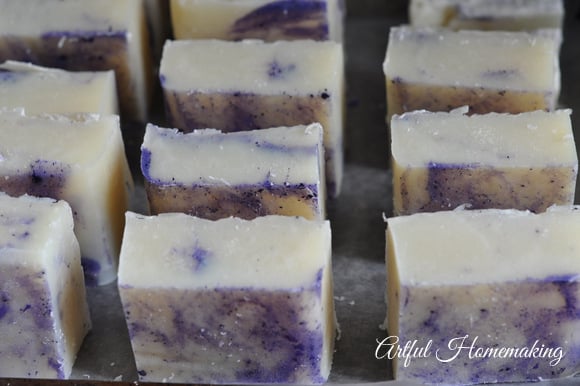 We always have lots of creative projects in process here. This lovely lavender soap has been curing on top of the refrigerator for some time now. I really need to make a couple more batches, but I'm not sure when I'll do that.
Our raised beds have been producing some lettuce. If only the neighbors' dogs would stay out of it…
Last month I finished
another dress
for my youngest (from the
Miss Madeline pattern
). She said it was her favorite one yet! Someone gave this fabric to my mother-in-law and then she passed it on to me a few years ago. So, a free dress! I took these photos on my daughter's birthday, which is why she was whirling around excitedly (and that's a neighbor's dog in the foreground!). 🙂
We've been making bread every week again (
here's our recipe
). My children are always so excited when they see me making bread! It seems to be everyone's favorite food. They always enjoy helping shape the loaves and rolls, too.
We are all loving the school room we made in our basement a few months ago. It is so nice to have a central place for all the school things. I especially like that we have a place to display art projects after we finish them.
Here's what a typical school morning might look like. Except not usually this messy! My sewing machine and all sorts of stuff was sitting at the end of the table in this photo. But I do usually have a cup of tea sitting by my school books. 🙂
We've been really enjoying
our Thanksgiving unit study
. I feel we've all learned so much, including me! We've almost memorized the hymn we were learning (
Now Thank We All Our God
), and the books I made for each child are now filled with drawings, thoughts of gratitude, beautifully-colored illustrations, and lovely copywork pages. It's been one of the most profitable unit studies I've ever put together, and for that I'm thankful. 🙂
"The heavens declare the glory of God, and the sky above proclaims his handiwork." ~Psalm 19:1