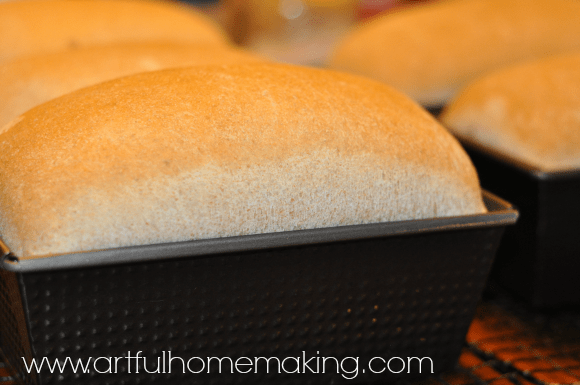 ***
For the past year, I haven't been making bread regularly. Life has been very busy, and we were increasingly being persuaded that a gluten free diet was best. We still needed bread of some kind, though, so we were ordering the Ezekiel sprouted bread from Azure (our food co-op).
In looking at the price, however, I've decided to start baking bread regularly again. My husband and I usually don't eat it (or at least we try to eat it in extreme moderation), but our children don't seem to have any difficulties with it. The recipe I'm sharing today is the one I've been using for years. It always turns out well for me. It's so hard to switch when things are working well, but I'm planning to try out a couple of different recipes that use a two-stage, soaked-grain method. Someday. Not right now, because I just don't have the energy for another change. For now, I'll continue on with this recipe.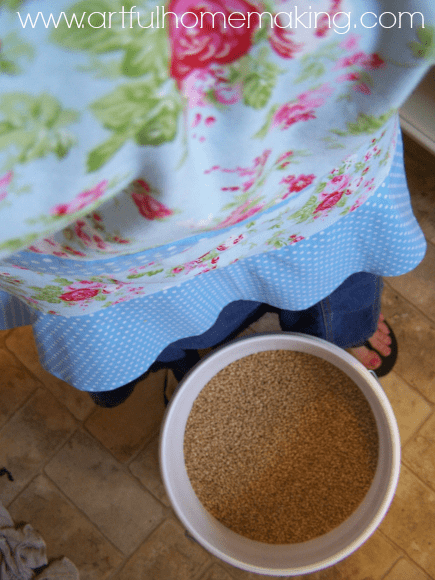 First, I put on
my apron
, and I put up my hair up in a
flexi clip
. I just can't seem to get started baking without these two important preliminary steps!
Then it's time to grind the grain into flour. I use a K-Tec Kitchen Mill that we bought (used) over 13 years ago. It still works great even though it sounds like an airplane taking off in the kitchen!
Since I've been doing this for years, I know that if I fill this big bowl with flour, I'll have enough for my bread. So, I just keep grinding it until this bowl is full. And sometimes I do more, if I'm planning to do other baking.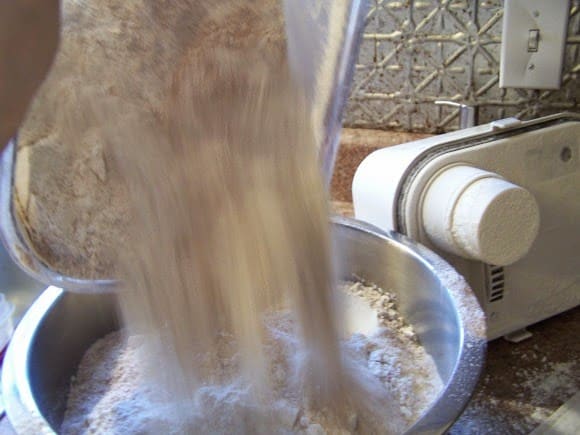 I use a Bosch mixer that we've had for about 12 years. It was purchased on sale, and I was so excited when I finally got one. It's one of my favorite kitchen appliances.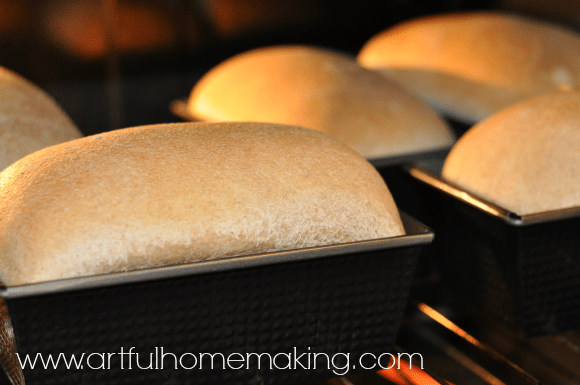 Whole Wheat Bread for a Large Mixer (like a Bosch)
Ingredients:
6 cups warm water
2/3 cup oil (I usually use coconut oil)
2/3 cup honey
2 Tablespoons dough enhancer
2 cups whole wheat flour
3 Tablespoons instant yeast (I usually use SAF)
2 Tablespoons sea salt
14-18 cups of whole wheat flour (I often use at least half spelt flour)
Directions:
Combine the water, oil, honey, dough enhancer, and about 2 cups of the flour in the bowl. Mix.
Sprinkle the yeast on top, and mix.
Allow to sponge for 15 minutes. (I just put the lid on my Bosch and set the timer for 15 minutes. During this time the dough begins to get bubbly and thickens if your yeast is active.)
Add the salt and 14-18 cups of flour until the dough begins to clean the sides of the mixing bowl. This is the tricky part, knowing when to add enough flour and not too much.
Knead the dough for about 6-8 minutes on speed 1 (or a medium speed, if using a different mixer).
Form the dough into 5-6 loaves and put into well-greased bread pans. (I usually make about 3 loaves of bread and 2 pans of rolls or 3 loaves of bread, 1 pan of rolls, and 1 pan of cinnamon rolls.)
Allow the bread to rise in a warm oven or another warm place until doubled in size (25-60 minutes, depending on conditions in your kitchen). I usually turn my oven on about 250 degrees for a few minutes as I'm starting to make bread, then I turn it off. That way, the oven is warm but not too hot. If the kitchen is really warm, or I'm doing other baking (so the top of the stove is warm), I'll just let the bread rise there, on top of the stove or nearby.
Bake the loaves/rolls for 25-30 minutes in a 350 degree oven.
After removing the loaves from the oven, I sometimes brush the tops with butter, which gives them a nicer appearance.
Enjoy!
P.S. My children LOVE to help me make bread. It doesn't turn out as perfect when they shape the loaves (like the ones below), but it's so, so fun to let them share the joy of bread baking with me!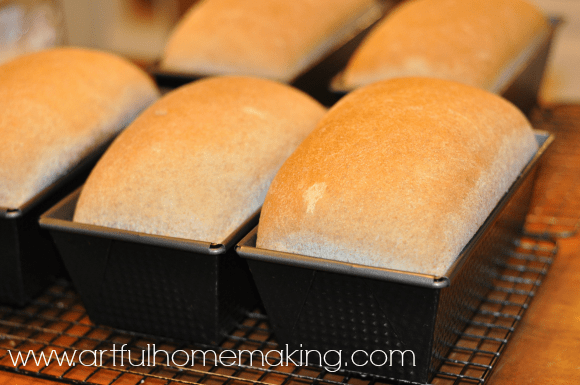 Do you make your own bread? Do you eat wheat bread, or do you eat gluten free? If you're gluten free, do you have a favorite bread recipe?