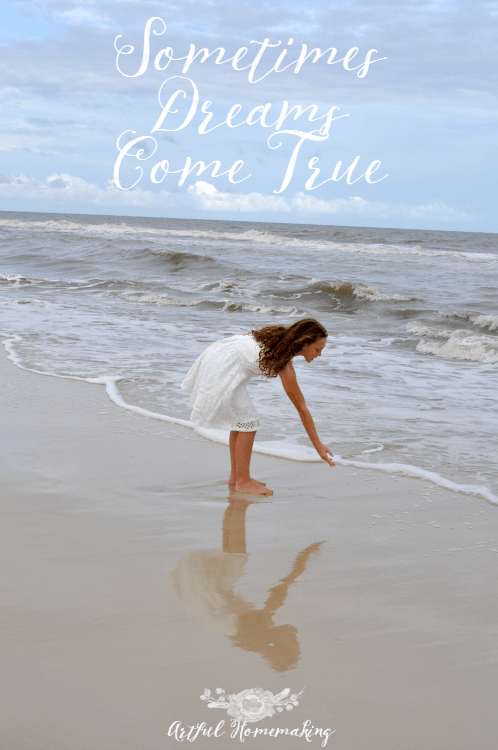 I can't remember when I first started dreaming of taking a trip to the beach. It was an idea that sort of dawned on me gradually, until it was such a strong desire that I could no longer ignore it. You see, we live in the Midwest, and we're hours away from the ocean. None of my five children had ever been there, and that seemed like a shame. We also knew that seeing the ocean had been a lifelong dream for several of our children, and my husband and I wanted to make that dream come true for them.
Looking back, I think my longing for this trip grew overwhelming when my oldest child turned seventeen, and I could almost audibly hear a clock ticking, telling me that things are changing, time is marching on, and our time together (the way things are right now) might be limited.
Next year may be too late. (You never know when someone might get married or go off to college or something.) We won't have this time together again.
We could no longer wait to take that elusive vacation to see the ocean. It had to happen now. My husband was the one who made it happen. I had almost decided that it would take too much planning and cost too much money, but he told me we should do this now, and he made all the arrangements.
We just got home from our trip Sunday night, and I am so thankful we were able to go. God answered so many prayers regarding this trip, and I will be forever grateful for His kindness to us.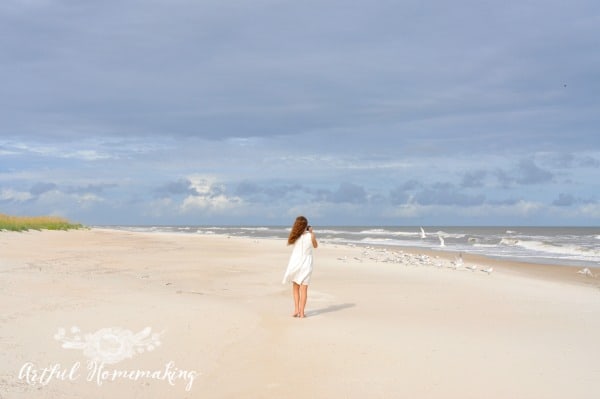 We had a wonderful time together, and made so many special memories. I took thousands of photos, so I thought I'd just share a few here (okay, maybe more than a few!). 🙂
We walked on the beach, collected shells, swam, took photos, ate ice cream, played games, toured the lighthouse and the lighthouse keeper's house, and went to several nature centers (where we were able to examine and touch sea life for a very hands-on experience).
Visiting the lighthouse was another dream-come-true for me. I've always been fascinated by lighthouses, and getting to climb to the top of this one was amazing. You could see so much from the top!
The house next door contained some of the belongings of one of the original lighthouse keepers. My favorite item was this sewing machine, which belonged to the lighthouse keeper's wife. The little sign next to it said she sewed most of the family's clothing on this machine.
We went to the beach every day. Some of the days it rained in the morning, so we did things like visit the lighthouse, aquarium, and nature reserve in the morning. By the afternoon the rain would clear off and then we could head to the beach.
We loved all the birds and other creatures we met. Our favorite was this little ghost crab.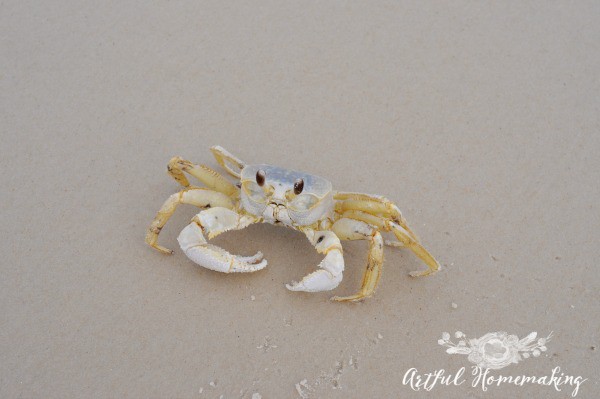 Sometimes we had to wait for them to come out of their house…
We learned how to skimboard and bodyboard:
And we collected tons of shells!
The aquarium we visited was so neat, since we were able to see things up close and even pick up some of them! I was thrilled to be able to hold the sea stars. We also got to touch a sting ray and talk to a sea turtle!
This was the first "real" vacation our family has ever taken (we usually just do things locally that only take a day or two), and we'll always remember it and be thankful for the experience. We give praise and thanks to the Lord for making this possible for us!
"Every good gift and every perfect gift is from above, coming down from the Father of lights with whom there is no variation or shadow due to change. " ~James 1:17
Sharing here.