Christmas Eve family activities can help you have an extra special Christmas celebration.
This list of 45 activities for the night before Christmas includes fun things for the whole family to enjoy.
Some of these may even become new traditions that your family can celebrate year after year.
45 Christmas Eve Family Activities
Many families have routines and traditions for Christmas morning like opening presents and enjoying stockings.
But it can also be a good idea to plan fun activities for Christmas Eve.
We love to spend quality time together as a family before Christmas Day.
For instance, we usually spend the afternoon of Christmas Eve playing board games. Then we deliver cookie boxes to the neighbors.
Later, we go to our church's candlelight service, and then come home to a special candlelit meal.
Those are just a few of our traditions. I hope this list of Christmas Eve family activities gives you some creative ideas for a new Christmas Eve tradition to start!
Affiliate links included below, which means I may make a small commission at no extra cost to you. Read my disclosure here.
1. Decorate the Christmas Tree Together
Every family has their own traditions when it comes to putting up and decorating their Christmas tree.
Even if your tree is already mostly decorated, adding a few special touches on Christmas Eve can be a great way to spend some family time.
You might add some strands of tinsel, a popcorn string, or handmade ornaments.
Years ago, we got a personalized ornament with each of our family members' names on it.
Adding a special ornament each year on Christmas Eve—or just reusing the ones from past years—can be a fun way to celebrate the day.
2. Bake and Decorate Christmas Cookies
Baking and decorating Christmas cookies has been one of our family's Christmas traditions for many years.
Family members cooking together can be a wonderful way to spend time during this festive season.
Kids in particular really enjoy decorating their own homemade cookies.
Even little kids can add a few sprinkles to their own special baked creation.
Here are a few of our favorite Christmas cookie recipes:
Chocolate Star Cookies Christmas Cookie
Christmas Rice Krispie Presents
3. Attend a Candlelight Christmas Eve Church Service
Many churches have a Christmas Eve service. Lighting candles during the service represents Jesus being the Light of the World that shines in the darkness.
If your church doesn't have a Christmas Eve service, you might consider visiting another local church that has one.
4. Sing Christmas Carols
Christmas music is such an important and fun part of the holiday season.
As part of your family's Christmas Eve activities, you could have a time of singing Christmas songs and carols.
(You can download a free Christmas songs printable here.)
You could also share some holiday cheer by going caroling in your neighborhood or to a nursing home.
5. Watch a Christmas Movie
One of the easiest Christmas Eve family activities is watching a holiday movie.
There are several classic Christmas films suitable for family viewing such as It's a Wonderful Life. But there are good newer movies as well.
You could even make some homemade healthy caramel popcorn to enjoy along with your movie!
6. Have a Hot Cocoa Bar
If you live in a part of the world where it's cold at Christmas time (or at least not overly warm), having a hot cocoa bar is a fun idea for the entire family.
You can make the hot chocolate using your favorite hot cocoa recipe or just use prepackaged hot cocoa.
You could also add in special things like marshmallows and candy cane peppermint sticks.
7. Create Homemade Christmas Ornaments
Making homemade Christmas ornaments can be another really fun Christmas Eve family activity.
Homemade ornaments don't have to be elaborate!
They can be as simple as coloring Christmas ornaments printables and then hanging them on the tree or wall.
One fun activity is making air dry clay Christmas ornaments. These are a simple craft that's easy to make.
More Christmas Ornaments Inspiration:
Grain Sack Christmas Ornaments
Rustic Wood Slice Christmas Ornaments
8. Play Board Games
If your family enjoys playing board games, why not have a special family game night on Christmas Eve?
These are some of our favorite family games.
You could play a game you already have, or get a new board game to play on Christmas Eve.
Here are a few board game lists for inspiration:
Best Board Games for 6-Year-Olds
Best Two-Player Board Games for Couples
9. Read Christmas Story Books
When my kids were little, reading favorite Christmas story books was one of our favorite Christmas Eve traditions.
There are so many fun books that kids of all ages (and parents!) will enjoy.
If you're trying to save money or don't want to own the books, you could check with your local library for holiday book titles.
10. Go Ice Skating
If you live in an area with an ice skating rink, why not go for an evening of skating?
We don't have a rink close to where we live. But one year we drove about an hour and a half to go skating. It was an outdoor covered rink with a bonfire and decorations, making for a festive holiday outing.
This could become a new Christmas eve tradition for your family!
11. Build a Gingerbread House
One of our favorite family Christmas traditions is building gingerbread houses.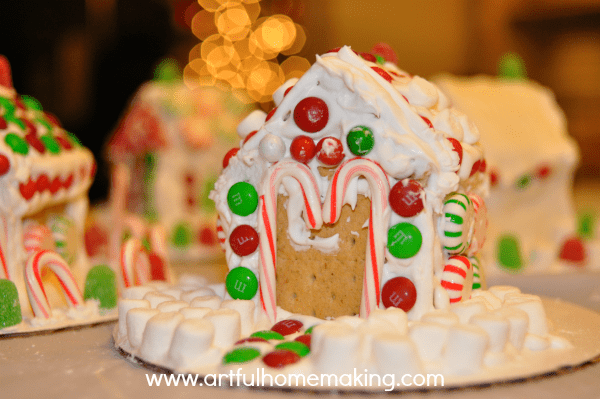 We started this tradition when our kids were little. Even now with adult children, we still make gingerbread houses each year at Christmas.
12. Have a Christmas Eve Family Photo Session
I love taking pictures, and the idea of a Christmas Eve family photo session sounds to me like a perfect time to take photos!
Depending on the weather, you could have your photo session indoors in front of the Christmas tree, or outside.
13. Volunteer at a Local Charity
"It is more blessed to give than to receive," but sometimes that truth gets overlooked in all of the holiday bustle.
Having your family volunteer at a local charity like a soup kitchen would be a great opportunity to serve others by demonstrating the true meaning of Christmas.
Depending on the situation, you could even hand out handmade gifts like knitted dishcloths or scarves, soy candles, or baked goods.
14. Have a Christmas Coloring Session
This activity might not be as much fun for older kids, but younger children often enjoy coloring.
Feel free to download my free Christmas printables, which have a good assortment of coloring pages.
This could be the perfect way to spend some time before doing another activity like watching a movie or caroling.
15. Create a Homemade Bird Seed Treat
In addition to giving gifts to friends and family, why not also make something for our animal friends?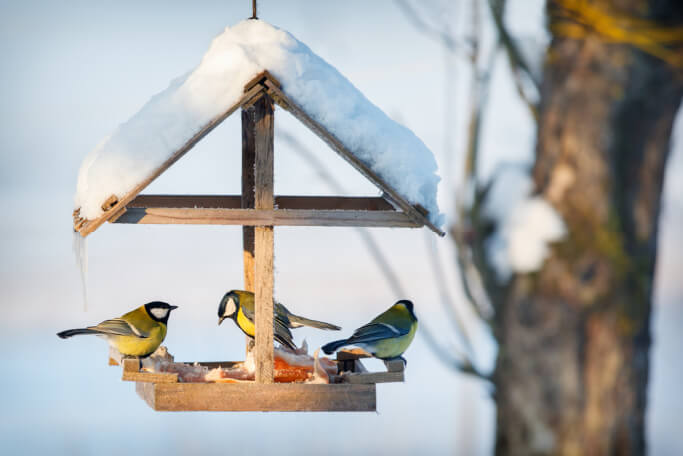 Making a homemade bird seed treat feeder isn't hard. Here's a good video tutorial demonstrating how to make a peanut butter bird feeder.
This could be a great addition to your new Christmas traditions!
16. Exchange Small Gifts
My family's tradition is to open our presents on Christmas Eve.
But if your family opens gifts on Christmas Day, you could also exchange some small gifts on Christmas Eve.
This might be just one small thoughtful gift per person, or something like some inexpensive stocking stuffer gift ideas.
I love this idea from my sister-in-law. Every year she makes a personalized photo book for her kids and gives it to them on Christmas Eve.
They open their books and enjoy looking through them together. I think that's such a fun idea!
17. Have a Cozy Pajama Party
Having a pajama party would be another way for your family to have a great time on Christmas Eve.
You could buy matching family pajamas or make your own.
Although I haven't made Christmas pajamas for several years now, this was 
one of my favorite Christmas-time activities
 in the past.
After putting on your pajamas, you could do one of the other activities on this list such as having a hot cocoa bar, game night, or movie time.
18. Set up a Nativity Scene
Setting up a nativity scene is another great way to spend Christmas Eve.
There are all kinds of nativity sets available, or you could make your own handmade wooden nativity set.
While setting up your set, you could discuss the biblical story about how Jesus was born in a manger.
19. Go See Christmas Lights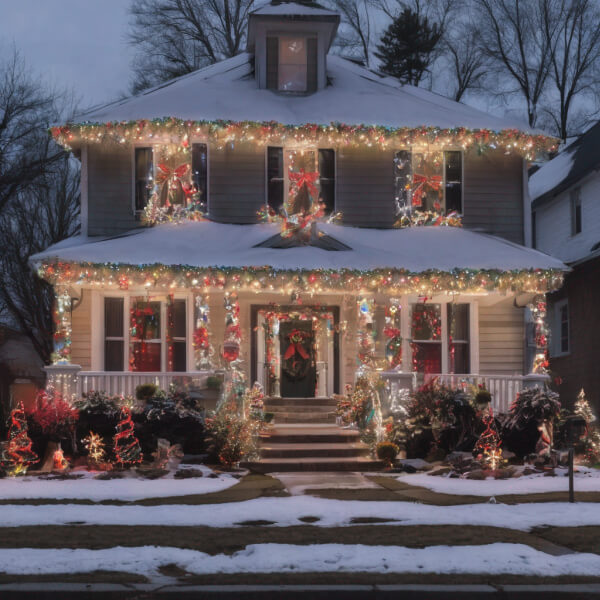 One of our family's favorite holiday activities is going to see light displays in our town.
A local Christian camp has an annual display with thousands of lights. We have a wonderful time driving to the camp and observing all the beautiful lights.
We like to listen to some of our favorite Christmas songs while going to see the lights.
20. Roast Marshmallows and Make S'mores
If the weather permits and you have an outdoor grill or fire pit, try roasting marshmallows and making S'mores.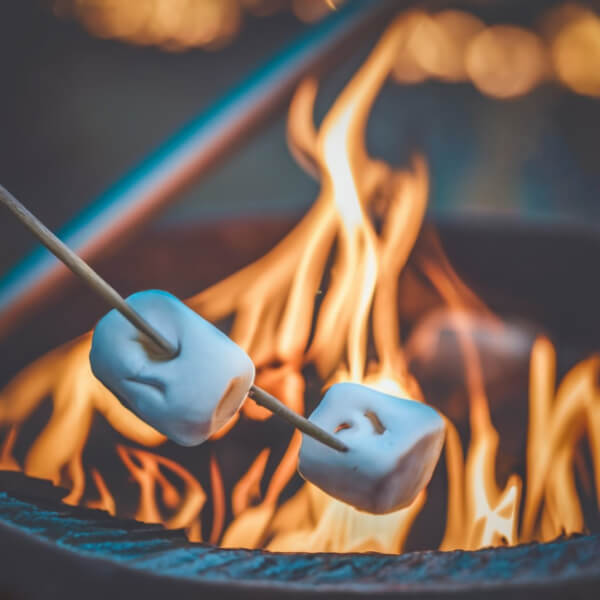 You could then come inside and do another activity like coloring, making gingerbread houses, playing a fun game, or having a gift exchange.
21. Sing Christmas Karaoke
Another fun way to spend Christmas Eve is having a session of Christmas karaoke.
You could either use a karaoke machine or just sing along to prerecorded music tracks.
22. Have a Christmas Eve Scavenger Hunt
One activity that many families enjoy doing at Christmas time is having a scavenger hunt.
I wrote a blog post all about having a Christmas scavenger hunt, including a free printable you can use.
23. Create a Family Christmas Playlist
If you have Spotify or a similar account where you can create playlists, you could make your own family Christmas music playlist.
You could listen to different songs as a family and pick the ones you like the best, or each family member could just add songs they enjoy the most.
24. Write Down Favorite Memories from the Past Year
Since Christmas time is close to the end of the year, Christmas Eve would be a good time to think back over the past year.
You could discuss and write down some of the favorite things (or even some struggles or trials) your family has experienced this year.
If this became a tradition, you could store these written memories and then review them in later years.
25. Make a Holiday Craft
Making crafts as a family could be another fun Christmas Eve activity.
There are a lot of options for holiday crafts. If you need some inspiration, check out some of these easy Christmas crafts for kids.
From wreaths and Christmas stockings to snowmen and nativity sets, you could have some festive fun with this creative activity.
26. Watch Handel's Messiah
If you live close enough to a performance of Handel's class oratorio Messiah, attending that could be a beautiful experience.
We've never actually been able to attend a performance, but watching a video performance is the next best thing!
27. Have a Family Talent Show
If your family enjoys performing, why not put on your very own Christmas Eve family talent show?
This could include things like singing, dancing, acting or poetry recital.
You could even practice ahead of time and invite extended family as your audience.
28. Have a Special Holiday Meal
One of the most memorable Christmas Eve family activities is to enjoy a special meal together.
Go all out. Use your best dishes and eat by candlelight. This is something we do every year.
While many families have a big Christmas dinner, you could have a special Christmas Eve meal as well.
Make some of your family's favorite foods (these rolls are always popular) and have a special holiday dessert.
Christmas Dessert Inspiration:
29. Write Down New Year's Resolutions
While many people wait until New Year's Eve or New Year's Day to make resolutions, you could use Christmas Eve to get a head start on your resolutions.
Think about the things you'd like to accomplish in the upcoming year and write those down.
Here are some inspiring New Year's quotes if you're ready to start thinking about getting a fresh start with the new year.
30. Have a "White Elephant" Gift Exchange
This next Christmas Eve activity might not work well for a small family with little kids.
But if you're spending the evening with older kids and other adult family or friends, then a white elephant gift exchange might be a fun activity.
With a white elephant exchange, the gifts are usually something funny or unusual rather than something practical.
The way this exchange usually works is participants take turns and can "steal" gifts from others, making for a potentially hilarious time.
31. Share Stories of Family Christmas Traditions
One Christmas Eve activity that can be really meaningful is sharing family traditions.
This could be done in different ways, but basically it involves parents, grandparents, or other family members recounting holiday traditions with which they grew up.
Kids will love hearing stories about the ways that others celebrated Christmas when they were younger.
This could even inspire a new family tradition in your family!
32. Create a DIY Photo Booth
Having your own DIY photo booth would be a another great activity for the night before Christmas.
With this activity, you can use a piece of fabric tacked to the wall for a backdrop. Or, decorate a section of the wall with sparkly Christmas garlands, decorations, or even balloons.
You could add props for an extra touch.
Family members would then enter the booth and take selfies or group pictures using an instant camera.
Phone photos also work.
Wearing special clothes or matching Christmas pajamas would make this activity even more special.
This is one of those fun Christmas Eve family activities that everyone could really enjoy!
33. Read The Gift of the Magi
If your family enjoys read-aloud stories, consider reading O'Henry's The Gift of the Magi.
This short but meaningful story carries a powerful message about being selfless and thinking of others at Christmas time.
34. Make a Festive Holiday Punch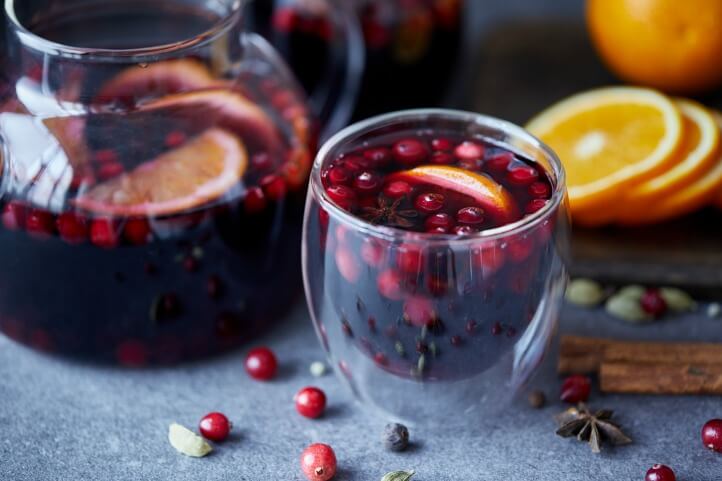 Sharing good food and drink is an important part of many families' Christmas celebrations.
Consider making a delicious holiday punch during the Christmas season.
These non-alcoholic party drinks would be a good option for a Christmas Eve punch.
35. Play Charades With a Christmas Theme
Another addition to our list of fun Christmas Eve traditions is playing charades. Just add a Christmas-themed spin to it!
36. Create Personalized Christmas Cards
One more creative way to spend Christmas Eve as a family is my making and sharing personalized Christmas cards.
These cards can be as simple or elaborate as you want to make them.
You could use Christmas printables as part of your card-making activities, and then write meaningful notes before giving your cards to family members.
Since we get together with extended family on Christmas Day, this activity would be a great way to make something special for our family when we see them the next day!
37. Watch Charlie Brown Christmas
As a child, one of my favorite annual Christmas activities was watching
A Charlie Brown Christmas.
You could make some caramel popcorn, bake some Christmas cookies, and whip up some hot cocoa to enjoy with the show!
38. Build a Snowman
This next Christmas Eve family activity is obviously dependent on the weather.
But if you happen to live in an area with a white Christmas, what better way to spend time as a family than by building a snowman?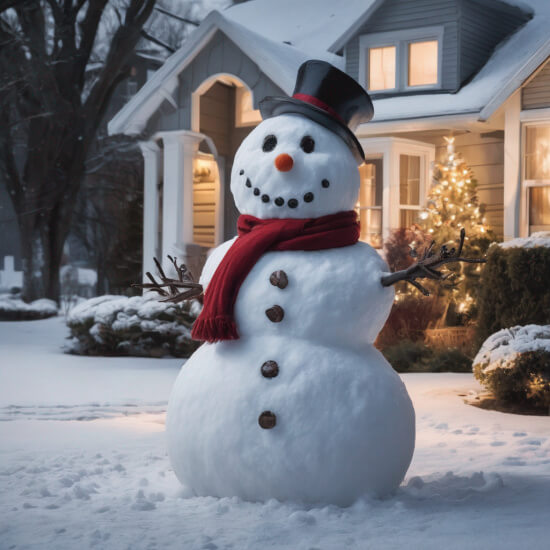 39. Make a Family Time Capsule
Putting together a family time capsule to be opened the next Christmas could be another really fun family activity.
You could make a simple time capsule such as a cardboard box filled with photos or other mementos that could be enjoyed the following year.
Decorating the time capsule in some festive holiday wrapping paper and ribbon would be a nice touch!
40. Share a Special Christmas Blessing
This is one of my favorite Christmas Eve family activities on the list.
Having a time of sharing a Christmas blessing is another excellent family activity.
The specific way you do this blessing is up to you. But it could include something like the parents reading or praying a blessing over their children.
Numbers 6:24-16 would be a good model blessing for this time.
This could end up being one of the most meaningful and best things you do at Christmas time!
41. Read Tolstoy's Martin the Cobbler
Another story that makes for a wonderful Christmas Eve read-aloud is Tolstoy's Martin the Cobbler (also known as Where There is Love, There is God).
This fictional story centers on a Russian shoemaker who has a dream that Jesus will visit him at Christmas time.
But when the only ones who come for a visit are strangers, Martin learns a powerful lesson about the meaning of giving and serving.
This powerful story is available in its original version as well as a simpler version for younger children.
42. Share Funny Christmas Stories
If your family enjoys telling stories, you could have a special time on Christmas Eve sharing funny stories.
These could be stories from your own past, stories you've heard from others, or you could even make up humorous stories.
43. Decorate Your Home with Candles
One of the ideas listed previously is attending a Christmas Eve candlelight church service.
If you can't attend a candlelight service, you could decorate your own home with Christmas candles!
You could use real candles or LED lights to decorate.
You could sing some Christmas carols or tell stories by candlelight.
44. Have a Cozy Fireside Chat
This next activity may not seem very exciting. But with all of the holiday hustle and bustle, why not take some time to just sit around and talk?
If you have a fireplace, stoke up the fire and have everyone put on some cozy clothes and snuggle around the fire.
You can even use an electric fireplace if you want the cozy look without the actual flame.
This is the perfect time to just sit and talk, or even be quiet as you seek an atmosphere of Christmas peace.
45. Reflect on the True Meaning of Christmas
The last Christmas Eve activity is to reflect on the true meaning of Christmas.
You could read scripture passages, poetry, sing carols, and talk about what Christmas means to each family member.
I hope this list of fun Christmas Eve family activities gives you some Christmas Eve inspiration and ideas to try this year!