Easy no-bake gingerbread houses are a fun Christmas tradition! We've been making them for many years now, and my kids love them!
When our children were very little, I started a tradition of making gingerbread houses. Now, every year, it's not even a question of if we will make them, they just start asking me when we're going to make them!
I'll admit that these are made of nothing but junk, but they're so fun! A few times we used more natural candies (without food coloring), but those do get expensive and they're not as bright and cheery. This year we just used the cheapest ingredients we could get, and we limited the candy a bit more than usual.
This post was originally published in 2014, but I've updated it with new photos and instructions.
Supplies Needed for Easy No-Bake Gingerbread Houses
Affiliate links included below. Read my full disclosure here. 
Here are the supplies you'll need to make your own easy no-bake gingerbread houses.
Graham Crackers (you'll need 7 squares for each house)
1 batch of icing (see below for recipe and instructions)
Quart size zipper freezer bags (I recommend not getting the cheapest brand, as they'll rip! Discount grocery stores are a good source for these bags.)
Packing tape (for sealing the bags)
Candy for decorating
Round piece of cardboard for a base (we like to use these, but you can also cover any piece of cardboard with freezer paper, and that works just as well)
Royal Icing Recipe
It's very important to use the right icing recipe, in order for the houses to stick together. This is the royal icing recipe we use, and it dries as hard as glue!
To make royal icing you'll need: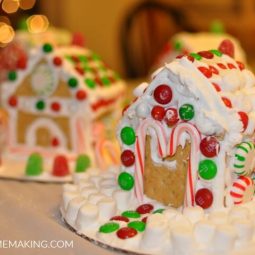 Print Recipe
Easy No-Bake Gingerbread Houses Royal Icing Recipe
It's very important to use the right icing recipe, in order for the gingerbread houses to stick together. This is the royal icing recipe we use, and it dries as hard as glue!
Ingredients
3

egg whites or meringue powder

I use meringue powder: 6 tsp meringue powder + 6 Tablespoons water

1/4

tsp

cream of tartar

1

pound

powdered sugar
Instructions
Beat the egg whites (or meringue powder + water) with an electric mixer at high speed.

Add cream of tartar and beat until mixture is somewhat stiff.

Gradually add the powdered sugar, beating after each addition. Beat on high until it's very stiff. You want the peaks of icing to be able to stand up straight.
Notes
Note: This recipe makes enough for a couple of houses (varies depending on size of house, and how much frosting you end up using.) For our five children to each make a house, I usually make 3 batches of this recipe. I used to triple the recipe, but every year we'd ruin our mixer because it was just too much for it to handle. Finally, I started mixing up smaller batches and this works much better. I usually mix up one batch, and then I let the younger children get started on their houses while I mix up a double batch for the older kids. My mixer is able to handle a doubled batch, but it's a strain for it to do more than that at a time.
Easy No-Bake Gingerbread Houses
After you get your icing mixed up, take a zippered freezer bag and cut the tip off the bottom corner of the bag. Fill it half-full with icing, and then squeeze the air out, zip up the bag, and reinforce the top of the bag with the packing tape. This keeps it from busting open from the pressure of little hands squeezing the icing out!
Then cut all of your graham cracker pieces with a serrated knife. You'll need 6 whole squares and then one of the squares you'll cut in half diagonally for the roof. So, you should have 6 squares and two triangles.
I find it works really well to use a serrated knife and use a gentle "sawing" motion to cut it without breaking it.
Take one of your cardboard bases, and use a sharpie to trace around one of the graham cracker squares.
Squeeze some icing out onto the traced square, and set two crackers on the icing to create walls.
Then fill all of the corners (inside and out) with icing, to help them stand up.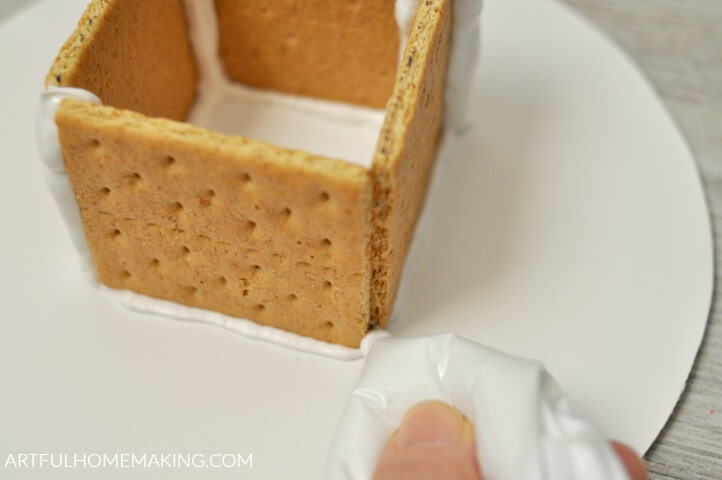 The icing is like glue, and it dries very fast, so I always have to help the younger kids with this part.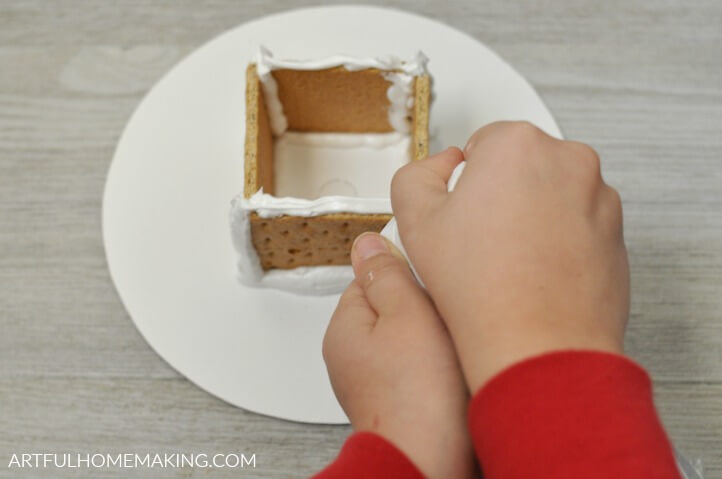 Do the same thing with the other walls, just making sure to get everything glued together with the icing.
Once you have your box (the house) built, then squeeze some icing on top of two crackers and set a triangle-shaped cracker on top of these two opposing walls. Make sure to glue it down well with a thick line of icing. Then ice the tops of both triangles and set the remaining two squares on top of them, to make a roof.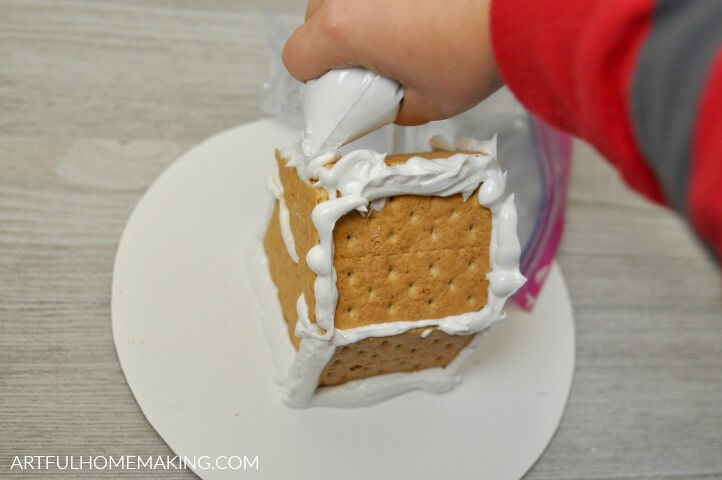 I love these pictures of cute little hands squeezing out the frosting!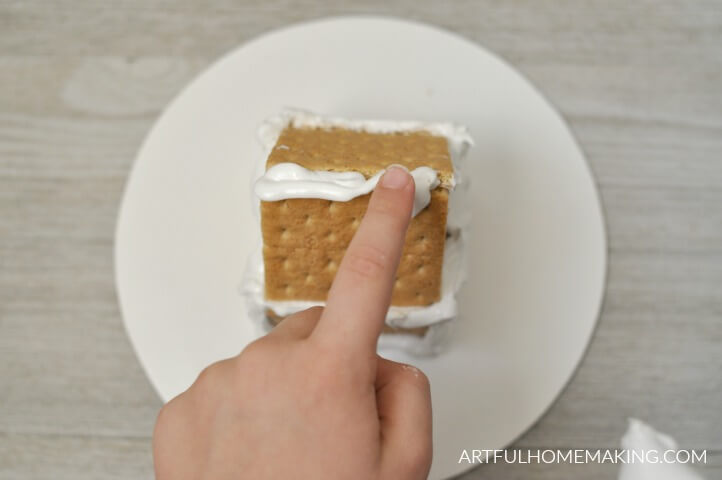 Decorate Your Gingerbread House
Set out all the candy and decorate your gingerbread house! This is always the best part. I love seeing the creativity my kids use to decorate their houses.
Use the frosting to glue the candy onto the house.
 See all of our past easy no-bake gingerbread houses from previous years! Click on a date below to see the blog post.
Pin it for Later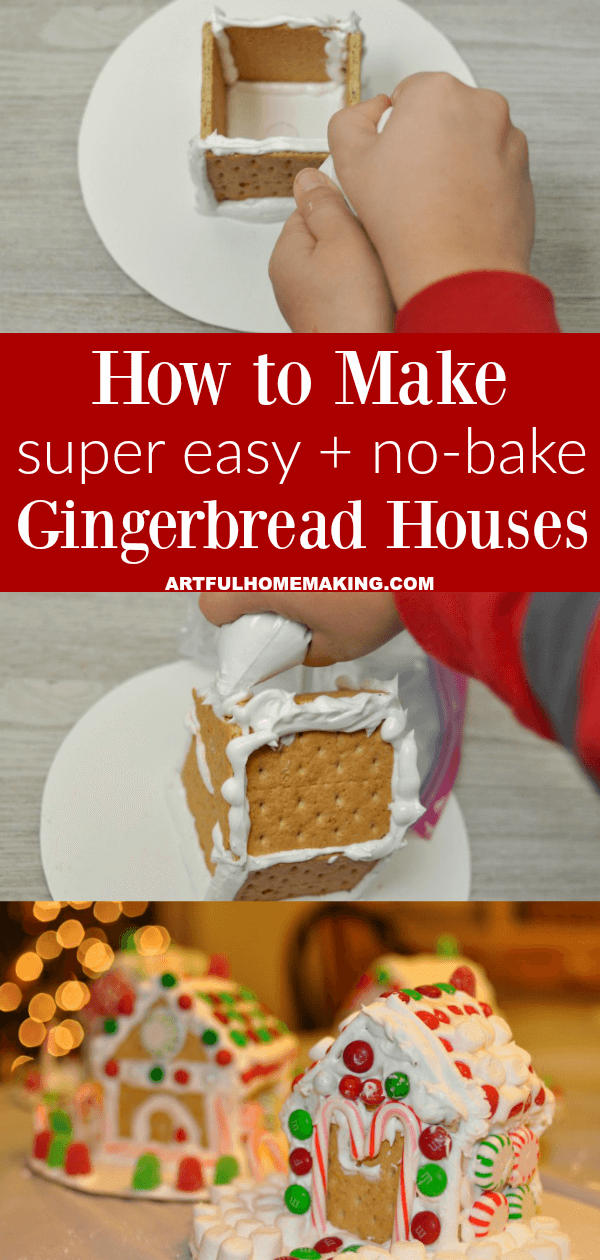 This post contains affiliate links. Read my disclosure here. Sharing here.