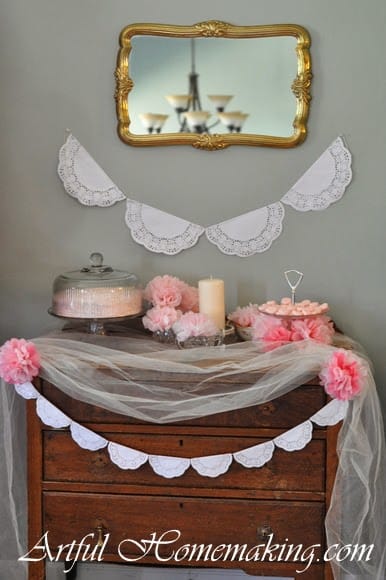 As our oldest daughter neared her thirteenth birthday, we knew we wanted to celebrate in a very special and meaningful way. We wanted to celebrate her femininity, shower her with love, and encourage her to grow in Biblical womanhood.
I began making plans about a month before her birthday. First, I asked a few special people in her life to write her a letter (making sure that the writing was only on one side of the paper). The letters were meant to pronounce blessings on her life, acknowledge achievements and praiseworthy character, and encourage her to stand firm and live for Jesus. Special memories were also shared. My letter took up three sheets of paper! I put together a special scrapbook full of pictures of her from her growing up years: playing dress up, helping around the house, and holding her younger siblings. I wrote some verses in calligraphy, and decorated them with stickers. The verses I used were ones that encourage Biblical womanhood, letting our light shine, and loving others. The letters were mounted in the scrapbook accompanied by pictures of my daughter with the author of the letter.
The day of the party, we sat down to a special lunch of tea sandwiches (egg salad, turkey, and cucumber cream cheese), a fruit tray, a vegetable tray with homemade vegetable dip, cheese, and crackers. We also had some delicious cream cheese mints, and cold kiwi-peach green tea.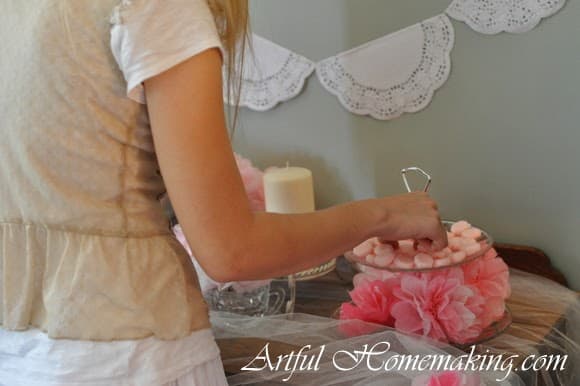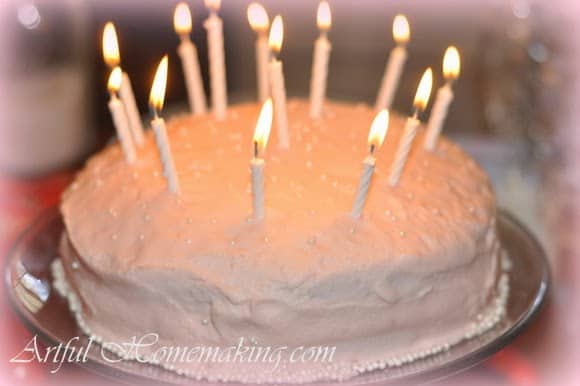 After a dessert of cake and strawberry ice cream, we went into the living room to open presents. The gifts were carefully chosen items that we knew she would love and appreciate. For each gift, I wrote out a verse on a piece of cardstock. On the package of lip balm, I wrote Proverbs 31:26. A music CD had James 1:22. On the hand lotion, Proverbs 31:13. When she opened these gifts, she said she especially liked the corresponding verse attached to each one.
Our daughter asked for a purity ring, and her thirteenth birthday seemed like a great time to give her one. She wanted to make a commitment to remain physically and mentally pure, giving her heart to her father until the day she marries. After giving her the ring, we had a time of praying over her and blessing her. We also enjoyed looking at her scrapbook, which she said she would always treasure.
Our daughter said it was the best birthday she's ever had, and it was a very memorable day for all of us. Our younger daughters are now happily anticipating their thirteenth birthdays!