Have you noticed how many chemicals are in commercial skincare products? It's a lot. Lately, I've been going through my hair and skincare products and trying to get back to more natural things. Here are the 5 best natural skincare products I've been using lately.
I used to be very diligent about avoiding chemicals, but somehow they slipped back into my life. Let's face it, sometimes the natural stuff just doesn't work as well. And sometimes it's easier to buy whatever's at the store.
But I've been feeling like I need to get back to some natural basics.
I've been going through my bathroom cabinets and weeding out as many chemical-laden products as possible. Just as I was beginning this process, I received an invitation to review some MadeOn products. Talk about great timing!
5 Best Natural Skincare Products
MadeOn specializes in natural lotion bars, but they also sell soap, lip balm, bug block, and muscle balm. Everything I received from them was very high-quality and lovely.
Here are the 5 best natural skincare products I received from them:
Dry Skin Brush
I've been using a dry skin brush for many years, and I think there are so many benefits (especially for the lymphatic system). Dry skin brushing is great for skin health. I love the brush MadeOn sent me, since theirs has a handle.
Calendula Goat Milk Soap
Even though I love making my own soap, I just haven't had time lately. The MadeOn Calendula Goat Milk Soap is wonderful.
It's unscented, it's a nice size, and the ingredients are perfect.
It also lathers up really well. Their wood soap pallets are great for helping your soap last longer. I also just love the look of them sitting by the sink. 🙂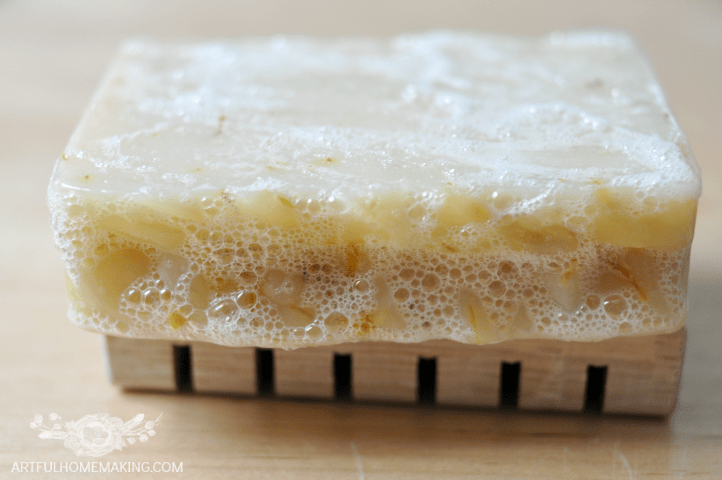 BeeSilk Hard Lotion Bar
The BeeSilk lotion bar comes in a cute little tin (you can also get it in stick form), and it only has 3 natural ingredients! It really works, too.
I have some dry patches on my heels, and this lotion really works to smooth them away. This will be great to have on hand during the cooler weather months when dry skin is more of an issue.
Shaving Soap
No more chemical shaving cream for me! I love this cute round bar of shaving soap. I got the Lavender and Peppermint scent for myself, and the Cedarwood and Sage for my husband. They both smell great.
BeeCool Muscle Balm
Now we come to my favorite MadeOn product of them all. This BeeCool Muscle Balm stick is awesome! It really works!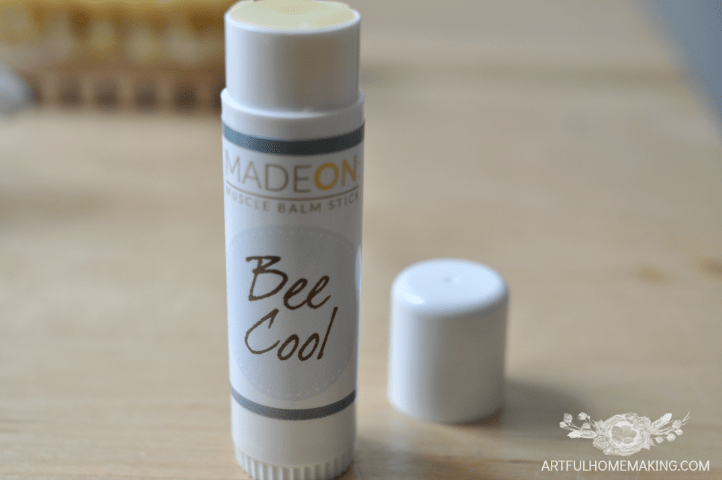 Over the past few weeks I've successfully used the BeeCool stick to relieve tension headaches and also muscle soreness. I honestly can't believe how well it works!
The BeeCool stick contains beeswax, shea butter, coconut oil, menthol crystals, and essential oils of tea tree and peppermint.
Whenever I've got tight, sore muscles, I just reach for this stick. Within minutes I can feel it start working.
Now that I've experienced its effectiveness (especially for tension headaches), I don't think I can be without it.
Get a Free BeeCool Stick!
Renee from MadeOn has kindly offered to send each one of you a free BeeCool stick!
Here's how to get a free one:
Add a BeeCool Muscle Balm stick to your cart.
On the checkout page, use code freeBeeCoolStick and your BeeCool stick will be free! Just pay $4.95 shipping. (Offer expires 

Sunday, September 17th.)
Disclosure: This post contains affiliate links. I received free products in exchange for a review, but the opinions shared here are my own. I only review products I would use and love myself. Read my full disclosure here. Sharing here.