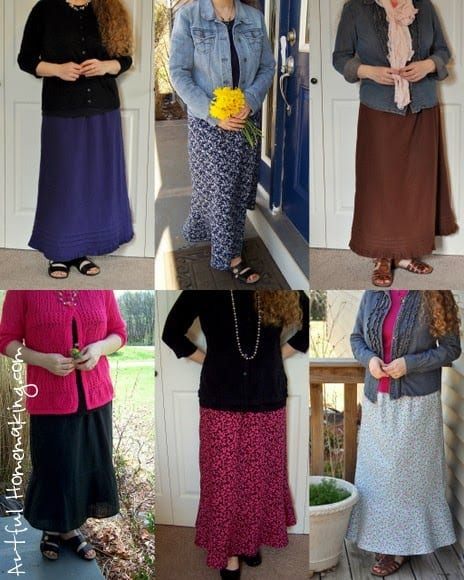 I've been busy depleting my fabric stash and adding to my wardrobe at the same time! Using a favorite versatile skirt pattern (the
Blessed Designs Florinda Maternity Skirt
), I was able to come up with several different looks. I bought this pattern almost three years ago when I was expecting my fifth baby. I made several maternity skirts and then decided to alter the pattern to be wearable for regular wear, and it has been a great pattern to sew with. Very straightforward and simple, and I can make one from start to finish in a few hours.
All of the fabric and notions I used had already been in my stash for years, purchased on sale here and there, except for the black and pink floral print, which I got on sale at Fabric.com. So, the total current cost for these skirts was $8 (Stash fabric always seems free, doesn't it? And I've had most of it so long I don't even remember what I originally paid, I just know it was on sale, as I almost never pay full price for fabric).
This first skirt isn't new. In fact, it's a couple years old. It's made of black linen with a striped weave in the fabric, and it has a flounce on the bottom. (And the black sandals are from last year, still in great shape for the coming spring and summer months.)
I really like the way this skirt turned out, and I like the fabric a lot.
This skirt isn't my favorite. But my husband likes it. 🙂
I was so excited to find this brand new Old Navy denim jacket for only $4! The reason it was on sale is because the side seam had ripped open. Took me about 10 seconds at the sewing machine to fix it.
This skirt also isn't my favorite, but it will work for church. And in this picture it is ballooning out in the wind a bit…My girls helped me take these photos (taken over two different weeks), and they also made suggestions for poses, etc. I don't really enjoy having my picture taken–I'd rather be behind the camera. 🙂
I got this denim shirt at a thrift store years and years ago…I like the ruffles.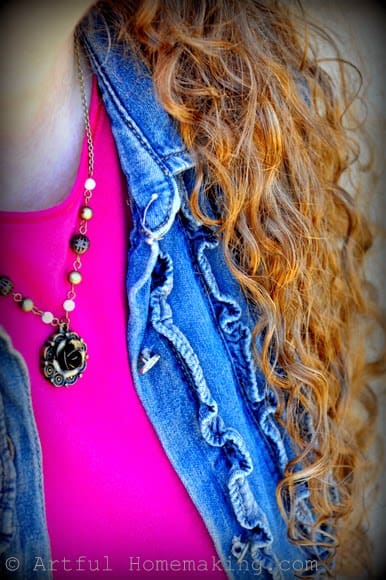 I have been wearing these brown sandals for about six years now! I had to show you a glimpse of my chamomile, blooming in a pot. It was planted for our Apologia Botany course last fall. I was sure it would die over the winter, but it was such a mild winter that it is now thriving! There is also some lemon balm in there that we planted at the same time.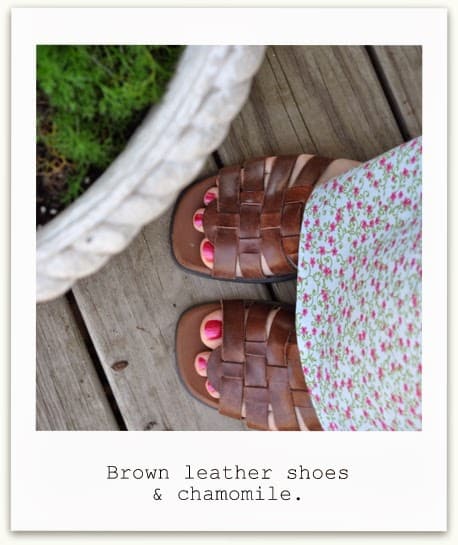 Now this brown linen skirt I really, really like. I did have a hard time getting a good picture of it, though. I have had this fabric in my stash for years. I just couldn't bear to cut into it because I loved it. Well, now it's done, and I'm so thankful that I like it so well. I added about an inch to the ankle-length pattern piece, created a 1-1/2″ wide ruffle, and made three 1/4″ tucks at the bottom.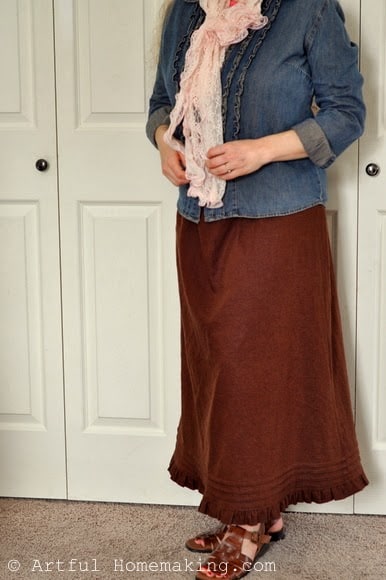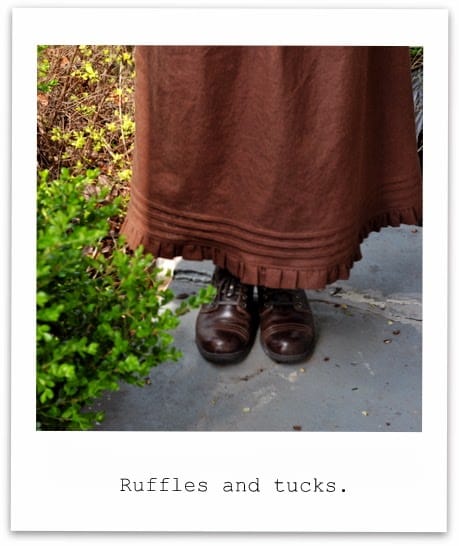 I originally intended to do something different with this blue linen, just to have some variety, but I liked the brown linen skirt so well that I just did the same thing for the blue. The only tiny detail I changed was to add an extra inch to the length. I prefer long skirts for church or special occasions. It also seems that the longer skirts make me look taller (than 5′ 2″). 🙂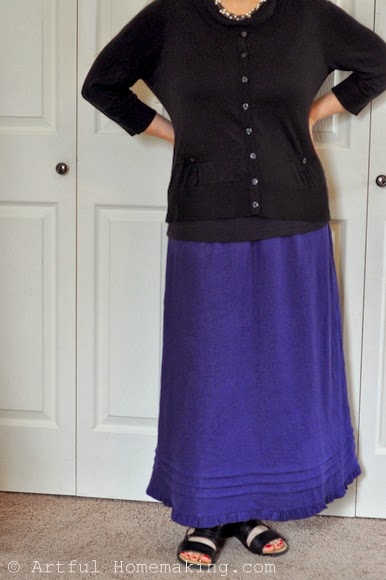 I'm so glad I got all that sewing done while it was raining, so now I can be outside while it's nice and sunny!