Make your own clothes and enjoy the freedom that comes from a handmade wardrobe! When you sew your own clothes, you're no longer at the mercy of fashion.
Knowing how to sew your own clothes gives you power over your own wardrobe. Imagine what you'd like your wardrobe to contain, find some sewing patterns to use, and then pick out your favorite fabrics!
You'll have a closet full of homemade clothes in no time!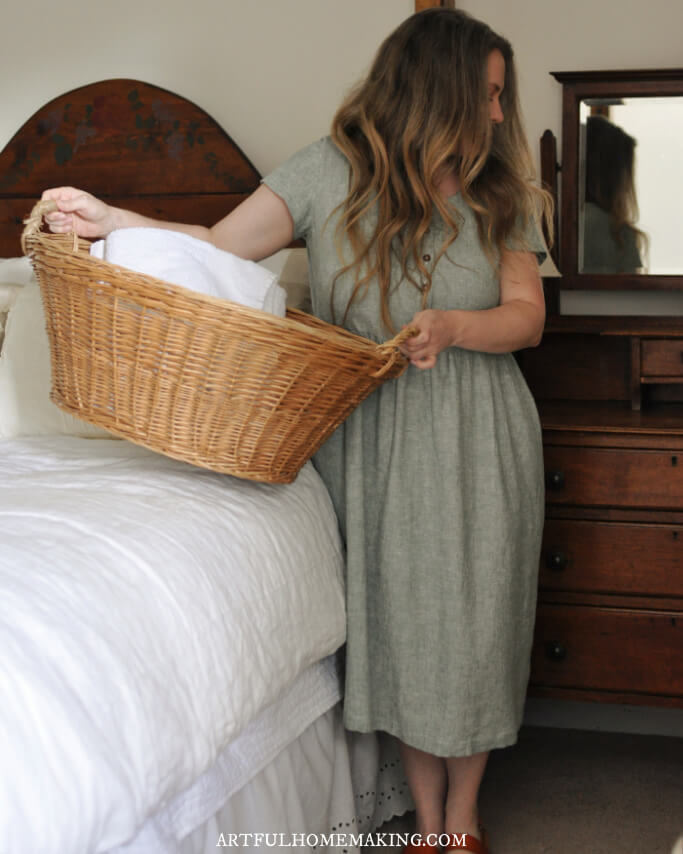 That's what I decided to do this summer. I made five simple dresses to use for my "uniform," and I wore them all summer long.
In this post I'll go over the steps to follow in order to make your own clothes, and I'll also talk about my homemade dresses and how I made them.
What Do You Need to Make Your Own Clothes?
Affiliate links included below, which means I may make a small commission at no extra cost to you. Read my disclosure here.
To make your own clothes, you'll need the following supplies:
A sewing machine (I have this one)
Scissors (I have these)
Fabric (this is some of my favorite fabric to use for clothing)
Thread
Buttons or other notions the pattern may call for
Pattern (I used this one for the dresses in this post)
Ironing board (or a flat surface you can use for pressing fabric)
Serger (optional—I have the Brother 1034D model)
Pinking shears (you can also use these to finish seams if you don't have a serger)
Fray check (to stop fraying around buttonholes)
Tailor's ham (helpful for pressing darts and sleeve caps)
Seam ripper (in case you make a mistake—it happens to all of us every once in awhile!)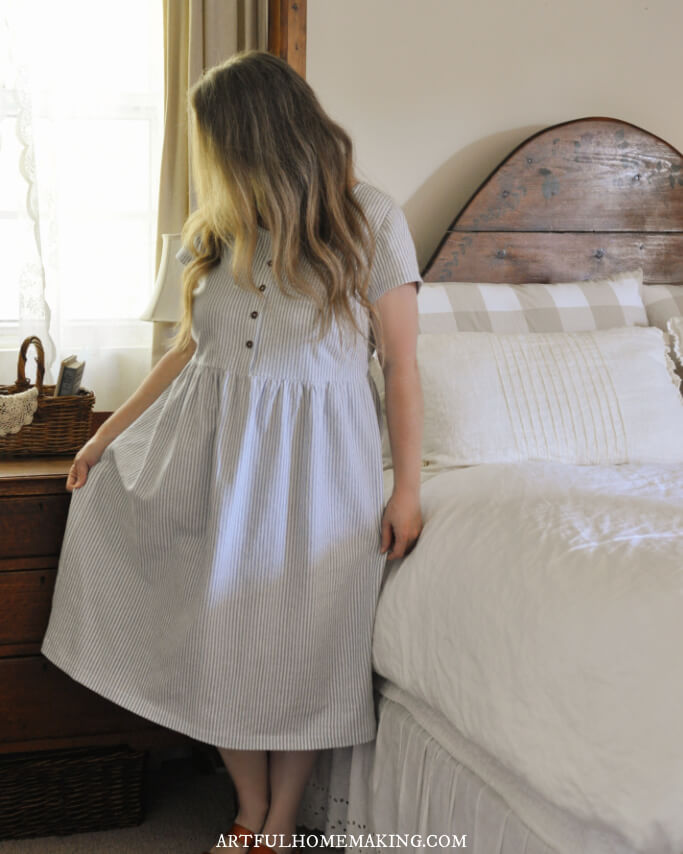 Is Making Your Own Clothes Hard?
Making your own clothes can be a challenge if you don't already know how to sew. Sometimes it's helpful to try a few simple projects (like these napkins) to learn some sewing basics before you tackle clothes (this half apron is also a simple sewing project).
However, when I decided to learn how to sew, I started with a dress pattern! I didn't want to mess around with simpler projects.
The pattern I chose was perfect for beginners. It was a simple, basic jumper dress pattern (this was the 90s!). It had a lined bodice with buttons at the back, a gathered skirt, and pockets.
This was the perfect first sewing project for me! After completing the jumper dress, I quickly moved on to more advanced patterns, like nursing-friendly dresses and dresses with zippers and set-in sleeves.
So, making your own clothes can be challenging if you're new to sewing, but it's not impossible. Just take it one step at a time, read the directions, and go slowly. And be sure to keep the seam ripper handy, just in case!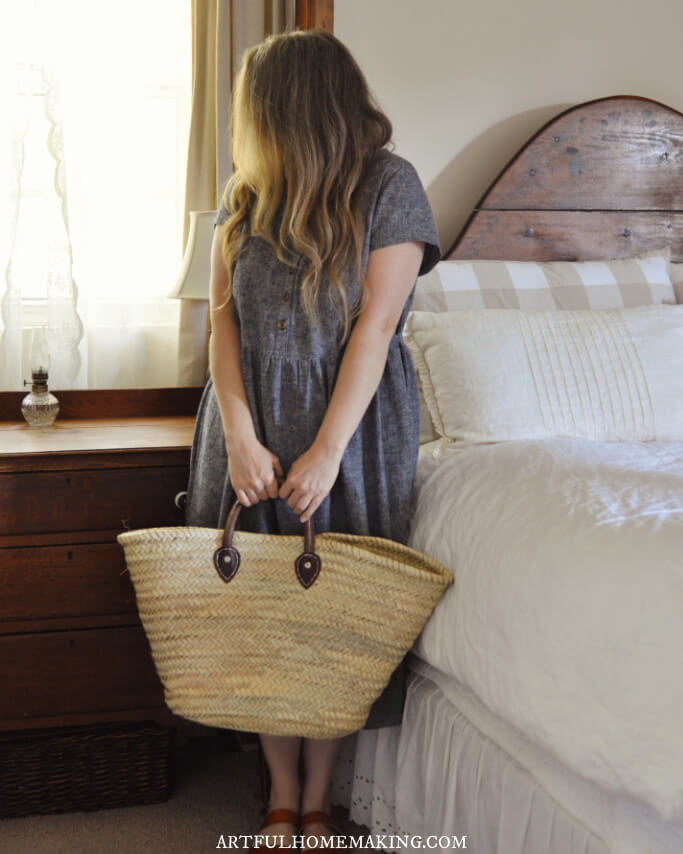 How Do You Make Your Own Clothes?
Here are the simple steps to follow when you want to make your own clothes:
1. First, decide what you want your handmade wardrobe to look like. Do you want to make pants, dresses, skirts, tops, or a combination? Get a vision for what you want the end result to be.
2. Next, look for patterns that will fit your vision. Be sure to check out how much fabric each item will take, if the pattern uses buttons or zippers, and if your current sewing skills are up to the challenge.
3. Then, choose your fabric. This is the fun part! There are so many beautiful fabrics to choose from. My personal favorites are natural fibers, such as linen, cotton, and linen blends.
4. Next, prewash your fabric (if it's a washable fabric, which I highly recommend for clothing). After it's washed and dried (following the recommendations for that individual fabric), you may also want to iron it to make it easier to cut out.
5. Fifth, work on fitting the pattern to your individual measurements. This can be tricky, but thankfully there are lots of tutorials online for helping you learn how to do pattern fitting.
6. And finally, start sewing! Lay your prepared pattern onto your fabric, cut around the pattern, and follow the sewing steps for your chosen pattern.
Sewing Tip: Before you even cut into your fabric, you'll want to do a trial run on some less-expensive fabric or an old sheet. This is called making a muslin, and this important step will keep you from potentially ruining your good (more expensive) fabric!
Find More Sewing Ideas: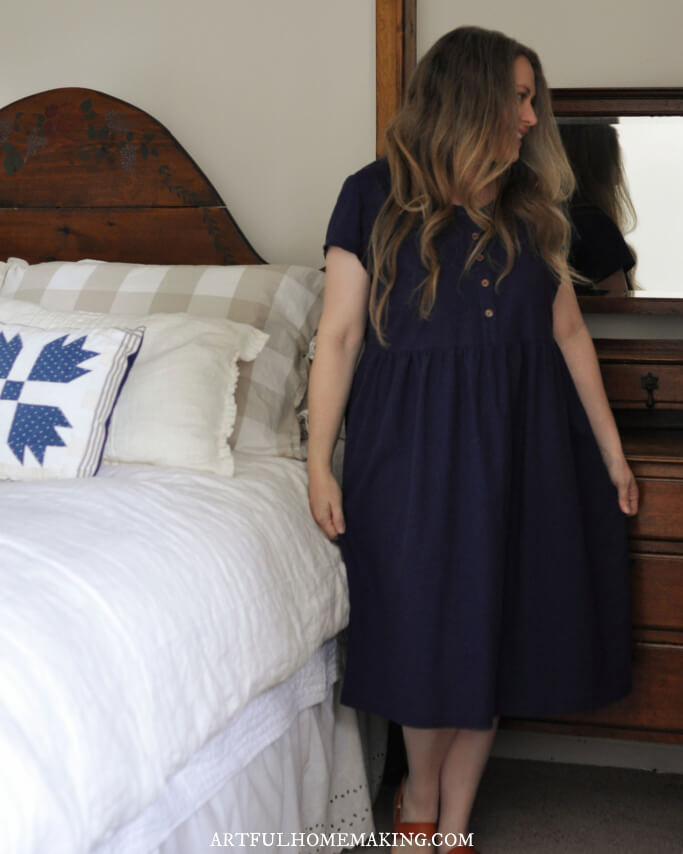 Sewing a Handmade Wardrobe
I've been sewing my own clothes for over twenty years, and I also used to sew for my five children. So, I've spent lots of time creating handmade clothing!
One of the main questions I've received through the years about making handmade clothes is, "How do you find the time?"
Well, the answer to that question is that sewing was something I loved. I enjoyed sitting down at my sewing machine during naptime and creating something from a few yards of fabric.
Even though I loved making my own clothes, I went for several years without sewing clothing.
But this year, I found myself in an unusual situation. Nothing fit. And my size was unusual. If I could find a dress that fit on the top, it was way too large on the bottom.
And if it fit my bust measurement, it never fit my shoulders. The neckline of the dress was always just gapping and hanging off my shoulders.
It was so frustrating to not be able to find anything that fit!
So, I decided to take matters into my own hands, and make my own clothes.
I decided to make dresses, and I really wanted them to be linen. I had several linen dresses in my previous summer wardrobe, but they don't currently fit me, and I couldn't afford to buy more.
So I decided to make them myself.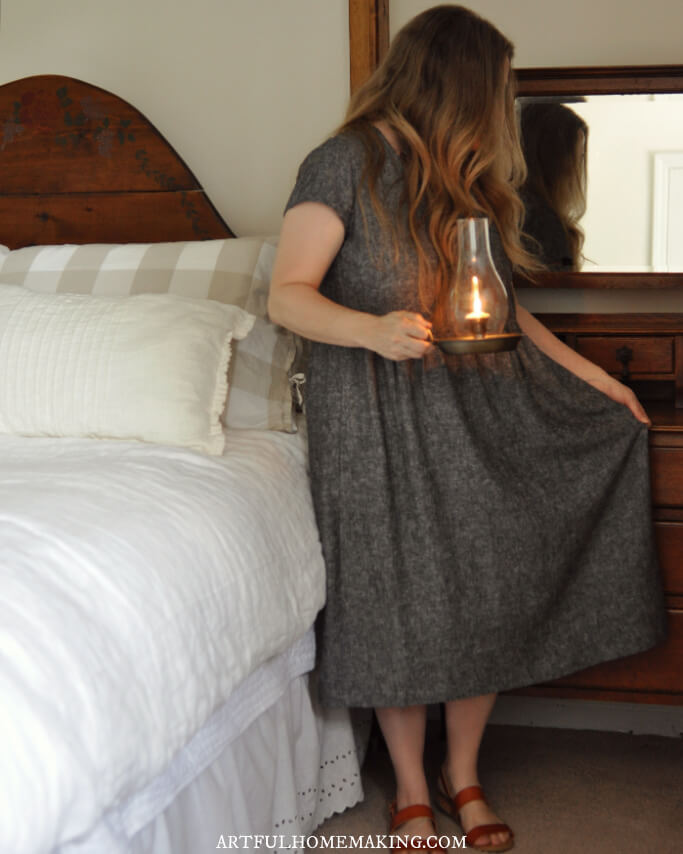 Handmade Wardrobe Ideas
I chose a simple dress pattern to use. I used The Hinterland Dress pattern. It was everything I wanted in a dress—button-front bodice with bias binding, cap sleeves, a gently-gathered skirt that wasn't too full, pockets, and back ties.
You can also get a Hinterland Dress paper pattern here.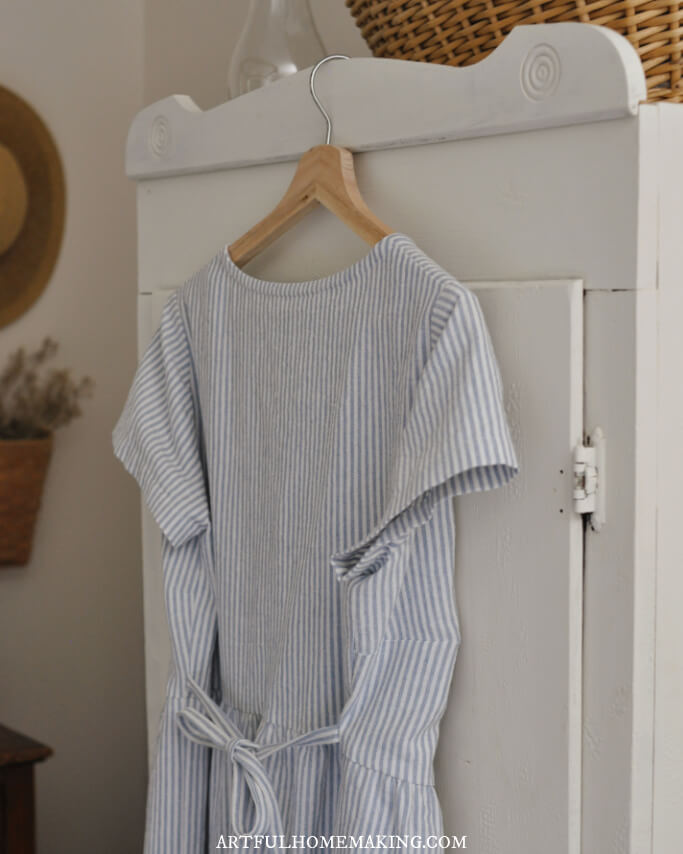 I couldn't afford to buy pure linen, so I settled for linen blends. 100 percent linen will always be my favorite dress material, but linen blends still work.
To get the look I wanted, I also bought these small wooden buttons. They have held up well to a summer of wear and washing (I use my washing machine's delicates cycle and turn the dress inside out to wash. Then hang to dry after a minute or two of tumbling in the dryer on low heat).
I made two muslins for the dress, trying to get it to fit just right. And I finally got it!
I have narrow shoulders, so I sized down to fit my shoulder width measurement, then did a full bust adjustment (and lengthened the bodice to accommodate that), moved the dart, raised the bottom of the back bodice, and did a full bicep adjustment.
Fitting is probably the most difficult part of making your own clothes, but once you get the fit right, you can use the adjusted pattern to make perfectly-fitting clothing!
My Handmade Dresses
These are the handmade dresses I sewed and wore all this summer. They have been very lived-in and loved all summer long!
First, I made this navy linen dress. This was actually my second muslin for the dress. I made the first muslin last fall, and it just didn't fit right, so I tried again.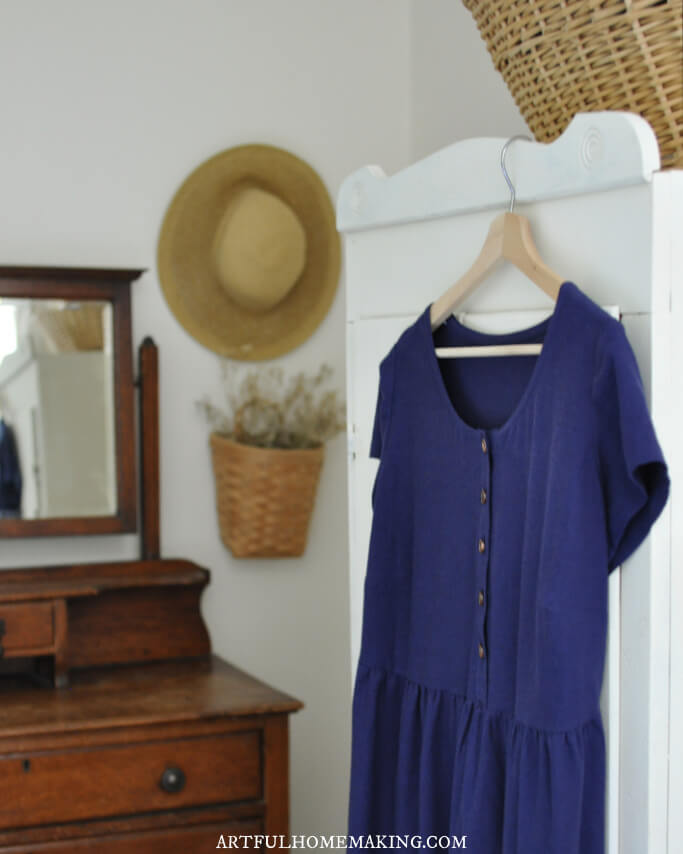 This one was almost perfect! But I made a few adjustments before the next dress, which made it even better.
This fabric had been in my fabric stash for over ten years, so the cost of this dress was almost zero.
I didn't have much fabric to work with, since this fabric was leftover from another long-ago project, so I also shortened the skirt. I didn't add the pockets or back ties to this dress to save time and fabric.
Next, I made this sage green linen blend dress. On this dress, I again used the cap sleeves, but I made a few additions that weren't included on the last one.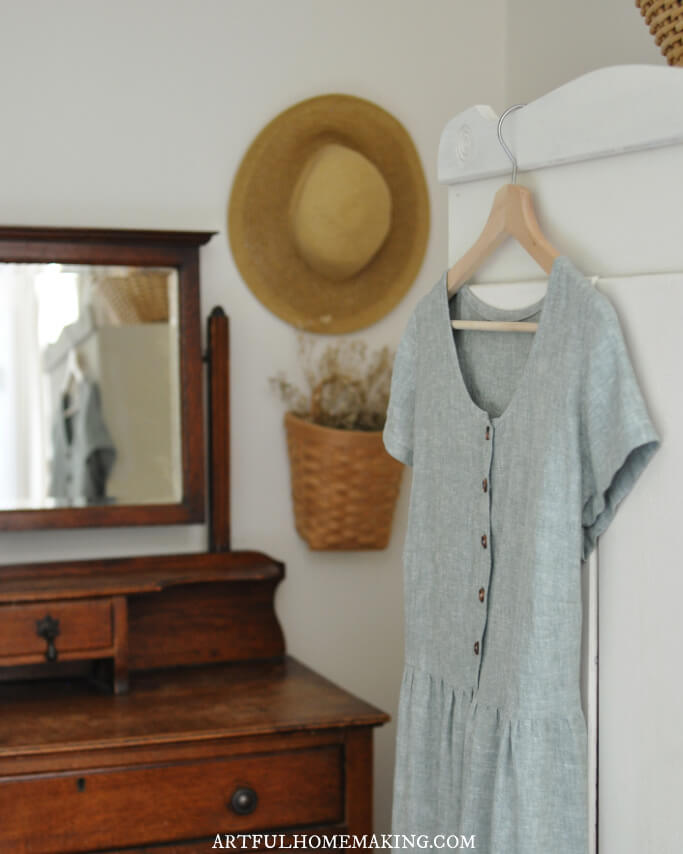 I made another small adjustment to the bust dart which made it fit even better. I also added side back ties, but I made them a lot narrower than the ones included in the pattern. And this time I did use the pockets, but I raised them a bit so they would fit me better (the original placement was too far down for comfort).
Next, I made this black linen blend dress. I really love this fabric.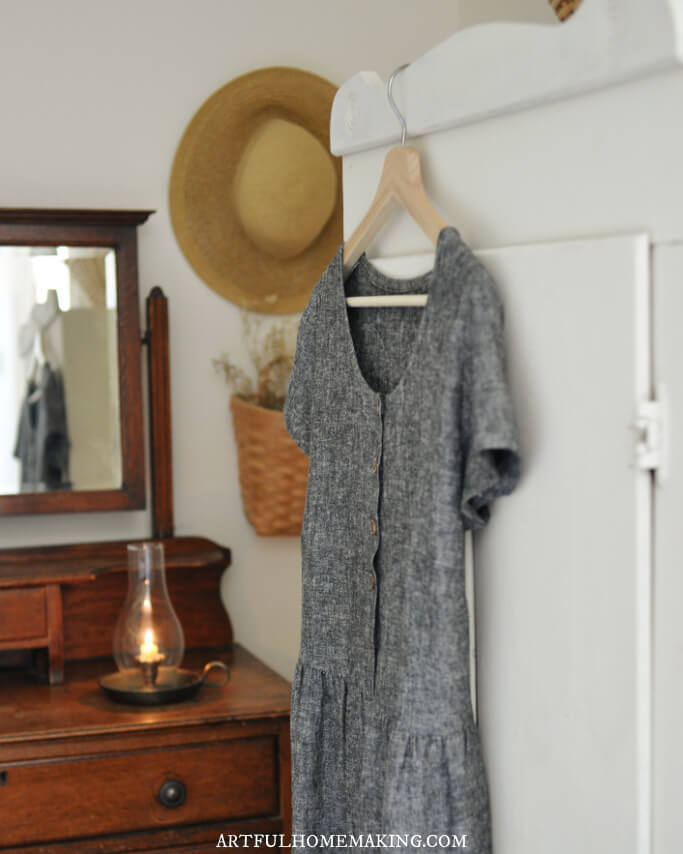 The fourth dress was made in a blue and white striped linen-cotton blend. I love how light and summery it is, and it was a dream to sew.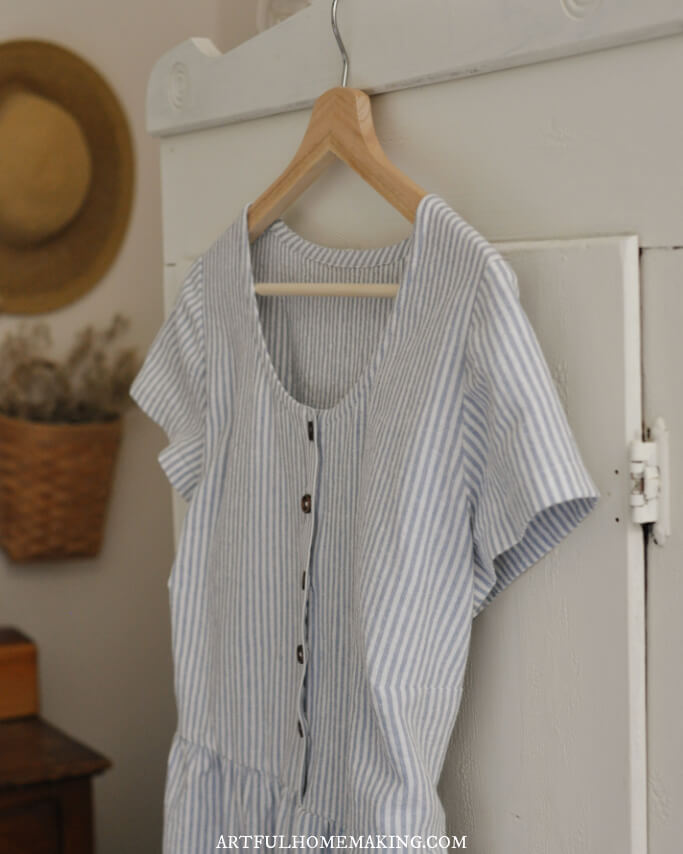 This is the fifth dress in my handmade summer wardrobe, in a navy linen blend fabric.
Creating a Daily Uniform
I know it may seem boring to have five dresses made in the same style, but using the same pattern allows me to sew them up quickly and almost effortlessly.
Also, I'm really fond of a daily "uniform," and these allow me to just grab a dress out of the closet without too much thought.
My goal is simplicity when it comes to clothing.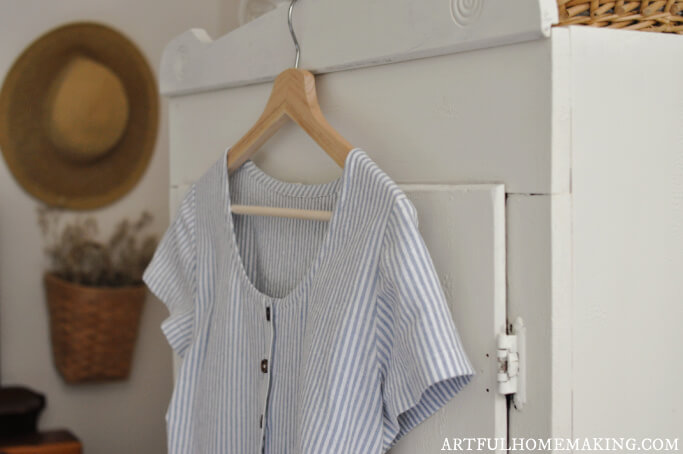 I had so much fun sewing this collection of clothing! In addition to these dresses, I also had a couple of skirts and tops that were already in my closet.
So, it wasn't a completely handmade wardrobe, but the bulk of it was handmade! There's something so fulfilling about learning how to make your own clothes, and then being able to wear them on a daily basis.