How to get a farmhouse look on a budget, when you love farmhouse style but need to be frugal!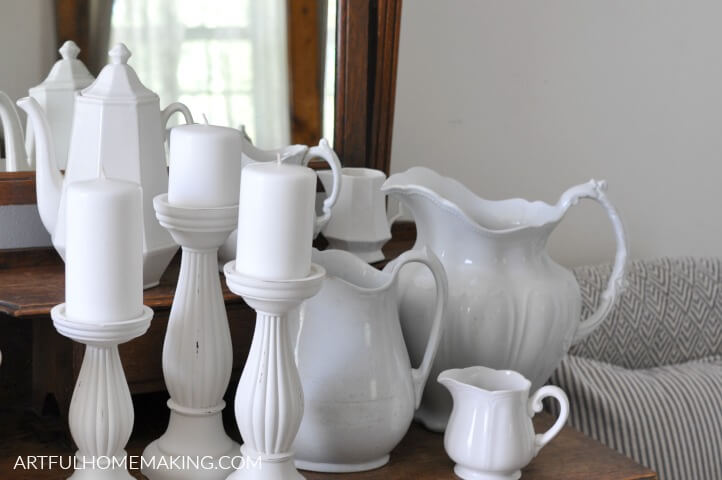 I've loved farmhouse style for as long as I can remember.
I remember flipping through books at the library that were filled with old farmhouses and antiques.
I dreamed of a day when I would own a farmhouse of my own out in the country. Of course it would be decorated with rustic country decor.
When I was a teen, one of my favorite things to do was to spend an afternoon browsing at antique shops and flea markets.
On summer afternoons, my brother and I would walk to a local antique shop and spend hours there, just looking at all the remnants of a past era.
My mom and I also loved going to large antique and craft fairs when we lived in Texas.
So many happy memories!
My Early Decorating Efforts
After my husband and I got married, we didn't have a lot of money.
We needed to economize, so we gratefully accepted free furniture and housewares from kind family members.
Our very first dining room table was just an old card table. We had mismatched chairs and a harvest gold recliner my husband found by the roadside when he was in college.
Not exactly the farmhouse look I was hoping for!
Even though I still loved farmhouse decor, I couldn't afford to buy new (or old) things to decorate with.
Current Decorating Style
Fast forward to today. I still love farmhouse style decor, and we're still on a very tight budget.
We live in a modest 1960's raised ranch, with very little architectural detail or farmhouse charm.
I still don't have a lot of money to spend on home renovations or decor.
Almost all of our furniture was thrifted or given to us by kind family members. (But I did get rid of that old gold recliner years ago!).
I'm not a lot closer to my cute farmhouse style home.
So what's a farmhouse-loving girl to do in this situation???
How to Get a Farmhouse Look on a Budget
Rather than giving up on my farmhouse dreams altogether, I try to be creative.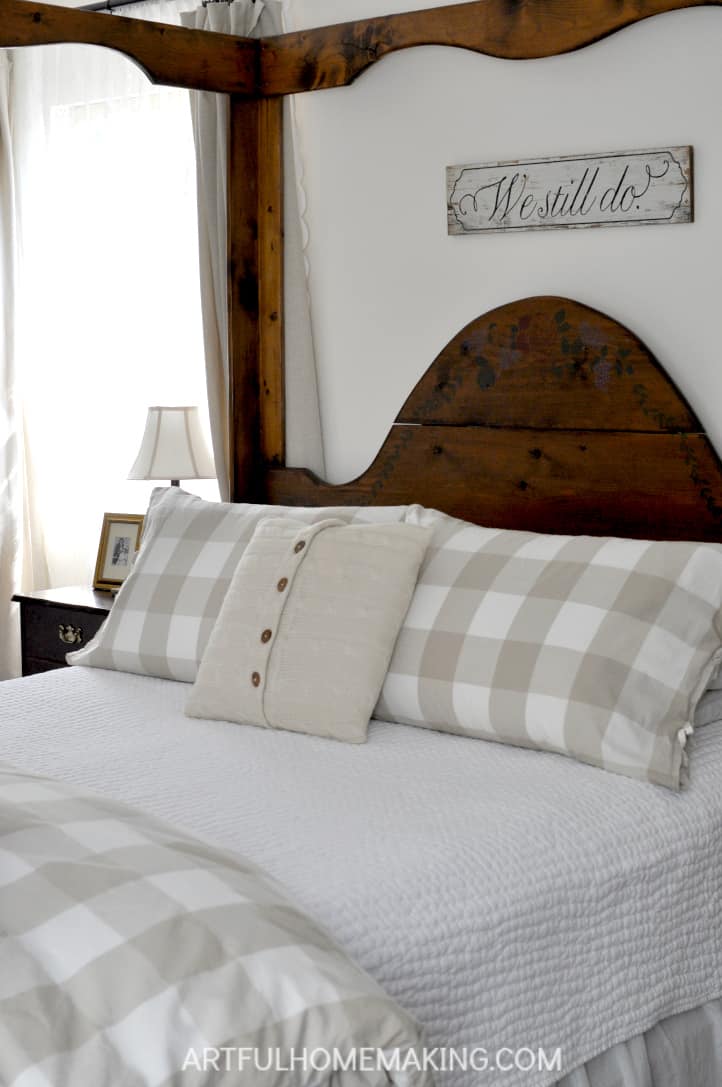 I try to remain grateful for all that we have been blessed with, even if it's not the exact style I would prefer.
I keep my eyes open for free things and hand-me-downs from family and friends. (Like the enamelware bowl that was my husband's grandmother's.)
Through the years I've managed to collect some cute, affordable farmhouse decor, like crocks and ironstone pitchers.
I've also updated some of our furniture with paint.
Here are a few more tips for how to get a farmhouse look on a budget.
Paint Everything White
Now, I don't mean this literally. You don't have to actually paint everything white.
But when you have a piece of furniture that was given to you or that you already own, consider painting it if it's not just right.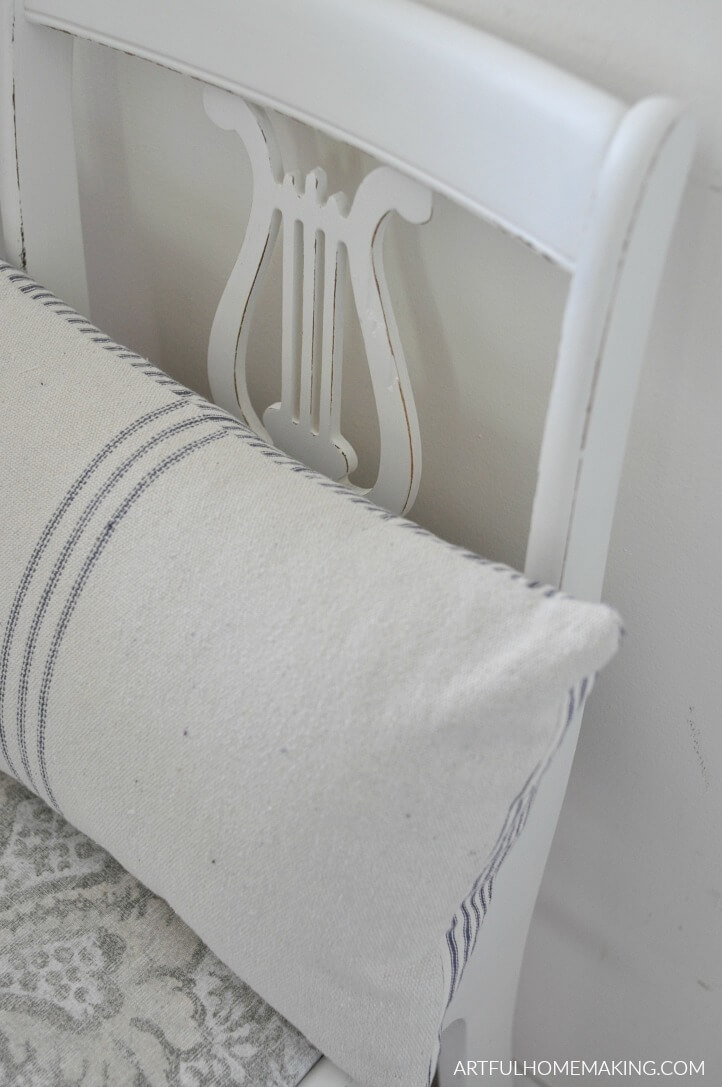 I wouldn't recommend painting a family heirloom or antique piece if the original wood finish is still in good shape (unless you really want to!).
But if  you find (or are given) a piece of furniture that just needs a little extra farmhouse charm, try painting it with chalk paint or mineral paint.
White paint can transform even the most un-farmhouse piece of furniture into something adorable!
And, you don't have to stick with only white paint, of course, if that's not your thing. I just prefer neutral pieces of furniture in general. (Just personal preference.)
Shop Flea Markets and Junk Shops
Through the years, I have found some of the best deals at flea markets and junk shops.
The selection tends to be better in smaller towns, it seems, as they're not hit as hard as shops in the city.
One of my favorite date ideas is to spend the afternoon "antiquing" or "junking" with my husband. We have so much fun looking for treasures in flea markets and junk shops.
Just a couple weeks ago, my husband came home with a beautiful, large ironstone pitcher he found at a local flea market. And it was only ten dollars!
Another day he came home with an adorable enamelware pitcher and basin that he found very inexpensively.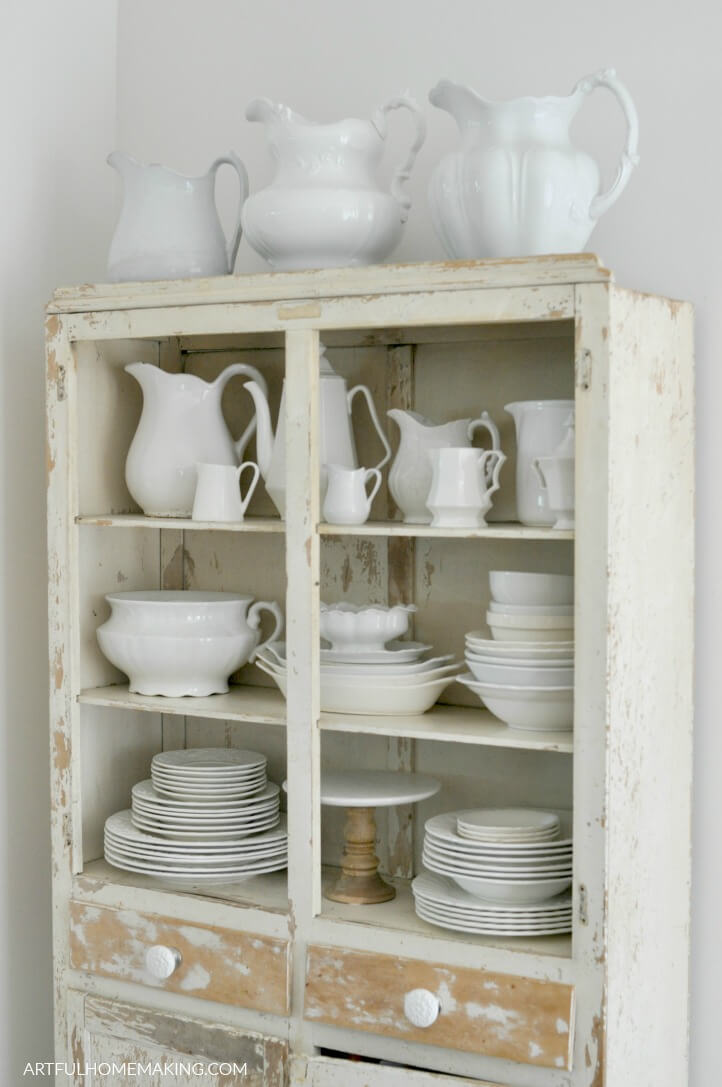 That's one thing I love about living in a rural area. We tend to have lots of good places to look for farmhouse decor deals!
Know Your Style
My final tip is to know your style. There are many different possibilities when you're looking for farmhouse style treasures.
You might love a traditional or rustic farmhouse look (which is what I love). Or, you may prefer a more modern farmhouse approach.
Knowing what you're looking for is very helpful, because you can spot a piece that would be just right for you very quickly.
I have certain things that I always look for when I go thrifting or antiquing. I look for ironstone, enamelware, and white linens.
And baskets. Can one have too many baskets? (My husband thinks "yes," but I can always find room for one more!) 🙂
If you need help figuring out your design style, I highly recommend this book.
I got a copy for my birthday, and I just love flipping through it for inspiration. It also makes a great coffee table book.
Thanks so much for stopping by!
Related Posts:
Pin This Post for Later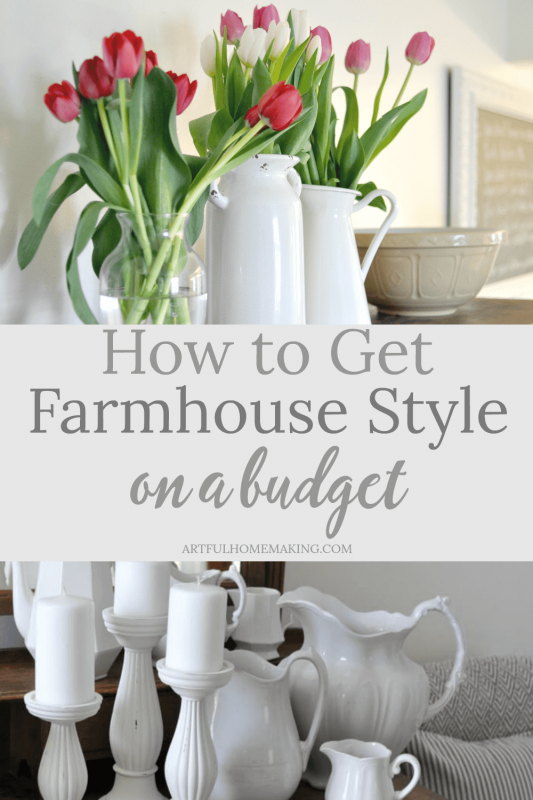 This post contains affiliate links. Read my disclosure here. Sharing here.