Thanks to a recent birthday and generous family members, I was able to make some farmhouse master bedroom updates this month!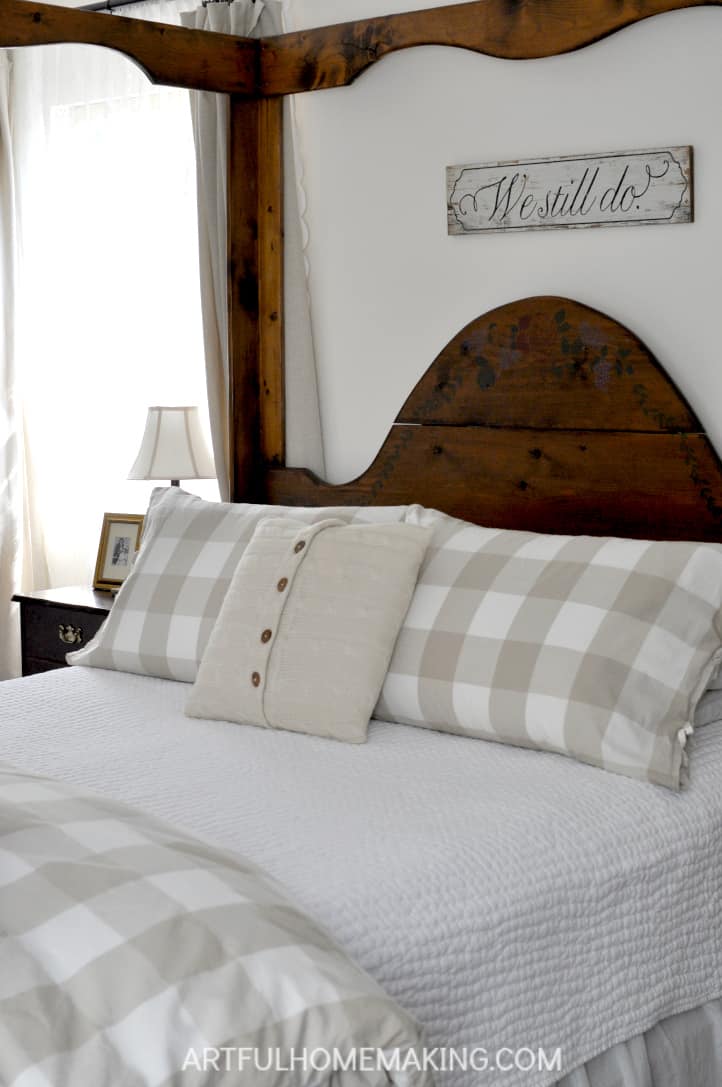 It seems like we often save the master bedroom for last when it comes to decorating. The other rooms of the house are more visible to guests, so I guess that's why we do it. But really, shouldn't we make the bedroom more of a priority?
I tend to spend a lot of time in my bedroom since it's the only space I can pretty much call my own in the whole house (my husband is fine with that since he has a home office all to himself!). 🙂
I also enjoy creating a special place just for us as a married couple.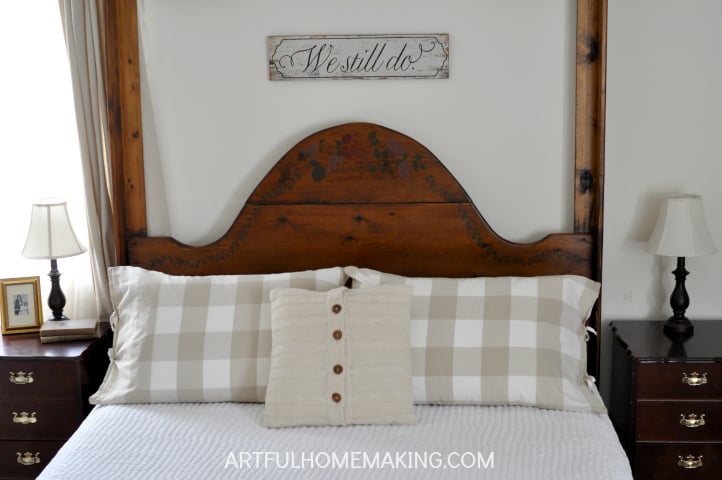 For reference, here's what our master bedroom used to look like. And then it looked like this.
My husband bought our bed before we got married, and gave it to me as a wedding gift. It was made by a local craftsman, and it's kind of a family heirloom at this point. I have, however, considered painting it white. Is that crazy?!
I never was crazy about the stenciled painting on the headboard part, and it does tend to make our small bedroom look a bit smaller due to all the darker wood. I wish I could get a full picture of it, but I don't have a wide-angle lens for my camera.
So, what do you think? Should I try painting it?
Master Bedroom Updates
The recent updates came in the form of new bedding and a new sign for over our bed.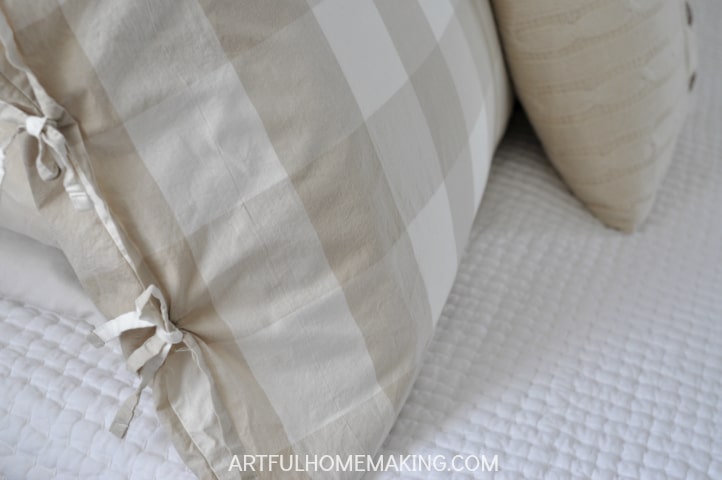 I have been looking for a white quilt for so long, and I finally found just the one I wanted—the Pottery Barn Pick-Stitch Quilt—and it was on sale!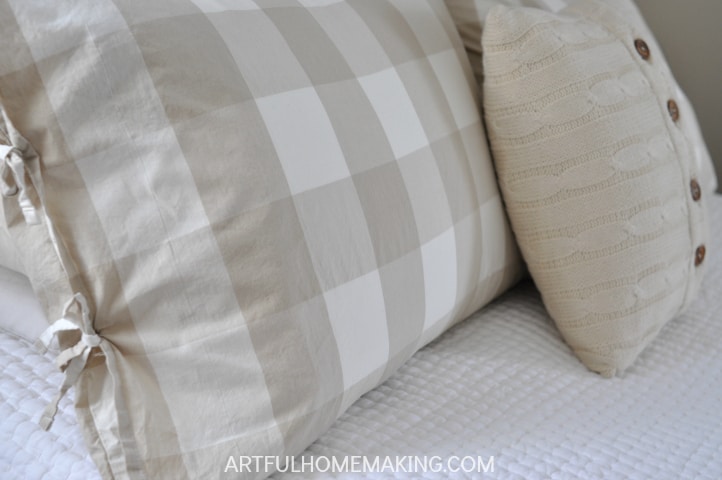 I replaced our previous duvet and pillow covers with this adorable checked set from Ikea. I've always loved checks, and I really like that these are neutral.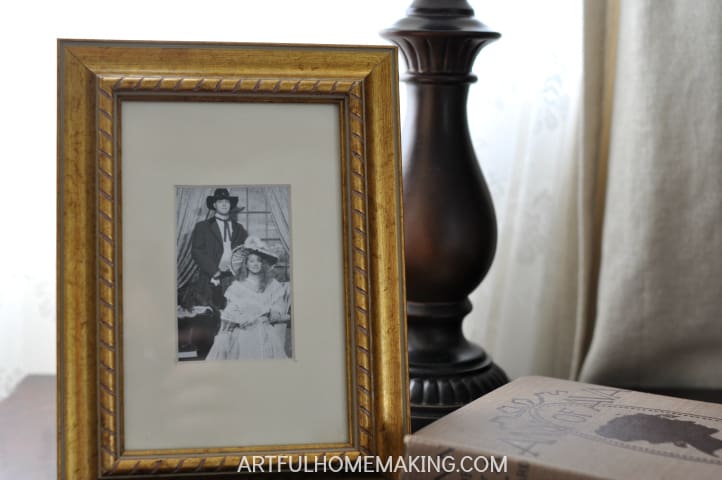 We're still using these lamps I found years ago at the dollar store. And I've been displaying this old-fashioned photo of my husband and I as newlyweds for many years. It's one of my favorite pictures of us!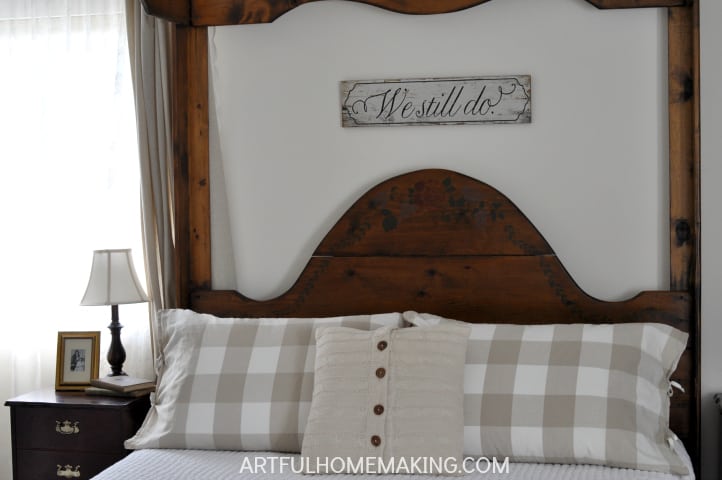 Our matching nightstands were purchased very inexpensively from one of my husband's coworkers about 15 years ago. I'm also wondering how hard they would be to paint!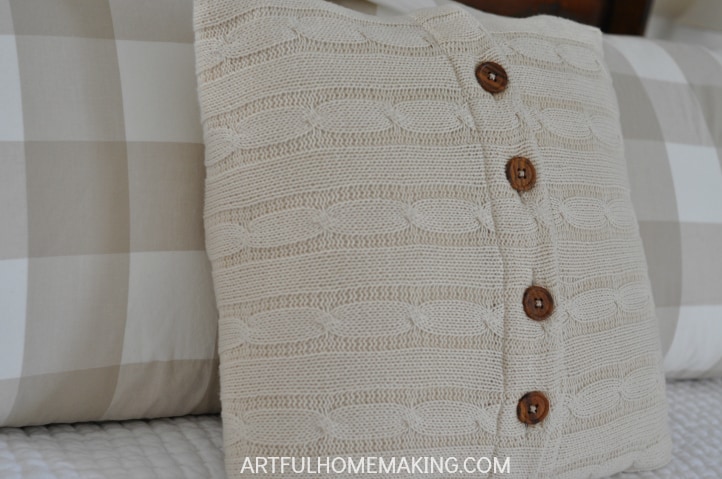 This knit pillow with wooden buttons came from Zulily.
Our bed is tall, so I had to find a special bed skirt with a longer drop than the usual ones. I found it a couple of years ago at Wayfair. I love the look of a bed without a bed skirt, but our bed shows the box spring without it, so it's kinda necessary. 😉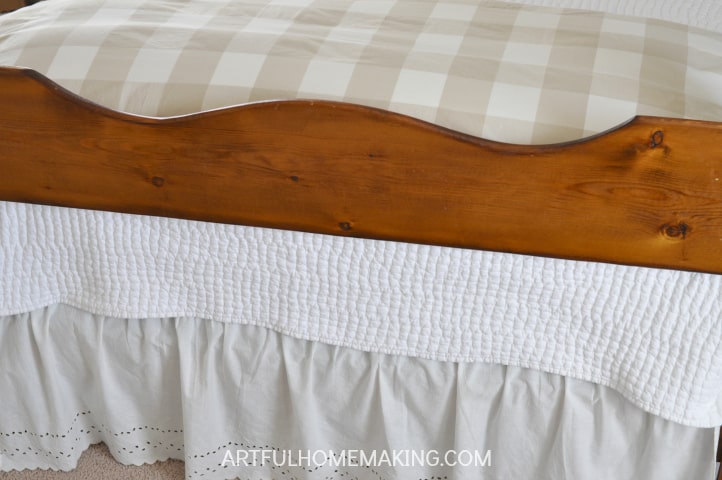 Sources:
Paint Color: Benjamin Moore Sugar Cookie
Quilt (I found mine on eBay at a discount)
Lamps (Dollar Store)
Knit Accent Pillow with Wooden Buttons (Zulily) This one on Amazon is similar.
We Still Do sign (Ever Thine Home) This one is similar and hand painted (mine isn't).
Curtains (more information in this post!)
Future Master Bedroom Updates
We're loving the fresh, new look of our master bedroom, but of course I still have plans for more updates!
I've got a few master bedroom furniture projects in the works, and hopefully I'll be able to share those soon!
Pin it for Later: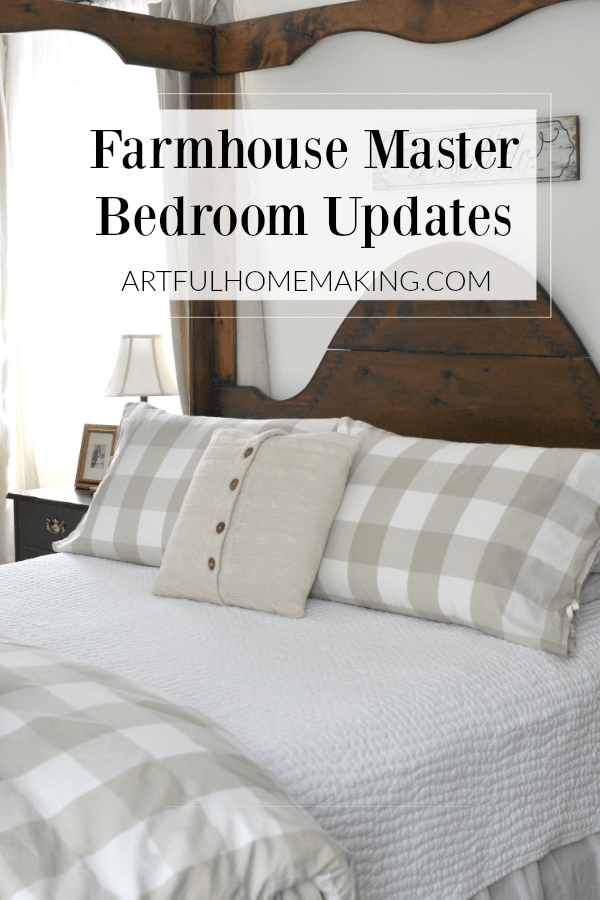 Disclosure: This post contains affiliate links. Read my full disclosure here. Sharing here.