Farmhouse bedroom ideas for spring that are great for those on a tight budget! It's almost summer, but here's our farmhouse style master bedroom tour for spring!
Come tour our master bedroom that's decorated with linen, ticking stripes, and ironstone!
This post contains affiliate links, which means I may make a small commission at no cost to you. Read my full disclosure here.
Farmhouse Bedroom Tour for Spring
All through the long, cold winter, I looked forward to spring. I longed for sunshine and green grass and flowers.
When spring finally came, I couldn't wait to put winter decor behind us and decorate everything in a lighter, more cheerful way.
One of the first things I did after spring arrived was to buy some zinnias at a local greenhouse. It was only a few dollars for a flat of six plants, and I'm so glad I made that small investment.
I waited a bit too long to cut these zinnias, but there are lots more on the plants that are just about to bloom!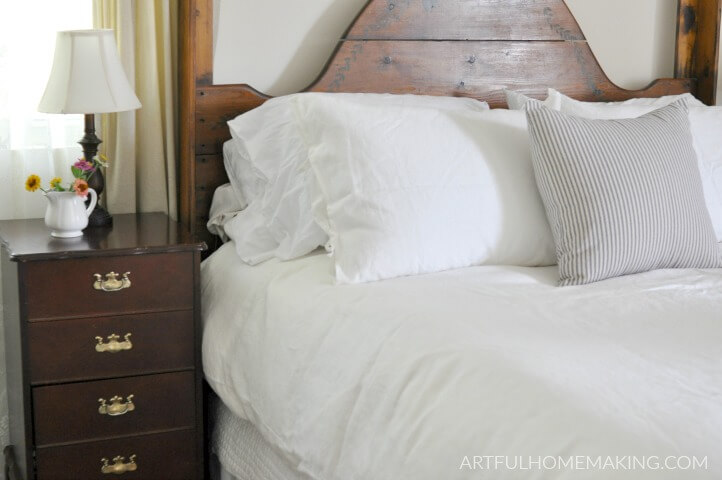 When I think of spring and summer decor, I often think of blue and white. I switched out our checked duvet cover for this white linen one and added a handmade ticking stripe pillow.
Blue ticking stripes are a favorite, and they're so summery. Actually, I like them any time of year, but especially in the spring and summer.
This is just a simple pillow cover that I made. I love that it can be switched out to change with the seasons or whenever I want a different look.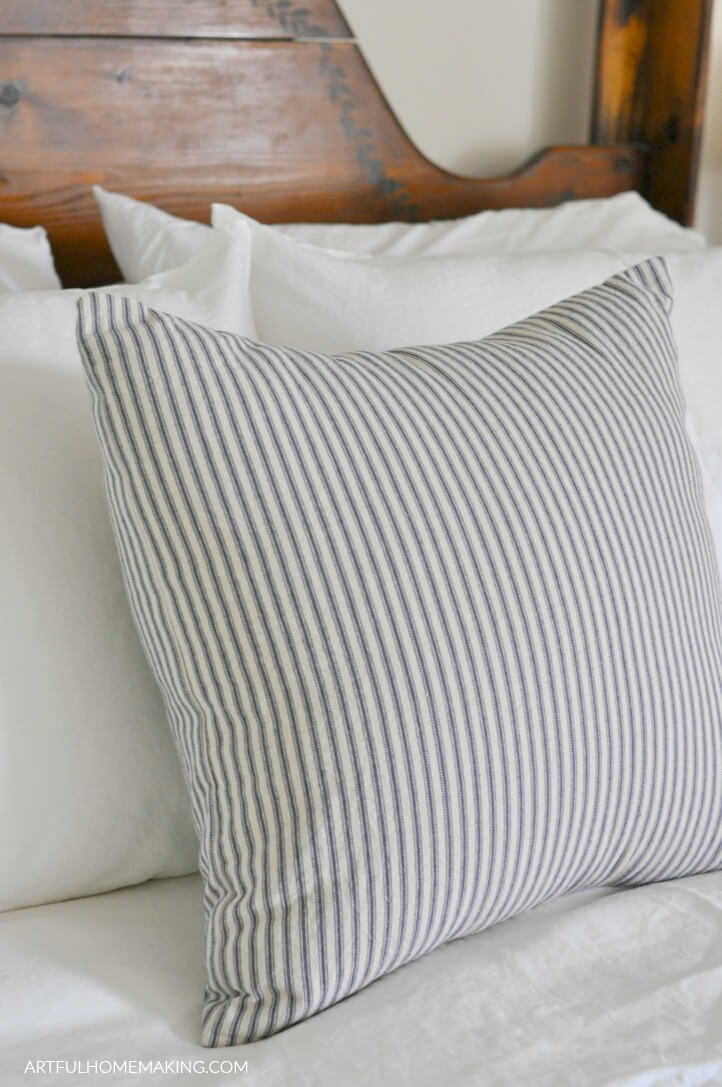 I use my white Pottery Barn quilt year-round, as it's the perfect weight for warmer spring days.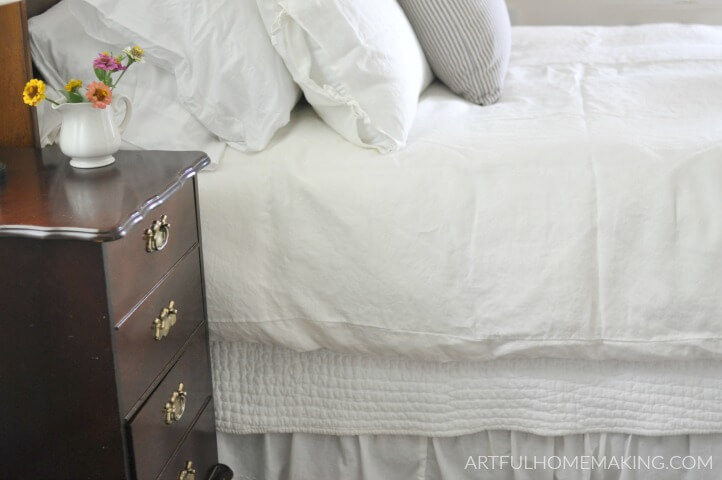 You can see that my zinnias are past their prime. These are already going to seed. Next time I won't wait so long to cut them! I still love the bright and cheerful colors.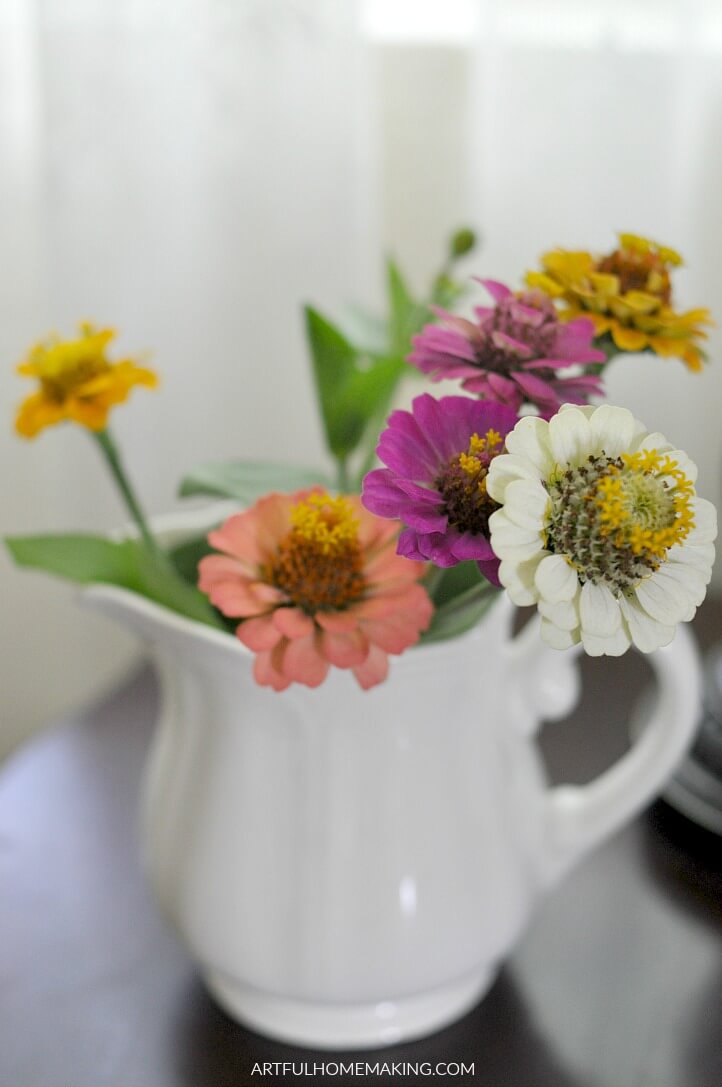 I found this adorable white ironstone creamer at a thrift store years ago, and it was one of the best purchases ever.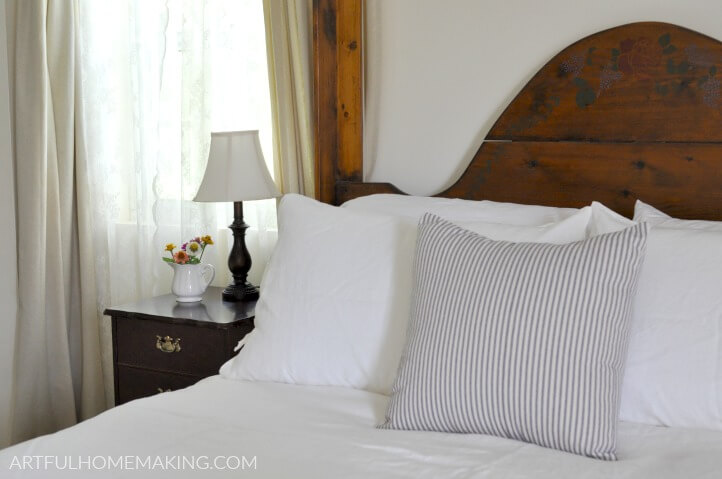 On the other side of the room, you can see my antique dresser that I found at a yard sale almost 30 years ago! It's hard to believe it's been in my bedroom all these years.
I love the stain on the wood. I found the pitcher at a flea market, and the French market basket was a birthday gift from my mom.
Handmade Decor
My mother-in law gave me this little wooden chair from her collection, which I repainted with Fusion Mineral Paint. I recovered the seat with Magnolia Home Fashions Hamilton fabric.
This chair was fun to make over, and you can see the details from that project here.
I also made the little pillow on the chair, using more ticking stripe fabric and some coordinating grain sack fabric.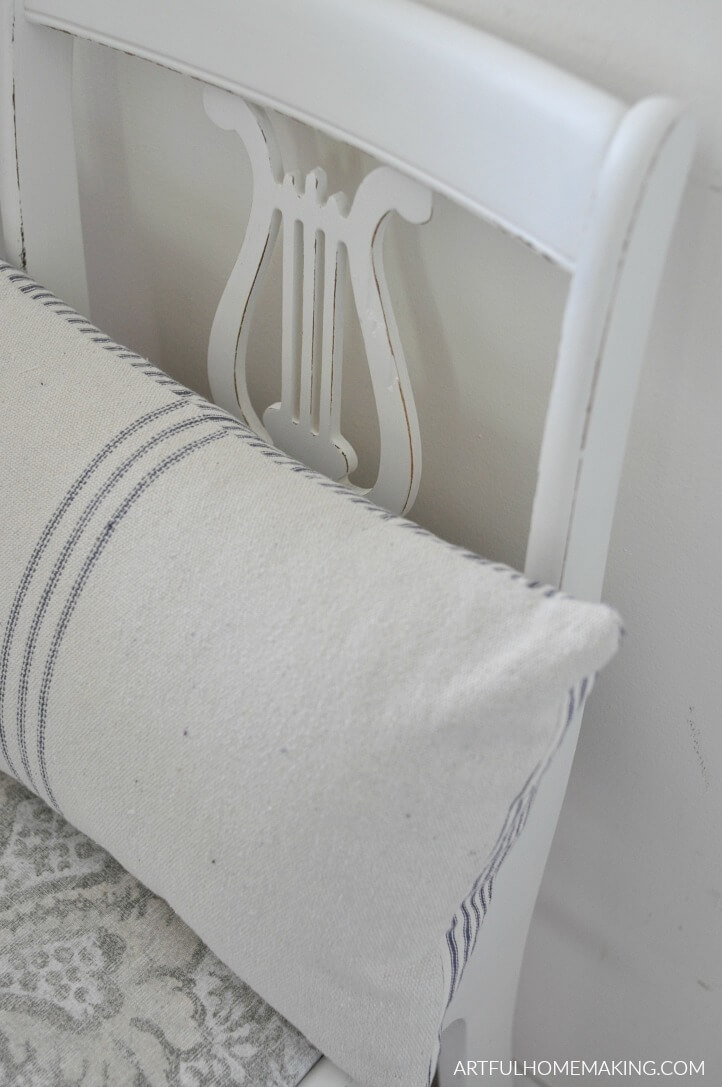 Since I'm on the subject of pillows, I thought I would mention that I'm now only able to sleep on this organic buckwheat hull pillow.
If you've been following me via email or Instagram, you might have seen that I've been having some health problems since December.
I may write more about this in a separate post, but sleeping on this pillow has really helped me!
It's kind of strange to sleep on buckwheat hulls, but they can be really beneficial if you suffer from migraines or neck problems.
Farmhouse Bedroom Ideas for Spring
If you're like me, and you don't have a large decorating budget, here are some simple ideas for adding a touch of spring to your home!
Add flowers. It doesn't matter if they're real or fake (you can find some surprisingly real-looking ones these days!). I often just use whatever we have growing in our yard, whether it's lilacs or apple blossom branches.
Change out your bedding to lighter, more springy fabrics and colors. I love linen for spring and summer. White and blue are my colors of choice for this season.
Use baskets and straw hats and bags as decor.
Here's a bouquet of lilacs from our lilac bushes earlier this spring. They cost me nothing and were so beautiful in our bedroom in this Ikea pitcher!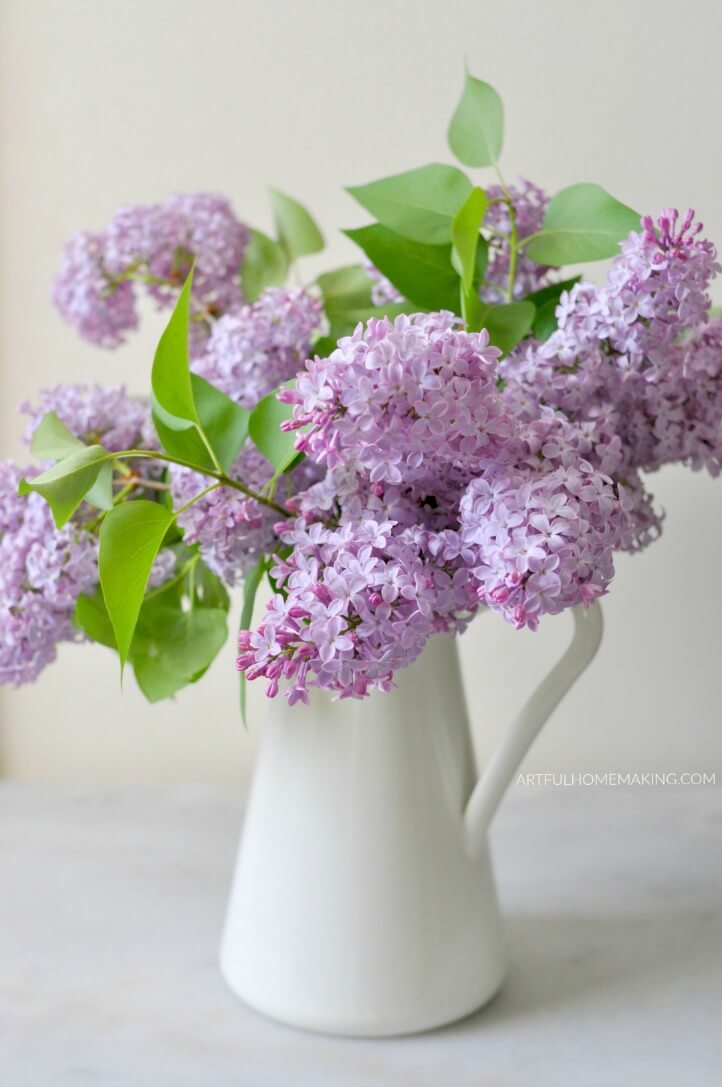 Farmhouse Bedroom Sources
Paint Color: Benjamin Moore Sugar Cookie
Quilt (I found mine on eBay)
Bedside Lamps (Dollar Store)
Ikea Curtains (more information in this post!)
Sachi Organic Buckwheat Hull Pillow
Related Posts
Pin This Post for Later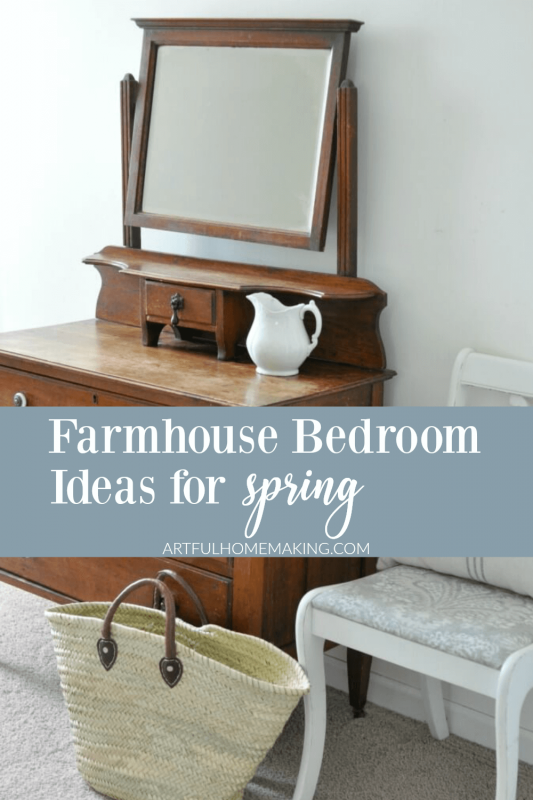 This post contains affiliate links. Read my disclosure here. Sharing here.