Months ago, I mentioned the possibility of sharing my birth stories here, and the response I received was very positive. I'll start with the first and work on getting them all typed up eventually.
I've wanted to be a mother for as long as I can remember. It was always my highest aspiration and my greatest dream. I spent hours playing "house" with my dolls and stuffed animals as my children. As a little girl, I even had dreams of holding my very own baby.
When I married at the age of 22 (one month before my 23rd birthday), I hoped to get pregnant right away. But it took 10 long months. It was so hard to wait so long (it seemed like forever at the time!), but I believe now that because God knew how
I would suffer so severely with hyperemesis gravidarum
(which turned our whole world upside down, causing physical, emotional, and financial stress), He wanted us to have and enjoy those early days as newlyweds.
But one day, it happened. There were 2 pink lines on the pregnancy test! I couldn't believe it. I was so elated that I got down on my knees right there on the bathroom floor, tears streaming down my face, praising God. My husband was just as happy and excited, and we praised and thanked God together, and prayed for our new baby. Then we drove over to my parents' house and told them the wonderful news.
I only had a short time before the sickness began, and
I've written about that here
, so I won't go into detail about it in this post. But the intense, all-day-and-night sickness lasted well into the 5th month of my pregnancy. And then it began to subside, and I was able to enjoy being pregnant for a few months. And I did enjoy it to the full!
Early on, I knew I didn't want to go the usual route of doctors and hospitals. I knew a few older mothers at church who had had home births, and I knew that was what I wanted, too. So we found a midwife, and I was under her care for the entire pregnancy.
There were many concerned friends and family members who thought we were making a foolish mistake and taking too big a risk with our plan for a home birth. We even had one friend at church (who was a neonatologist) who tried to dissuade us. He told us stories of people who had lost their babies by making the "foolish choice" to pursue home birth. I admit, there were times that I allowed a little bit of fear and doubt to creep into my thinking. Would everything be okay? Could I trust my body to birth my baby normally and without complications? Would my body work right when the time came?
Thankfully, my wonderful midwife (a Certified Nurse-Midwife) was able to encourage me with positive home birth statistics. I trusted her because she was careful and very skilled. She had a backup physician that she worked with, and she didn't take risks with my health or the baby's. We also had a carefully-written backup plan should an emergency occur.
I was five days beyond my "due date," and I was very ready to meet my baby. I had read every book on birth I could get my hands on, and I felt ready. I didn't feel afraid of the process, but I had a restless feeling of anticipation. I had been having a lot of contractions that weren't painful, and I spent the evening working on a scrapbook while my husband was out working in his garden.
We didn't get to bed until around 11:00 pm. At 2:00 am, I woke up to use the bathroom. I got back in bed and drifted off to sleep, only to be awakened by what almost seemed to be an audible "pop!" and my water breaking. I woke up with a jolt, and felt wetness all around me. I looked at the clock and it was 2:15 am. I didn't know what to do, and I was afraid to move! I calmly woke my husband, saying, "My water just broke!"
My husband jumped out of bed and left the room. I had no idea where he was going. He returned with a pile of birth books! He always turns to books for answers, and it only seemed natural to try to figure out what we should do about this strange phenomenon by looking through some books! I started laughing and said, "Go call the midwife!!!" "Oh, yes, right!" So off he went to call our midwife and my mom, who was going to be at the birth.
When he had the midwife on the phone, he said, "My water just broke–I mean, Joy's water just broke!" Poor guy, he was so nervous he couldn't even think straight!
When the midwife arrived, I was still there in bed, not knowing if I should get up or not! She told me to go get in the shower and get cleaned up while she changed the sheets and bedding. She thought, being a first birth, we could probably all get back in bed and wait for a few hours.
But while I was in the shower, I started feeling nauseated, and my legs started shaking. I told my husband, and he told my midwife. She then decided we'd better quickly prepare the room for birth. I was in transition!
I got back in bed and felt a pushing sensation. My midwife said it was okay to push, so I did. I pushed and pushed for a long time! I pushed in a squatting position, a hands-and-knees position, leaning over a pillow…and my midwife monitored the baby with a doppler through the whole process. Everything was fine, but for some reason I was having a hard time pushing the baby out.
During this time, I was focusing on my baby and praying. I was saying the words of Proverbs 3:5-6 in my mind, over and over. It wasn't a verse I had planned to meditate on during the birth, but I had memorized it years before, and it just came to me and started turning itself over and over in my mind.
"Trust in the Lord with all your heart and do not lean on your own understanding. In all your ways acknowledge Him, and He will make your paths straight."
My mom was there in the room, praying, and that was such a comfort to me to know she was praying for me and my baby.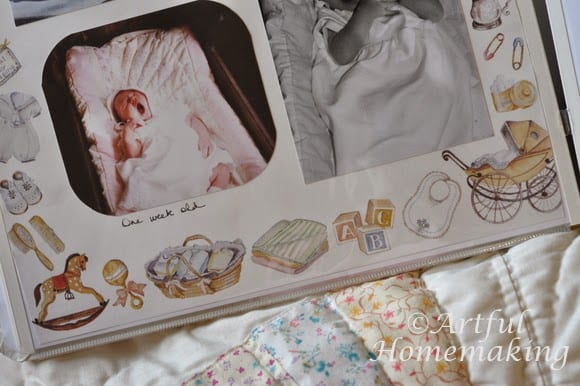 At long last, at 5:30 am, just a few hours after my water broke, my firstborn baby girl was born at 7 lb., 9 oz and 21″ long. And she emerged with her little arm up beside her face (which is called a compound presentation/nuchal arm), which is why I had to push for so long, and it also caused a tear, which I had hoped to avoid. In fact, it was a third degree tear, requiring stitches. The birth would have been absolutely perfect if it hadn't been for that tear and those stitches. But I was so elated with my baby that I didn't really think much about it until later.
Right after I pushed her out, I was in kind of a daze, and I remember that my eyes were closed. My midwife said to me, "Joy, take your baby," and she handed me this wonderful little person. My husband and I both cried tears of joy and thanksgiving, and we began to talk to our sweet little one and just take in her beauty.
My midwife didn't check to see the sex of the baby, as she said she felt that was the parents' right, to discover that for themselves, and we were overjoyed to find that we had a daughter. Throughout the whole pregnancy I had been hoping and praying for a girl, and God answered my prayers.
I remember that my husband smoothed back my hair and kissed me, and he was crying and saying, "You did it! I love you!" It was such a beautiful time. And there we were in our own bedroom with the lamps lit and no bright lights, looking at and loving on our baby and each other.
My baby latched on and began to nurse immediately after birth, and we waited for the cord to stop pulsing before the proud daddy cut it.
My midwife made a warm herbal bath which Baby and I enjoyed. It was very peaceful, sitting there in the warm bathtub with the smell of lavender and other herbs permeating the room, my baby looking up at me and I looking down at her as she calmly floated there.
After drying off and getting dressed, the three of us snuggled in our own cozy bed. I nursed my baby, while my mom made me a poached egg on toast, which I ate ravenously. My midwife stayed for awhile to make sure all was well with me and the baby, and after giving us some parting instructions, she left for her own bed.
My thoughts about this birth were that it was so beautiful, and I couldn't wait to do it again! I felt strong and like I had overcome a great hurdle. I had birthed my own baby at home, and God in His mercy protected us and blessed the experience. I was so very thankful. After the terrible months of morning sickness I had endured, to be blessed with a positive birth experience was such a wonderful gift.
Related Posts:
Birth
My Morning Sickness Story
Home Birth
Home Birth Records
Home Birth Supplies