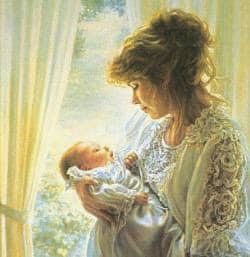 "Birth, like death, is not fully controllable. We weren't meant to understand birth or to control it. We are meant to take responsibility for the parts of it that we can, and then just experience it…At some point, we must let go and allow the process to be. Faith is not belief without proof but trust without reservation."
~Nancy Wainer Cohen, in Open Season
I read this quote and copied it down in a notebook when I was pregnant with my first child, who is now eleven years old. I studied every book on birth I could get my hands on in those days. After all my reading, I knew that I wanted to have a home birth.
Many people tried to dissuade me and put fear into my heart. There was a neonatologist who was part of our church, and he was very concerned for the safety of our baby. He had seen so many high-risk birth situations that he was wary of a woman giving birth in any place that wouldn't have access to specialized hospital care. I can understand where this dear man was coming from. I do think a hospital is the safest and best place for many women. If my pregnancy had shown any signs of being high-risk, that is where I would have wanted to be. My husband and I had done a lot of research and we are both very careful people. We weighed all of our options and chose a caregiver (a Certified Nurse Midwife) who we could fully trust, who had many years of experience, and who had attended hundreds of home births.
I have been so thankful for my five home birth experiences. Being in my own comfy bedroom with my other children all tucked into their own beds in the next rooms was a comfort to me. The freedom to give birth in my own way without interference or intervention was such a blessing. However, safety is always our highest concern, both for mother and baby. Sometimes we can become so focused on the birth experience itself that we miss out on what is the most important thing–the birth of a new little person, a human soul, into the world. There is nothing like it, no matter how the precious little one enters the world!
That being said, I think it is such a comfort to the mother to find a caregiver she can fully trust, whether it is an OB/GYN or a midwife. Take charge of your own health care as much as possible, and ask lots of questions. Read books, talk to other mothers, interview different care providers, and pray. The Lord will lead you in whatever direction is best for you and your baby.