I'm often asked for product recommendations for homemakers, so I thought I'd make a page just for that purpose! Everything on this page is something I personally use (or have used in the past) and can recommend.
Homemaking Resources
If you're looking for homemaking resources, this section is just for you! These are some of my favorite tools.
The links on this page are affiliate links. Read my full disclosure here.
Planning and Goal Setting
The PowerSheets Intentional Goal Planner has pretty much changed my life! I've accomplished so much more than ever before since I started using this planner.
I use this to plan out all the goals I have for my personal, home, and family life, and then I transfer these goals to my daily planner (below).
Every month there are new pages to track your progress and update your goals. I love it! Read my review here, or check it out for yourself here.
---
This is my everyday life planner, and it's what's keeping me organized through all of the busyness of managing a home.
This planner is different than any other planner I've ever used before. It will not only help you keep track of your day, but it also helps you with goal planning and tracking, and each month has a budget section so you can keep up with your monthly budget right in your planner!
For more information, be sure to check out my Living Well Planner Review, or get your own here.
---
Cleaning Tools
These are some of my favorite cleaning tools and supplies!
O-Cedar ProMist Microfiber Spray Mop
Full Circle Washable Microfiber Duster
Hoover PowerDash Carpet Cleaner
---
Kitchen Tools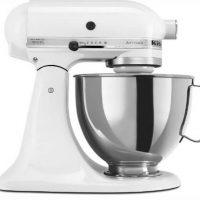 ---
Helpful Course
This 14-day course by Crystal Paine will help you get control of your schedule!
It's designed to help you revolutionize your productivity, streamline your routines, invest your time in things that truly matter, and find more joy and peace in the process.
Get access to the course here. Read my review of this course here.
---
Meal Planning
MyFreezEasy is the best freezer cooking plan I've ever seen. Each month you get access to a new set of recipes in each of these categories: gluten-free, traditional, slow cooker, clean eating, all chicken, all ground beef, all pork chops, and the 20 meals plan.
You can also mix and match the recipes from different categories to create your own unique plan. Read my review here or check out all the details here!
---
Homemaking Books
These are a few of my favorite homemaking books.
The Complete Book of Home Organization
How to Manage Your Home Without Losing Your Mind
Decluttering at the Speed of Life
---
My Amazon Shop
Find all of my favorites right here on my Amazon shop page!
The Artful Homemaking Etsy Shop