I finally found the best home planner for 2022! I'm not sure how I hadn't heard of the Home Planner from Passionate Penny Pincher before. It's exactly what I always wanted in a planner!
One of my friends recommended this planner to me, and when I saw all the checklists this planner includes, I knew I wanted to try it.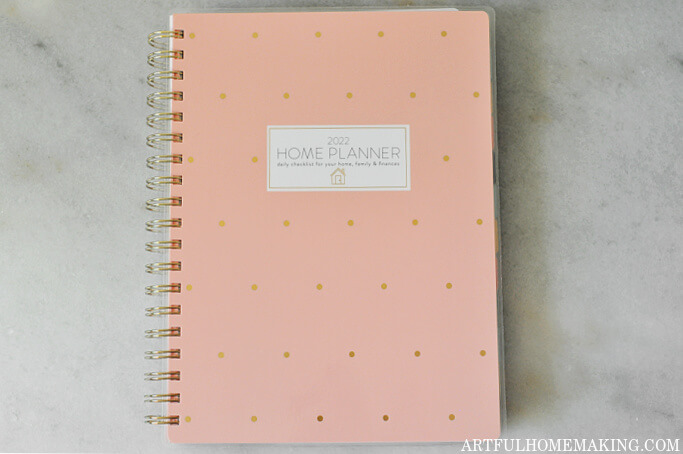 Affiliate links included in this post, which means I may make a small commission at no extra cost to you. Read my disclosure here.
My 2022 home planner came in the mail a couple of weeks ago, and I'm now looking forward to the new year so I can actually use it!
Passionate Penny Pincher Home Planner
If you've seen some of my other planner posts from previous years, you know that I love paper planners.
My husband prefers to plan digitally, so I know that paper planners don't work for everyone. And some people prefer to blend the two.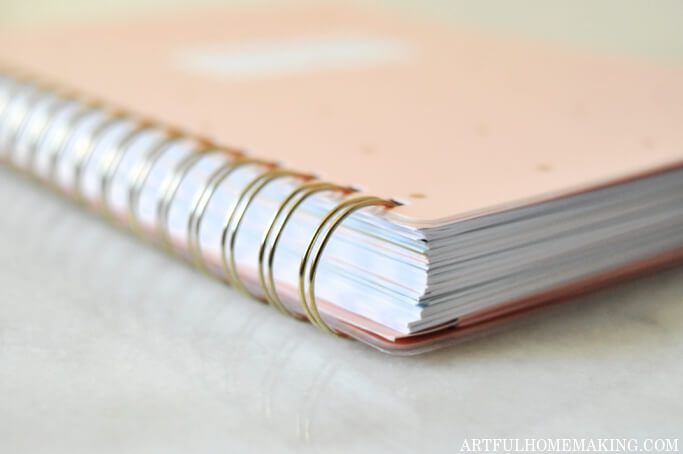 But if you prefer to plan on paper, especially if you're a homemaker, you definitely need to check out this planner!
(And, there's also a digital and PDF version of this planner if you prefer that!)
My only regret is that I didn't find it sooner!
I've been using and recommending another planner for several years now (and I'll continue to recommend it—it's a great planner too!).
But there are certain features that the other one was missing that are super helpful for those trying to manage their home.
Home Planner Features
The primary feature of the Passionate Penny Pincher Home Planner (that I haven't seen in other planners) is helpful checklists.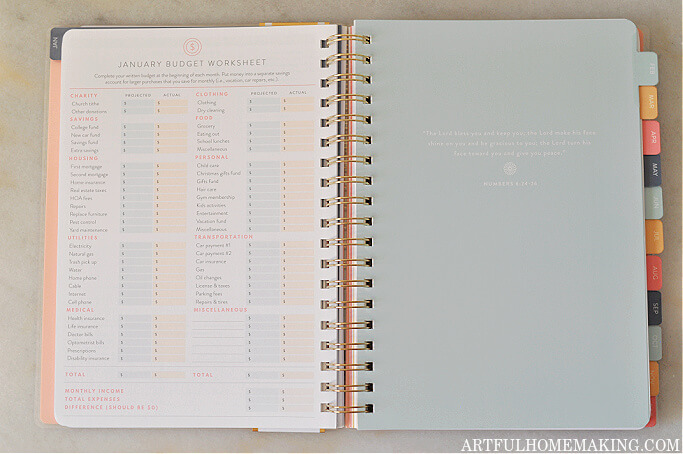 This is something I've never seen before, and I love it!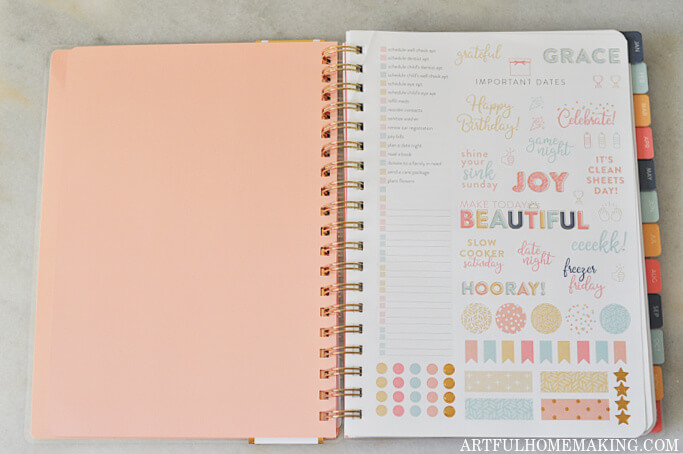 Here's a rundown of the main home planner features:
2 sheets of stickers
Ruler placeholder
Monthly calendar
Weekly checklists
Personal and family pages
Seasonal checklists
Notes pages
Budgeting pages
Bible verses on the monthly tab pages
Bible reading plan included
One of my favorite features of the planner is the Bible verses on the monthly tabs. Love this so much!
Helpful Weekly Checklists
What really sold me on this home planner? All of the amazingly helpful checklists!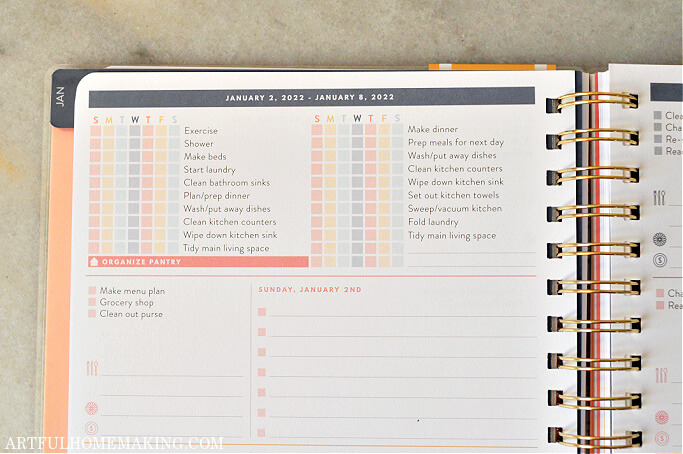 The weekly checklists are the most amazing. There are little checkboxes at the start of each week to help you stay on track with all of those daily chores that keep your home cleaner.
And each week also includes a weekly project that changes every week to help you easily organize your home throughout the year.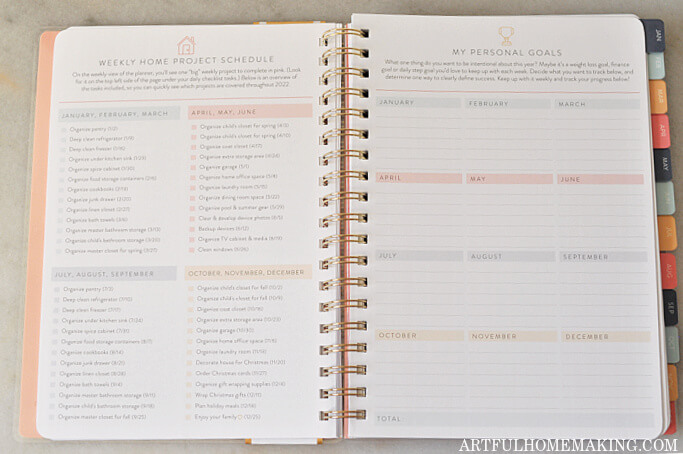 I can't wait to use these checklists, as I think they'll be so helpful to me as we start another very busy year for our family.
Now, I do understand that not every checklist will work for every homemaker. So some people may not like having chores and cleaning jobs pre-planned this way.
But I think it's wonderful! This planner is going to be especially helpful for both full-time homemakers and overwhelmed work-outside-the home homemakers who don't have time to come up with their own plan.
You may not be able to get to every task every day, and that's okay! The checklists are there to help you. If you don't get all the boxes checked off, it's not a problem.
CHECK OUT THE HOME PLANNER HERE.
More Checklists to Keep You Organized
In addition to the weekly home management checklists, there are also several seasonal checklists to help you stay organized through the year.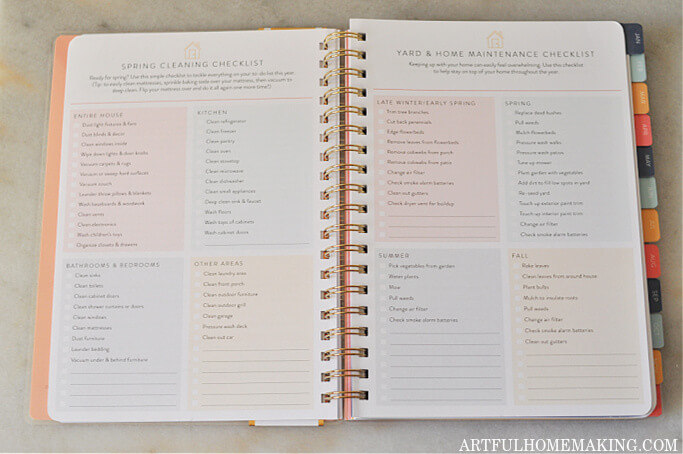 Here are the seasonal checklists included in the home planner:
Spring cleaning checklist
Yard and home maintenance checklist
Company is coming checklist
Christmas checklist
Vacation checklist
There's also a monthly checklist that you can fill out yourself to help you get to those routine monthly projects like planning date nights, scheduling appointments, and sending birthday cards.
Use this Checklist to keep track of whatever would be most helpful for you to track.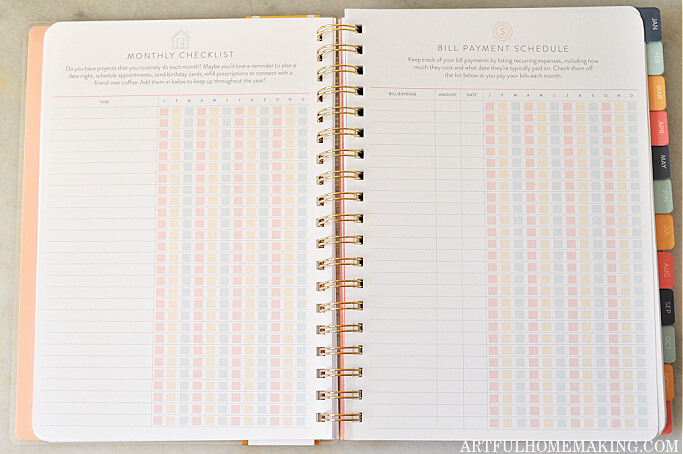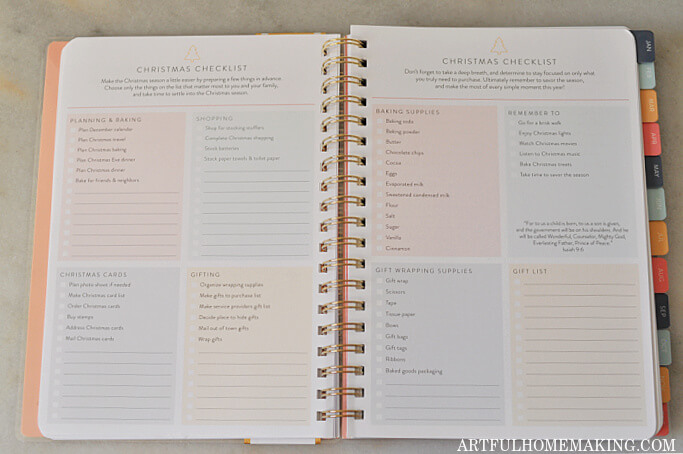 Home Planner Review
I honestly think this is the best home planner I've ever seen, and I can't wait to use it! I love all the helpful checklists, the weekly home project suggestions, and the Bible verses on the monthly tabs.
So much to love in this planner.
CHECK OUT THE HOME PLANNER HERE
Thanks so much for stopping by!