Grandmother's Favorite Dishcloth Knitting Pattern is a simple beginner knitting pattern. You'll want to make a whole drawer full of these knitted dishcloths!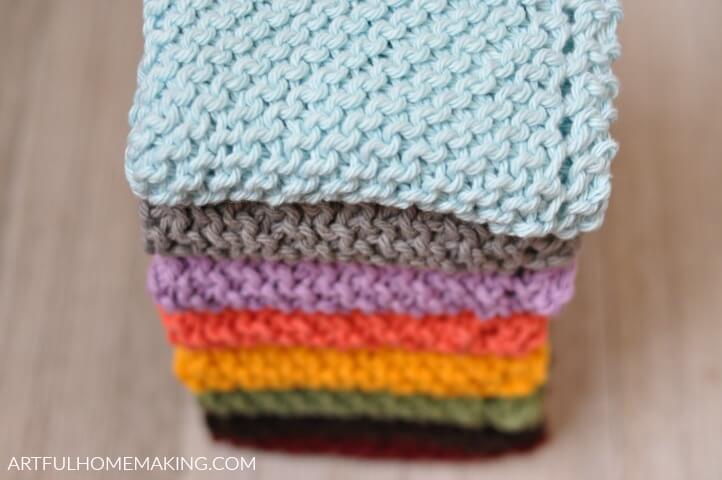 Years ago, when I first started knitting, I looked for a beginning knitter pattern to help me learn how to knit.
I visited a quaint little yarn shop in a nearby town, and came home with a bag full of wool yarn, an easy knitting pattern for a basic scarf, and some metal knitting needles.
I worked on that scarf through the long winter months, and was so thrilled when my very first knitting project was complete!
The next knitting project I attempted was these dishcloths. And the result was so satisfying!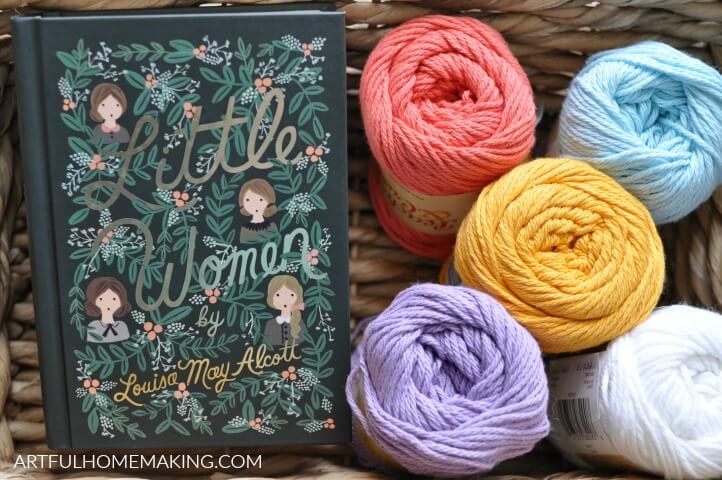 I had received a couple of these classic dishcloths for Christmas from my husband's grandmother. I found them to be so great for washing dishes, and I wanted more of them!
After a few years of getting handmade knitted dishcloths from other people, I decided it was time to learn how to knit them myself.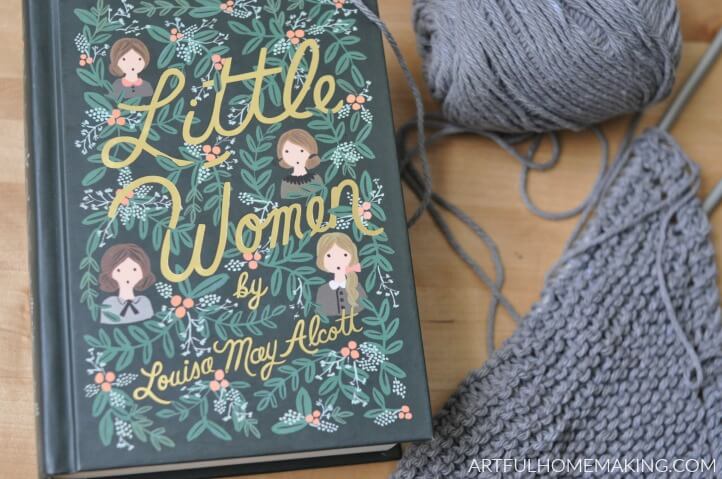 The Grandmother's Favorite Dishcloth knitting pattern is so easy and fun to make. Once I finish one I cast on another one!
I like the fact that I can do these pretty mindlessly, and for a beginning knitter they are easy to learn and practice knitting with.
Be sure to watch the instruction video below if you need help learning how to knit!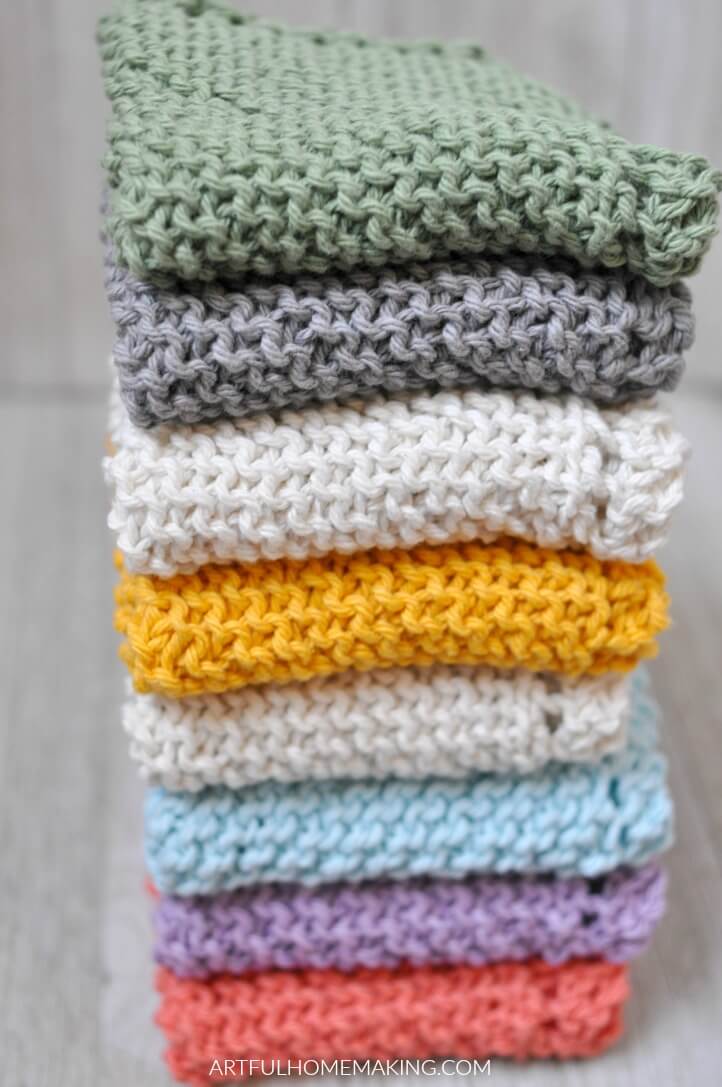 Learn to Knit Grandmother's Favorite Dishcloth
This pattern is commonly known as "Grandmother's Favorite Dishcloth," and it's a simple, classic pattern.
No one is certain who created this pattern originally, as it's been around for many years, handed down through the generations.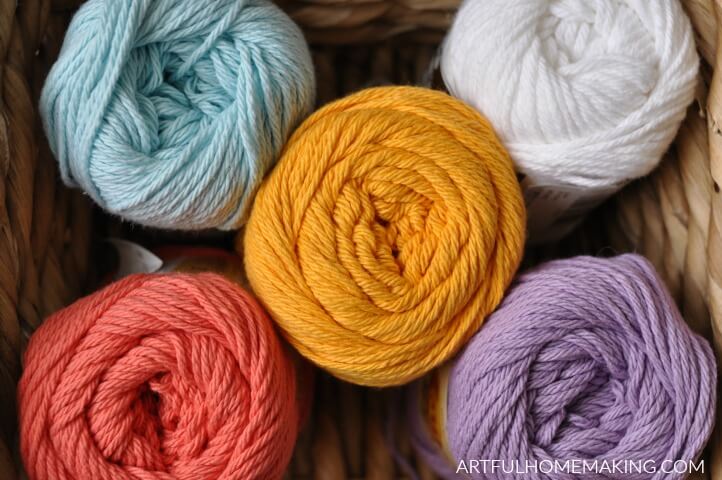 You can give your dishcloths a completely different look just by changing the yarn you use. Use a multi-colored yarn for a fun and cheerful look, or choose a solid color cotton yarn if you're craving something a bit more classic.
Even though I love all the brightly-colored dishcloths I've made, my favorites are the more muted and classic-looking solid colors.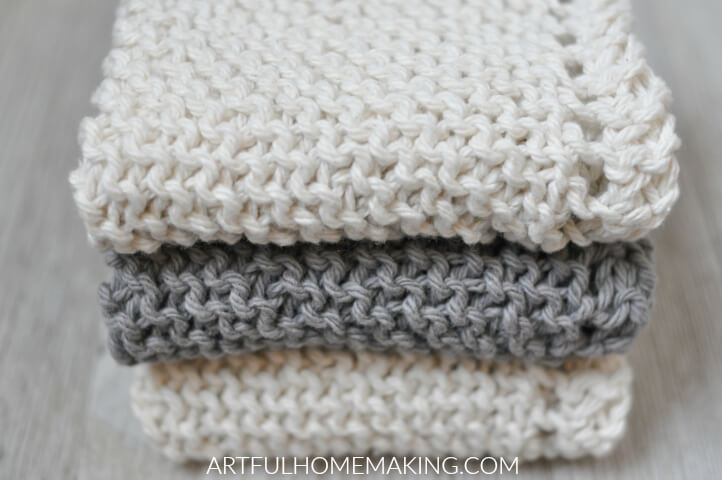 Grandmother's Favorite Dishcloth Pattern
I wanted to share this amazingly easy to knit dishcloth pattern here in case someone else is looking for it!
Affiliate links included below. Read my disclosure here. 
Pattern Supplies and Instructions
Materials:
Sugar 'n Cream cotton yarn
 (my current favorite is
this one
!)
Instructions:
Cast on 4 stitches
Row 1:  knit 4
Row 2:  k2, yo, k to end of row
Repeat Row 2 until you have 45 stitches on the needle.
Row 3:  k1, k2Tog, yo, k2Tog, k to end of row.
Repeat Row 3, decreasing each row until you have 5 stitches that are left on the needle.
Row 4:  k2, k2Tog, k1
Bind off the 4 stitches.
Notes:
K – knit
YO – Yarn Over, which increases
k2Tog – Knit 2 Together, which decreases
That's it! Enjoy making this simple and useful pattern for yourself or to share with others!
Related Posts:
Pin this post for later!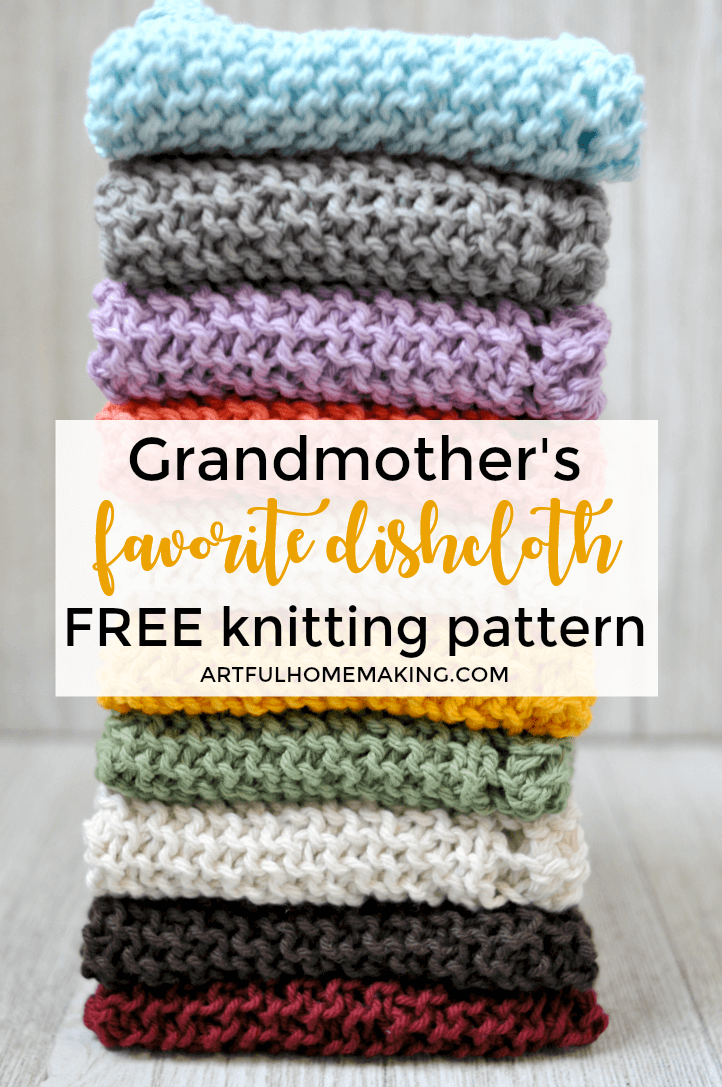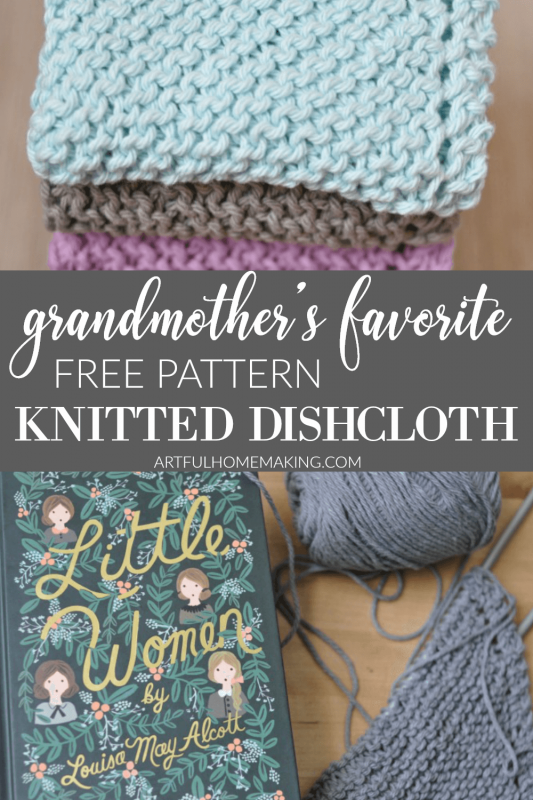 Disclosure: This post contains affiliate links. Read my full disclosure policy. Sharing here.