Have you ever wondered what makes some homes (and homemakers) stand apart from the rest? So did I. After careful consideration and study, I realized that highly effective homemakers generally practice these seven essential homemaking habits every day.
But first, before we talk about the habits, I want to share a quick story with you. It's a story about my real-life homemaking mentor, and how a visit to her house inspired me.
My Homemaking Mentor
The first thing I noticed when I entered the room was the delicious aroma of cinnamon and apples. A vanilla candle flickered cheerily on the entryway table, and the scene before me was one of warmth and welcome.
She ushered me into the kitchen and offered me a drink. After pouring a cup of tea for both of us, we sank into her cozy living room sofa to enjoy an afternoon chat.
Her children are grown now, but their ties to family are strong. Many are their memories of meals eaten around the table together, holidays and special occasions celebrated, parties hosted, and friends welcomed into their home.
What is it, I wondered, that makes some homes stand out from the rest? What is it that makes some homemakers highly effective at creating a home atmosphere that draws their family and friends to them like a bee is drawn to honey?
It isn't money. It isn't the size or appearance of the house itself.
As I thought back over the homemakers who have had a profound influence on me personally, I realized that these attributes of successful and effective homemakers could be distilled down to seven main things that they all have in common.
Seven essential homemaking habits that great homemakers regularly practice.
Here are the habits and skills that will help you flourish at home.
Watch the Video
Essential Homemaking Habits
Habit #1: Live with Vision
A beautiful, vibrant home doesn't just happen. It must be visualized first. If you haven't envisioned where you're going, how will you ever get there?
Effective homemakers have a vision.
It takes a lot of thought and prayer and planning to make a beautiful home a reality. Yes, it's also going to take work!
But it all starts with the vision.
I think it helps here to do some backward planning. Imagine how you want your home and family to look twenty years from now. Then work back to the present and write down everything you need to do now to make those future dreams a reality.
Habit #2: Follow a Daily Schedule or Routine
Effective homemakers don't just let life happen to them. They have a plan.
Of course, sometimes your plan won't work out. It will be interrupted by sickness, or a broken toilet, or some other circumstance outside of your control.
Sometimes the plan will be interrupted long-term, like what happened to me during each of my five pregnancies, where I was stuck in bed for five months!
But still, you need a plan. Even if you have to revert to an "emergency plan," it's still better than nothing.
This schedule is going to be the tool that helps you make your dreams a reality.
Here's what my schedule currently looks like, with some helpful ideas for creating your own schedule.
As you do the next thing on your schedule, you'll be checking off your priorities and accomplishing your most important goals, little by little. It's the key to making it happen!
Habit #3: Get Up Early
I know this one is hard for some of us. If you have babies or little ones, I know sometimes this isn't even possible.
But as much as you can, as soon as you can, try to get up before your children. And if you don't have children (or another circumstance preventing you from it), do whatever it takes to get up early.
I read an article recently that said the most successful people get up early. When you're up before the sun (or at least before your children!) you'll have the advantage of some quiet time to yourself to read, pray, exercise, or just get a head start on your day.
This is a hard one. But it's an important key to effectiveness. If you need help in this area, try the Make Over Your Mornings Course.
Habit #4: Plan Meals
I'll be honest, this is a weakness of mine. It's not something I enjoy doing. But it's another important key to running a successful home.
It just makes everything better when you've got all the meals planned ahead of time. Having a plan eliminates that decision anxiety when 5:00 rolls around (as it always does!).
If meal planning is a chore you'd rather delegate, you might try a meal planning service like $5 Meal Plan. They make meal planning a cinch—then you just have to do the cooking! 🙂
Habit #5: Use a Cleaning Schedule
Come up with a cleaning plan that will work for you and your home.
We've used different methods through the years, but it always works best and our house stays cleaner when I have some kind of plan in place. What matters is that it works for you.
Here's my cleaning and home management schedule as an example.
And make sure to get the kids to help. My children have always helped around the house. This is the chore system we currently use. If everyone in the family does their share, one person never ends up feeling overwhelmed.
With children at home, it's not ever going to be spotless. But we do aim for a neat and orderly atmosphere as much as possible.
I try to at least keep the living room and front entryway clean. If we've been out of town or it's been a rough week because of busyness or illness, I feel better if at least the view from the front door looks nice! During those "crisis moments," if I have time, I'll also focus on the essentials like dishes, laundry, and bathrooms. Then when things get back to normal I go back to focusing on deep cleaning and organizing.
If you need help in this area, I highly recommend looking into FlyLady's book. She's so inspiring!
Habit #6: Declutter and Organize
The atmosphere of your home will be so much more pleasant when it's not overtaken by stuff.
It's really true that you can't organize clutter. So, getting rid of the clutter comes before organizing things.
I know, this is another challenging one, especially if you have a small house.
We have a relatively small house for our family of seven, and even though I have dreams of someday having lots of space and storage, for now I must actively work to keep clutter away and find a home for everything within the limits of our small space.
I've always used the method of having three boxes or bags labeled "put away," "give away," and "throw away." It's simple, but it works. And if you want to get really serious about decluttering, try this Decluttering Challenge.
Once you've decluttered everything, make sure each item has a place, and your home will be so much easier to keep clean!
Habit #7: Cultivate a Cheerful, Thankful Spirit
I've saved the most important habit for last.
I'm sure we've all heard the old adage "If mama ain't happy, ain't nobody happy." And how true it is! If we're constantly grumbling and complaining, it's going to affect the whole household.
Please don't think I'm saying that you can't be a good homemaker if you struggle with depression or discouragement at times. We all go through periods of discouragement.  (And if your struggle is deeper, it's okay and even needful to ask for help.)
What I'm talking about is shaking off the everyday temptation (common to all of us) to have a complaining spirit. In the midst of mundane, dreary, or discouraging days, this habit is most important—and yet it's possibly the most difficult.
The homemaker who exudes love, warmth, and gratitude will be the most effective of all.
It doesn't matter how big, how fancy, or how organized the house. What matters most is that the people who live there and those who come through the doors feel loved.
When that difficult situation arises (as it always will), try to focus on the things that will build up your family. As Philippians 4:8 says:
Whatever is true, whatever is honorable, whatever is just, whatever is pure, whatever is lovely, whatever is commendable, if there is any excellence, if there is anything worthy of praise, think about these things.
My gratitude journal is a great help to me in remembering to be thankful. If you need a gratitude journal, you can find one here.
A Great Starting Place
These 7 essential homemaking habits are a great place to start if you're new to homemaking or you're hoping to grow as a homemaker.
I've been a full-time homemaker for 18 years, and I'm still learning new things and growing. We never fully "arrive." As our life circumstances change, we find that methods and systems need to be revamped from time to time.
I'm in a state of restructuring and reorganizing some things in our home this year, trying to cultivate greater faithfulness and streamlining all of our systems. I'm definitely focusing on these 7 habits as I work toward greater effectiveness as a homemaker.
What about you? What essential homemaking habits are you hoping to cultivate and grow this year?
Related Posts:
Pin This Post for Later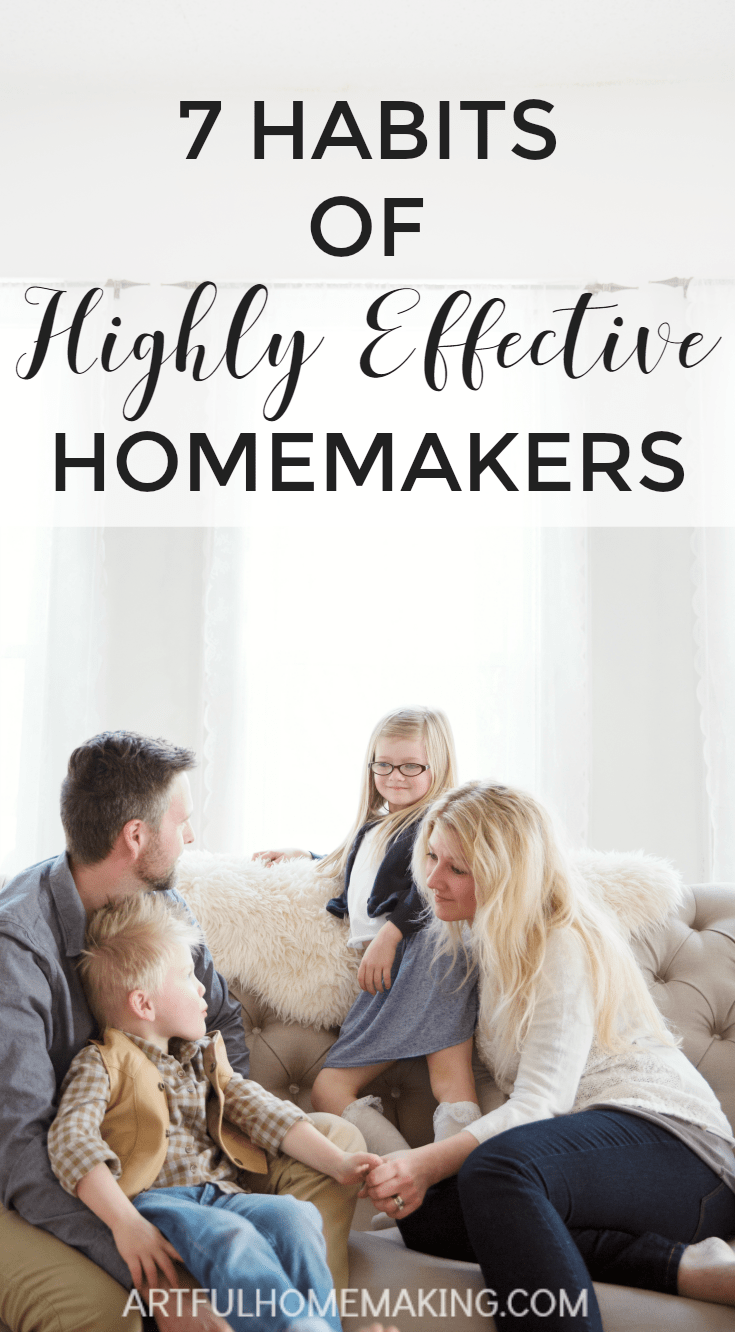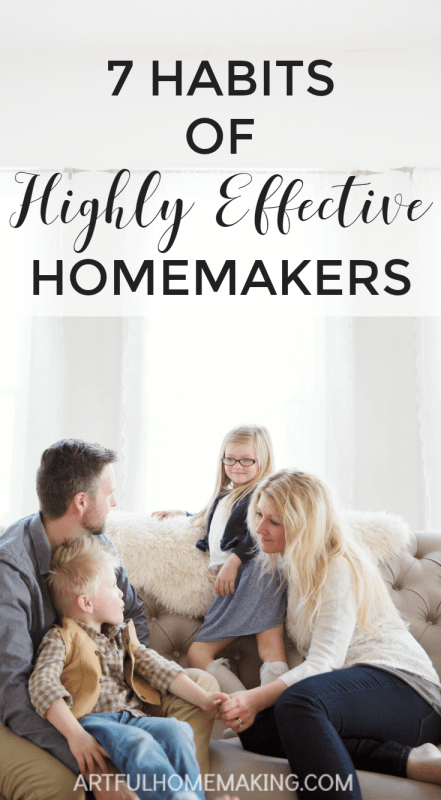 Disclosure: This post includes affiliate links.  Read my full disclosure here. Sharing this post here.