My husband and I haven't always made time to date each other. There have been seasons where we hardly had time to breathe, let alone go on a date. Often, we didn't have anyone available to babysit our little ones, and (more often) we didn't have much money to spend. (Mostly we have enjoyed at-home date nights.) If you're on a tight budget but you still want to invest in your marriage, try some of these cheap date night ideas.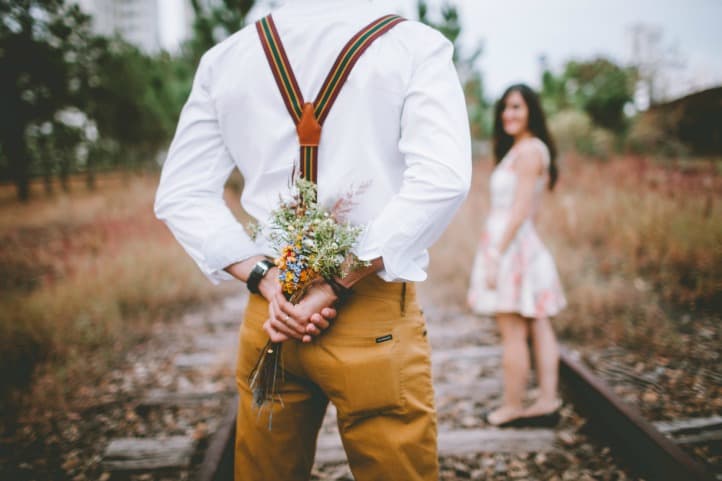 Cheap Date Night Ideas
My husband and I have been married for 19 years, and that's long enough to have realized the importance of building into our relationship.
Everything seems so much better in our marriage when we make time for regular date nights.
Since we don't have a lot of money to spend on date night, I thought I'd put together a list of cheap date night ideas to try. Here's what I came up with.
Watch a Movie or TV Series
Since we don't watch TV, sometimes my husband and I will watch something on Amazon Prime together for date night. Usually it's a British series or classic movie, like this one. Since we share a Prime membership with a family member, this is free entertainment for us.
Read Aloud to Each Other
My husband has read aloud to me quite often in our marriage, mostly during the times when I was suffering with morning sickness. I love it when we're able to share a book with each other, since we're both bibliophiles. 🙂
Have a Candlelight Dinner in Your Bedroom
This is so much more possible for us now that we have older children. They can enjoy pizza in the kitchen while we have a special meal together in our room. When the children are younger, they can have their dinner first and then you can save yours until after they're in bed (or, just enjoy dessert together when you're alone).
Take a Walk
When the weather is nice, this can turn into the perfect free date night. You can either walk somewhere near your home, or you can go to a park or nature area and walk together there.
Play a Game
Playing board games together can be a fun and free date night. Here are some of our favorites.
Go Out for Dessert
This isn't completely free, but going out for dessert is a lot cheaper than eating a whole meal out.
Bowling
My husband and I both enjoy bowling. We don't do it very often since the bowling alley we like to go to is in another town, but bowling is a relatively cheap date night idea.
Go to the Library
This isn't as much fun now that we live in a rural area with a teeny tiny library, but when we lived in the city, we regularly went to the library and stayed there for hours.
Bake Something Together
Get in the kitchen and do some baking!
Do a Puzzle Together
Find a puzzle that appeals to you and work on it together.
Go Thrifting
My husband and I used to do this all the time when we lived in the city. Whenever we had someone to watch the kids, we would often go to a discount grocery store and then hit the thrift stores! Isn't that romantic?! We thought it was fun, and we loved seeing how much money we could save while taking care of some needed errands at the same time.
Attend a Free Concert
My husband and I used to do this a lot before we were married. We went to so many free concerts and plays. Afterward, we would often go out for dessert.
Go on a Picnic
Take a lunch or dinner to a park, a scenic area, or just to your own back yard and enjoy a romantic picnic. It's also fun to have an indoor picnic!
Fondue Night
Fondue pots are back in style! If you don't have a fondue pot, you can also use a crock-pot to melt the chocolate and then dip fruit slices or pretzels into it.
Watch the Sunset
You can do this from home or drive somewhere and watch the sunset go down together.
Related Posts:
Why It's Important to Date Your Husband
33 Stay-at-Home Winter Date Night Ideas
Need More Inspiration for Your Marriage?
What are your favorite cheap date night ideas?
Disclosure: This post contains affiliate links. Read my full disclosure here. Sharing here.