While wives have a huge influence on family life, having a godly husband is every Christian wife's desire. It's so very true that the success and well-being of a family has a lot to do with the husband and the direction in which he leads a family. That's why I've put together these powerful morning prayers for my husband!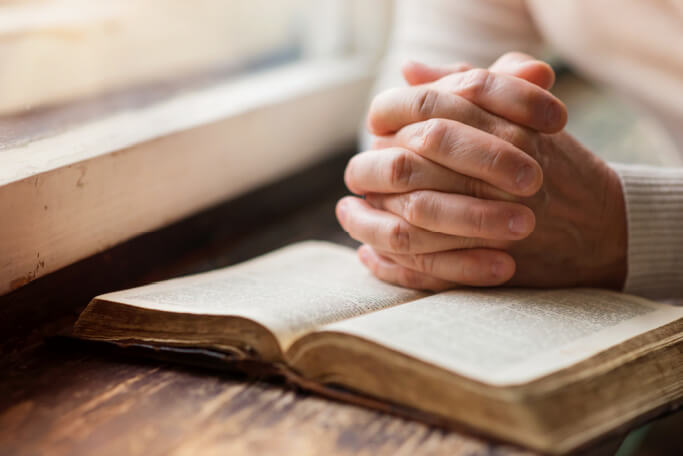 How Prayer Sets the Tone for the Day
Every Christian should make prayer a regular part of their daily life. Ideally, setting aside time for prayer and Bible reading first thing in the morning is the best way to start your new day on the right path.
I know that many moms with young children feel overwhelmed and guilty about about how much quiet time (if any) they have every morning. My purpose in writing this is not to make you feel guilty!
However, prayer should be a top priority, particularly over things like checking social media or watching TV.
Assuming you have the ability to spend time with the Lord in the morning, one of the most important things you can do is to pray for your family.
A praying wife who seeks the Lord's guidance and protection for her family can make such a difference!
I can attest to many times where the Lord has answered my prayers for my husband and children in specific ways.
God delights to give good things to His children, although what we want and what the Lord gives us don't always perfectly align. After all, God is all-knowing and we are not!
If you then, who are evil, know how to give good gifts to your children, how much more will your Father who is in heaven give good things to those who ask him! Matthew 7:11
When you pray, don't worry about the specific words or phrases you use. Prayer should just be natural and conversational. It is not a magic formula!
Instead, focus on talking to God in your own words. He is your loving Heavenly Father who delights to hear from his beautiful daughter.
For a born-again believer, the Father sees us through the work of His own Son when we approach the throne of heaven.
Because of the work of Jesus, we are told:
Let us then with confidence draw near to the throne of grace, that we may receive mercy and find grace to help in time of need. Hebrew 4:16
When we come to the Father in Jesus' name, He hears our prayer. He promises to always hear us when we ask for things according to His will (1 John 5:14).
Because I know it is God's will for me to have a marriage and family that pleases Him, I can ask for this and know with assurance that that He hears me!
Affiliate links included below, which means I may make a small commission at no extra cost to you. Read my disclosure here.
Good Morning Prayers For My Husband
Some couples choose to start their morning by praying together, and then pray by themselves. Other couples only pray individually.
Either way, starting with prayer is so important to have a blessed day and keep your heart centered on the Lord.
There is no one right way to pray that works best for every couple.
If you want to use one or more of the prayers found below to pray for your husband, you could pray this out loud in the morning over him as a blessing.
Husbands love for their wives to pray for them to have a blessed day!
Or, if you prefer, you could read a good morning prayer when you're alone as a prayer from you to the Lord on behalf of your husband.
Either way, you can know that God loves your dear husband so much more than you. He is our good Lord and Savior who rejoices to hear and answer prayer!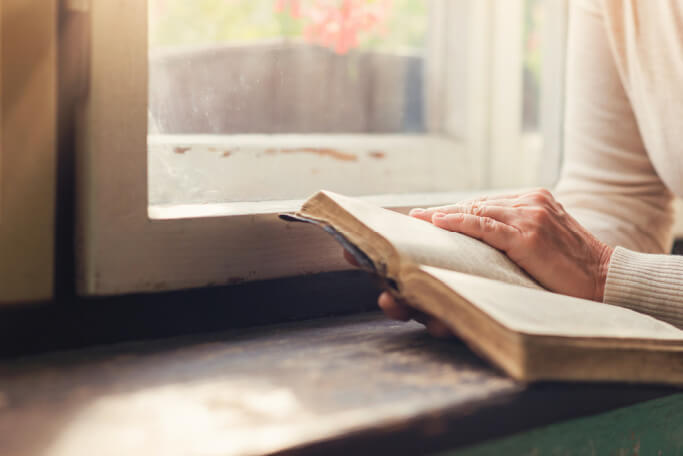 Bible Good Morning Prayers For My Husband
The Bible contains some of the most powerful prayers that are inspired by God Himself!
Praying the Scriptures in the morning for your husband is a powerful way to dwell on God's Word. Not only that, but praying from God's Word ensures that your prayers are in alignment with the perfect will of God.
Many times as I read the Bible, I find myself praying, "Oh Lord, make this verse come alive in my life!"
The Holy Spirit can take God's Word and penetrate it deeply into the recesses of our minds.  This is how His truth becomes firmly established in our hearts.
You can use this Bible-based good morning prayer message to seek the Lord on your husband's behalf.
Your faith will be strengthened as you see these Bible truths worked out in a great way in the life of your husband!
Numbers 6:24-26
The Lord bless you and keep you;

the Lord make his face to shine upon you and be gracious to you;

the Lord lift up his countenance upon you and give you peace.
Psalm 5:11-12
But let all who take refuge in you rejoice;

    let them ever sing for joy,

and spread your protection over them,

    that those who love your name may exult in you.

For you bless the righteous, O Lord;

    you cover him with favor as with a shield.
Psalm 20:1, 4-5
May the Lord answer you in the day of trouble!

    May the name of the God of Jacob protect you!

 May he grant you your heart's desire

    and fulfill all your plans!

May we shout for joy over your salvation,

    and in the name of our God set up our banners!

May the Lord fulfill all your petitions!
Psalm 23:6
Surely goodness and mercy shall follow me all the days of my life,

and I shall dwell in the house of the Lord forever.
Psalm 31:1-5
In you, O Lord, do I take refuge; let me never be put to shame;

    in your righteousness deliver me!

Incline your ear to me; rescue me speedily!

Be a rock of refuge for me,  a strong fortress to save me!

For you are my rock and my fortress;

    and for your name's sake you lead me and guide me;

you take me out of the net they have hidden for me,

    for you are my refuge.

Into your hand I commit my spirit;

    you have redeemed me, O Lord, faithful God.
Psalm 84:11-12
For the Lord God is a sun and shield;

    the Lord bestows favor and honor.

No good thing does he withhold

    from those who walk uprightly.

O Lord of hosts,

    blessed is the one who trusts in you!
Psalm 89:15-18
Blessed are the people who know the festal shout,

    who walk, O Lord, in the light of your face,

who exult in your name all the day

    and in your righteousness are exalted.

For you are the glory of their strength;

    by your favor our horn is exalted.

For our shield belongs to the Lord,

    our king to the Holy One of Israel.
Psalm 90:12, 14, 16-17
So teach us to number our days that we may get a heart of wisdom.

Satisfy us in the morning with your steadfast love, that we may rejoice and be glad all our days.

Let your work be shown to your servants, and your glorious power to their children.

Let the favor of the Lord our God be upon us, and establish the work of our hands upon us;

Yes, establish the work of our hands!
Jeremiah 29:11-13
For I know the plans I have for you, declares the Lord, plans for welfare and not for evil, to give you a future and a hope. Then you will call upon me and come and pray to me, and I will hear you. You will seek me and find me, when you seek me with all your heart.
2 Corinthians 9:8-11
And God is able to make all grace abound to you, so that having all sufficiency in all things at all times, you may abound in every good work. As it is written, "He has distributed freely, he has given to the poor; his righteousness endures forever." He who supplies seed to the sower and bread for food will supply and multiply your seed for sowing and increase the harvest of your righteousness. You will be enriched in every way to be generous in every way, which through us will produce thanksgiving to God.
Ephesians 3:14-18
For this reason I bow my knees before the Father, from whom every family in heaven and on earth is named, that according to the riches of his glory he may grant you to be strengthened with power through his Spirit in your inner being, so that Christ may dwell in your hearts through faith—that you, being rooted and grounded in love, may have strength to comprehend with all the saints what is the breadth and length and height and depth, and to know the love of Christ that surpasses knowledge, that you may be filled with all the fullness of God.
Philippians 1:6, 9-11
And I am sure of this, that he who began a good work in you will bring it to completion at the day of Jesus Christ. And it is my prayer that your love may abound more and more, with knowledge and all discernment, so that you may approve what is excellent, and so be pure and blameless for the day of Christ, filled with the fruit of righteousness that comes through Jesus Christ, to the glory and praise of God.
Colossians 1:9-14
We have not ceased to pray for you, asking that you may be filled with the knowledge of his will in all spiritual wisdom and understanding, so as to walk in a manner worthy of the Lord, fully pleasing to him: bearing fruit in every good work and increasing in the knowledge of God; being strengthened with all power, according to his glorious might, for all endurance and patience with joy; giving thanks to the Father, who has qualified you to share in the inheritance of the saints in light. He has delivered us from the domain of darkness and transferred us to the kingdom of his beloved Son, in whom we have redemption, the forgiveness of sins.
1 Thessalonians 3:11-13
Now may our God and Father himself, and our Lord Jesus, direct our way to you, and may the Lord make you increase and abound in love for one another and for all, as we do for you, so that he may establish your hearts blameless in holiness before our God and Father, at the coming of our Lord Jesus with all his saints.
2 Thessalonians 3:3-5
But the Lord is faithful. He will establish you and guard you against the evil one. And we have confidence in the Lord about you, that you are doing and will do the things that we command. May the Lord direct your hearts to the love of God and to the steadfastness of Christ.

God promises that His word will not return void! When we read and believe the Scriptures, we can be sure that God will accomplish His good purposes in His perfect timing!
Praying God's Guidance for Your Husband
As wives, we long to see our husbands have God's supernatural guidance to make wise choices for themselves and our families.
You can use these prayer messages as example or model prayers to pray over or for your husband. When we seek the Lord, He promises to be found when we search for Him with all of our hearts!
Feel free to modify these prayers to fit your particular situation or challenges you may be facing in your marriage or family.
Heavenly Father, I lift my dearest husband before You this morning. Help him to have not only a wonderful day, but to make wise choices. Give him the discernment and strength he needs to wholeheartedly follow You.
Lord, please guide my husband to have a blessed morning and a great day. I pray for only the best things over his life. Help him to be in the right place at the right time, and to be sensitive to Your leading.
Father, may my husband have a beautiful day where He senses your presence all around him. Please bless my husband's work and give him guidance with all the decisions he faces this day.
Dear Lord, would you guide my husband today in his daily work and in every area of his life. Help him to love You deeper and follow Your word more fully.
Heavenly Father, I ask you to give my husband clarity of thought and a clear sense of direction when he feels perplexed. Surround him with your power and give him the wisdom from above. May this be a good day where He grows ever closer to you. I ask all of this in Jesus' name.
Praying God's Protection for Your Husband's Health
Our husbands face physical challenges and threats on a daily basis. Whether it's related to current or future health concerns, traffic or work accidents, or potential violent criminal activity, dangers seem to lurk in many areas.
Particularly if your husband goes to a place of work in a higher risk occupation such as law enforcement, firefighting, or the military, concerns over physical safety are ever-present.
We can seek the Lord through daily prayer for good health and a long life for our husbands. He is the God who heals, restores and protects us each day!
Dear God, I ask that you place a shield of protection around my darling husband today. Please give him physical strength and endurance for the  challenges and tasks he faces.
Heavenly Father, would you surround my husband with your gracious power. Guard him from the Evil One and those who would do him harm.
Lord, please bless my husband's hard work with success, and keep his body safe from anything that could hurt him.
Father, I seek you sincerely for my husband's protection as he goes about his daily activities. Grant him renewed vigor and lasting health to serve you all his days. I ask this in the powerful name of Jesus.
Praying for Your Husband's Holiness
While it's natural to long for physical health and temporal blessings in this life, we are commanded in the Scriptures to
Strive for peace with everyone, and for the holiness without which no one will see the Lord. Hebrews 12:14
Opportunities for sin are all around our husbands. Every man has his unique area of weakness, but for many men, sexual purity is an ongoing struggle.
Did you know that one study found that 55% of married Christian men look at pornography at least monthly?
This is one of the reasons I strongly recommend every family have some type of online device accountability such as Covenant Eyes.
In addition to sexual immorality, husbands may face temptations for other sins such as lying, cheating, or unrighteous anger.
We can approach God's throne on behalf of our best friend and ask the Lord's blessings in pursuing holiness.
Almighty God, I come before you and earnestly seek Your face on behalf of my husband's holiness. Protect him from the schemes of Satan, and keep him pure in thought and deed.
Lord, would you please place in my husband's heart a burning desire for holy living. Fan the flames of holiness in his inner and outer life.
Dear Heavenly Father, I ask that you fill my husband with your holiness. Help him to make the best decision when faced with temptation to sin.
God, may my good husband be filled with your Holy Spirit, that he may pursue a holy life that is consecrated to you. I ask this in the might name of Jesus. 
Romantic Good Morning Prayers
Every wife longs to have a fulfilled, happy marriage relationship with her husband.
When praying for the love of my life, I can ask the Lord to guide my husband to follow the Bible's commands in terms of married life.
But I should also ask God to open doors of service to my husband in ways that bless him, including meeting his romantic needs.
Our husbands need to know our unconditional love!
Dear Father, help my wonderful husband to know how much I love him. As he reflects on my love for him, may this help him to have a beautiful morning and a wonderful rest of the day.
God, I ask that you would help me to fulfill my sweet husband romantically. Help me to demonstrate true love and think of his needs and desires above my own.
Lord, show me how to sacrifice for our marriage and give of myself to my loving husband. Help me to love him unconditionally with the same love You have for us. In Jesus' name, amen.
Praying for Your Husband as a Father
When I pray for my husband in the morning, one of the biggest requests I bring to the Lord is to guide him in his role as a father.
Many fathers in our day grew up in broken or dysfunctional homes where their father was either absent or not a good role model.
You can be truly thankful if your husband was raised in a healthy home by a godly father. But even if he wasn't, the Lord can redeem any brokenness and help your husband to be a truly good dad!
Heavenly Father, please be with my husband today in his role as a dad. Let Your love shine in and through him to our children.
Dear God, may today be a day filled with the joy of the Lord in my husband's life. May Your joy overflow in his life as he leads our family.
Lord, I ask that my husband's day would be full of a powerful sense of Your presence. Help him to be the best husband and dad that he can be. May he model Your heavenly love as he spends time with our kids today. In Jesus' name, amen.
(If you're looking for a Bible-based parenting book you could share with your husband, I asked my husband and he said this book is one his favorites.)
Closing Thoughts on Good Morning Prayer for my Husband
Never underestimate the power of prayer and the grace of God to influence your husband for good!
The light of God shines in our lives to bring hope, healing and reconciliation.
You may be facing some great trials in your marriage and family. But the good news is that the Lord specializes in second chances, new beginnings, and restoring that which is broken.
Prayer can open the door to new opportunities with your family and marriage, and new ways to grow in your relationship with each other and the Lord.
May God Almighty use these powerful good morning prayers to bless you and your husband with great things and the best day ever!