Here's a fall cleaning checklist to help you deep clean your house this fall! Fall cleaning is a great way to reset your home before the cooler weather arrives. It will also help you get your house ready for the holidays!
Like spring cleaning, fall cleaning focuses on going through each room of your home and doing some deep cleaning.
Many homemakers deep clean their home in the spring. However, it's a great idea to freshen things up as we move into the autumn months as well.
Here's a simple fall cleaning checklist (and free printable!) to help you get your home organized and clean this fall.
Scroll all the way down to the bottom to download the free cleaning printable checklist.
I've also included a few fall cleaning tips for inspiration.
This post contains affiliate links, which means I may make a small commission at no cost to you. Read my full disclosure here.
Fall Cleaning Supplies
To get started, here are the basic cleaning supplies I like to keep on hand.
Vacuum cleaner
Broom
Baking soda (for freshening mattresses and carpets)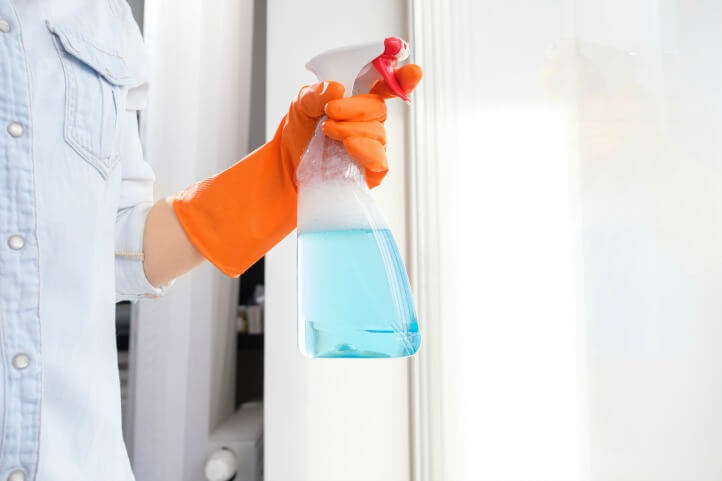 Fall Cleaning Tips
Here are a few tips for how to clean for fall.
First, I like to start with the inside of the house and get everything in order and clean there before moving outside.
I prefer to start with deep cleaning the living room since that's the room guests see first. It's also the area where we spend the most time as a family.
If it works better for you to start in another room, feel free to start there. Do what makes sense for you and your home!
Some of these cleaning tasks are pretty in-depth, so I try to do a few things from the list every week for a month or two.
That way I can get to everything on the list gradually, without tearing up the whole house all at once!
After working my way from room to room inside the house, I turn my focus to the outside. Some of the outside tasks we tackle together as a family.
Some things, like cleaning gutters, are things my husband does. In fact, he's usually in charge of most of the outside work. 🙂
I didn't add cleaning the garage to the list, as that's something we usually focus on in the spring, but you could certainly add that to the list if needed.
Fall Cleaning Checklist
To create this fall cleaning checklist, I looked at my previous spring cleaning plan and took some ideas from there.
To make this a very thorough deep cleaning list, I added some extra tasks as well. And I also added some outdoor chores.
Here's what's on my yearly fall cleaning schedule.
Entry and Living Room
Clear away cobwebs (this handy tool makes this task so much easier!)
Dust light fixtures
Dust or vacuum vents and baseboards
Dust all shelves and tops of furniture
Dust pictures, decor, and lamps
Clean windows and dust windowsills
Wash window coverings and curtains
Clean walls, doors, and trim
Wipe down door knobs and light switches
Wash blankets and pillow covers
Spot clean and vacuum furniture
Clean out and organize coat closet
Vacuum whole room, including under furniture
Shampoo carpets and mop hard floors
Laundry Room
Clear away cobwebs
Dust surfaces and clean windows
Wipe down washer and dryer
Clean inside washing machine
Clean dryer vent
Vacuum behind washer and dryer
Kitchen
The kitchen is where we spend so much time as a family and also when guests are here. We have an eat-in kitchen, so I've included the dining room in with the kitchen.
This room usually has lots of areas to clean, so the list may seem a bit longer and more involved than the other rooms!
Clear away cobwebs
Clean and organize pantry
Clean out cabinets and drawers
Wipe down cabinets
Clean appliances inside and out
Clean inside of refrigerator and freezer (defrost if needed)
Wipe down refrigerator top to bottom
Vacuum coils in back and underneath fridge
Wipe down walls, trim, and light switches
Wipe down backsplash and counters
Clean oven and stovetop
Vacuum under and behind stove
Disinfect sink and drain
Clean windows and windowsills
Dust surfaces and decor
Wipe down table, table legs, and chairs
Disinfect trash can
Vacuum or sweep and mop floors
Bedrooms
Clear away cobwebs
Wash bedding and pillows
Wash or air out mattress pad
Dust light fixtures
Dust or vacuum vent covers and vents
Dust furniture and decor
Wash window coverings and curtains
Clean walls, doors, and trim
Clean windows and windowsills
Vacuum mattress
Rotate or flip mattress if needed
Get out fall and winter clothes
Clean and organize closets
Vacuum room including under furniture
Shampoo carpets
Bathrooms
Clear away cobwebs
Wash window coverings
Wash shower curtain and liner
Dust surfaces and light fixtures
Clean window and windowsill
Clean out and organize drawers
Organize linen closet
Wipe down cabinets
Clean sink and drain
Deep clean toilet
Clean and disinfect counters
Deep clean tub, drain, and shower head
Clean and organize under the sink
Clean mirror
Disinfect trash can
Wipe down walls, doors, and trim
Vacuum or sweep and mop floors
Outside
Every fall we have a few outside chores we like to do to prepare the house and yard for the cooler months.
Winterize pool
Clean and store patio furniture and outside toys
Drain and store water hoses
Wash windows
Sweep porches
Clean gutters
Power wash house
Finishing Touches
After all that cleaning, it's time to add some final cozy fall touches to your home! I love to put out some throw blankets and switch out the pillow covers.
I also love to light a candle and put some fall essential oil blends in the diffuser (try these ideas to make your home smell like fall).
Fall Cleaning Checklist Printable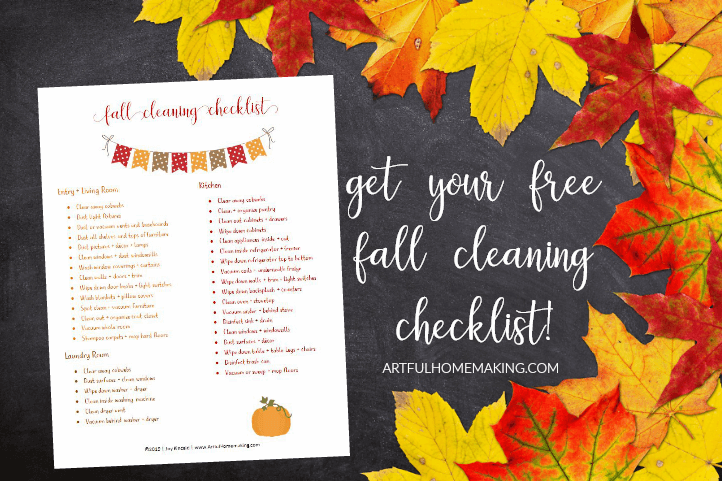 I love having a checklist when I'm cleaning, so I made one to share with you!
To get your free fall cleaning checklist printable, click here.
Related Posts:
Pin This Post for Later
This post contains affiliate links. Read my disclosure here. Sharing here.