How to make a fall leaf book page garland to decorate your home for fall. Simple, rustic DIY farmhouse decor.
When someone gave me these old hymn books they were planning to throw away (because the pages were literally falling out), I immediately envisioned a book page garland.
Even though the idea came to me a long time ago, this project remained simply an idea in my mind, because I just couldn't seem to bring myself to cut into the pages!
Finally, I realized that probably no one would want a book that was already falling apart and missing pages. This gave me the courage to actually get started on it!
How to Make a Fall Leaf Book Page Garland
This project uses some very simple supplies which you likely already have around the house. If you don't have an old book to use, check at garage sales or thrift shops. Or, simply buy some scrapbook paper with words or music printed on it.
I've also included a free leaf template printable to use for the leaf shapes.
Supplies Used in This Project:
Affiliate links included below. Read my disclosure here. 
First, I printed off this leaf template to trace the leaf shape onto the book page. Then, I just cut out each leaf, took a page out of the book, and traced around the leaf shape.
I found that it worked better if I traced the leaf upside down. Since the leaves hang from the stems on the garland, this way the words aren't upside down.
I also did my tracing on the side of the paper that wasn't going to be showing (so that way I don't have to worry about seeing pencil lines).
Next, simply cut out the leaf shape you traced. Repeat this process for as many leaves as you want.
Cut a piece of twine the length you want. I knew I was planning to hang my garland over the chalkboard in the kitchen, so I made sure it was the right size for that.
Position the leaves where you want them while you heat up your glue gun.
When the glue gun has heated up, add a dot of glue to the back side of the leaf stem. Since this is just paper, it doesn't take that much glue to hold the leaf on the twine.
Press the stem with the glue on it against the twine for a few seconds to make sure it's secure.
After you glue all of your leaves on, it's time to hang up your garland!
Handmade Fall Decor
I think it looks great draped over our kitchen chalkboard (which I got from Hobby Lobby with a gift certificate a few years ago).
In the photo below, I've also got a couple of other DIY projects in the photo with my new fall leaf book page garland. It goes well with these mineral-painted candlesticks and a rustic burlap pumpkin!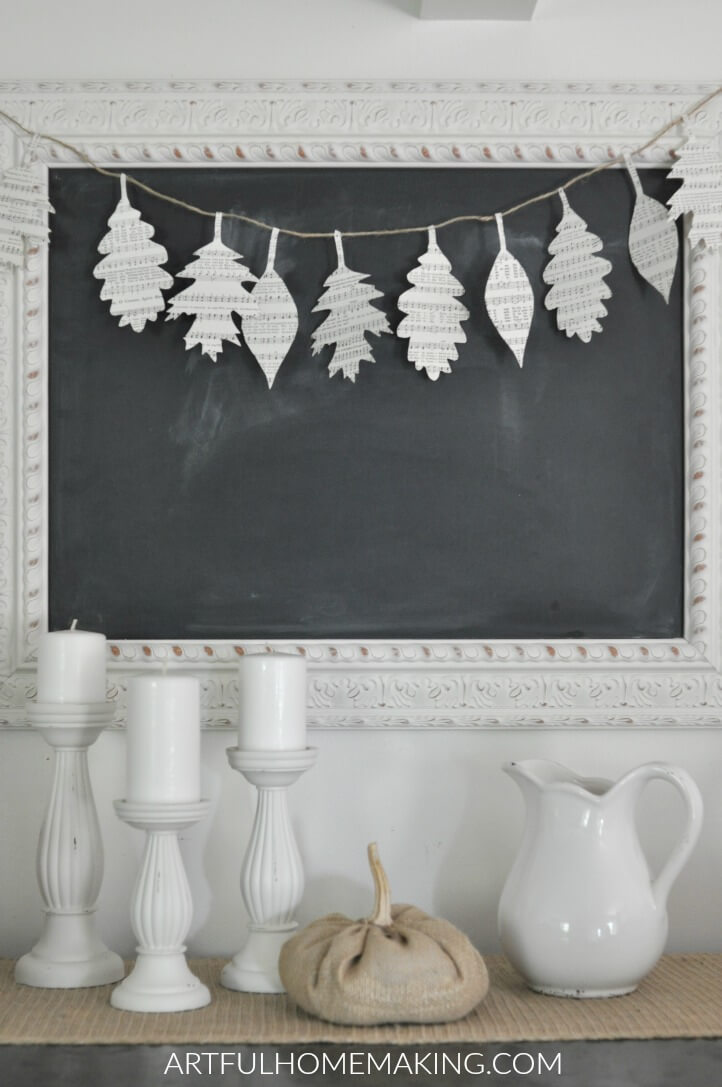 Supplies Needed for This Project:
Pin This Post for Later:
Related Posts: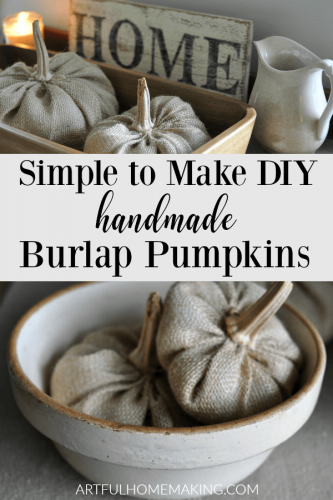 Farmhouse Fusion Mineral Paint Candlesticks
This post contains affiliate links, which means I make a small commission at no extra cost to you. Read my disclosure here. Sharing here.