These farmhouse Fusion Mineral Paint candlesticks are just one example of how simple Fusion Mineral Paint is to use.
These black candlesticks have been sitting in my living room for the past seven years. I liked them when we first bought them.
But everything in our house seemed so dark and heavy, and I wanted to lighten things up a bit. So, I decided it would be fun to paint them white.
I'm so glad I did! As you'll see in the photos below, they look so much brighter and have a sort of shabby chic vibe to them.
I'd call it a definite improvement.
How Do I Use Fusion Mineral Paint?
This wasn't my first time to use Fusion Mineral Paint. Last summer I did a mineral paint chair makeover with this same container of paint. And it's still not even half gone!
Affiliate links included below. Read my disclosure here. 
One of the main questions I had when I started, was about how to use Fusion Mineral Paint.
Mineral Paint Requires Minimal Prep Work
And I have to tell you, it's really simple. In most cases, it doesn't require a lot of prep work. For some items (like my chair), it's s good idea to do a little bit of sanding to prepare the surface.
With these candlesticks, all I did was wipe them down with a damp cloth to remove any dust, and then dry them off.
And then they were ready to paint!
The candlesticks had some sort of black finish or paint on them, but I decided to just try painting over it to see what would happen.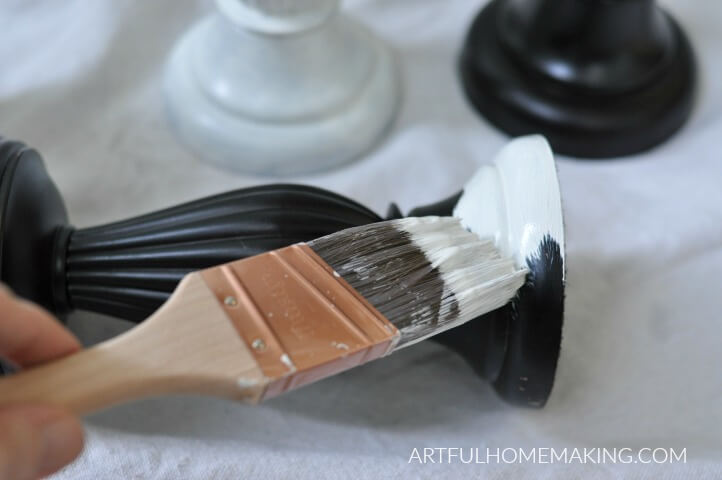 After one coat of paint, this is what they looked like. You can see that there is some streaking and the black finish underneath is showing through.
I think most items will require at least two coats. For my chair and these candlesticks, they both took two coats.
Farmhouse Fusion Mineral Paint Candlesticks
After adding a second coat of paint, they looked beautiful. I decided to lightly sand them to get a bit of a distressed finish.
To do this, you just use a piece of sandpaper to carefully sand off some of the paint in the places where natural distressing might have taken place.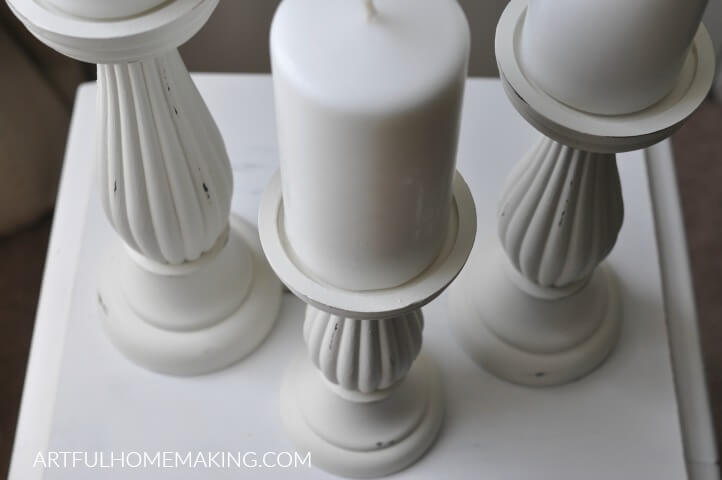 One of the benefits of using Fusion Mineral Paint is that it distresses very well.
But I have to tell you that, for me, the distressing is the hardest part. It's so hard for me to mess up that perfectly smooth surface, even though I really want the distressed look.
I finally told myself that if I messed up, it would be a simple matter to just paint over them again. I only distressed them a little bit.
After looking at them, I think I possibly could have done a little more.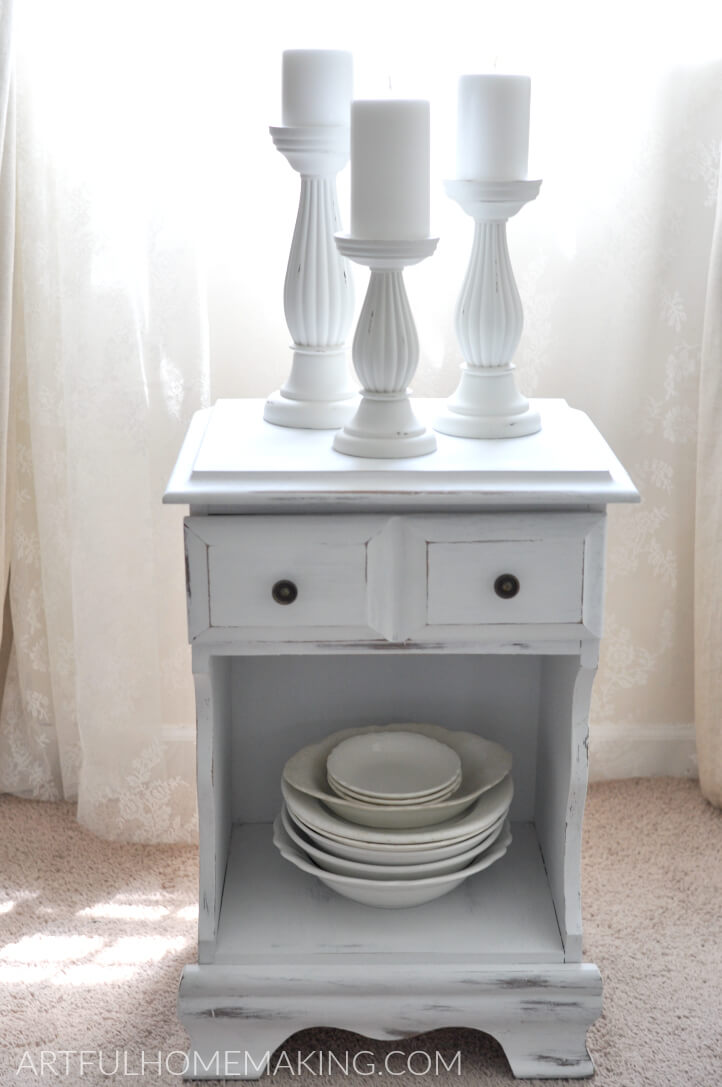 Benefits of Fusion Mineral Paint
In addition to being very easy to use, there are some additional benefits to using Fusion Mineral Paint. It's very environmentally friendly. It's non-toxic, and free of lead, ammonia, and formaldehyde. It's also virtually odorless and has very low VOC's (volatile organic compounds).
It also requires no mixing, no priming, and no top coat.
Supplies Used in This Post
I'm really happy with my farmhouse Fusion Mineral Paint candlesticks! Have you ever used mineral paint? Let me know in the comments!
Thank you so much for stopping by!
Pin it for Later:
 Disclosure: This post contains affiliate links. Read my disclosure policy here. Sharing here.