Farmhouse inspired fall front porch tour with white mums and white pumpkins. Come visit our late summer early fall front porch!
We've lived here for almost eight years, and in all that time, we've mostly focused on indoor home projects.
The front door was painted this bright blue color when we bought the house. Someday I'd love to paint the door and the shutters black or a dark gray.
We also need to paint the concrete, since it hasn't been painted in years. That's a future project on my never-ending to-do list.
Affiliate links included below. Read my disclosure here.
Farmhouse Inspired Fall Front Porch Tour
Welcome to our farmhouse inspired fall front porch tour!
Since I've got a blue door to work with, this year I decided to go with more neutral colors like white and blue-gray Jarrahdale pumpkins, white mums, natural wood, and black.
I kept our front porch decor pretty simple this year.
Most of the elements I'm using are natural, like this thrifted split oak basket filled with acorn squash and white pumpkins.
My favorite item of decor is this old crock filled with white mums.
I love that the crock has a blue crown on it that matches the blue color of our door!
I would have liked to include a few more white mums, but I wasn't able to find any nice-looking ones at a decent price. Maybe later in the season I'll be able to find some.
The rocking chair was purchased almost 20 years ago from our church. They were downsizing and selling some of the church nursery furniture, and we bought the rustic chair for $10. I rocked all five of my babies in this chair!
I've considered painting it white, but I love the color of the natural wood too much. I just can't bring myself to paint it!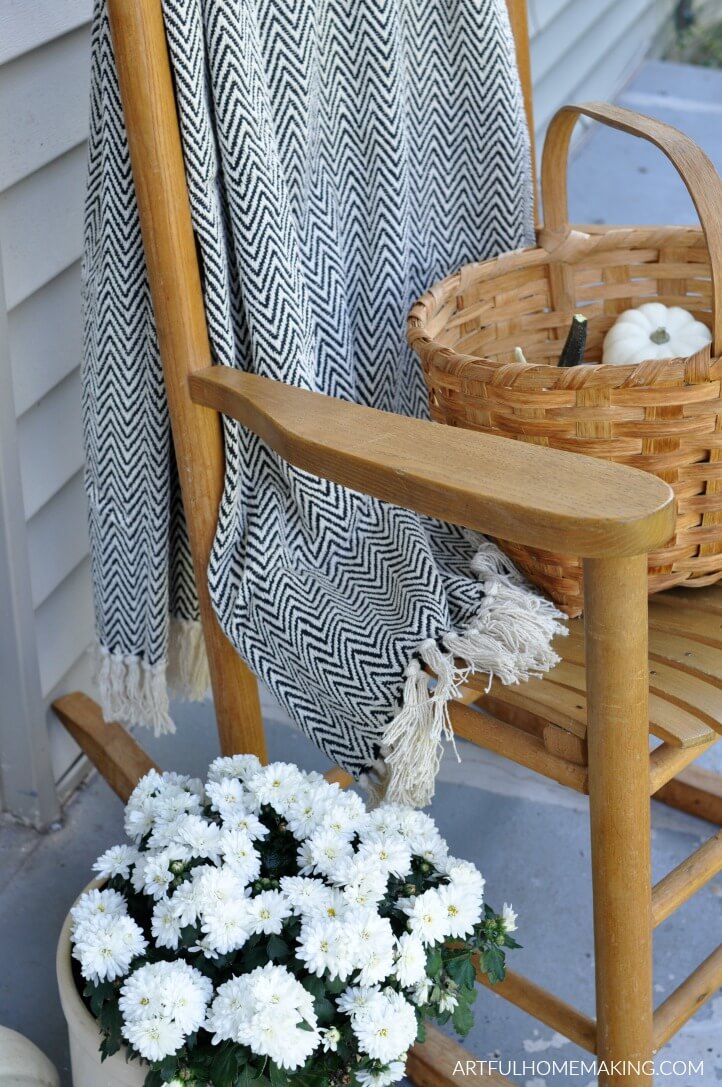 I also included a black and white throw blanket to give the chair a warm and cozy look. This is a lightweight blanket, so it's perfect for summer-to-fall evenings.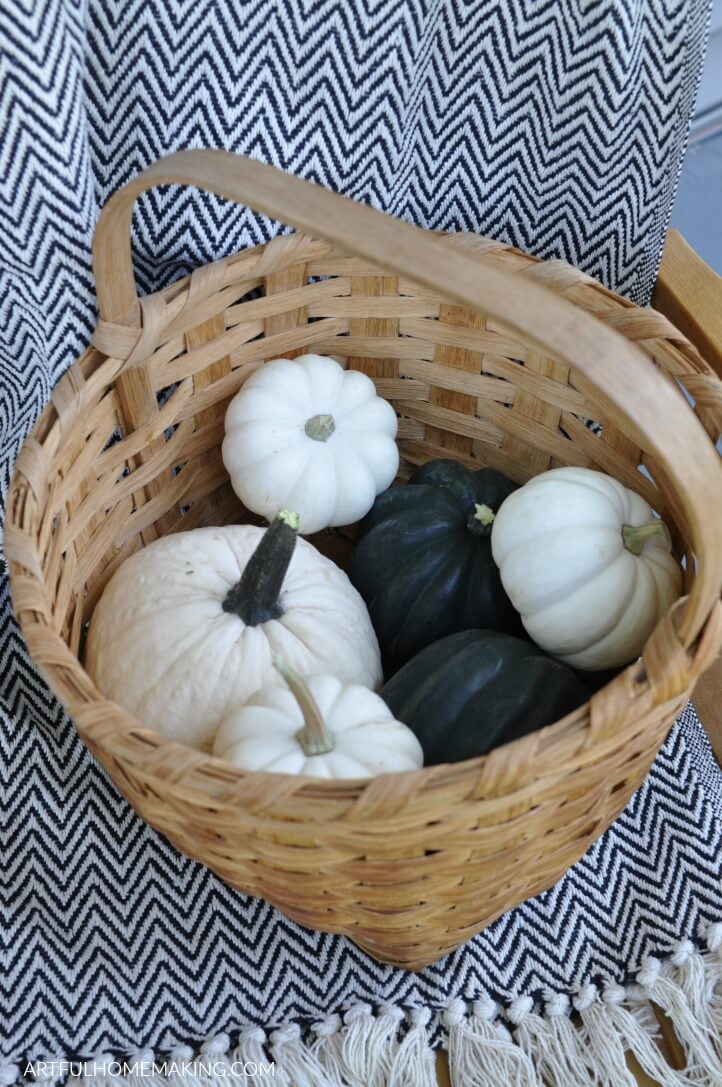 The blanket coordinates well with the neutral color scheme I was going for.
I love these heirloom Jarrahdale pumpkins. I'm thinking we should try to grow some of our own next year!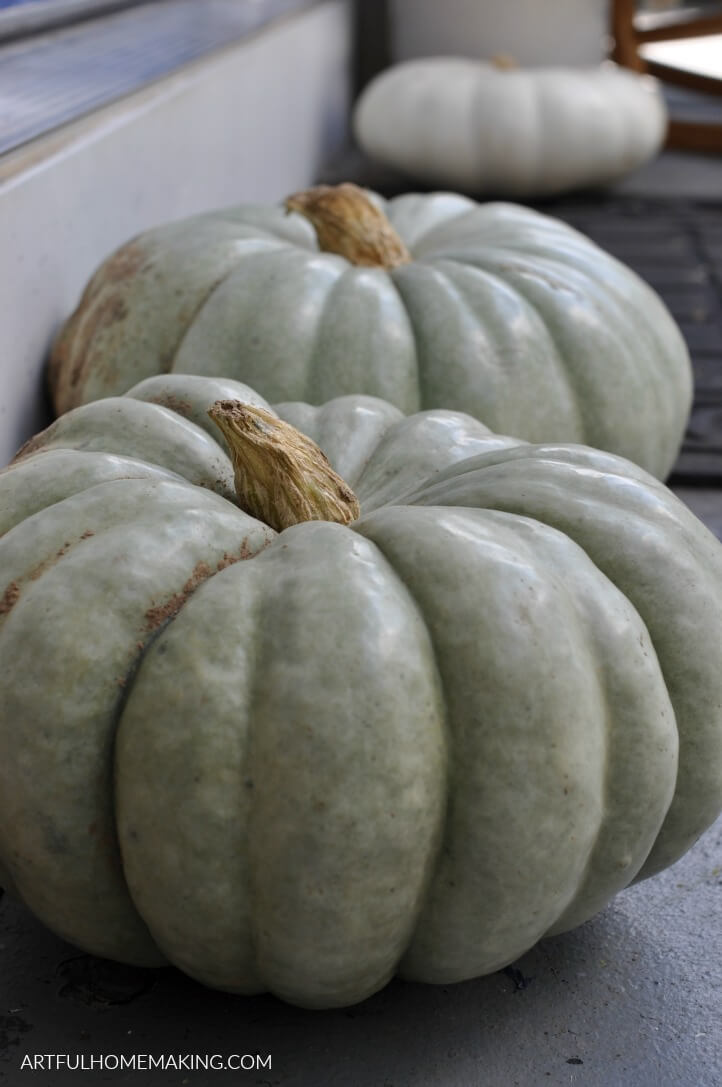 The Story Behind My Old Crock
In addition to the fact that this old stoneware crock has blue on it that matches our front door, I love the story behind it.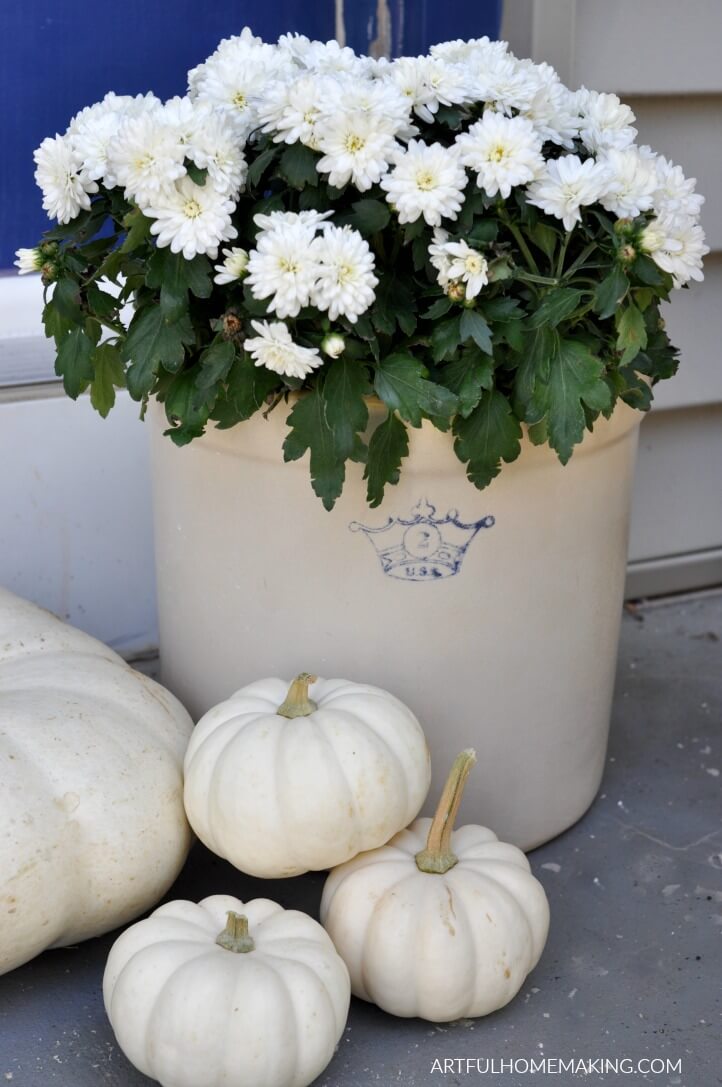 We were having a stressful week, and my husband had a doctor's appointment with a specialist. We also had several errands to run, and our van needed some work done on it.
I was dreading the long trip to the city, and the expense of the doctor's visit and the auto repair work.
The whole thing was kind of depressing.
My husband, however, turned it into a fun date! Since my mom was watching the kids, it was just the two of us.
First, he surprised me by taking me out to lunch. Then, after the doctor's appointment, he took me to the most amazing antique mall.
We had so much fun just wandering around and looking at everything. When I came upon this old, very reasonably-priced crock, I just knew it needed to come home with us!
Now, every time I look at it, I have happy memories of a fun afternoon with my husband.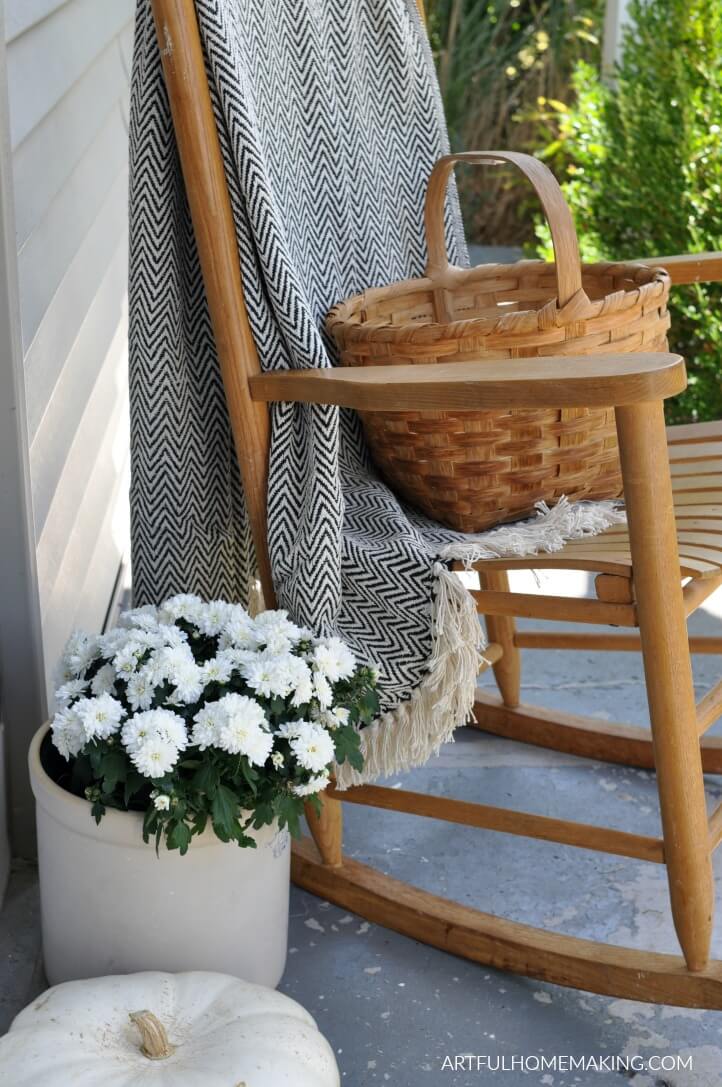 Shop Farmhouse Fall Porch Decor
Affiliate links included below. Read my disclosure here. 

I hope you enjoyed our farmhouse inspired fall front porch tour! Thanks so much for stopping by!
Pin it for Later:
Related Posts:
Disclosure: This post contains affiliate links. Read my full disclosure here. Sharing here.