Cozy bedroom ideas and organic cotton sheets from American Blossom Linens. Since we spend so much time in our master bedroom, it seems like I'm often updating it or trying to make it more cozy. Here are the latest changes we've made in the bedroom for the upcoming winter season.
And I can't wait to share about my new favorite sheets!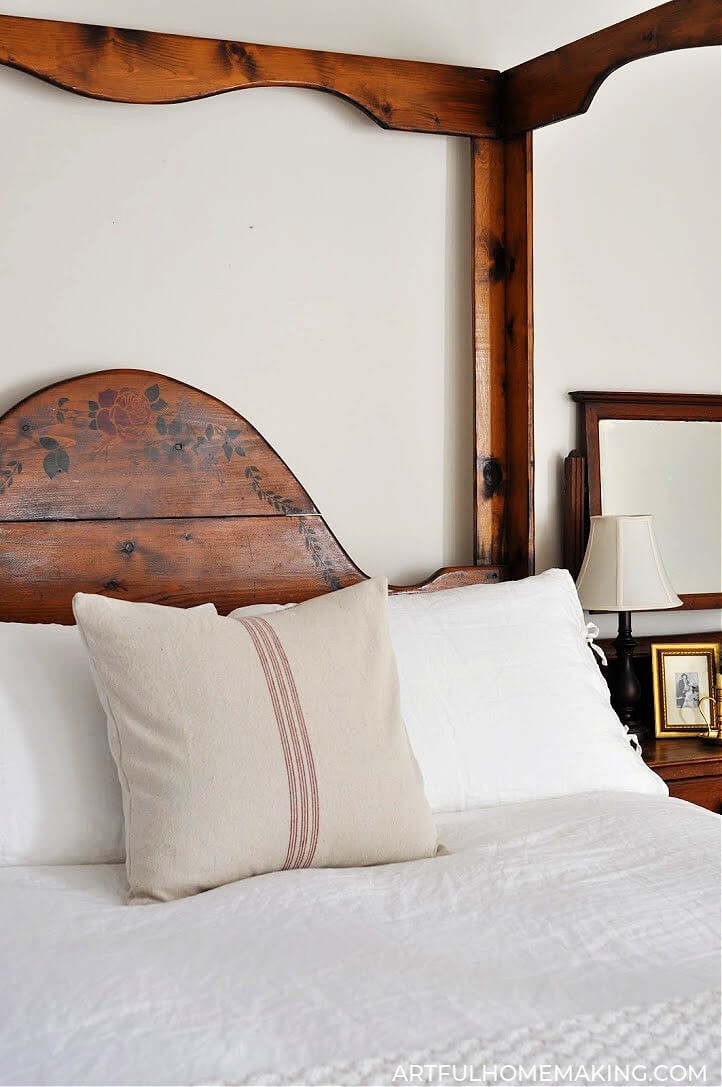 Cozy Bedroom Ideas
My goal for our master bedroom has always been for it to be clean, cozy, and peaceful. I wanted it to be a retreat from the outside world. As parents of five living in a smaller house, we often retreat to our bedroom to get a little peace and quiet.
In fact, one of my favorite date nights consists of having a special dessert in our bedroom and then watching a movie together in bed. So cozy!
Four Ways to Cozy Up Your Space
Here are four of our favorite ways to make your bedroom space more warm and inviting.
1. Simplify and Declutter
Keeping the clutter out of the bedroom is one of the biggest keys to keeping it cozy. Go through your things and only keep things you use regularly and/or believe to be beautiful.
Have nothing in your house that you do not know to be useful, or believe to be beautiful. —William Morris
As much as possible, try to keep work out of the bedroom. I know this can be so hard when you live in a smaller house (see tips below), but it really helps make the space more of a refuge. This goes for piles of laundry, too. 🙂
2. Use Peaceful Colors
Studies have shown that neutrals or more muted colors promote more of a peaceful and relaxing environment. To keep the atmosphere cozy, add warm colors or neutrals. Layering textures also helps up the coziness factor, especially if you have more of a white/neutral color scheme.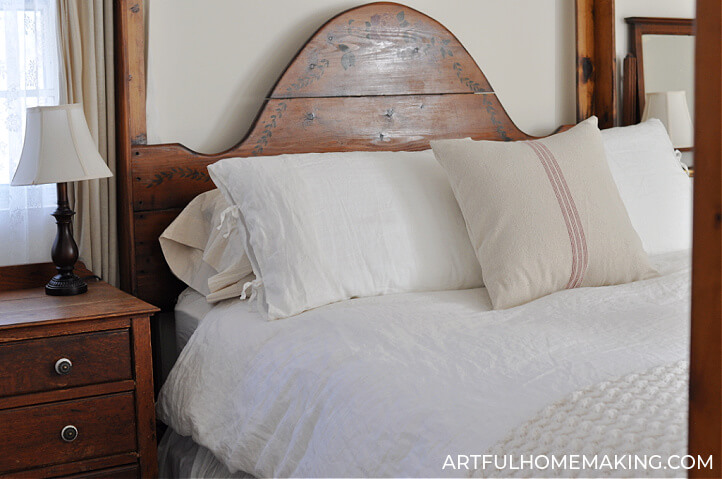 If you have a larger bedroom (ours is tiny), dark colors can also create a cozy, intimate feeling in a room.
Even though I love white walls, we decided on a warmer white (more of an off-white) for our bedroom. This paint color is Benjamin Moore Sugar Cookie.
3. Light Candles
Candles (or a fireplace if you have it) do so much to make a room feel cozy. I light candles all year long, but I'm especially drawn to them during the fall and winter months.
4. Use Soft and Cozy Pillows, Blankets, and Sheets
Soft, fluffy, and cozy textures in sheets, pillows, blankets, and duvets make the bedroom feel warm and welcoming.
I recently stitched up this red stripe grain sack pillow cover to add some color to our winter bedroom.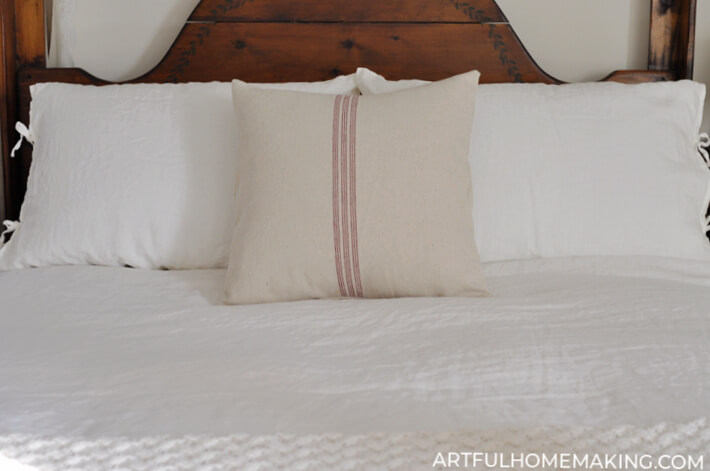 During the winter months, I love using wool blankets, soft quilts, and my down comforter. I bought my down comforter years ago, before we got married. One of the best purchases I've ever made! It's so warm and cozy on winter nights.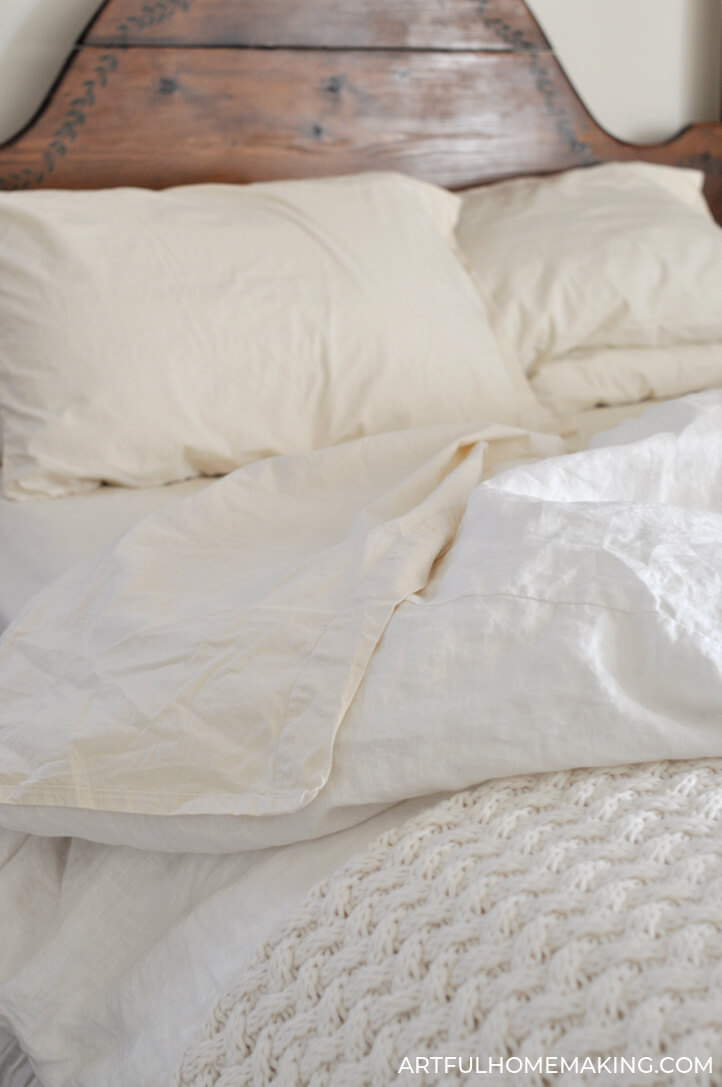 My favorite duvet cover is this white linen one from Ikea, which came with the white linen pillow covers with ties.
I also love keeping a cozy knitted blanket at the foot of the bed. It adds texture, as well as being another soft, warm layer.
American Blossom Linens Review
This post contains affiliate links. Read my disclosure here.
And speaking of cozy bedroom ideas, let's talk about sheets.  I'm so excited to tell you about American Blossom Linens and their organic cotton sheet sets!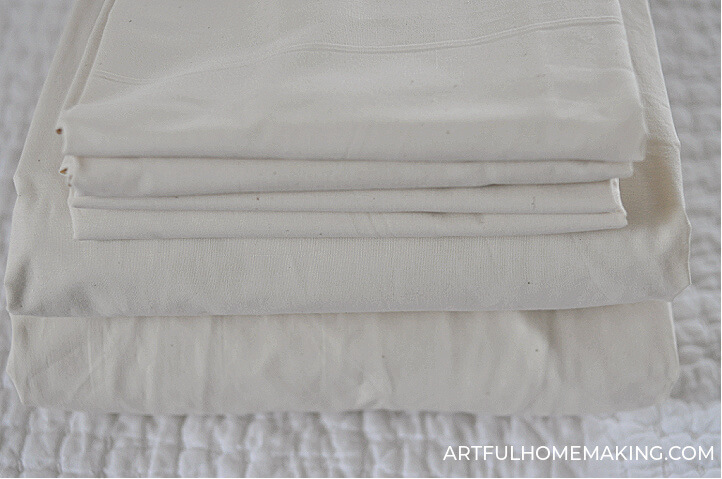 This wonderful company reached out to me and offered to send me a set of their beautiful sheets, and I jumped at the chance!
These sheets are absolutely gorgeous, and so cozy. And they only get softer with each wash. And, each sheet set comes with four pillowcases (which is great, because we always seem to be low on those!).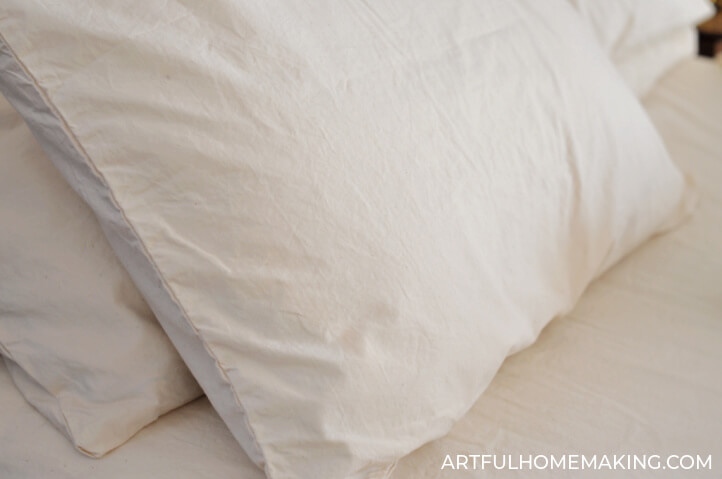 I also love that they're made in the USA!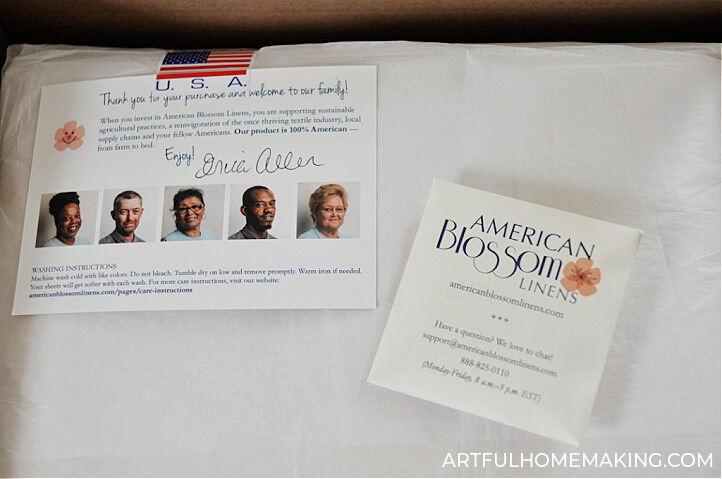 The company is based  in Georgia, and I love that they sent some delicious herbal peach tea along with the sheets!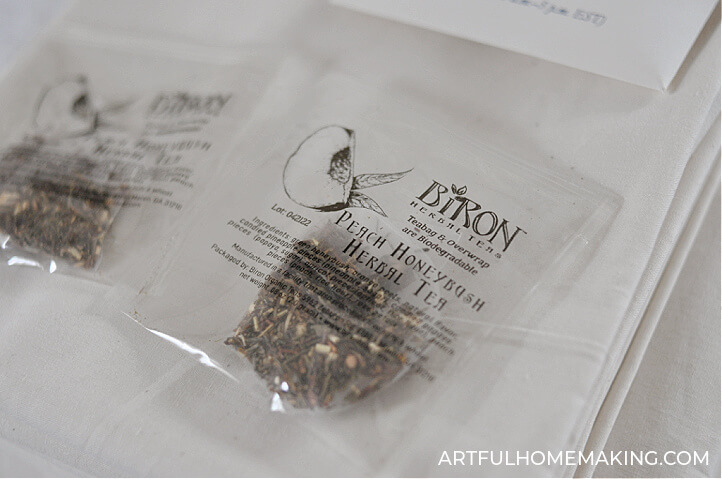 In addition to loving their beautiful sheets, here are a few things to love about the company:
Grown and sewn in the USA

Traceable organic cotton, grown w/ sustainable farming practices

Crafted by families with decades of experience

Chemical Free

Generously sized

Every Queen and King Set comes with 4 pillowcases

Excellent customer service

Free Shipping

2 Year Risk-Free Trial
I love supporting American Made!
The sheets I received are the natural color, and I love how they look. Perfect for my rustic farmhouse-style bedroom décor.
The sheets also come with a tag at the ends so you don't have to wonder which part goes where when you're making the bed!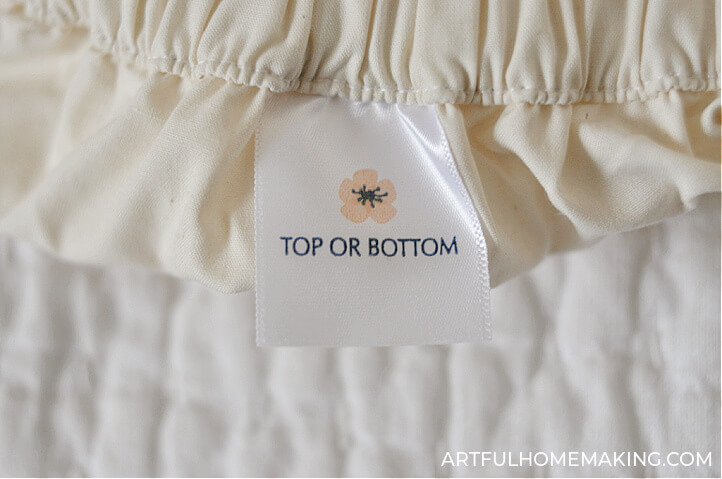 Go check out these beautiful sheets here! And, I have a discount code for you. Use code ARTFUL20 to get 20% off!
How to Make a Small Bedroom Cozy
Now, here are a few tips for those with small bedrooms.
Because we live in a relatively small house, we don't have a lot of extra space. And our bedroom has to serve multiple purposes other than just sleeping.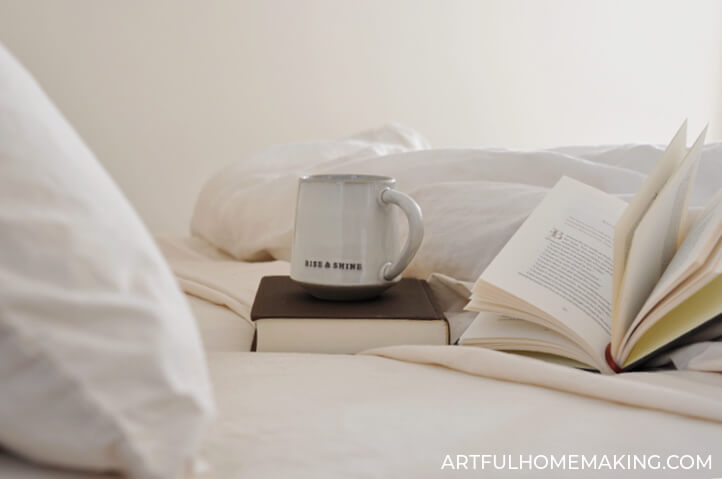 I also use this room for my daily morning reading and back and neck stretches. So I needed to find a place to store books, writing materials, and also a few pieces of exercise equipment that I use for my back and neck exercises.
Cozy Bedroom Tips
Here are a few of my best tips for making a small bedroom cozy.
Keep the room as clutter-free as possible
Invest in furniture that serves multiple purposes and has lots of storage
Don't put too many things on the wall (to keep small rooms from looking too cluttered)
Use lighter shades of paint to help open up the room visually
Consider storing things under the bed if you're short on storage space
Because our bedroom is on the smaller side, I do store things under the bed in plastic storage bins. My preference would be to not have anything under the bed (just personal preference!), but I have so little storage available that I try to use every possible option.
I store my exercise equipment under the bed. It's easy for me to grab in the morning. After using it, it's easy to shove it back under the bed and out of the way.
I also keep my dresser in the closet, because it would make the bedroom too cluttered to keep it in the room. It does fill up the closet, but it's worth it to me to have it out of sight.
My husband keeps his folded clothes in a small dresser on his side of the bed.
The bedside table I use is actually a small dresser that goes with my husband's dresser (found at a yard sale in my teen years). The great thing about this dresser is that it has lots of storage space. I keep writing materials, journals, and planners in these drawers.
I also keep a small basket under this dresser filled with books I'm currently reading.
Those are just a few simple tips to keep small bedrooms cozy and clutter-free!
Cozy Bedroom Resources
I mentioned some of these cozy bedroom resources above, but here they are again so they're easy to find!
Related Posts
Click the picture to be taken to the post.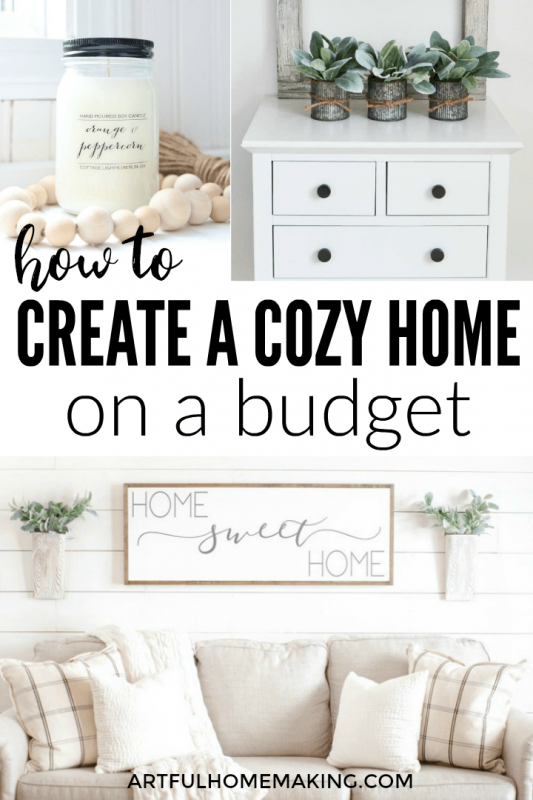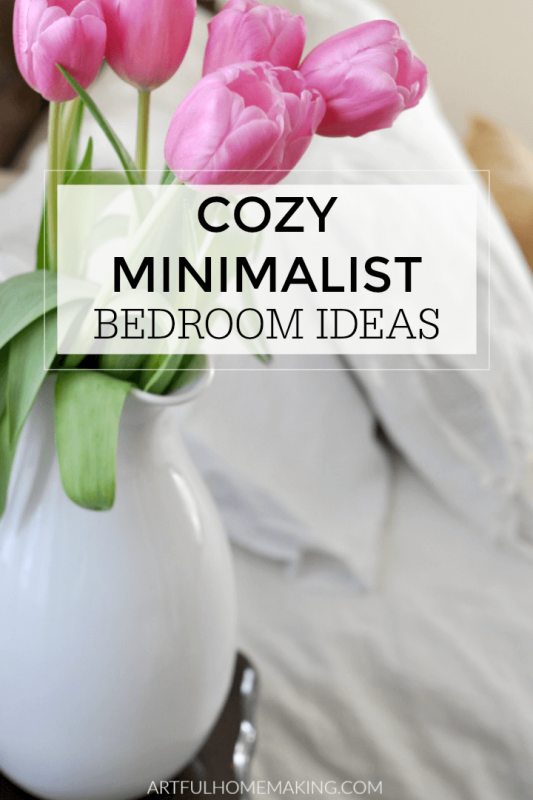 Pin This Post for Later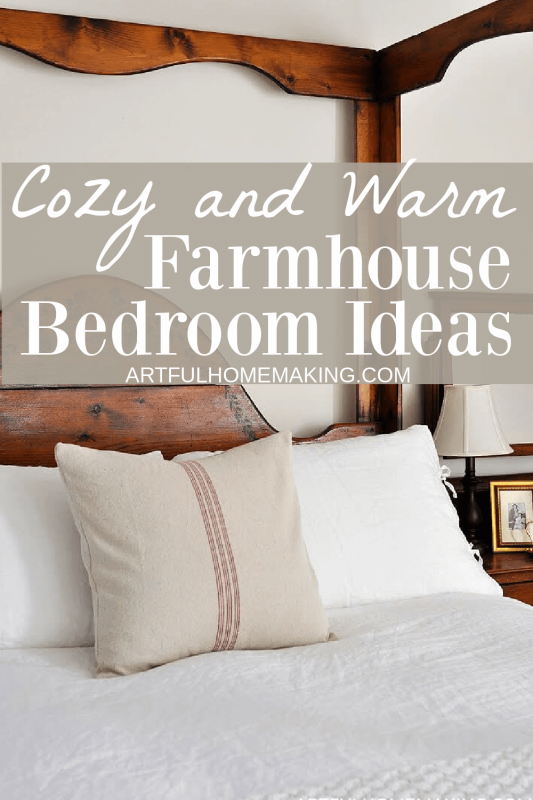 Disclosure: This post contains affiliate links. Read my full disclosure here. Sharing here.