Minimalist bedroom ideas that don't cost a fortune but will bring peace and tranquility to your room.
Even though I'm not a complete minimalist, and I love a cozy home style, I wholeheartedly embrace minimalism in my bedroom.
I love keeping things simple, pared back, decluttered, and clean in my private space.
Since we use our bedroom as a sort of retreat from the outside world, it's important that the room be cozy yet peaceful.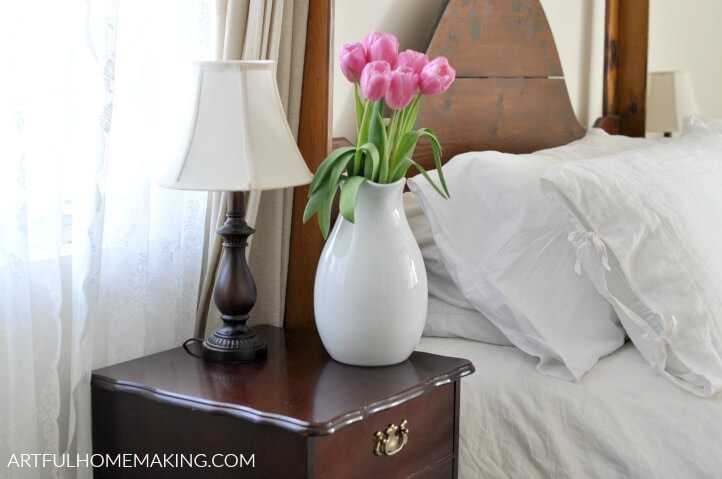 What does it mean to be minimalist?
According to this article:
Minimalism is owning fewer possessions…intentionally living with only the things I really need—those items that support my purpose. I am removing the distraction of excess possessions so I can focus more on those things that matter most.
Minimalist Bedroom Ideas for Small Rooms
We live in a small house, and we're on a tight budget. Our bedroom decor reflects those two facts.
Because our room is small, I try to keep everything in the room simple.
Also, our furniture is old. I've often wished we could replace or update some of it, but that hasn't been in our budget.
So, I work with what we have.
RELATED: Farmhouse Master Bedroom Updates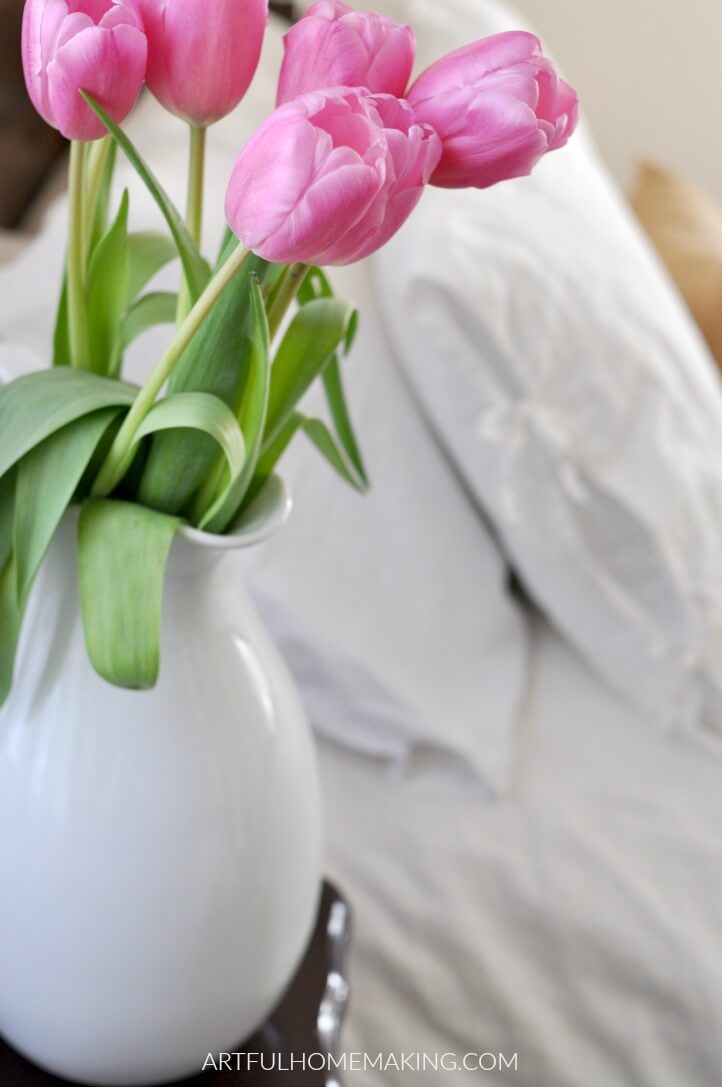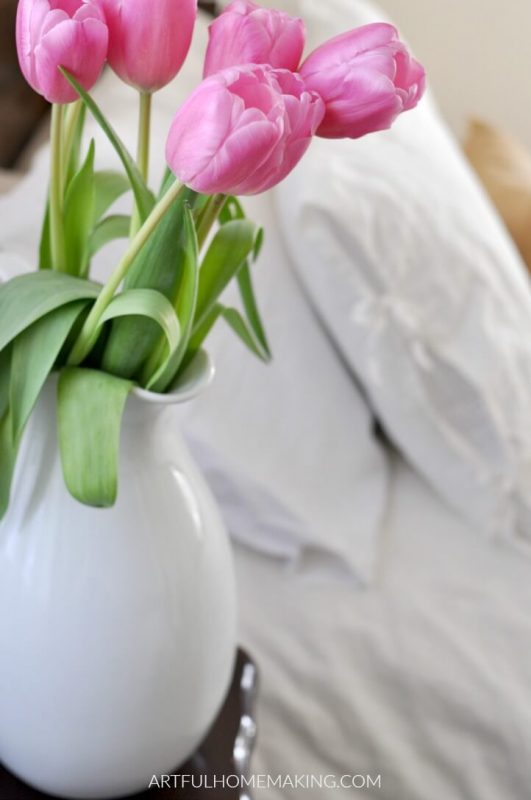 Since our old bed (which we've had since the beginning of our marriage, over 22 years ago) fills up much of our small bedroom, I purposely keep the walls bare.
I also painted the walls a light neutral color to help make the room seem larger and cleaner.
This antique dresser (originally found at a yard sale for $30) has been in my bedroom for close to 30 years now!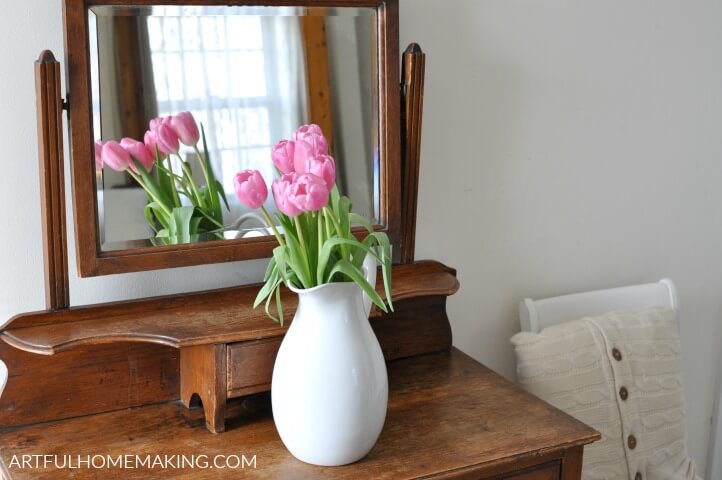 I love to keep the surface of the dresser cleared off and free of clutter, which gives the room a cleaner, uncluttered appearance.
Minimalist Bedroom on a Budget
Since we've been working with a small budget for years, I wanted to share some tips for creating a minimalist bedroom on a budget.
You don't have to have a lot of money in order to embrace minimalism. In fact, the opposite is true!
I know it's tempting to look at the beautiful photos of minimal bedrooms online, and feel like you must have certain elements.
For example, so many minimalist bedrooms have wood floors. Of course I would love to remove all of our carpet and install wood flooring, but that's not an option for us.
It is entirely possible to create a minimalist bedroom with carpet.
Also, many minimalist bedrooms have nice, modern furniture.
Again, it's entirely possible to live simply and intentionally without having trendy new furniture.
As I mentioned above, minimalism is about owning fewer possessions and intentionally living with only those things that we really need.
Our current bedroom furniture may not be the style I would prefer, but it's what we have.
At its heart, minimalism is about simplicity and contentment, so I'm learning to be content with what we have.
That attitude of contentment brings so much peace to my heart and to our bedroom.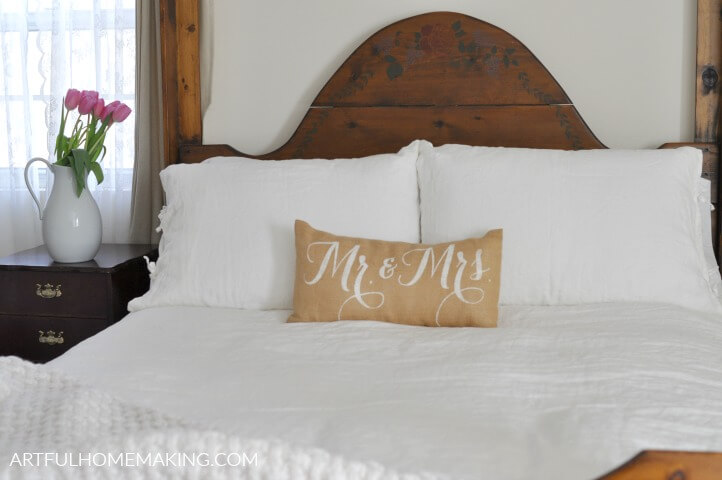 Reduce the Amount of Stuff
Here are a few more tips for decorating a minimalist bedroom if you're on a budget:
Remove excess furniture
Get rid of clutter
Reduce the amount of items hanging on the wall
"One can furnish a home very luxuriously by taking out furniture rather than putting it in." —Francis Jourdain
That's the great thing about minimalism. It's within everyone's reach!
You only need to start decluttering and getting rid of things in order to achieve it.
The more you declutter and simplify, the more your bedroom can become a haven of rest and renewal.
RELATED: 31 Day Home Decluttering Challenge
How to Declutter for a Minimalist Bedroom
Since I strongly believe that the key to a minimalist bedroom is a lack of clutter, I wanted to include a few simple tips for decluttering.
I always use the same process to declutter any room.
First, get three containers. I usually get two boxes and one trash bag.
The boxes should be labeled "put away" and "give away," and the trash bag is for trash.
I also often use trash bags for clothing because it will easily fit in a donation box. Does your city have those donation centers for clothing? If I'm strictly decluttering clothes, I use a trash bag so it will fit in these boxes.
RELATED: The KonMarie Method for Organizing Clothing
Once you have your containers, start going through each area of your bedroom.
Analyze everything. Decide whether it's trash, or if you'd like to donate it, or if it needs to be put away in another area of the house.
You can use the "joy" test recommended by Marie Kondo. To do this, hold each item in your hand and decide whether it brings you joy or not.
In some cases, you'll need to keep it regardless (such as with my outdated furniture) because it's what you have and it can't be replaced right now.
If it's something that you really don't need and don't want, go ahead and throw it away (if it has outlived its usefulness), or put it in the give away box to be donated later.
Another option would be to sell things you no longer need or want, but this can be tricky because then it has to hang around for awhile until you can sell it.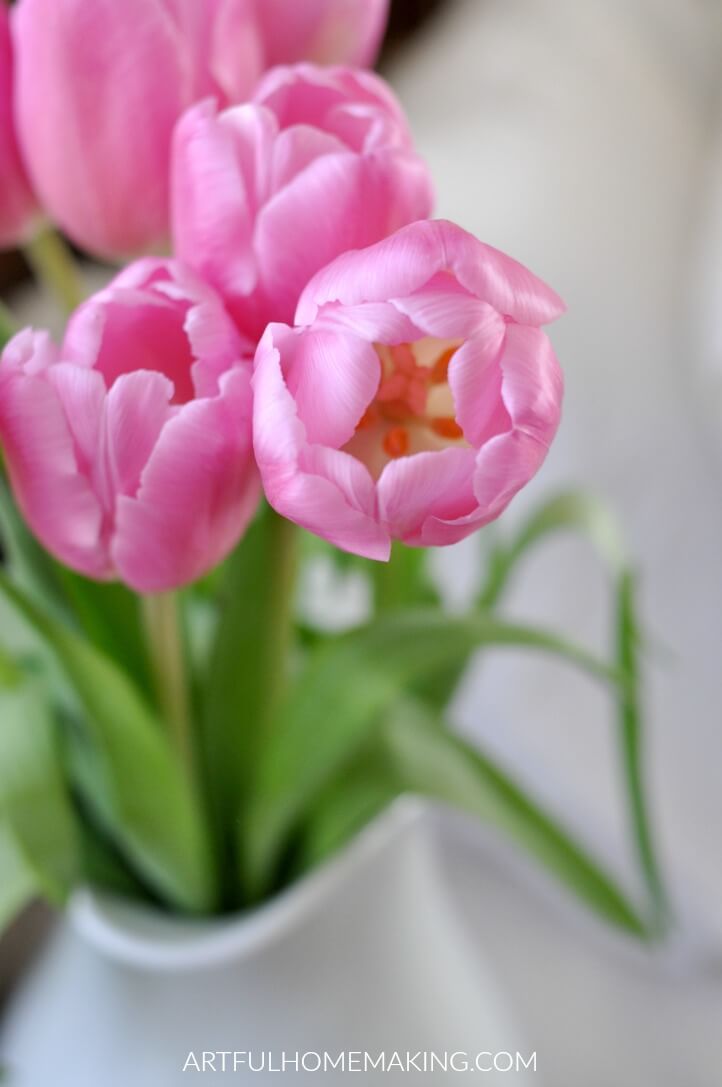 After You've Eliminated the Excess
Once you've gone through your entire room, eliminating excess furniture, clothes, and other possessions, it's time to evaluate.
You may have gotten rid of so many clothes that you no longer need the extra dresser.
You may no longer need a bookshelf in your bedroom because you decided not to store books in there anymore.
Maybe you sold some of your unwanted items and made enough cash that you can buy something new.
Think about how you want your newly decluttered bedroom to look and feel.
Consider what you might need to make your room more comfortable (such as a rug for the bare floor), or a lamp for the bedside table.
Going forward, think carefully before adding anything (used, new, or handed down) to your bedroom. Be intentional about what you allow to come in.
Whenever I do have the funds to buy something for our bedroom, I try to stick to classic pieces that I know we'll be able to use and love for years to come.
If you're trying to create a minimalist bedroom, be careful with the number of items you hang on the wall. Too many things on display can create a cluttered look.
Not into total minimalism and sparsely decorated rooms? You might enjoy this book, which shows you how to get more of a cozy minimalist look. Still simple, but cozy and inviting.
Related Posts
Pin This Post for Later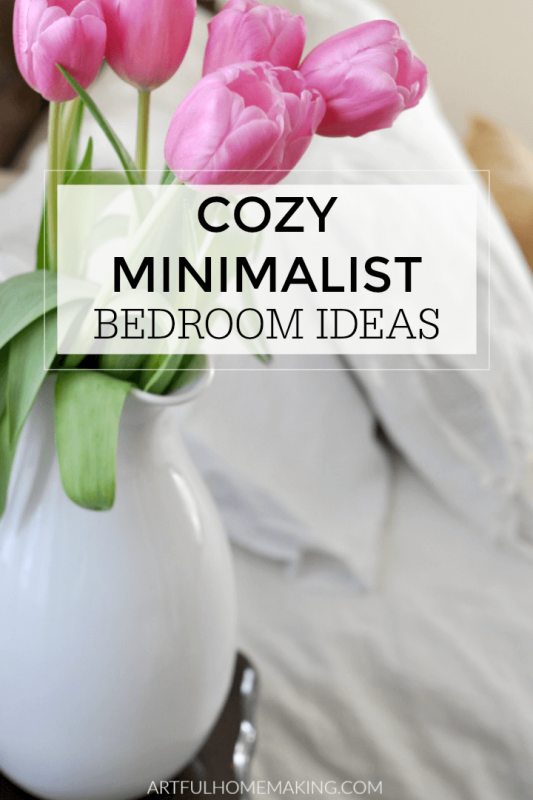 Disclosure: This post contains affiliate links. Read my full disclosure here. Sharing here.