This set of 30 free Christmas trees printable templates is perfect for a holiday craft project! These free downloads can be used for Christmas tree coloring pages, holiday decorating, gift tags, or for other fun Christmas activities!
This holiday season, save yourself some money and hassle by using one or several of these free printable Christmas tree templates. Whether you prefer the look of a traditional tree, a modern one, or something in between, there's sure to be a Christmas tree shape here that you'll love.
Best of all, these printable templates are easy to use and completely free. This is a a fun way to get started on your Christmas crafts today!
This post contains affiliate links, which means I may make a small commission at no extra cost to you. Read my disclosure here.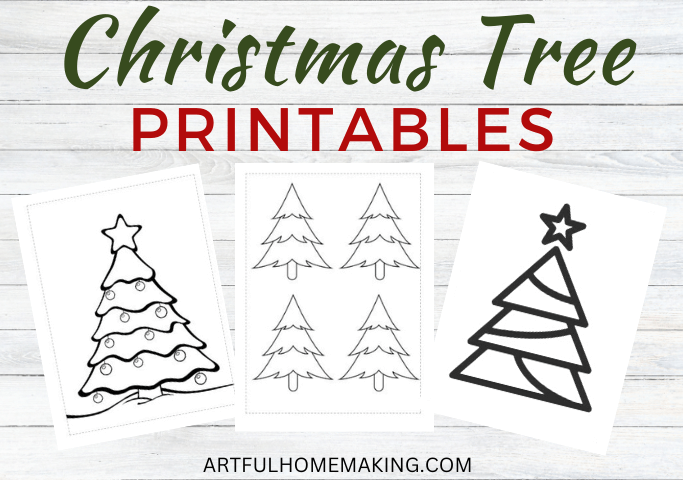 Free Christmas Trees Printable Templates
Decorating for Christmas is an enjoyably festive way to get into the holiday spirit, but it can also be expensive.
If you're looking for a way to save some money this season, this free printable template is a great option to use for coloring pages or making your own decorations.
While you could try to create your own patterns, these free Christmas tree printables will save you time and effort, and are ready for you to use!
Simply print out one or more of the templates, cut out the tree shape, and decorate it however you like.
These templates come as a downloadable PDF file (the download link is found farther down below). Please only use these for your personal use only. These are intended for non-commercial use and are not to be sold or redistributed.
How to Use Christmas Tree Printables
Few things represent the Christmas season like a lovely tree. And while today we see Christmas trees everywhere in homes and stores, it wasn't actually until the 19th century that Christmas trees began appearing in homes in America and England!
Whether you prefer a real (live) tree or an artificial one, a large tree or a small one, an evergreen Christmas tree represents the promise of new life, growth, and vitality.
Decorating your tree with tinsels, lights and ornaments is a cherished holiday tradition in many families' homes.
And with this simple Christmas tree template, you can add your own homemade Christmas tree decorations to your home or school tree, or use these for coloring pages and other kids' crafts.
Once you've downloaded these printable PDFs, simply look through the pages and print off the Christmas tree design you want to use. I made 30 so you have a wide selection from which to choose!
The tree outlines range from those with a full page Christmas tree to pages with several smaller trees.
Printing these templates onto printer cardstock is a good idea if you plan to use these for more than simple coloring pages.
These are ideal to use with a fun holiday project like coloring pages and decorating your home or school.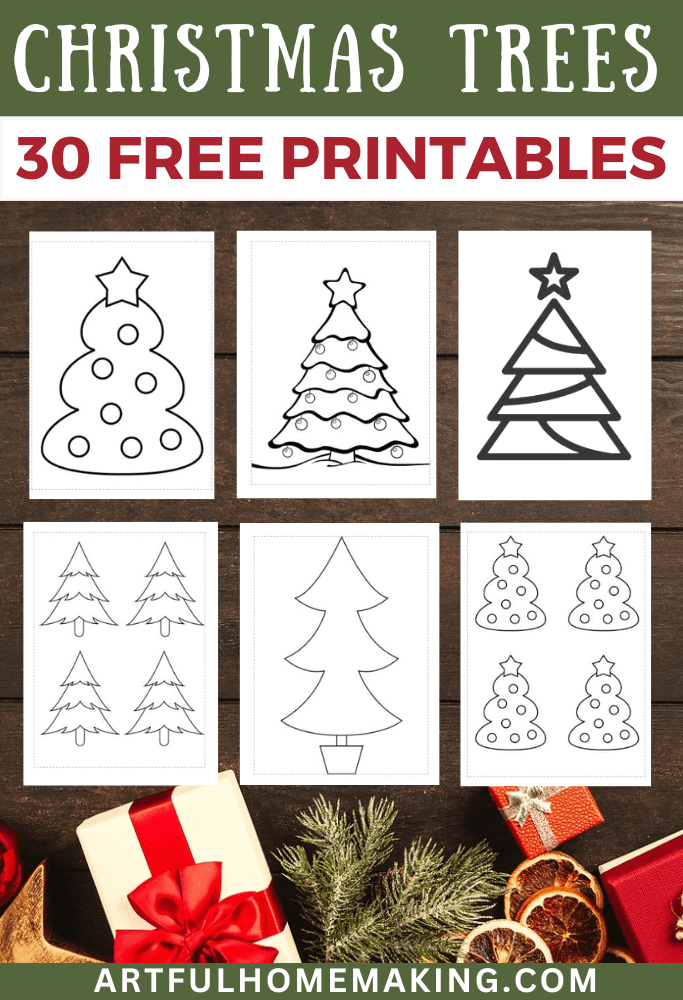 Free Printable Coloring Pages
One of the best ways to use a Christmas tree printable template is as a coloring page. These full-size pages are just the right size for a coloring project.
Kids of all ages have so much fun using coloring sheets to make their own personalized creations!
For younger kids, a simple Christmas tree outline is best for coloring, while older kids and adults are able to color the more complex designs.
Some kids will want to go with a basic green tree with a few simple decorations, while other kids will experiment with a range of different colors and patterns.
These simple templates are the perfect starting point for use as coloring pages at home or at school.
Don't forget to have a good supply of crayons and/or markers to color the templates!  Kids love using glitter markers too for projects like these.
Crafting and Decorating with Printable Christmas Tree Printables
These Christmas tree printable templates can be used for decorating as well as several different Christmas craft ideas.
Doing fun crafts during the holiday season is a great way to keep kids busy and create happy memories.
After printing and cutting out a tree pattern, it could be used to make cloth or DIY felt Christmas trees.
Tracing a tree onto foam or cardboard is another great option.
Adding pieces of cotton balls stretched and cut into strips makes for a realistic-looking snow texture!
You could also use small pom poms to represent snow balls or ornaments hanging from the tree.
These printables could be used to make banners, wall art or refrigerator art. There are so many creative ways to use these tree templates!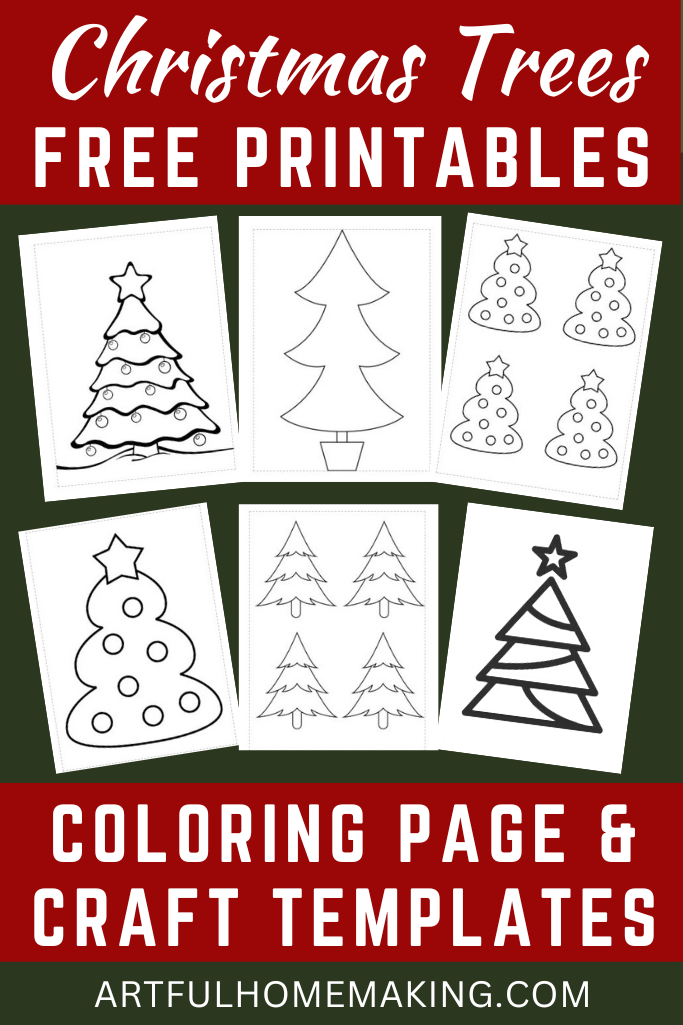 How to Get Free Christmas Trees Printable Templates
You can get your own free Christmas trees printable templates by clicking here!
These are intended for personal use only.
For a fun and festive holiday craft activity, these free printable Christmas tree outline templates are just what you need!
Happy holidays, and happy crafting!