These Christmas Bible trivia printables are the perfect resource to test your knowledge about the birth of Jesus in a fun way!
The focus of many people at Christmas time is on jingle bells, Santa Claus, and candy canes. But Christians know that the real meaning of Christmas is all about celebrating the birth of the baby Jesus!
Bible trivia games are one of the very best ways to see how many details you can remember from the New Testament accounts of Jesus' birth.
I've put together this set of 50 Christmas trivia questions with the answer key for you to use to celebrate the good news of the Bible's Christmas story.
This post contains affiliate links. Read my full disclosure here.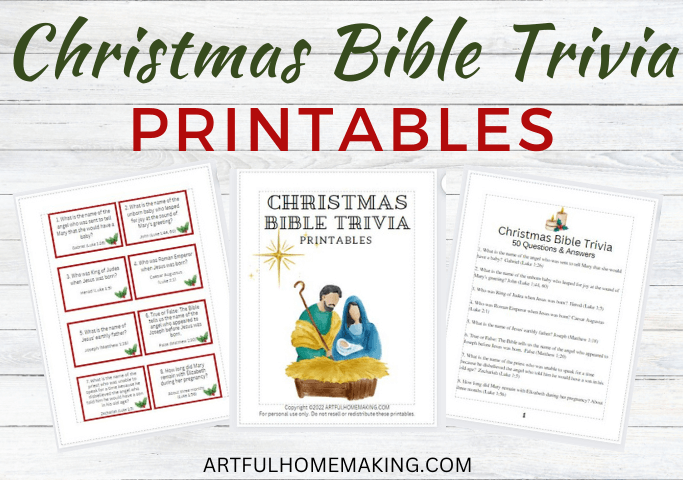 Christmas Bible Trivia Printables
For many Christians, Christmas is truly the most joyous time of the year.
As we remember the amazing truth that God sent His only Son into the world to save us from our sins, we have every reason to rejoice in the holiday season!
There are many wonderful ways to take part in Christmas festivities in a manner that keeps a proper focus on Jesus' birth.
Many families have their own set of Christmas traditions based on their own personal background and the different ages of their family members.
In addition, many families and churches take part in an annual season of Advent where a Bible reading takes place in each of the days leading up to Christmas Day.
My family has used several different approaches to Advent, and I created a free printable Advent plan that's perfect for busy moms.
Activities such as singing a Christmas carol like Silent Night or O Little Town of Bethlehem, sharing with those in need, or decorating our homes with reminders that Jesus is the reason for the season are some other helpful ways to keep our minds on the truth of Christmas.
But another excellent way to celebrate the season is by using a Christmas Bible trivia game as part of a church activity or a family game night.
Using holiday trivia printable games can be a truly fun and challenging way to test your Bible knowledge about the facts surrounding the birth of Jesus Christ.
What's Included with Christmas Bible Trivia Printables
I've put together a free downloadable set of 50 Christmas Bible trivia questions and answers for you to use in a home or church setting.
Unlike some other online versions of a printable Christmas trivia game that focus more on topics like a famous Christmas song, Father Christmas, or a red-nosed reindeer, each of these questions and answers is centered on the birth of Christ.
All of the questions are based on an Old Testament or New Testament Bible verse.
These questions cover everything from the names of specific Bible characters such as Herod and the Angel Gabriel to fill-in-the-blank and true-and-false questions that you can use to test your Bible knowledge.
I've found that activities like this can be a great way to learn important things from the Bible in a way that's enjoyable and not highly competitive.
This set of questions and answers found in the Christmas Bible Trivia Printables covers a range of topics from simple questions (What is the name of Jesus' earthly father?) to more difficult questions (Who became King of Judea after Herod died?).
Many of the answers will be known by those who are familiar with the Bible. I've tried to avoid really hard Bible trivia questions as much as possible while still keeping them challenging.
You may even be surprised at one or two of these answers. For example, did you know that the wise men found Jesus in a house and not in a stable (see Matthew 2:11)?
This free printable Bible trivia quiz includes three different sections so you can choose how to use these in a way that works best for your family or church group.
The first section includes the complete list of all 50 questions along with the right answer to each question.
The second section has only the 50 trivia questions without the answers and scripture reference.
Finally, the third section is a set of 50 printable game cards. Each trivia card contains a question along with the answer and scripture reference.
How to Use Christmas Bible Trivia Printable Questions and Answers
These Christmas Bible quiz questions are designed to be used in a wide range of settings.  While they can be used across different age groups, they're probably most suitable for older kids and adults as younger kids may not know a lot of the answers.
The downloadable pages that include the questions and answers are for the use of the parent or church group leader who is either asking the questions out loud to the participants, or else checking the quiz participants' answers they write down on the question pages.
Each answer also includes the scripture reference so you can confirm the answer if needed.
After downloading the Christmas Bible Trivia Printables PDF file, you can either print off all the pages or only those you want to use with your group.
The pages that have only the questions can be printed off and used with your family, Bible study groups, or Sunday school class.
Each participant should have their own printed copy of questions along with a pen or pencil so they can write the answer next to each question. You could even set a timer to make the quiz more challenging!
If you're using the trivia questions with a group that isn't highly familiar with the Bible, you could make this an "open book" quiz where participants can look for the answers in their Bibles.
Using Christmas Bible Trivia as a Quiz Game
Having a family Christmas fun quiz style game would be another perfect way to use these printables.
I can also see these Christmas Bible questions being used as a printable trivia game with a church Sunday school class, Bible study group, or youth group.
You can even use them as Bible Christmas Jeopardy questions!
You could cut out and shuffle the trivia cards, then go around the room and have each participant take turns drawing a card to read to the group. This would make it more participatory than just having one person read all of the questions.
There is no one best way to use these trivia questions. Just pick the approach that makes the most sense for your family or church group, and be sure to make it fun!
With most trivia games, the person who gets the most correct answers is the winner. It might be fun to have some small gifts for those who answer the most questions correctly. Or you could just recognize the winner and then give all of the participants a gift!
After playing the game at home or church, you could then have hot cocoa, eat Christmas cookies, and watch a family-friendly Christmas movie!
You can find the download link for the free printable Christmas trivia questions as a PDF file down near the bottom of this post.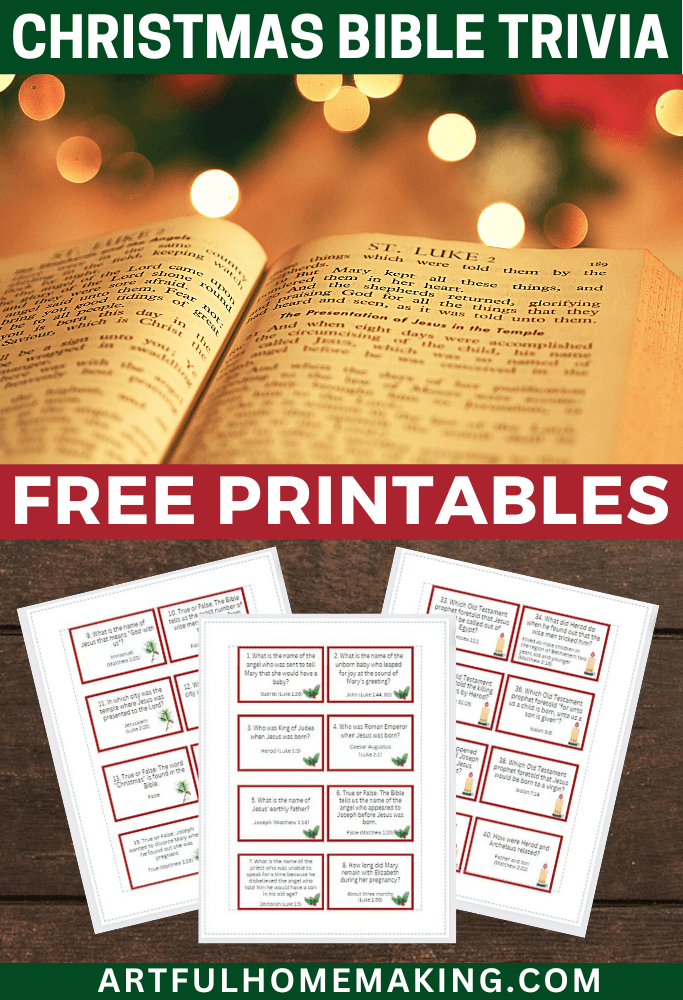 50 Christmas Bible Trivia Questions with Answers
Here is the complete list of all 50 of the Christmas Bible trivia quiz questions and answers.
You might want to read through these questions before printing them to make sure they would work for your intended use.
If you prefer not to print these, you can bookmark this page and then come back and read the questions right here when you're ready for your trivia game.
If you want the free printable download Christmas quiz that contains all of the printable question and answer pages as well as the trivia cards, the download link is found near the bottom of this page.
1. What is the name of the angel who was sent to tell Mary that she would have a baby? Gabriel (Luke 1:26)
2. What is the name of the unborn baby who leaped for joy at the sound of Mary's greeting? John (Luke 1:44, 60)
3. Who was King of Judea when Jesus was born? Herod (Luke 1:5)
4. Who was Roman Emperor when Jesus was born? Caesar Augustus (Luke 2:1)
5. What is the name of Jesus' earthly father? Joseph (Matthew 1:18)
6. True or False: The Bible tells us the name of the angel who appeared to Joseph before Jesus was born. False (Matthew 1:20)
7. What is the name of the priest who was unable to speak for a time because he disbelieved the angel who told him he would have a son in his old age? Zechariah (Luke 1:5)
8. How long did Mary remain with Elizabeth during her pregnancy? About three months (Luke 1:56)
9. What is the name of Jesus that means "God with us"? Immanuel (Matthew 1:23)
10. True or False: The Bible tells us the exact number of wise men who came from the east. False (Matthew 2:1)
11. In which city was the temple where Jesus was presented to the Lord? Jerusalem (Luke 2:22)
12. What is the name of the city where Jesus was born? Bethlehem (Luke 2:4)
13. True or False: The word "Christmas" is found in the Bible. False
14. How many children did Zechariah and Elizabeth have before John was born? None (Luke 1:7)
15. True or False: Joseph wanted to divorce Mary when he found out she was pregnant. True (Matthew 1:19)
16. Why did Joseph and Mary go to Bethlehem before Jesus was born? To be registered in a census (Luke 2:1)
17. What type of animal was sacrificed at the Temple as part of the purification of Joseph and Mary? Turtledoves or pigeons (Luke 2:24)
18. Where was Jesus laid after he was born? In a manger or animal feeding trough (Luke 2:7)
19. What did the wise men see and follow to find Jesus? A star (Matthew 2:2)
20. Where was Jesus when the wise men found him? In a house (Matthew 2:11)
21. What was Joseph's line of work? Carpentry or stonemasonry (Matthew 13:55)
22. What gifts did the wise men bring to Jesus? Gold, frankincense, and myrrh (Matthew 2:11)
23. How did the shepherds find out about Jesus' birth? They were told by an angel (Luke 2:9)
24. What is the name of the devout man who took Jesus up in his arms in the temple? Simeon (Luke 2:25)
25. What is the name of the elderly prophetess who spoke of Jesus? Anna (Luke 2:36)
26. What did Mary wrap Jesus in after He was born? Swaddling cloths (Luke 2:7)
27. True or False: The shepherds were afraid when the angel appeared to them in the field. True (Luke 2:9)
28. In what Old Testament book is it foretold that Jesus would be born in Bethlehem? Micah 5:2
29. What did King Herod tell the wise men that he wanted to do to Jesus? Come and worship him (Matthew 2:8)
30. How were the wise men warned not to return to Herold? In a dream (Matthew 2:12)
31. To where did an angel tell Joseph to flee with Mary and Jesus? Egypt (Matthew 2:13)
32. Why did an angel tell Joseph to take Jesus to Egypt? Because Herod wanted to kill him (Matthew 2:13)
33. Which Old Testament prophet foretold that Jesus would be called out of Egypt? Hosea 11:1
34. What did Herod do when he found out that the wise men tricked him? Killed all male children in the region of Bethlehem two years old and younger (Matthew 2:16)
35. Which Old Testament prophet foretold the killing of young boys by Herod? Jeremiah 31:15
36. Which Old Testament prophet foretold "for unto us a child is born, unto us a son is given"? Isaiah 9:6
37. What event happened before an angel told Joseph to bring Mary and Jesus back from Egypt? Herod died (Matthew 2:19-20)
38. Which Old Testament prophet foretold that Jesus would be born to a virgin? Isaiah 7:14
39. Who became King of Judea after Herod died? Archelaus (Matthew 2:22)
40. How were Herod and Archelaus related? Father and son (Matthew 2:22)
41. In what city did Joseph, Mary and Jesus live after returning from Egypt? Nazareth (Matthew 2:23)
42. In what district was Nazareth? Galilee (Matthew 2:22)
43. Who was Governor of Syria when Jesus was born? Quirinius (Luke 2:2)
44. What is another name for Bethlehem? The City of David (Luke 2:5)
45. Hold old was Jesus when he was circumcised? 8 days old (Luke 2:21)
46. To whom did Simeon say that a sword would pierce through their soul? Mary (Luke 2:35)
47. What is the name of the prophetess Anna's father? Phanuel (Luke 2:36)
48. True or False: The Bible tells us the specific month in which Jesus was born. False.
49. In which of the four Gospels do we read of the birth of Jesus? Matthew and Luke
50. What did the angels say when they appeared to the shepherds in the field (fill in the blank)? "Glory to God in the ______." Highest or highest heaven (Luke 2:14)
Get Your Christmas Bible Trivia Printable PDF
You can get your very own free Christmas Bible Trivia Printable PDF file download by clicking here.
Please use this downloaded file for your personal or church use only and do not sell or redistribute this file.
If you'd like to have a fun game of Bible Christmas trivia to celebrate the Nativity of Jesus this Christmas season, these questions and answers are the perfect option!
Don't Miss These Christmas Printables:
Free Christmas Tree Printable Templates (30 Designs)
Free Christmas Ornaments Printable (12 pages)
Free Merry Christmas Printable with 10 Designs