This free Christmas scavenger hunt printable is a great way for kids to have so much fun celebrating the holiday season.
Even though only kids actively take part in the scavenger hunt, the whole family will have a fun time with this Christmas scavenger hunt game.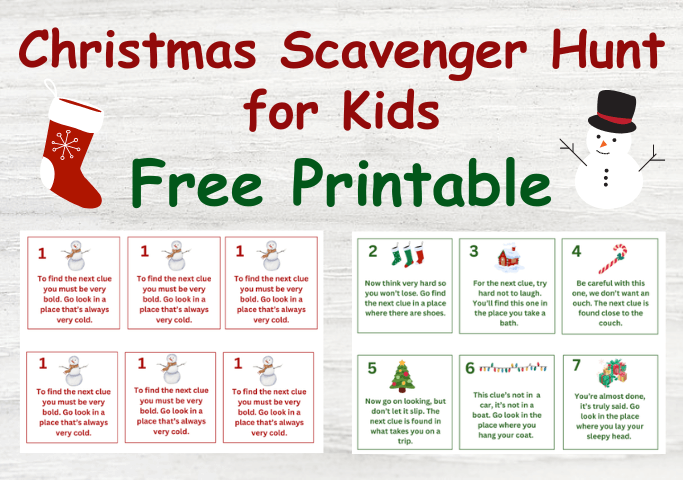 Free Christmas Scavenger Hunt Printable for Kids
There are so many fun ways to celebrate the holiday and make great memories during the festive Christmas season.
Most families have their own cherished Christmas traditions that they enjoy each year.
Many families love to put up Christmas decorations and trim the Christmas tree.
Other families enjoy caroling, making gingerbread houses, or watching Christmas movies as a fun activity.
If having a holiday scavenger hunt isn't part of your family's celebrations, this can be a really fun Christmas activity for both younger and older kids.
Scavenger hunts are also a great activity to promote a holiday spirit at a Christmas party game for small groups at church or school Christmas events.
Even if you have done printable scavenger hunts in the past, these free printables are an easy Christmas game for this year's holiday.
You might choose to do this activity in the weeks leading up to Christmas, or do it on Christmas Eve or even Christmas morning.
If the kids are on Christmas break, this fun Christmas scavenger hunt can be a wonderful way to spend some quality family time.
However you to decide to use these Christmas treasure hunt clues, I know your family will have a blast with this fun idea.
It's the perfect way for the entire family to have some holiday fun during a winter break!
How to use the Christmas Scavenger Hunt Printable
Just about everyone has done a scavenger hunt of one sort or another at some point in their lives.
The basic idea is the same: participants find hidden clue cards that they use to go from point to point. Each clue leads to the next clue, until finally the last clue is found.
At the end of the hunt, each participant gets a small gift such as candy or a special item like a fun toy.
To use these Christmas scavenger hunt clues, first you'll need to print them off, or have the file printed at a local print shop.
I've included six starting cards to use at the very beginning of the hunt. This is enough for most families to give each child their own starting card.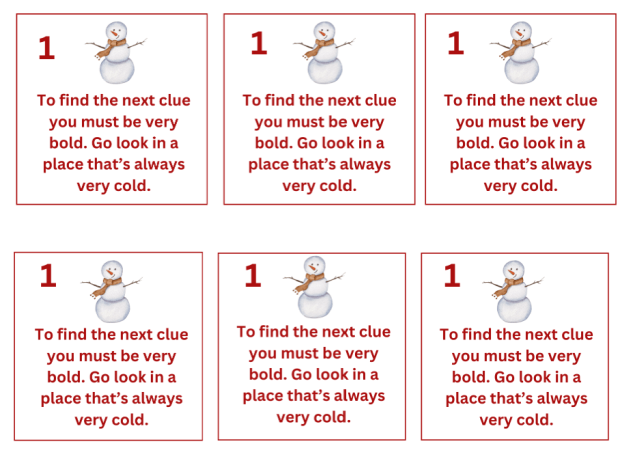 You could instruct your kids to leave their starting cards face down, and then ring a bell to officially start the hunt.
If you want, you could also set a time limit or use a stopwatch or timer on your cell phone.
Prior to the hunt, you will have already hidden the remaining clue cards. I've included instructions on the printable for where each clue card goes.
There are a few different Christmas scavenger hunt ideas that you can adapt for your hunt.
If you have mostly younger kids, or want the scavenger hunt not to be super competitive, have all of the children wait at each clue location before going on to the next clue.
If you prefer to have a little friendly competition where the first child who reaches the last clue wins, make sure each kid leaves the clue cards in the same spot.
Otherwise, if cards get misplaced or put in a hard-to-find location, it won't be as much fun for everyone.
Once you've finished up with this easy Christmas activity, have everyone gather around for some hot chocolate, homemade Christmas cookies, and Christmas crafts.
Christmas Recipe Inspiration:
Christmas Rice Krispie Presents
Chocolate Star Christmas Cookies
Christmas Cut-Out Sugar Cookies
Gingerbread Cookies with Honey
Christmas Pretzel Hugs M&M Treats
Affiliate links included below, which means I may make a small commission at no extra cost to you. As an Amazon affiliate I earn from qualifying purchases. Read my disclosure here.
What to Use for Scavenger Hunt Prizes
At the end of the scavenger hunt, you'll want to hide some fun Christmas items as prizes.
It's a good idea to have enough prizes for each child.
The idea isn't to reward only the child who completes the hunt the fastest, but to let each child feel like they've accomplished something special.
Most families will use small items like a candy cane, non-candy treats, or toys.
Here are some awesome ideas for a list of items you could use as fun prizes:
If you're doing the hunt on Christmas morning, you could also choose to have a big gift or several Christmas presents at the end of the hunt as a special surprise.
You could also leave prizes all along the route of the scavenger hunt (except with the first clue at the starting point).
You could use any of the fun things mentioned above as treats to promote holiday cheer.
More Christmas Printables:
Printable Christmas Songs and Carols
Christmas Bible Trivia Printables
Christmas Tree Printable Templates
Download the Free Printable Christmas Scavenger Hunt
Having a holiday scavenger hunt is one of the best ways to have a special themed scavenger hunt.
Scavenger hunts are fun Christmas activities that can be enjoyed by younger children and older kids alike.
This free scavenger hunt Christmas printable is available for digital downloads that you can print yourself or you can have the cards printed by a local copy center.
Please note that this printable is for non-commercial use. It is for your personal use only at home and is not to be sold or redistributed.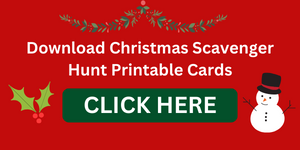 I know your family will enjoy having their very own Christmas scavenger hunt!
Christmas games like a scavenger hunt can be one of the most fun and simple ways of having a very Merry Christmas.