This free Christmas ornaments printable has 12 pages of fun designs! These include ornaments that are perfect for adults as well as kids of all ages to make a cute holiday craft!
I've put together this set of printable Christmas ornaments as a free download. In addition to the popular circle or round ornaments, some of the different designs include stockings, candy canes, and Christmas trees.
These can be used as a paper ornament or free ornament template to decorate a tree, as a Christmas ornament coloring page, as gift tags, and more!
If you're looking for cute Christmas crafts for the holiday season, these free printable Christmas ornament templates are an easy and fun way to go!
This post contains affiliate links, which means I may make a small commission at no extra cost to you. Read my disclosure here.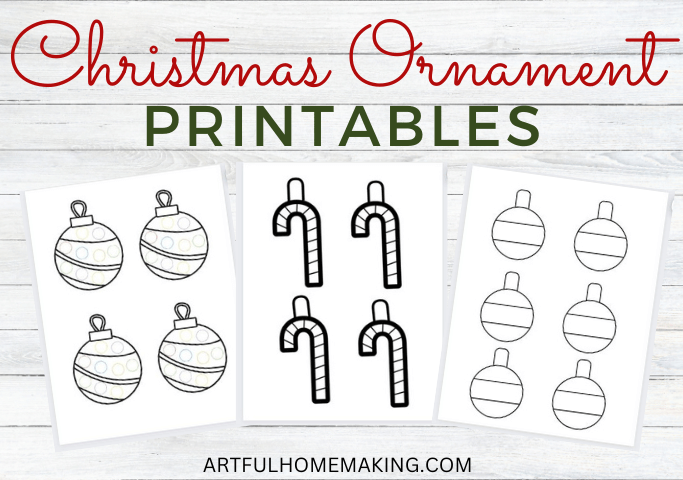 Free Christmas Ornaments Printable
Some of the most festive and beautiful things about Christmas are seeing all of the pretty trees with their sparkly ornaments.
It's so much fun looking at lovingly decorated trees with the gorgeous bulbs, stars, lights and tinsel.
As a child, I enjoyed holiday craft time where I could make and decorate Christmas tree ornaments at home and at school.
Now I've made a set of free high resolution printable ornaments for you to use with your kids, grandkids or students!
These free printable ornament templates are available as a PDF file for you to download. This file is for non-commercial use and is for your personal use only.
I hope you enjoy using these fun Christmas freebies as a great activity at home or school!
How to Use Christmas Ornaments Printables
There are several great options for using these ornaments.
Ornaments printables are perfect for homeschool, Sunday School classes, or public and private school classroom use.
While the simple ornament templates are ideal for younger kids, adults and older kids will enjoy coloring and decorating the more complex designs.
Kids of all ages will have such fun coloring each ornament with their favorite color! Younger kids can also develop fine motor skills by coloring, decorating and cutting out an ornament shape.
All you have to do is download the digital file (the file download link is found below) for these free printables, and then print them on your home or school printer.
You might want to use cardstock rather than regular lightweight printer paper in order to make the ornaments more durable and less easy to tear.
Another option is to use these printable ornaments as a template to trace onto cardboard.
Once the ornaments have been printed off, you then have the option to use them in several different ways.
Whether you use these as Christmas tree paper ornaments, coloring pages, gift tags, or in some other way is up to you!
Be creative and have fun with each ornament page!
Christmas Tree Paper Ornament Printables
One of the best ways to use these ornament printables is as a paper ornament to decorate a Christmas tree at home or at school.
With 12 pages of fun holiday designs, you're sure to find several ornaments suitable for your home or classroom use.
Kids will love the cute stocking ornaments and the printable Christmas tree ornaments.
You'll need plenty of crayons and/or markers to color your ornaments! Glitter markers would also be really fun (and less messy than regular glitter) for this project.
These printables could also be used as an ornament pattern to make a homemade fabric or felt ornament, or traced onto foam for a more durable cut-out.
How to Hang Paper Ornaments
A couple of extra steps are needed to get the paper ornaments ready to use on a tree.
After the ornaments are colored and decorated, you can cut or use a hole puncher to make a small hole at the top of each ornament. Older children can handle this step but younger kids will need some help.
For best results in hanging the ornaments, you will need to use an ornament hook (plastic hooks might be best for kids), string, or ribbon. You can even use a paper clip as a hanger!
Kids are going to be thrilled using their own designs and having their very own Christmas tree ornaments!
Christmas Ornament Coloring Page Printables
You can also use these ornament designs as printable coloring pages.
With holiday favorites like candy canes, stockings, and a mini Christmas tree, kids will have a blast using crayons or markers to decorate these pages.
These free Christmas coloring pages are a great way to spend some time doing a fun art and craft project with younger kids. Some of the designs could even be fun for older kids and adults!
If you need some easy Christmas ideas for a classroom, using coloring sheets is sure to be a favorite activity.
It would also be fun to put these finished pages on display on classroom or school bulletin boards.
Christmas Gift Tag Ornament Printables
A final way to use these printable Christmas decorations is for gift tags.
Kids can color and cut out the ornaments, then tape or glue them to Christmas presents for that perfect homemade touch! Parents and grandparents will enjoy seeing kids' creative holiday work!
This is an easy way to decorate holiday packages using a festive ornament shape.
With some creativity, you could use these paper ornaments in other ways such as by making a holiday ornaments garland. Just add your own creative touch!
How to Get Free Christmas Ornament Printable
Ready to have your own paper Christmas ornaments? Simply click here to get your Christmas freebie downloadable PDF file.
As a reminder, please use these ornaments for your personal use only. Please don't sell or redistribute this file.
Whether you're using these ornament printables for DIY Christmas ornaments, coloring pages, or gift tags, I hope these help you to have very happy holidays!