I needed a menu planning form and I couldn't find one that I liked. So I decided to create this Trim Healthy Mama menu planner and share it with you!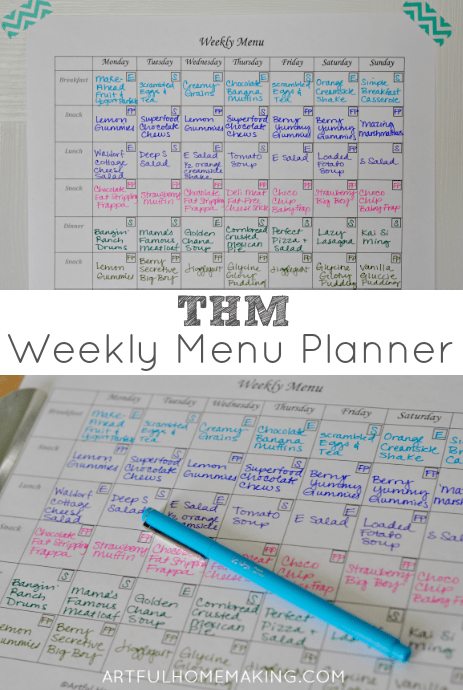 Menu planning is so important for a smoothly-running household. It also happens to be my least favorite homemaking task. Give me laundry and
cleaning
over menu planning any day! (Not sure why this is, since I enjoy cooking and I LOVE cookbooks!)
But despite my distaste for this task, I know it's so important. And it became even more important when I started doing
Trim Healthy Mama
. Without a good menu plan in place, I end up eating food that isn't on-plan.
Do you ever have difficulty coming up with ideas for the week? Here's an example THM menu plan (that we've actually used) comprised of some of our favorite recipes (most of them are in
the THM cookbook
).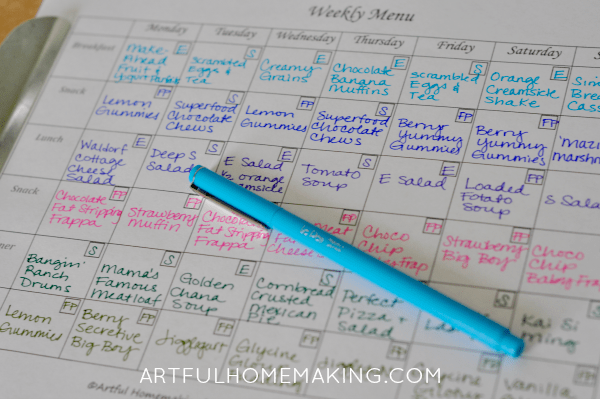 Sample THM Menu
Monday: Make Ahead Fruit and Yogurt Parfaits (E), Waldorf Cottage Cheese Salad (E), Bangin' Ranch Drums (S)
Tuesday: Scrambled Eggs (S), Deep S Salad (S), Mama's Famous Meatloaf (S)
Wednesday: Creamy Grains (E), E Salad and 1/2 Orange Creamsicle Shake (E), Golden Chana Soup (E)
Friday: Scrambled Eggs (S), E Salad (E), Perfect Pizza and salad (S)
Saturday: Orange Creamsicle Shake (E), Loaded Fotato Soup (FP), Lazy Lasagna (S)
Snacks for week: Lemon Gummies (FP), Superfood Chocolate Chews (S), Berry Yummy Gummies (FP), 'Mazing Marshmallows (FP), Chocolate Fat Stripping Frappa (FP), Strawberry Muffin (FP), Jigglegurt (FP), Glycine Glory Pudding (FP), Vanilla Gluccie Pudding (FP), Choco Chip Baby Frap (FP), Berry Secretive Big Boy (FP)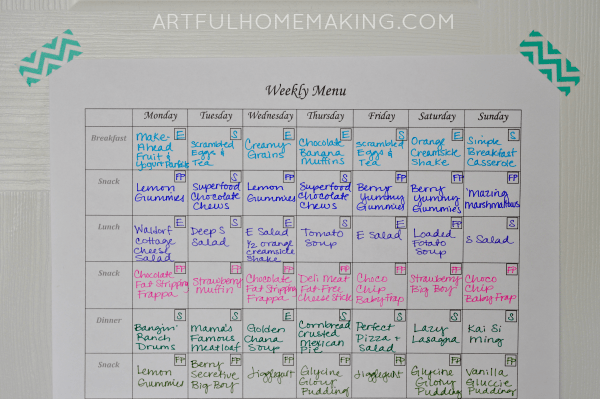 After making my menu plan for the week, I like to post it on the refrigerator so everyone knows what I've got planned.
My children have different options for lunch and snacks, but we all eat mostly the same breakfast and dinner meals, with some modifications. For instance, they have toast or other whole grain bread with their scrambled eggs, and they have regular oatmeal on the days when I have Creamy Grains scheduled for myself. For dinner meals they might have potatoes, rice, bread, or other carbs with their meal, while my husband and I have lower-carb options.
Trim Healthy Mama Menu Planner
After looking around online for a menu planner that I liked, I finally decided to make my own. I kept finding one that was close to what I was looking for, but it didn't fit quite right.
One of the main features I wanted on my menu planning form was that there be a place for regular snacks. I am terrible about eating snacks, so I have to plan them. I forget if they're not written down! And I don't always use all the snacks, I just like to have something healthy planned for when I realize all of a sudden that I need a snack.
I also wanted a little box to indicate which fuel source was the focus of each meal.
And I didn't want a fancy colored one because (even though I love color and pretty things!) I didn't want to waste ink on my weekly menu planning sheet!
And, finally, I wanted one that started on Monday. And this was the hardest thing to find, as almost all of them start on Sunday. I realize that Sunday is technically the first day of the week, but I always start my new menus on Monday, and I tend to think of Sunday as part of the weekend. But, don't worry, if you prefer to start your menu plan on Sunday, I made a planning sheet for you, too!
P.S. If you're not doing THM, feel free to use this planning sheet anyway—it's not exclusive to THM other than the little boxes in the corner. And you could use those to write in the date or something!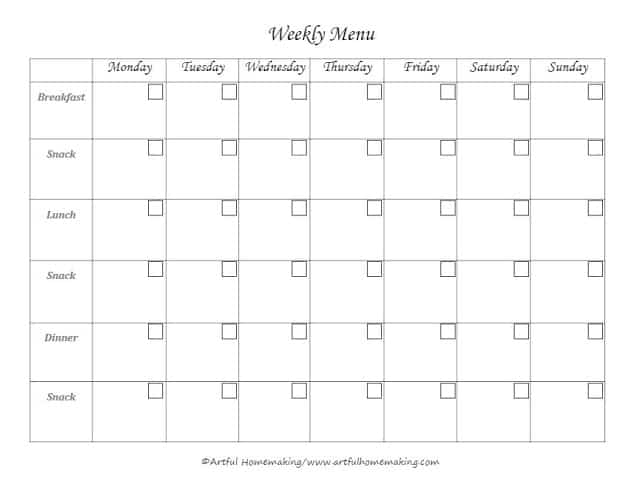 How to Get Your Free Menu Planner Printable
Click the links below to download your free Trim Healthy Mama menu planner printables!
Menu Planner Starting with Monday
Menu Planner Starting with Sunday
Disclosure: This post contains affiliate links. Read my full disclosure policy. Sharing here.