A Charlotte Mason homeschool planner to help you plan your homeschool year! This planner is perfect for Charlotte Mason home educators.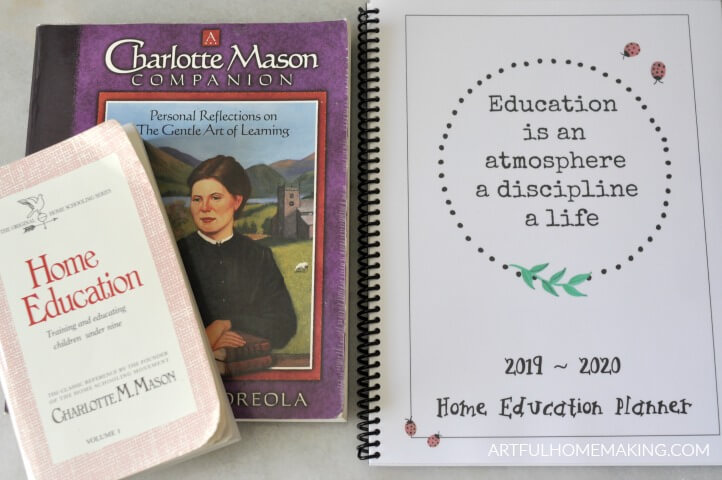 I've mentioned before that our family loves the Charlotte Mason method of education. We were first introduced to Charlotte at the very beginning of our homeschooling journey.
Read: My Favorite Charlotte Mason Resources
That was over 17 years ago, and we still love Charlotte!
A Charlotte Mason Homeschool Planner
This post contains affiliate links, which means I may make a small commission at no cost to you. Read my full disclosure here.
When you're planning a Charlotte Mason education for your kids a Charlotte Mason inspired planner is so helpful!
I was so thrilled to hear that Lynn Seddon (the creator of the Exploring Nature with Children program) has created a Charlotte Mason homeschool planner!
This is the type of planner  I've been looking for, with all the pages you need to plan your homeschool year.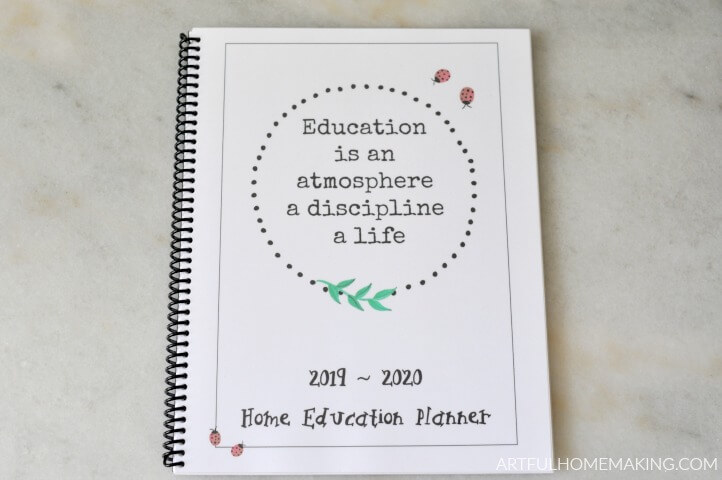 This planner is so beautiful, and perfect for Charlotte Mason homeschoolers!
What's Included in This Planner
I love so much about this planner. Here's what's included
Printable Charlotte Mason quote
My Bible verse for our homeschool
My word for our homeschool
Atmosphere of the home
My strategies for difficult days
Kindness breaks for mothers
Big picture goals
Subject notes
Calendars
Monthly calendar pages
Seasonal planning pages
Term planning pages
Monthly planning pages
Advent planning pages
Weekly planning pages
Morning meeting page
Review page
Attendance record
Book list
List of supplies
Library book tracker
Field trip plans
Nature walk checklist
Daily chores
Mother culture
Inspirational quotes for our home education journey
There are so many helpful pages included in this planner!
Inside Look at the Charlotte Mason Homeschool Planner
I love all the encouragement to get a vision for the atmosphere of your home.
This is one of my favorite pages.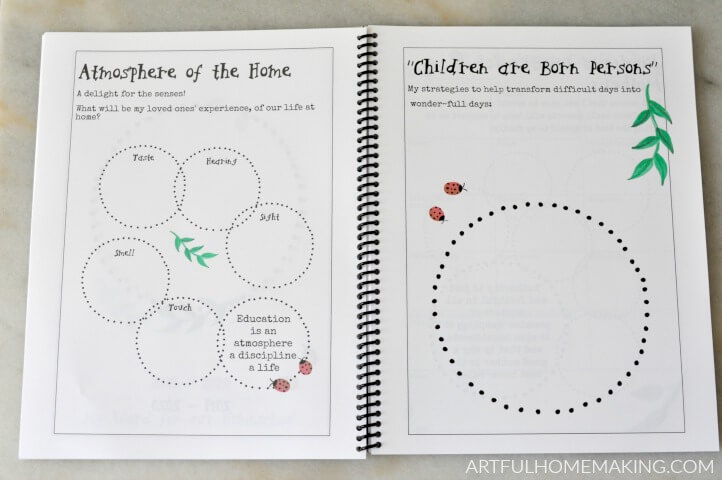 The monthly calendar pages include moon phases and weeks from Exploring Nature with Children. So helpful!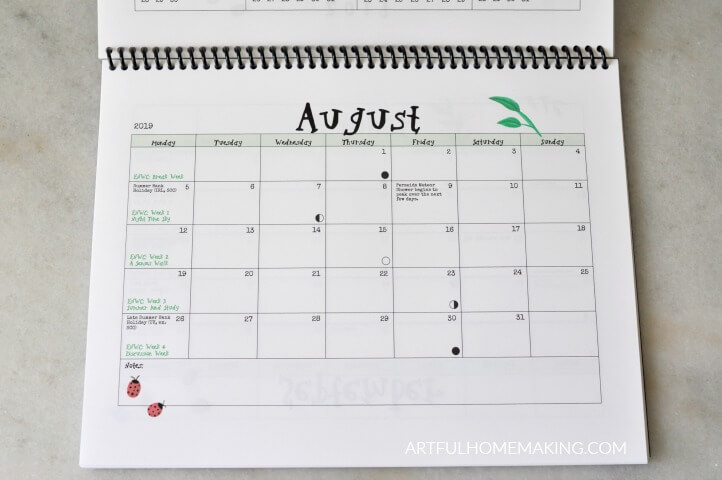 Then there's a section for making notes about each subject:
There are several ways to break down your planning, with term planning pages, monthly planning pages, and then weekly plans.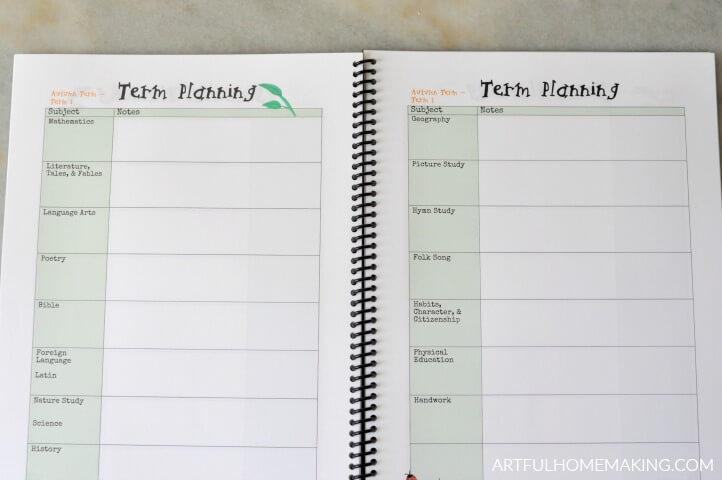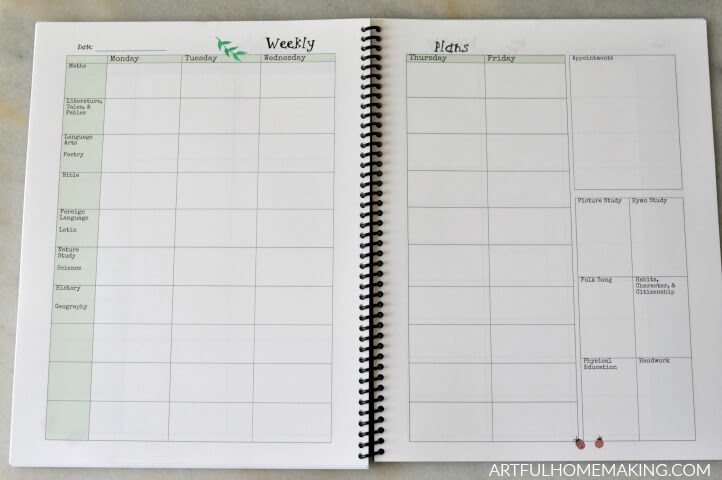 There's even a place to put your morning time plans!
And I love the section for planning for mother culture:
Printing Your Homeschool Planner
This planner is a digital product, so it's very affordable and will be a digital download.
I chose to have my planner printed by Family Nest Printing Co. and they did such an amazing job!
My planner was printed on 28lb paper, coil bound, with a laminated front and back cover.
I just love how it turned out!
This planner would work well printed and put into a three-ring binder, too.
And, you may find that you don't need all of the pages. With the digital download, you can just choose the pages you'd like to print.
Coupon Code for You
If you'd like to have Family Nest Printing Co. print your planner (or your other digital homeschool curriculum), you can get 15% off your first purchase with code AHprint15.
Where to Get Your Homeschool Planner
If you'd like to get your own Charlotte Mason Homeschool Planner and get an instant digital download you can use today, check it out here!

I'm working on filling mine out and getting some planning done this weekend!
Related Posts:
My Favorite Charlotte Mason Resources
Exploring Nature with Children
Pin This Post for Later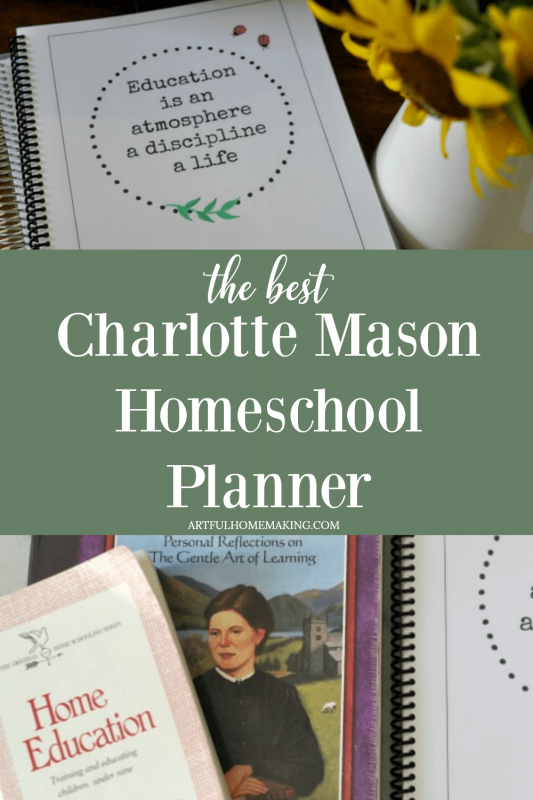 Disclosure: This post contains affiliate links. Read my full disclosure here. Sharing here.