Exploring Nature with Children is one of the simplest ways to include nature study in your homeschool. Keep reading for more information and a discount code!
I've mentioned before that one of my favorite things about Charlotte Mason's educational philosophy is her emphasis on nature study.
Read: Charlotte Mason Nature Study
Children are naturally drawn to nature. They love to examine insects and birds and flowers. They love to ask questions and to find out "why."
Some of my happiest memories from 19 years of motherhood revolve around time spent outside with my kids.
Reading outside together on a quilt, collecting wildflowers in a field, and playing together in the creek are just a few memories that come to mind. We've studied baby birds, nests, butterflies, turtles, frogs, and anything else we happened upon.
Not everything has been rosy, however. There have been times (especially when everyone was little) that I was just too tired to plan anything. Sometimes nature study didn't happen even though I wanted it to.
What I needed was a simple nature study plan that would easily fit into our days and not require too much preparation from me.
Exploring Nature with Children
Affiliate links included below. Read my disclosure here. 
Exploring Nature with Children is just what I was looking for back then when my children were all young.
It truly makes nature study doable for busy moms!
All you really need is the Exploring Nature with Children Guide, since it's self-contained.
The Handbook of Nature Study and a few other basic supplies (I list some of our favorites here) are useful but totally optional.
Additional optional resources pictured above:
Exploring Nature with Children is a year-long nature study curriculum that includes 48 weeks of nature study lessons organized by season.
Each week is totally laid out for you, with book suggestions, themed nature walk activities, and helpful information.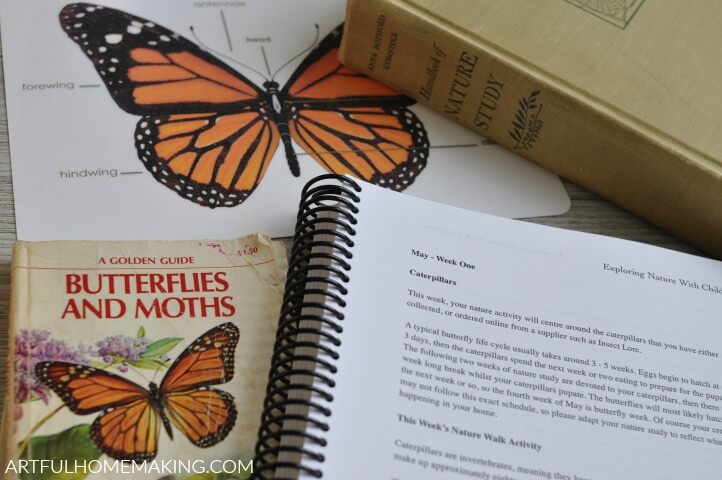 There is also a poem and a piece of related artwork to study.
Exploring Nature with Children includes page numbers from the Handbook of Nature Study that correspond to the weekly lesson.
That makes it so simple! All of the work has been done for you. Just go out and enjoy nature with your kids!
This is such a helpful resource for homeschool moms. We'll be using it for years to come.
---
Exploring Nature with Children Discount Code!
If you're looking for a simple, open-and-go nature study resource, be sure to check out Exploring Nature with Children.
This week only (Monday, May 7th—Sunday May 13th), you can get 20% off all products at Lynn's store with the code ARTFUL18
Pin this post:
Disclosure: This post contains affiliate links. Read my full disclosure here. Sharing here.