How to cook a pumpkin in the oven and make pumpkin puree.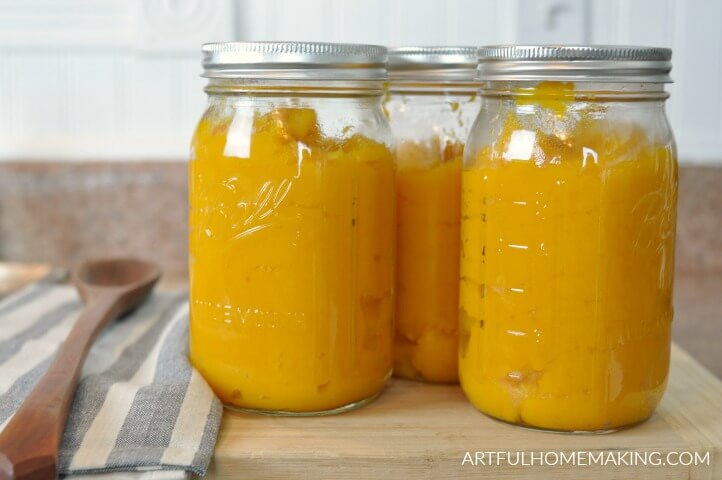 Every fall I can't resist buying sugar pie pumpkins to use in recipes. I love to see them sitting in the kitchen through the fall months, and then I cook them to make pumpkin puree.
Last week I decided it was time to tackle the pie pumpkins sitting in my kitchen.
In the past, I've always cut the pumpkins in half first, took out the seeds and the insides, and then baked the pumpkin in the oven on a cookie sheet.
Here's the traditional recipe I've always used before:
Cut pie pumpkin in half and clean out cavity. Place flesh side down in a cake pan or cookie sheet with sides. Add a little water. Bake at 350 degrees for 1 1/2 hours or until pumpkin is fork tender. Scrape out and mash or puree in the blender.
That's how I've always done it in the past. But the problem with that method is that it's quite a bit of work to cut a raw pumpkin in half. It takes some serious effort!
Today I'm going to show you a much simpler process for how to cook a pumpkin.
How to Cook a Pumpkin the Easy Way
First, I washed my pumpkins and dried them off. Then, I broke the stems off so they'd fit on the center oven rack more easily.
I put a sheet of aluminum foil underneath them just in case things got messy, but it turns out that wasn't necessary.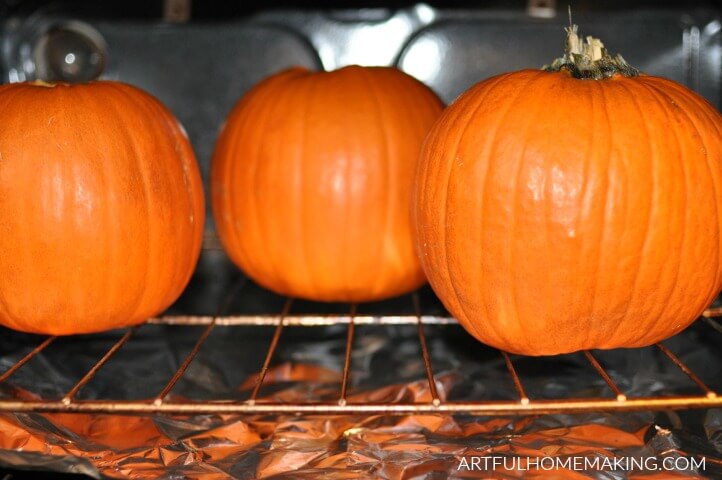 I baked the whole pumpkins (without piercing them or doing anything else to them) in a 200 degree (200 ° F) oven for a few hours.
My pumpkins were around 3 1/2 or 4 pounds, and it took them about 4 hours to finish cooking.
I checked them around the 3-hour mark and they didn't feel soft enough, so I let them cook for another hour. Finally, they were soft enough to make an indentation when I pressed on them with my finger.
After removing them from the oven, I placed them on a cookie sheet and cut them in half.
Then I removed the seeds and stringy flesh.
Using a large spoon, I then scooped out all the cooked pumpkin.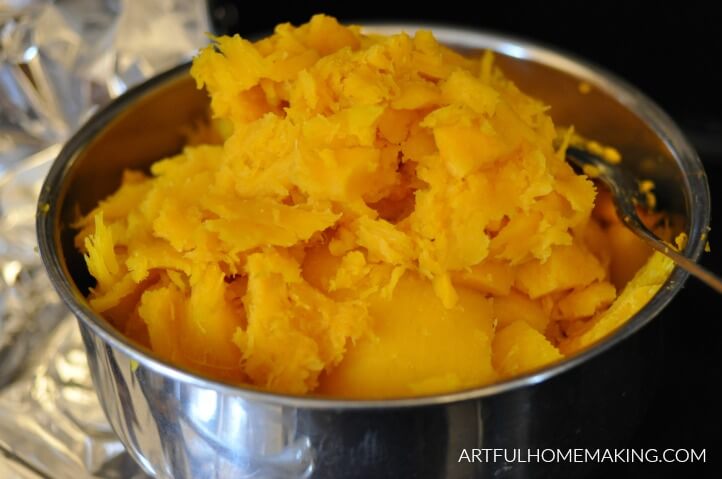 Then all the cooked pumpkin went into the food processor to be turned into homemade pumpkin puree.
After quite a bit of blending in the food processor, the pumpkin puree is finished. Simple!
Compared to all the work I used to do trying to saw through an uncooked pumpkin, this is so much simpler.
If you would like to freeze the pumpkin puree, be sure to use a freezer-safe wide-mouth mason jar, and leave a few inches of head space at the top for expansion.
You can also freeze it in freezer bags if you prefer (or if you're short on freezer space).
How to Use Cooked Pumpkin
Even though I intended to freeze my homemade pumpkin puree, I ended up making this butternut squash soup recipe (replacing the butternut squash with the pumpkin). It would also be great in these Einkorn pumpkin muffins.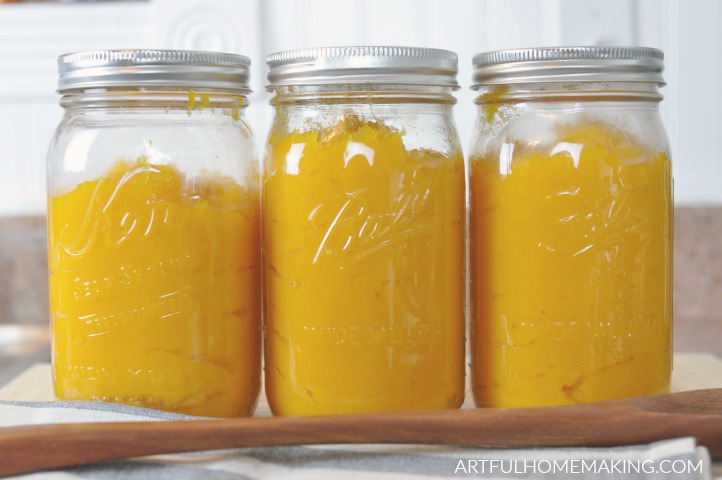 How to Cook a Pumpkin in the Oven
Print Recipe
How to Cook a Pumpkin in the Oven
How to cook a pumpkin in the oven and make pumpkin puree for recipes.
Instructions
Use as many pumpkins as will fit in your oven on the center rack. Wash and dry the pumpkins and remove stems if necessary to help them fit in the oven better.

Move the oven rack to the center of the oven and put down aluminum foil or a cookie sheet to catch any drips (mine didn't require this, but it may still be a good idea).

Bake at 200 degrees (F) for a few hours. The time depends on how big your pumpkins are. My pumpkins were about 3.5-4 lbs, and they took 4 hours. A larger pumpkin will take longer.

Check your pumpkins periodically to see if they're getting soft. You'll know they're ready when the outside feels soft.

When they're soft, remove from the oven, place on a cookie sheet or cutting board, and cut the pumpkins in half.

Remove the seeds and the stringy flesh in the pumpkin cavity.

Using a large spoon, scoop out the cooked pumpkin and put into a food processor.

Process the pumpkin in the food processor until you have a nice smooth puree.

Store in jars or another container. The puree will stay good in the fridge for a few days or in the freezer for months.
Pin it for Later
Sharing here.