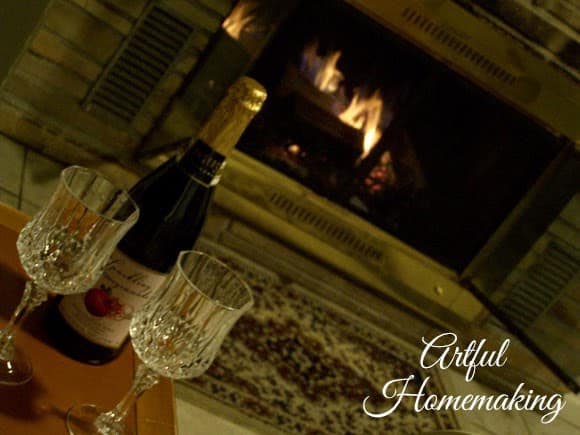 My husband and I were desperately needing some time alone together. We decided to continue
a tradition we started last year
, of going away for a night in November. We rented a very inexpensive little room at the lake in a nearby town.
The drive down was beautiful and peaceful. When we got to our destination, we ate chili by the fire (we brought our own food) and enjoyed a night of just being together and nurturing our marriage. It was very relaxing and cozy. We also brought our own sparkling pomegranate juice (found at the discount grocery store), and some crystal glasses my mom gave me.
The next morning we woke up to snow! Even though we were a bit worried about the roads, it was so festive and fun to have snow! Usually we don't get snow in our area until January, so this was kind of a treat!
After a a leisurely breakfast together, we decided to venture out to do a little bit of shopping, since our children are usually with us, and we wanted to buy a few secret Christmas gifts. (I had to take a picture of this cute dog looking at me from the truck window!)
We stopped at Panera for lunch, which was so delicious! I hadn't been to Panera in years, so I relished every bite. I had broccoli cheese soup and a chicken salad with avocado.
And then we shared a brownie–this was my half–it tasted so good! We went to another store after this, and then we decided to head home before it got dark, just in case the roads were icy.
I think every married couple should try to get away together occasionally if possible. We didn't get to do this very often when our children were younger (because it seems like I was always either pregnant and
very sick
or nursing, and we didn't live near family), but now that they are getting older and we live near my parents, it's such a huge blessing to go on an overnight date with my man. We come away from our time together with a sense of having a nurtured marriage and a closer relationship. ♥