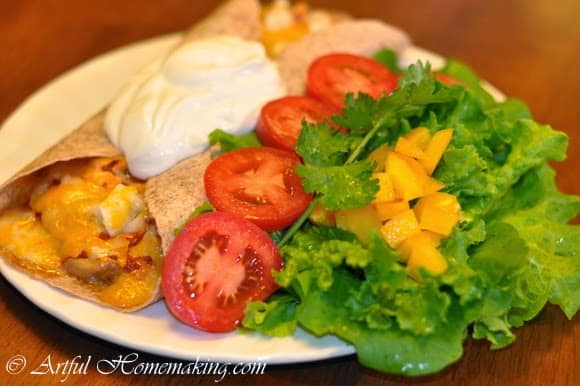 Refried Bean Burritos
Here is a quick, healthy, and easy dish. We have this regularly. This recipe makes enough that we usually use about half of it. Then we have the leftovers the following day for lunch. You can also freeze the leftovers, if you'd rather not have them the next day, or if your family is smaller.
Ingredients:
5 1/2 cups (or 2 lbs.) dry pinto or black beans
about 3 – 3 1/2 quarts of water, as needed
1/4 cup melted butter
1/4 cup olive oil
2 onions, chopped
2 cloves garlic, minced
3 T. chili powder
4 tsp. ground cumin
4 tsp. sea salt (or to taste)
Directions:
I cook my beans in the crock-pot. The night before, sort and rinse beans. Put them in the crock-pot and cover with water.
In the morning, drain the soaking water off and cover beans with fresh water. Cook for 3-4 hours on high or 6-8 hours on low (time may depend on your own slow cooker and how hot it gets). I usually cook mine most of the day on high.
After the beans have softened and are done cooking, saute onion and garlic in oil and butter.
Drain the beans, reserving bean liquid. Add beans to a large mixing bowl. Add sauteed onion and garlic to bowl. Also add the chili powder, cumin, and salt.
Blend beans with electric mixer or by hand with a potato masher, adding reserved bean mixture until beans are the consistency desired.
Serve beans as main dish, in burritos or tostadas, or as a side dish. If desired, top with grated cheddar cheese; heat in oven to melt cheese. Garnish with fresh parsley if desired. We usually make bean burritos with ours (recipe below).
Bean Burritos
This is usually how I serve refried beans at our house. It's quick, easy, and economical.
Ingredients:
refried beans (prepared using recipe above)
chopped onion
salsa
diced green chilis or jalapeno peppers, optional
grated cheddar or other cheese
tortillas (we've been using sprouted grain tortillas, from Azure)
Suggested Sides:
shredded lettuce
tomato slices
avocado slices or guacamole
sprouts
sour cream
Instructions:
Preheat oven to 350 degrees. Set each tortilla on a cookie sheet. Spread desired amount of beans on tortilla. Top with chopped onion, salsa, green chilis (opt.), and grated cheese. I don't measure any of this, I just decide how much I want on each tortilla. I usually make them huge!
Fold the sides of the tortilla over beans so they overlap at center top; hold together with a toothpick. Heat in oven until cheese melts and tortilla is hot, about 10 minutes.
To serve, place each burrito on individual plates and add lettuce, tomato, sour cream, avocado, and whatever else you want to add. My husband always adds extra salsa, and one of our daughters always adds hot sauce! The original recipe suggested cucumbers and mozzarella cheese, but we usually don't serve it that way. 🙂
This recipe comes from Sue Gregg's cookbook, which I've had for almost 11 years now. I did modify the instructions and the ingredients on this recipe.