Having a disorganized fridge can be frustrating and wasteful. That's why I put together this list of the best refrigerator organization ideas!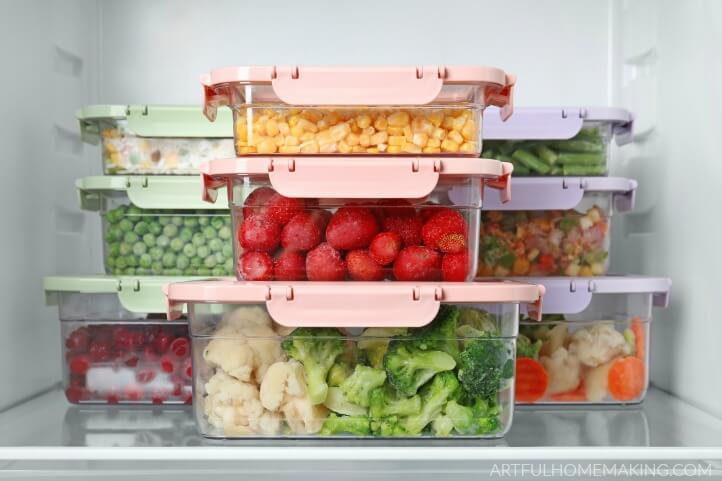 Ever opened your refrigerator only to find a bag of salad that expired 3 months ago? Or maybe you went to the fridge to get something you know is in there, but the clutter makes it impossible to find.
From containers to labels, lazy susans to liners, these clever fridge organization hacks will help you get your fridge in order!
11 Clever Refrigerator Organization Ideas
Disclosure: This post includes my affiliate links. Read my full disclosure here.
1. Labels are Your Friend
Photo Source: Organizing Home Life
It's hard to find things in the fridge if you don't know what's in there. That's why adding labels is such a great idea! I love the labels in the photo above, which you can find at Organizing Home Life.
Put your pickles and mayo in the bin labelled "condiments," cheese and yogurt in "dairy," etc.
You can also label the shelves inside your fridge door so everyone always knows what food items go where.
This is such a simple yet brilliant fridge organization idea!
2. Put the Oldest Food Near the Front
If you're like me, you hate wasting food (especially expensive food!).
Few things are as frustrating as seeing a delicious carton of your favorite yogurt sitting temptingly in the fridge, only to pick it up and see that it expired a month ago.
To avoid wasting food, always put the oldest (least fresh) food near the front of your fridge, with the newest (freshest) in the back.
That way you'll be more likely to eat your food on an "in-out" basis and stop throwing away food due to spoilage.
3. Make Cleaning a Breeze with Liners
It's only a matter of time until the shelves in your fridge accumulate sticky spills.
To protect the shelves and drawers, use these clever refrigerator shelf liners. Liners that are moisture-proof and washable will keep your fridge clean and easier to organize.
These liners can be cut to size and also used to line closet and bathroom shelves, or to protect moisture-prone areas such as under sinks.
After decluttering my fridge, I usually put down one of these liners to simplify cleaning next time.
4. Lazy Susan to the Rescue
Photo Source: Martha Stewart
Instead of digging through your fridge to find what you want, use a lazy susan turntable to make food organization a cinch.
This lazy susan turntable with dividers is perfect for organizing condiments in the fridge.
This turntable without dividers would also be ideal for larger items that don't fit into dividers.
5. Use Bins to Organize your Fridge
If the food items in your fridge or freezer are all jumbled together, use plastic storage bins to sort them out.
This storage box is perfect for baked goods or deli items such as lunch meat and bacon.
With bins, you'll be amazed at how simple it is to find items that would otherwise get buried deep within the caverns of the fridge or freezer.
This is one of my favorite refrigerator organization ideas ever. Give me all the bins!
6. Put Potential Leakers at the Bottom
Few things are as disgusting as putting a frozen chicken in the fridge, only to have it thaw and leak all over items stored next to or under it.
To avoid this potential problem, put poultry and meat items inside a glass or plastic bowl on the bottom shelf of the fridge. The bowl will collect any leaks, and even if a leak should escape the bowl, there won't be anything below to get contaminated by the leakage.
7. Hang those Bottles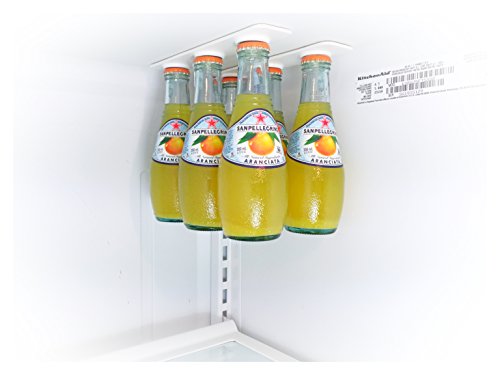 If you use juice or other bottles with metal lids, maximize your fridge storage space with these ingenious magnetic bottle hangers.
Your beverage will always stay cool and well secured in the refrigerator!
8. Always have Cold Water with this Hack
If you like having cold water or tea on hand, a beverage container is the solution for you!
Simply fill it with your favorite liquid, then put it in the fridge to chill.
With the handy spigot, you can dispense cold drinks directly from the fridge, or take the container out to use for serving cold beverages with a party or meal.
9. Try this Egg Storage Solution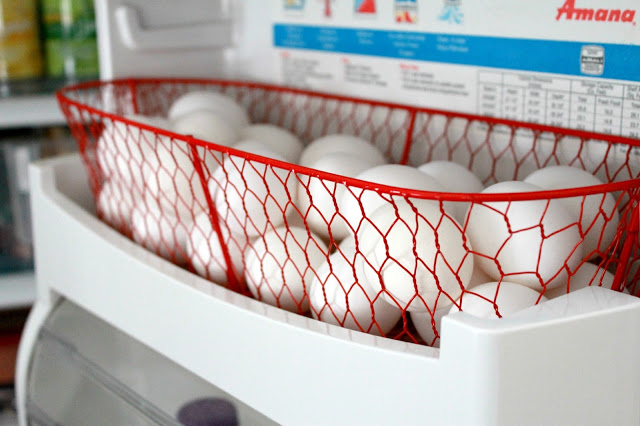 Photo Source: Raising Up Rubies
My family goes through a lot of eggs each week. All those grocery store egg cartons can take up a lot of space, particularly when mostly empty.
Using a metal egg basket (it may even fit in the door) can save space, and honestly, looks a lot cuter than paper or Styrofoam cartons!
10. Organize Plastic Bags with this Smart Hack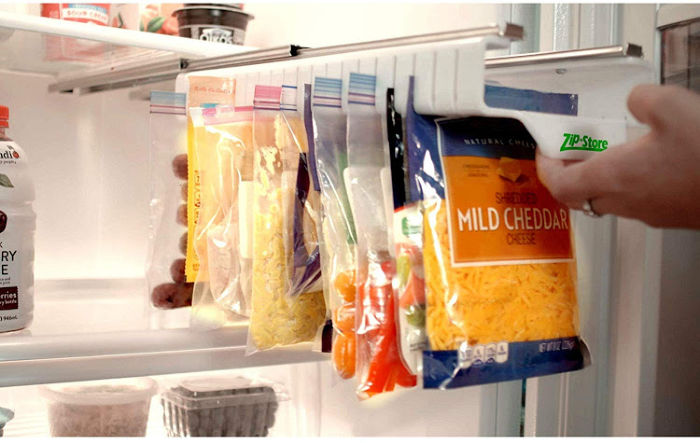 If your bags of cheese or plastic storage bags are getting lost in the fridge, this bag storage organizer may be just what you need.
It easily attaches to the bottom of a refrigerator shelf, and can also be used in the pantry or under a cabinet to store non-perishable items in bags.
The slide-out track makes it so easy to use and organize plastic food bags.
11. Keep Track with a Dry Erase Board
If you have trouble keeping track of your fridge contents, a dry erase board can save the day (and your food)!
Simply attach the board to the front of your fridge, then write down the expiration date of any highly perishable items you want to track. For example, "whole chicken — use by February 1st."
That way you can quickly see what's inside your fridge, and the date by which it needs to be used.
This magnetic dry erase board has space for a shopping list and a "notes" field, either of which could be used for this purpose. It also has space for a daily menu.
Now you know some of the best refrigerator organization ideas! Try these out and watch your fridge go from cluttered to tidy!
Related Posts
Pin This Post for Later
This post contains affiliate links. Read my disclosure here. Sharing here.