For most of us, the kitchen tends to be the heart of the home. We spend so much time there! Cooking, eating, feasting, and enjoying friends and family. However, it also tends to be one of the most difficult rooms to keep organized. Here are 12 kitchen organization ideas to inspire you!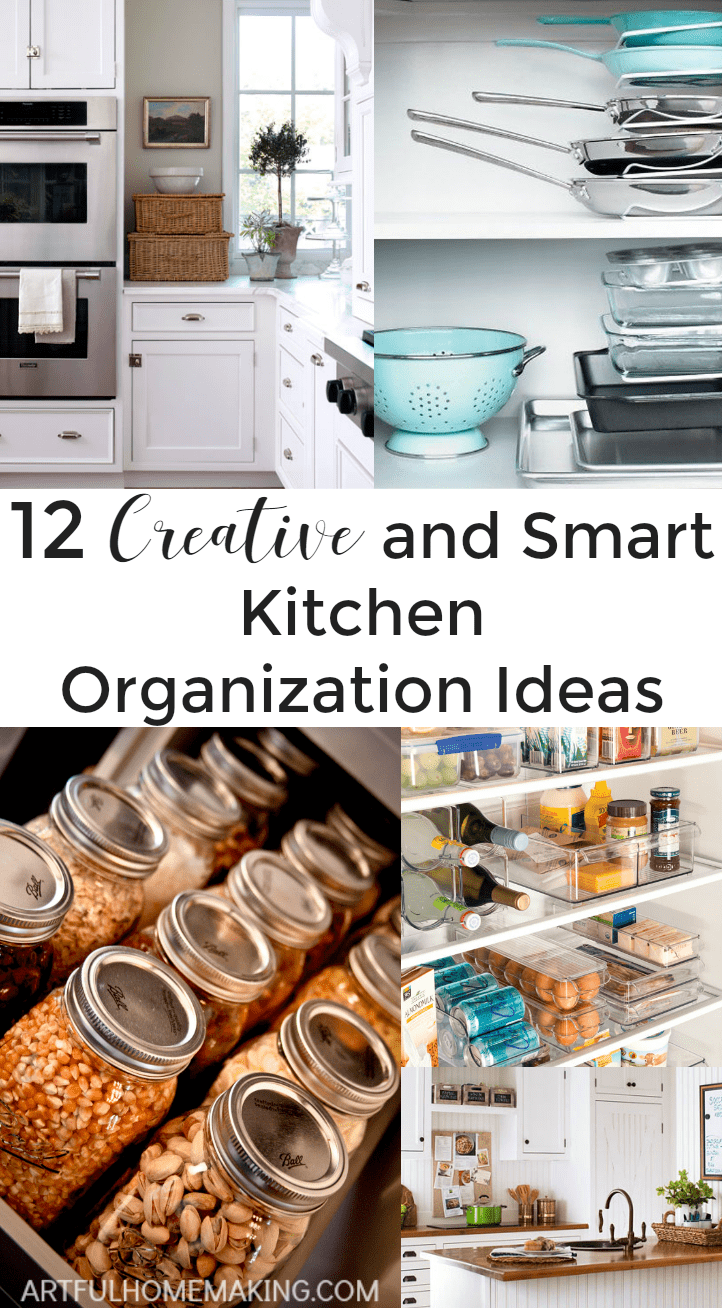 Kitchen Organization Ideas
One of my goals for this year is to gain a greater level of organization in the kitchen. Here are some of the best ideas I've come across.
1. Organize with Baskets
I have always been a huge fan of baskets
. And they can often be found inexpensively at discount stores and thrift shops. They bring such a homey atmosphere to the kitchen.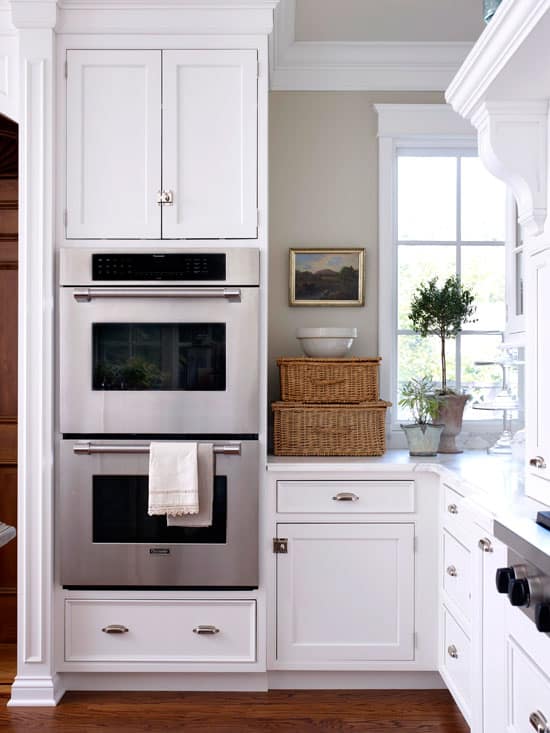 Photo Source: BHG
I love how this kitchen has baskets above the cabinets for rarely-used items, and I also love the use of a shallow basket on the island.
Photo Source: BHG
LOVE all the baskets in this pantry!
Photo Source: Eleven Gables
2. Use the Inside of a Cabinet Door
I think this idea is genius! You'll always know where to find just the right measuring spoon or cup!
Photo Source: The Kitchn
3. Clear Plastic Containers in the Pantry
Isn't this pantry beautifully organized?! I just love it! Just seeing this photo made me want to go out and buy a whole set of the OXO containers
 to store all of my pantry items!
Photo Source: Everything Emmy
4. Use Clear Containers in the Fridge
I want a whole set of these containers
 for my fridge! Last week I bought a couple of pieces, and I'm hoping to add to my collection over time.
5. Wire Baskets in the Pantry
I love this pantry's use of wire baskets
! They look so old-fashioned and modern all at the same time.
Photo Source: BHG
6. Kitchen Chalkboard
Every kitchen can use a chalkboard
! I love the old-fashioned look of this chalkboard/corkboard combination.
Photo Source: BHG
7. Chalkboard Labels
Chalkboard labels
are useful and stylish at the same time. I love them in any room, but they seem particularly suited to kitchen organization.
Photo Source: BHG
8. Use a Pan Organizer
These pan organizers
make grabbing the right pan a simple matter! We desperately need one of these in our kitchen.
Photo Source: Martha Stewart
9. Use a Magazine File
This is such a clever idea! Mount a magazine file
inside a cabinet door to hold all those narrow boxes of plastic wrap, wax paper, and aluminum foil.
Photo Source: Listotic
10. Mason Jar Pantry Storage
I really love this idea. And it helps that I inherited quite a few half gallon mason jars from my mom recently.
Photo Source: The Rigneys
11. Sew Velcro to Your Kitchen Towels
This is such a great idea! Sew some velcro to the back of your towels so they don't end up on the floor (or maybe that just happens at our house)!
Photo Source: Martha Stewart
12. Cabinet Door Organizer
Always keep your cleaning products within easy reach by mounting an organizer on the inside of your cabinet door. There are lots of cabinet door organizers
to choose from!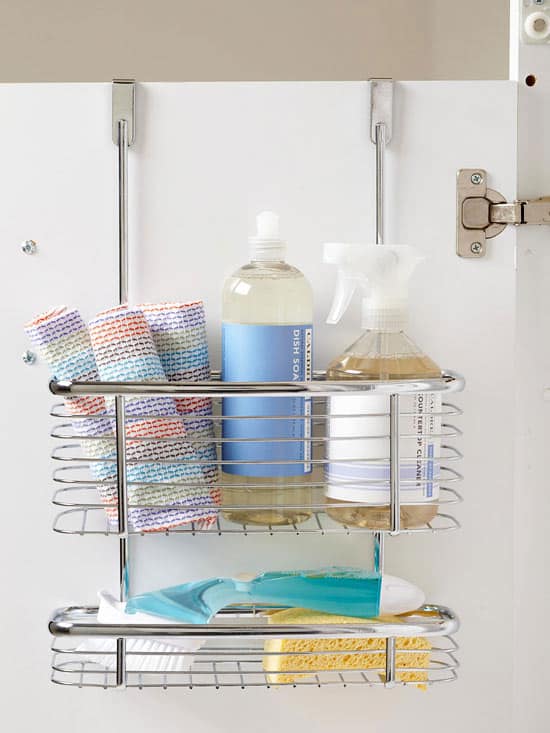 I hope these kitchen organization ideas have inspired you as they have me. I'm ready to tackle my kitchen now!
What are your favorite kitchen organization ideas?
P.S. You may also like this post: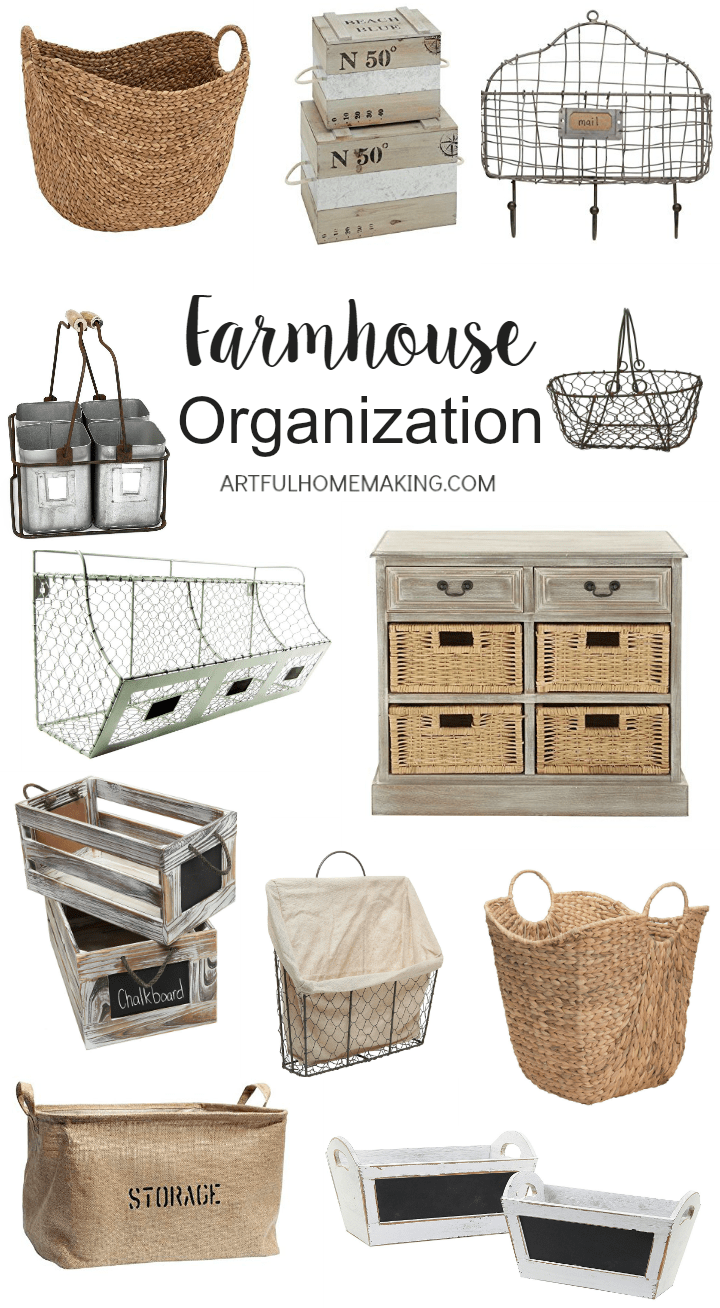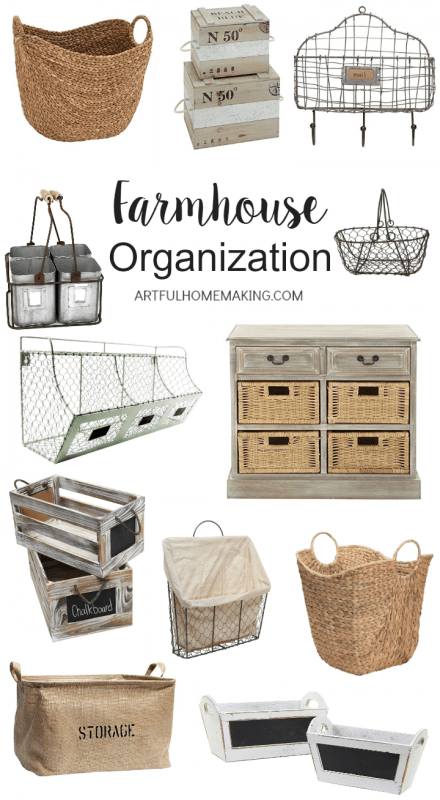 This post contains my affiliate links. Read my full disclosure here. Sharing here.