I've put together this list of 10 of the best books on decluttering to help you on your journey toward a simpler life.
Each of these authors brings a unique perspective on decluttering, but they also share some common themes.
Getting rid of stuff is rarely fun or easy. But I've found it can be so liberating to clear things out and bring more order to my living space.
And it may seem obvious, but just reading a book won't do anything to actually declutter your home.
However, great books can provide new ideas and practical advice to help us have a clutter-free home.
So, let's go ahead take a look at my list of the best decluttering books.
Whether you decide to read just one or several of them, may you find the motivation you need to move forward in your decluttering journey!
Affiliate links included below, which means I may make a small commission at no extra cost to you. Read my disclosure here.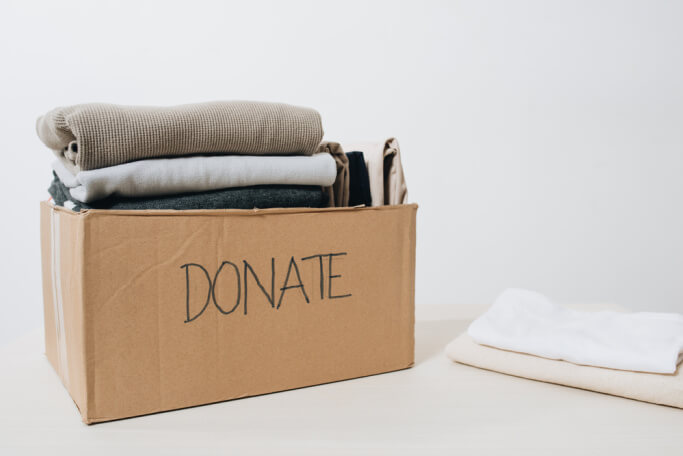 10 Best Books on Decluttering Your Home and Life
Growing up, I honestly didn't struggle a lot with clutter. I always loved keeping a neat and tidy bedroom, and wasn't very understanding of why some people's houses were filled with clutter.
As a teenager and into my 20s, I enjoyed cleaning house and strove for a more minimalist living approach.
But after getting married and having children, I soon found that keeping the clutter under control was suddenly much harder!
It's a fact that families with children need more stuff than singles or childless couples.
It didn't take long until the clutter started to accumulate and I was feeling a bit choked and overwhelmed by all the stuff.
And to be totally transparent, I still have a ways to go in the decluttering process.
But donating a box of items to the thrift store just feels so freeing!
And having a garage sale to get rid of unused things not only frees up living space but provides a little extra cash.
I've found that reading a good book on decluttering often inspires me to get going again on the non-stop process of becoming clutter free.
While decluttering won't solve all the problems of life, I really believe it's true that we can have a happier life when the clutter is under control.
The More of Less by Joshua Becker
One of the most popular books on decluttering is 
The More of Less by Joshua Becker
.
Joshua is a former pastor and one of the leaders of the minimalist home movement.
He has written several books all promoting a simpler way of life.
Many people who read his books appreciate his non-judgmental style and note that he is easy to read.
Here is one short but powerful quote from this book: "You don't need more space. You need less stuff."
Joshua's writing is direct without being abrasive, convicting without being heavy-handed.
He writes about how accumulating more things won't make us happy.
On the contrary, having lots of stuff keeps us from focusing on the most important things, such as fostering good relationships.
I definitely recommend The More of Less as a wonderful minimalist guide.
With its encouraging tone and practical advice, it's also available in audio format if you prefer listening to books.
Decluttering at the Speed of Life by Dana White
Another wonderful book all about the ins and outs of decluttering is Decluttering at the Speed of Life by Dana K White.
In her book, Dana makes it clear that decluttering isn't the same thing as organizing. She points out that these are separate activities.
Moving things around isn't decluttering; you need to actually get things out of your possession to actually classify as decluttering.
According to Dana, we should "accept the limitations of the space you have, and declutter enough that your stuff fits comfortably in that space." This is great advice!
I appreciate Dana's down-to-earth tone and tons of practical tips.
Like many of us, she became desperate over all the clutter in her home, and had to figure out some ways to bring order out of the chaos.
Decluttering at the Speed of Life is available in both paperback format and audiobook format.
The Sentimental Person's Guide to Decluttering by Claire Middleton
Next up in my round up of best decluttering books is The Sentimental Person's Guide to Decluttering by Claire Middleton.
This book approaches decluttering from a different angle than many other books.
As a recovering packrat, Claire knows how easy it can be to become overly attached to items that have a sentimental meaning.
These attachments present emotional challenges that can make decluttering more difficult.
Everything from family heirlooms to old baby clothes and books can all have nostalgic memories attached, making it hard to part with them.
Claire provides a step-by-step guide to paring way down on stuff while holding on to treasured memories.
Encouraging Bible verses are included in this book, which helps to keep a spiritual focus.
The Sentimental Person's Guide to Decluttering by Claire Middleton is a must read for those having trouble parting with items related to events from the past.
The Declutter Challenge by Cassandra Aarssen
The next book, The Declutter Challenge by Cassandra Aarssen, also takes a unique approach to decluttering.
Cassandra is a professional organizer and TV show host with a popular YouTube channel.
This book is designed as a guided journal with worksheets that help you sort through your thoughts.
This process can be very useful to help you uncover thoughts that are holding you back, and to find your personally best way to approach decluttering.
Not every person struggles with clutter for exactly the same reasons. The idea behind this journal is to find the decluttering system that works best for you.
If you like working through things by writing and journaling, The Declutter Challenge will be a great book for you.
Need some help getting started with decluttering? Check out my free 31-day decluttering challenge!
The Life-Changing Magic of Tidying Up by Marie Kondo
Few names are as closely associated with decluttering as that of Marie Kondo.
This book was first published nearly a decade ago, and will remain relevant for many years to come.
Marie is known as a "tidying expert" who specializes in the Japanese art of decluttering, known as her KonMari Method.
Her book The Life-Changing Magic of Tidying Up is full of wisdom and helpful advice.
Here is just one great quote from this book: "Keep only those things that speak to your heart. Then take the plunge and discard all the rest. By doing this, you can reset your life and embark on a new lifestyle."
This is the first book out of three in Marie's series about tidying and organizing.
Her second book, Spark Joy, is also a great read. It covers step-by-step instructions with a room-by-room guide on keeping your possessions organized.
While concepts like the "new Japanese minimalism" may seem a little strange at first, there is a lot to learn from Marie's approach to organizing and needing to declutter so much stuff.
More Decluttering Inspiration:
DIY Small Bedroom Organization Ideas and Tips
30 Bags in 30 Days Declutter Challenge
How to Create a Cleaning Routine
Unstuffed by Ruth Soukup
Another very helpful book on decluttering is Unstuffed by Ruth Soukup.
Each of the books included on this list has a unique take on decluttering. Ruth adds another valuable voice to the discussion in her book.
Ruth has written a New York Times bestseller, but she candidly shares her own struggles with stuff.
But not only physical clutter is addressed—Ruth touches on digital, relationship, and spiritual clutter as well.
Ruth encourages simple steps and provides realistic strategies for effectively taking on all our clutter.
I appreciate that she also includes Bible verses to encourage the reader spiritually.
Unstuffed is a perfect book for helping readers meet their decluttering goals, and reclaiming outer and inner calm in their lives.
The Clutter Fix by Shannon Acheson
Next up in our list of best decluttering books is The Clutter Fix by Shannon Acheson.
Shannon is a homeschooling mom and home coach who encourages us to pursue a clutter-free life.
​This book shows you how to find your clutter personality type, which helps point you in the right direction to start decluttering.
Shannon presents a ten-day plan as your first step to get rid of stuff.
She also presents other easy steps such as 120 things you can get rid of right away.
The Clutter Fix is a great guide with a step-by-step process to simple living.
Goodbye, Things by Fumio Sasaki
Another great book providing guidance on decluttering and the minimalist way of life is 
Goodbye, Things: The New Japanese Minimalism by Fumio Sasaki
.
​According to Fumio, he went from "messy maximalism to life as a minimalist."
Like many of us, he found himself surrounded by clutter, but decided to take drastic action to have a refocused life free of so much stuff.
One good quote from this book is, "You can avoid buying more things simply by first asking yourself if it's something that you actually need."
According to reviewers, this is an easy book to read that's filled with actionable tips on making life simpler by getting rid of unneeded things.
Goodbye, Things has practical steps for anyone wanting to embrace a minimalist lifestyle, particularly in small spaces.
Let it Go by Peter Walsh
The last book in my list of best decluttering books is Let it Go by Peter Walsh.
Peter is known as "Australia's organizing expert" and his book backs up that reputation!
This book helps the reader see the power that clutter has over them, and how clearing out stuff that really isn't needed can improve your life.
The main idea behind Peter's book is summed up as this: "If the stuff you own is not helping you create the life you want, then let it go."
But this book is far more than theory. It's filled with helpful tips and examples to inspire a decluttering mindset.
Let it Go is a great read that's highly recommended by almost everyone who's read it.
Closing Thoughts on Best Decluttering Books
I've had a lot of fun putting together this list of best decluttering books.
Whether you're an aspiring minimalist looking for a step-by-step decluttering guide, or you prefer more of a motivational approach that addresses a lifetime of clutter, I hope you find this list helpful!
Although decluttering may seem like a never-ending battle, you'll truly find a more fulfilling life by clearing out the clutter.