Rolled beeswax candles make a beautiful and natural handmade Christmas gift! Handmade beeswax candles are also great for any time of year.
I've been making these simple handmade rolled beeswax candles with my kids for many years. What started out as a simple craft idea turned into a tradition.
Every year, usually in the fall, we grab some sheets of natural beeswax and start making candles. It's a fun and useful activity for kids and adults alike.
The best part is that making rolled beeswax candles is extremely easy!
Watch the Rolled Beeswax Candle Video Tutorial
Benefits of Beeswax Candles
I love candles of any kind (I also have a candle making tutorial for soy candles here), but there's something special about beeswax.
Beeswax is an all-natural substance created by bees. It's non-toxic, so candles made from beeswax won't pollute the air. In fact, I've read that burning beeswax candles can actually help purify the air in your home!
According to this source:
Beeswax candles are naturally dripless and smokeless, and they tend to have a longer burn time than candles made from other waxes.

Beeswax also burns clean and purifies the air at the same time! In addition to supporting sustainable beekeeping, the consumption of beeswax candles is also good for the air we breathe. Unlike paraffin candles, which are made with a petroleum-based wax, beeswax candles have a completely clean non-toxic burn and produce negative ions when burning.
Isn't that amazing? I love that such a beautiful and natural product is also beneficial in so many ways.
I also love that it supports sustainable beekeeping.
Rolled Beeswax Candles
Rolled beeswax candles couldn't be simpler to make. All you need is beeswax sheets and candle wick.
This post contains affiliate links. Read my full disclosure here.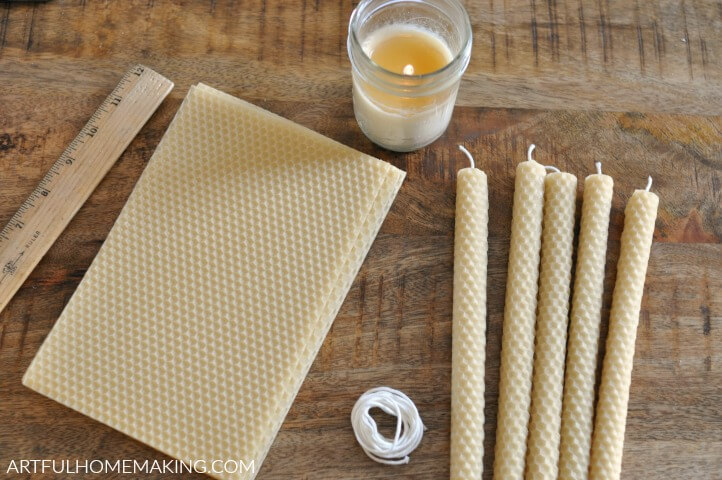 You can buy the beeswax sheets and wick separately, but we make this even easier by simply buying a kit! You can find the kit here.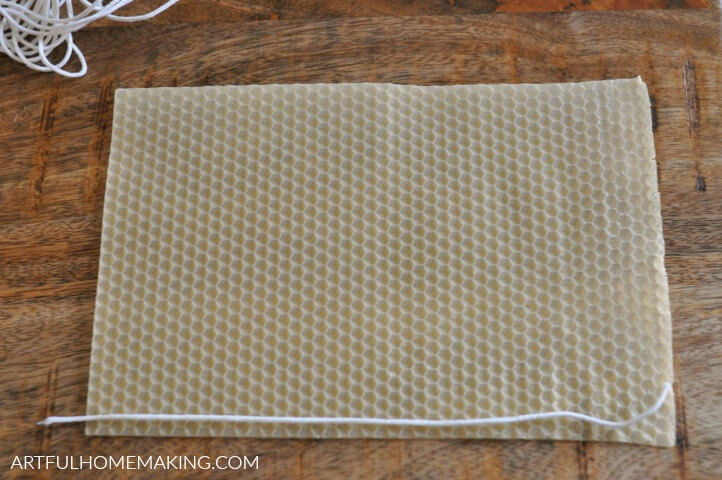 The kit will come with instructions to follow, but I'll just summarize them here.
Lay out one sheet of beeswax (warm it in your hands or in a warm place before getting started to keep it from cracking or breaking, or use a hair dryer for faster results.
Cut a piece of wick the length of the long end of your beeswax sheet.
Roll beeswax sheet over the wick and roll up tightly until the whole candle is rolled up.
That's it! Then just trim the wick to about 1/4″, and you're done!
Candle Making with Kids
As I mentioned above, I've been making rolled beeswax candles with my kids since they were little (we've been making them for at least 10 years!).
It's a wonderful craft for kids to enjoy, because it doesn't involve hot wax or anything dangerous. Usually even young children can get the hang of rolling the candles.
When making candles with kids, I don't worry about having all the candles turn out perfectly. We just do it for the experience together.
It's lots of fun, and kids always feel such a sense of accomplishment knowing they just made something useful and beautiful.
They especially feel proud when we burn the candles they made during poetry tea time or at dinner!
This is seriously one of my favorite DIY projects ever.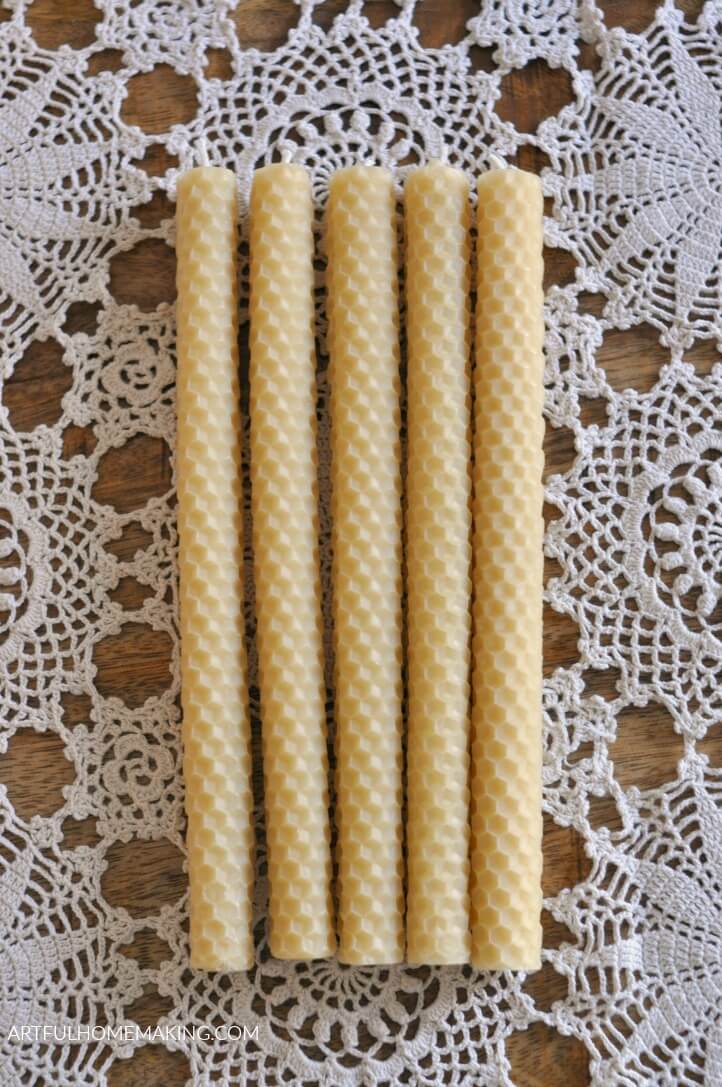 Supplies Needed for This Project
Hair Dryer (optional)
Related Posts:
How to Make Oven Dried Orange Slices
Pin it for Later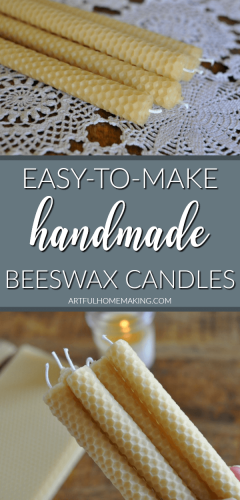 This post contains affiliate links. Read my disclosure here. Sharing here.