***
If we're not careful, food can become one of our main budget-wreckers. We've noticed that the cost of food is rising in our town's one grocery store, so we usually go elsewhere to buy our groceries.
One of our main places to shop is Aldi, since they have such great prices. And we can sometimes even find organic food there. Unfortunately, we don't have an Aldi very close to us, but at least once a month when we visit family in a nearby city, we make it a priority to shop there.
We also have several little discount grocery stores that we frequent. (And, yes, I did take these photos on our last trip to Aldi! The store was packed, but there was a temporary lull on this one aisle, so I tried to be discreet, but my kids were laughing at me.)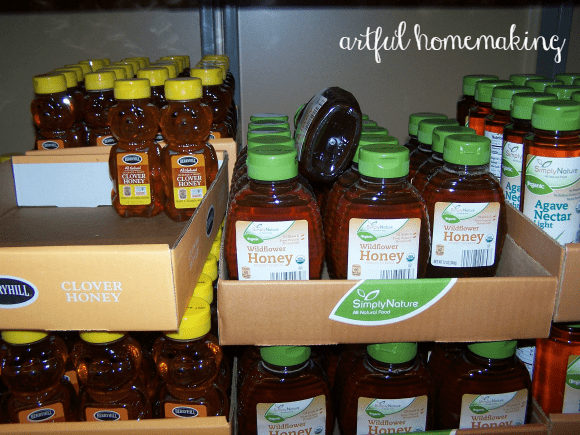 Here are some of our favorite ways to save on groceries:
1. Garden
During the summer months we try to
grow as much of our own food
as possible. However, in the past few years, that's been a bit difficult for us. We still do what we can. We have some raised beds, and we were able to grow lots of lettuce and greens, spinach, some carrots, tomatoes, garlic, peppers, squash, and a few other things. Now we're working on a fall garden that's producing some swiss chard and lettuce so far.
2. Buy Local Produce in Season
What we don't get from our garden, we try to get locally. We get some produce from my parents, some from friends, and some from local farmers. The quality is usually better, and so is the price. What we can't find locally-grown, we get from Aldi.
3. Shop at Discount Grocery Stores
We have quite a few discount grocery stores in our area. Sometimes the items are dented or bent, or the packaging has been opened, or sometimes it's out of date. You have to inspect everything carefully, but we've been shopping at these kinds of stores for years, and we've lived to tell about it! When we first got married, I was pretty concerned about dented cans (my dad is a very cautious food scientist), but we've never had any problems with food from discount grocers. And oftentimes we're able to get a great deal on organic or natural brands that we'd pay a lot for if they were in a health food store.
4. Shop at Aldi
As I mentioned above, Aldi has become one of our favorite stores, and we go there whenever we get a chance. You can find so many great deals here.
5. Buy Paper Products at the Dollar Store
This may not be true everywhere, but we've found things like toilet paper and paper towels are usually cheaper at the Dollar Store.
6. Buy Generic Rather Than Name Brands
If there's a generic or store brand available, we'll often choose this over name brands, since they're usually cheaper and the quality is often comparable. This isn't always true, though, so we weigh all of the options and decide which one is the best value/quality for our money.
7. Shop Sales
We check our store flyers and if there's a good sale on something we regularly use, we'll stock up (if we can afford to).
8. Forage for Free Food
We are always on the lookout for free food. We've been blessed so many times by neighbors and friends who have shared an abundant crop from their garden or fruit trees with us. We've also invested in a few books on which wild foods are safe to eat in our area. This summer we discovered a few gooseberry bushes that were likely planted by birds. We also have some wild blackberry bushes growing nearby. We've only begun to enter the world of foraging for wild food, but I'm sure there's more available that we could be eating if we took the time to discover it!
Do you have any tips for saving money on groceries? If you do, please share!