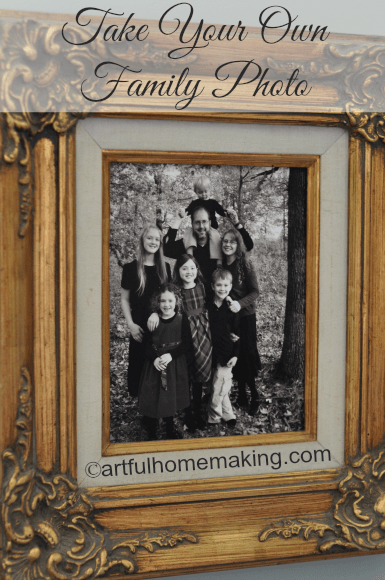 ***
When we first married, I was a big fan of studio portraits. I loved going to get our family pictures taken, and my goal was to have a portrait done every year to document our family's growth and change. I could often find a coupon for a free sitting with a certain package deal, and we were able to get portraits done for no more than about $10 or less (as long as we limited ourselves to what was included in the package deal, which was sometimes hard for me!).
All of that changed, however, as our family grew. The last family portrait we had taken in a studio was when we had three children four and under. Somehow it wasn't fun anymore! And now we no longer live in an urban area, so traveling somewhere just to have our picture taken isn't worth it (even if we could afford it).
For the past ten years, I've been taking our annual portraits myself. I have a tripod that my dad bought me when I was in high school, and I just mount my camera on that. I pose everyone, set the timer on my camera, and then run into the picture! At least that's what I often do. A couple of years ago my husband found a remote for my camera (on ebay), which makes it a lot simpler for me.
The above portrait was taken with my point-and-shoot camera, proving that you don't have to have an expensive camera to get a decent-quality photo (and I found the frame for a few dollars at a flea market).
Taking a family photo at least once a year is so important to me that I'm willing to go through the hassle of doing it myself. With digital photography, it's free! Almost every year I've been able to find a deal for free photo cards (last year they came from York Photo). I'm not sure if I'll be able to afford to send out cards this year, and in that case I would just get an 8×10 for us and maybe print a 4×6 for each child's scrapbook. I have a $10 credit at York Photo that I'm hoping to use for that (you can get 60 free prints when you sign up here).
Do you take your own portraits?