I tend to think in terms of seasons, especially where food is concerned. As soon as cooler weather arrives, I automatically start dreaming of soups, breads, and cozy casseroles. Here's my Trim Healthy Mama fall menu plan.
I spent some time last week flipping through the brand new Trim Healthy Mama cookbook and jotting down all the things that sounded like they would be perfect for fall and winter.
I also included some favorites that aren't in the cookbook. (I also regularly find and pin new recipes on my THM Pinterest board.)
Rather than assign these recipes to certain days, I just made a list and I'm plugging them into my monthly menu plan wherever they fit best.
---
Trim Healthy Mama Fall Menu Plan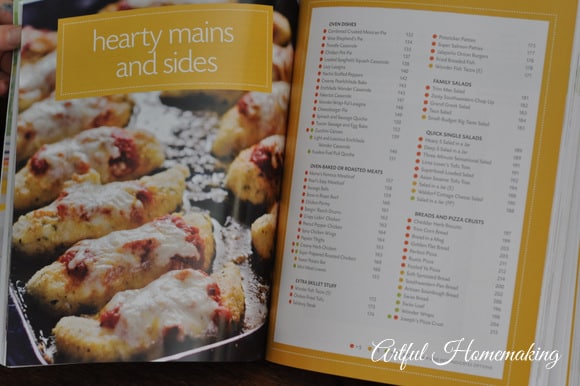 Breakfast
Apple Cinnamon Crock-Pot Oatmeal, p. 256
Chocky Nut Crock-Pot Oatmeal, p. 257
Mufflets, p. 237
Pumpkin Crunch Granola, p. 255
Apple Pie Crunch Granola, p. 255
Giant Blueberry Baked Pancakes, p. 261
Trim Healthy Mama Waffles, p. 259
Pumpkin French Toast Bake
Lunch
Bean Boss Soup, p. 109
Just Like Campbell's Tomato Soup, p. 112
Salad in a Jar, p. 188
Waldorf Cottage Cheese Salad with Apples, p. 190
Superfood-Loaded Salad, p. 192
Cream of Sweet Stuff Soup, p. 114
Dinner
Sweet Potato Bar, p. 166
Bangin' Ranch Drums. p. 162
Egg Roll in a Bowl
Wicked White Chili, p. 37 (includes freezer-to-crock-pot instructions!)
Mama's Famous Meatloaf, p. 157
Sausage and Spinach Quiche, p. 150
Cheeseburger Pie, p. 149
Chicken Pot Pie, p. 137
Wise Shepherd's Pie, p. 134
Oven Sweet Potato Fries
Cornbread Crusted Mexican Pie, p. 132
Pearl's Chili, p. 101
Golden Chana Dahl Soup, p. 99
Kai Si Ming, p. 98
Comfy Cozy Chicken Dumpling Soup, p. 94
Perfect Pizza, p. 211
Lemon Herb Drummies, p. 51 (includes freezer-to-crock-pot instructions)
Chicken Spaghetti Squash Casserole (we're making this about once a week!)
---
Don't those recipes sound amazing? In my meal rotation I also have things like roast chicken (we get pastured poultry from the Amish and then I make
bone broth in the crock-pot
with the bones after our meal) and
quiche
.
I try to make bone broth about once a week. And we are eating lots of quiche since we have an abundance of eggs from my parents' chickens!
New Trim Healthy Mama Books
Here are just a few of the gorgeous photos included in the cookbook:
Look at this beautiful Soft Sprouted Bread (recipe uses honey and sprouted flour):
I can't wait to dive into these new recipes, especially the Chicken Pot Pie! The cookbook does include some recipes with ingredients you won't find at your local grocery store.